How to Convert DjVu to Word Document ?
Being a professionalist in the writing field, I have created several eBooks over time. The number would be around 400+ and eBooks are in DjVu file format. Last night, I was trying to upload DjVu files to my Google Drive. But, I found out that Google Doc does not support the DjVu format. Hence, in order to open my DjVu documents on the cloud, I need to perform bulk conversion of DjVu files to Word. Is there any tool that will help me to convert DjVu to Word files?
Are you also looking for a solution to convert DjVu files to Word? If yes, then read this blog to find an accurate solution for the same.
Reasons to Convert DjVu to Word Document
DjVu is a graphic file format whose primary purpose is to store scanned images such as PDFs. It was created by AT&T laboratories to save images having high-resolution at a lower file size. The DjVu format is basically utilized to store newspapers, documents, manuals, eBooks, and many more.
Alongside the advantages of the DjVu format, there are few downsides to this format also.
Firstly, due to the compression techniques used in the DjVu format, a few of the letters, symbols, or numbers may be wrong. So, there is no assurance that the page image will be an exact replica of the original work.
Secondly, the DjVu format is not widely supported as DOC files.
Thirdly and most importantly, you will need a DjVu Viewer application in order to read the content of your file.
So, now you are aware of why reasons want a DjVu to Word converter tool.
Now, let's move on to the process to perform the conversion of DjVu files to Microsoft Word format.
A Hassle-Free Solution: DjVu to Word Converter Tool
Looking for a simplified solution to bulk export DjVu files to Word file? Your search ends here.
Have a glimpse on BitRecover DjVu Converter Tool. It matches all necessary standards and requirements of users who are looking to save DjVu as Word. Free download the software from the below button:
Download and Start DjVu to Word Converter Tool.
Choose single or multiple *.DjVu files for conversion.
Select all or required DjVu documents to convert into Word.
Pick DOC/ DOCX as saving option and any advance mode option.
Begin to convert DjVu to Word documents.
How to Convert DjVu to Word File Format ?
Initially, download the setup of software and launch it on your computer machine. Now, read all instructions and tap on Next.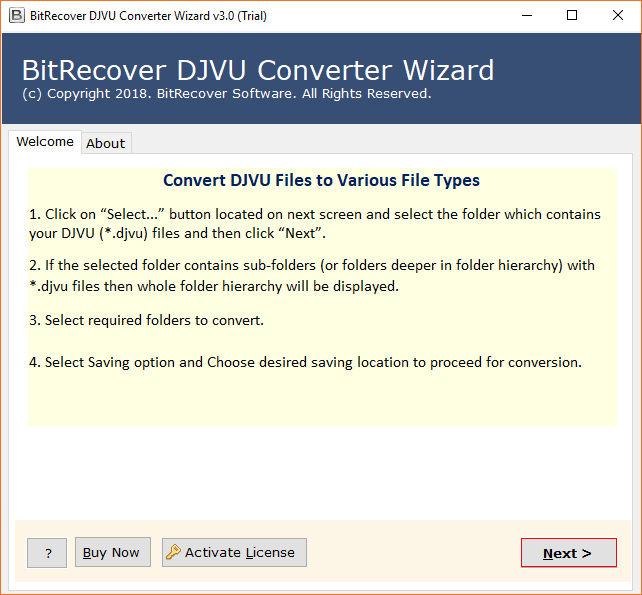 Then, select *.DjVu documents with the dual options i.e. Select Folder… or Select Files…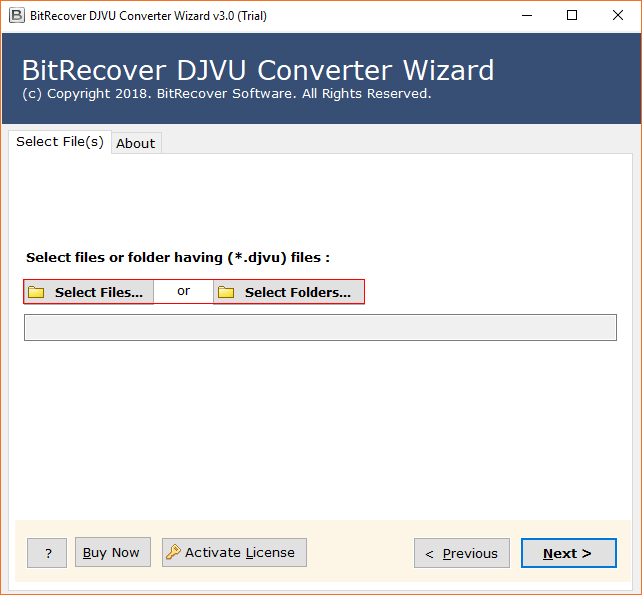 Choose the folder that contains the DjVu files and tap on the 'Select Folder' button.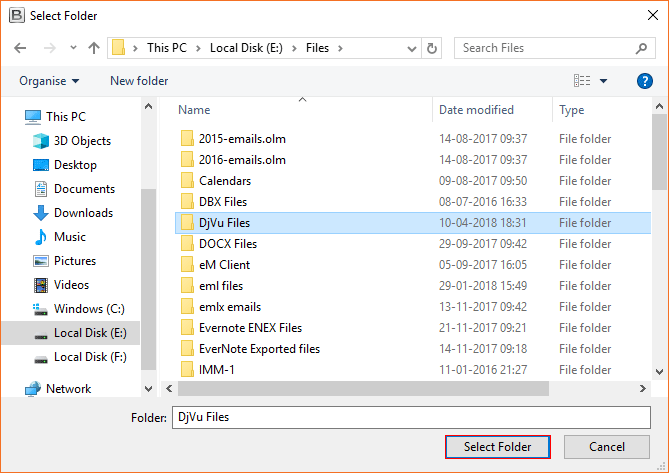 Thereafter, cross-check the chosen DjVu files and hit on the Next button.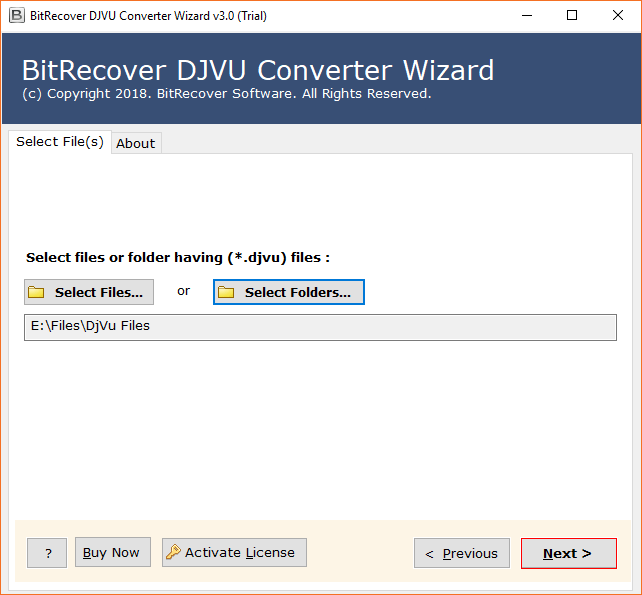 After this, select all or selective DjVu documents for conversion.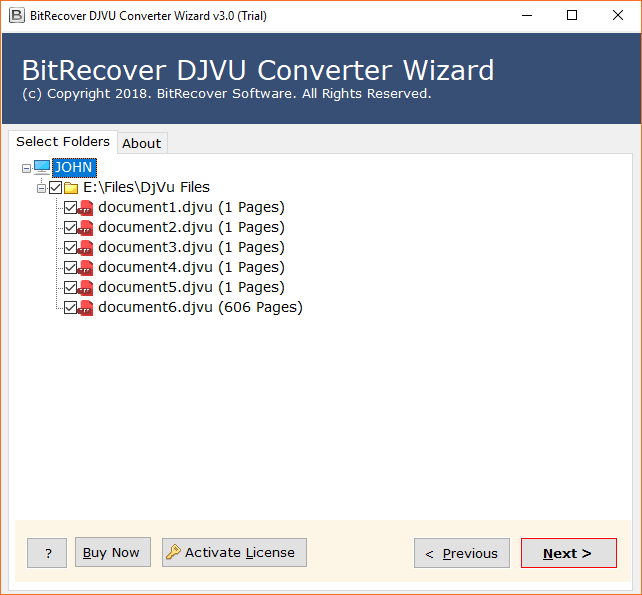 From the list of saving options, choose DOC/ DOCX format.
Now, browse a destination folder for saving the output Word files. Also, pick any Advance Mode option as per your need.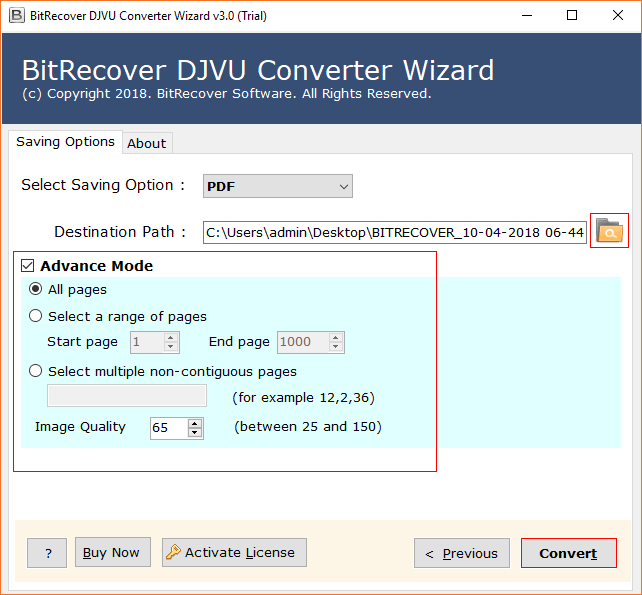 Lastly, click on the Convert button to start the task.
What Next? Once the process to convert DjVu to Word ends, you will get a Conversion completed successfully message. Now, you can go to the resultant location to check the output Word documents.
DjVu to Word Conversion Tool – Prime Features of Software
Dual Options to Load Data
Users can choose either of the 'Select Folder…' or 'Select File…' option to load the DjVu files in the software panel. The Select Folder option enables to load all DjVu folder along with sub folders to the UI. This helps to perform batch migration of DjVu to Word files.
Create Separate Output File
This precisely means that users can create a separate output Word file of each DjVu document. Hence, you can convert DjVu to Word format without any hassle.
100% Perfect Results
Once you have implemented the process to convert DjVu files to Word then you don't need to worry about the integrity of data. It has the ability to export all DjVu documents to Word with high quality output.
Compatibility with Windows OS
This software of DjVu to Word converter runs smoothly on all versions of Windows OS. It is compatible with Windows 10, Windows 8.1, Windows 8, Windows 7, Windows XP, Windows Vista, Windows Server 2019, Windows Server 2016, Windows Server 2012, etc.
Batch Conversion of DjVu to Word Files
With this software, you can achieve bulk export of DjVu files to Word. Within a single attempt, the user can batch convert DjVu to Word.
Preserves File Attributes
After finishing the process, the tool keeps intact all properties such as text formatting, document color, effects, resolution of images, hyperlinks, backgrounds, etc.
Advance Mode Feature
The tool has the ability to read page count information and allows to select "All pages", "Select a range of pages (you must pick a Start page and End page)", "Select multiple non-contiguous pages (like 12,2,36)". Moreover, you can choose an "Image Quality Option" in order to set image compression rate, the default value is 25 however, you can enter valid values between 25 and 150.
FAQs
Can I convert partial pages of DjVu to Word format with your software?
Yes, the advanced mode feature of the tool allows doing this. You need to choose a range of pages or even non-contiguous pages from the toolkit.
Does the DjVu to Word converter compatible with Mac machine?
No, currently the software supports only Windows OS.
Is there any file limitations to convert DjVu to Word file with the software?
No, you can bulk convert DjVu files to Word without any restrictions.
Let's Conclude
In this blog, we have explained how to convert DjVu to Word files using an automated solution. The BitRecover software is also available in the demo version which is meant for testing purposes. You can evaluate the tool's features and also convert few DjVu files to Word format. Later, upgrade the license keys of DjVu to Word converter tool for performing unlimited conversions.