Bulk Delete BT Mail – Remove Mass Delete All Emails From BT Mail Account
Introduction: Do you want to delete more than one email from BTinternet? Are you finding a solution to bulk delete BT Mail folders at once? If yes, you have come to the ultimate guide to mass delete BT emails with attachments. Here, we will cover all questions such as:
How to delete BT Mail folder in one click?
Why can't you delete bulk BT Mail at once?
How can you delete all emails on BT email?
How to delete an old email from BT Mail account?
Can BTinternet delete all emails in one go?
So, stay on this guide to find out the best and most affordable solution to bulk delete BT emails at once.
About BT Mail and Why Can't You Delete BT Emails in Bulk?
BTinternet is one leading communication service provider in the world. A considerable number of people and organizations find their webmail service useful. They provide an email service which an address that ends like xyz@btinternet.com. An email account with BT Mail allows you to send and receive emails with an internet connection. Now, the recent issue that comes up with the BT Mail service is deleting mass emails.
BT Mail allows deleting one email at a time, which is not useful for someone looking to delete a complete mailbox. Moreover, delete one BT internet email at a time is time-consuming and tedious.
Our BitRecover team has also received some of the queries explaining the challenges users face to mass delete BT emails. Please have a look.
My BTinternet mailbox is full, due to which I can't receive and send new emails. I have been using this email account for professional work. Can I delete old emails from my BT Mail? Is there any solution that bulk delete BTinternet emails at once?
–         Edward Clinton
My BT Mail account has no space and I need to delete bulk emails. When I tried to delete more than one email, it doesn't happen? I request professionals to provide a solution to mass delete BT Mail.
–         Henry Morgan
Our above discussion depicts the picture of the user's need to bulk delete BTinternet emails. Now, let's inform you about the one-stop solution for mass deleting BT emails and its step-by-step guide.
Bulk Delete BT Mail : User-Friendly Software 
The only 100% professional and easy-to-use software that can mass delete BT Mail is BitRecover EmailRaser Wizard. It is specially designed to delete, clear, discard, or remove bulk emails from the email account at once. The utility permanently deletes emails from BT Mail for improved work. Moreover, it resolves the user query "how to delete BT Mail folder" by giving you the freedom to select the desired folder for the process. Using the best solution to delete multiple emails in BT Mail, you can use special filters like date range, to, from, and more to delete an old BT email directly.
Know-How to Mass Delete BTinternet Emails At Once ?
Follow the step-by-step software process to bulk delete BT mail folders with attachments.
Take a moment to know about free delete multiple BT emails.

A free demo version of the bulk delete BT Mail software is available to use without giving any payment details. Click on the Download Now button below and setup software on your Windows OS. Using the trial edition, you can delete the first 25 emails of BT Mail with one click. It's quick and straightforward. Next, click on the Buy Now button to activate the license key to delete BTinternet emails without limitations.
How Do I Delete Multiple Emails in BT Mail ? –Full Guide
Step-1 Download and launch the software on the Windows system.
Step-2 Open and choose BT Mail as the email source from the list.
Step-3 Now, fill in the login credential of BT Mail, such as email address and password. Then, hit the Login button.
Step-4 As you can see, your BTinternet email account is running in the software panel. Please, check the required BT Mail folder for mass deletion.
Step-5 Now, go to the Filter option and mark the checkbox "Use Advance settings for selective backup".
Step-6 Users can check the filters like date range, to, from, and subject to delete old BT Mail or any specific emails for the task.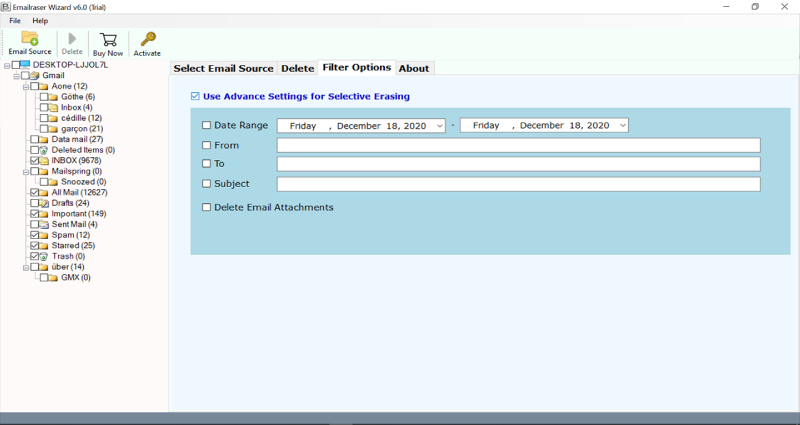 Step-7 Finally, tap on the Delete button to commence the process to clear all BT Mail at once.
The task of bulk deleting BT Mail emails started successfully.
You can check the number of emails and folders from which deleted messages. It's all for the task to delete all BT emails in one go.
How Can You Use Advance Filters To Delete Specific or Old BT Emails ?
The fast utility to delete BTinternet folders comes with multiple special filters. Let's understand it one-by-one.
Date Range: – Delete all BT Mail software date range filter to allow choose dates from and to for clearing BT emails from the account. It is a superb function to delete old emails from BT Mail.
From, To, And Subject:- These three message fields option provided in the filter option helps you delete specific emails from your BT Mail account.
Delete email attachments: -Along with deleting emails from the BT Mail account, the software offers you clear attachments with BTinternet emails. It is helpful and simple-to-use software.
The Conclusion
If you are looking for a professional solution to bulk delete BT mail folders, pay attention to the above blog post. It helps you know an excellent automatic solution to mass delete BTinternet emails with attachments. The solution is easy-to-use and straightforward. It also comes in a demo version for a test drive.
More Suggested Blog Posts:
Permanently Delete Emails from Outlook 365
Delete Gmail Emails in Bulk
Permanently Delete Emails from Hotmail
Delete AOL Emails in Bulk