Why Windows 10 Mail App Not Syncing with iCloud?
Do you want to get a solution for solving Windows 10 Mail App not working with iCloud? If your response is yes then continue read this blog post. Windows 10 mail app is the default app of Microsoft.  It supports most of the email services like Google, Yahoo, Apple iCloud, AOL, Microsoft Exchange, and other POP/IMAP email services.
Many Apple iCloud+ users are having issues with Windows 10 Mail App as iCloud is not working properly in Windows 10 Mail App. Mail App Windows 10 includes all the essential features to manage iCloud account but sometimes users are facing issues with this. Most common is they are having problems in configuring the iCloud account with Windows 10 Mail App program.
How to configure iCloud email on Windows 10 Mail App?
Users have to follow some steps to configure iCloud+ on Windows 10 mail:
Click the start button and select the Mail App Windows 10.
Then click on Account and then add the account.
From the given list select iCloud.
Enter your iCloud+ email address and password and click sign in. If you have two-factor authentication enabled for iCloud, then you'll need to generate a new password from the Apple ID website.
Enter your name in the field provided, then click on Sign in.
Click on Done and then click the start button.
Select "Mail" and get started.
Now you are ready to use your iCloud account in Windows 10 mail app.
Problems facing by the iCloud+ users at the time of working with the Windows 10 Mail App
Windows 10 Mail App not syncing with iCloud: Many users are complaining that they are unable to sync their iCloud+ Mail with Windows 10 Mail App. Due to this, they are unable to read all the emails of iCloud in the Windows 10 mail app and their Windows 10 Mail App is not working properly with iCloud.
iCloud settings are out of date: Sometimes users don't pay attention to the updates due to which they face problems in operating their iCloud+ account in Windows 10 Mail App. They need to check their iCloud email settings as well.
Cannot add iCloud account to the Mail App: Many users face issues in adding an iCloud account in Windows 10 Mail App. Due which they are unable to operate their iCloud account in Windows 10 Mail App.
Two-step verification: Users have to make sure that the two-step verification option is off. If they will turn on the two-step verification, they'll not be able to use the iCloud+ account.
Note: Before opting for any solution make sure that you take a backup of all emails. So, you don't have to face the issue of data loss. By doing this user will not lose any of his important data.
Why taking backup of emails is important?
It is important to take the backup of all the emails before opting any solution as they can lose some of their data. Through backup users will not face any issue in the future regarding the loss of data.
If a user forgets to take backup or loses his data at the time of solving issues, they can recover that data by using Windows 10 Mail App Backup Software. This is a great option for securing their emails.
Prevent data loss by taking backup
Windows 10 Mail App Converter understands the users and their needs. Users face many difficulties in taking backup of data. This software performs the easiest migration from Windows 10 Mail App to multiple file formats. Some major features of this tool are:
It will convert emails in multiple file formats like PDF, PST, DOC, MSG, MBOX, etc.
Auto locates and converts configured Windows 10 Mail accounts.
Use advance settings filters for selective Windows 10 Mail App email migration process.
Keep Windows 10 mail app email attributes while conversion – To, Cc, Bcc, Subject, Date, etc.
Windows 10 Mail app migration for both Windows 10 Mail App profile (POP & IMAP).
Migrate Windows 10 Mail App all folders including Inbox, Drafts, Sent, Deleted, Junk, All mails, etc.
Keep original On – Disk folder hierarchy of Windows 10 mail app mailbox folder.
A demo version of this tool is also available, user can use the demo version also and can check that this tool is working on their issues or not. If satisfied, then he can purchase the licensed version as well.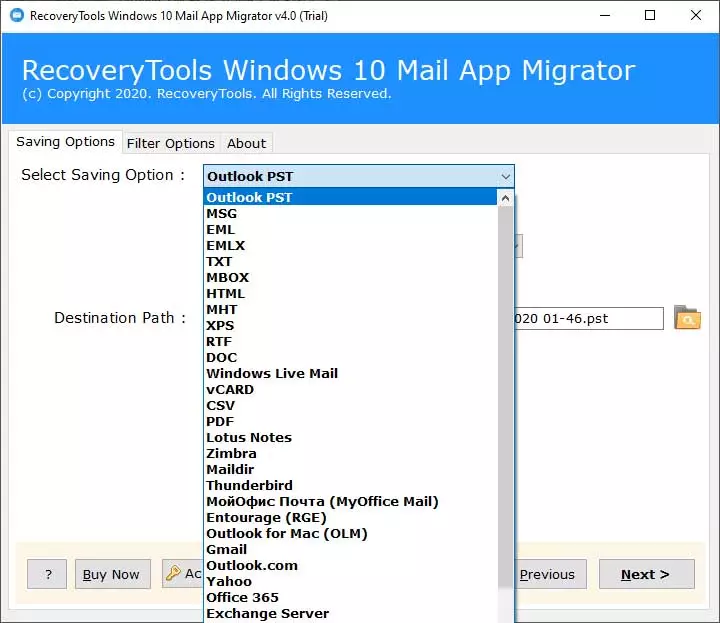 How to use the mentioned software?
First, users have to download the suggested software and then install it on the Windows OS platform.
Select Configured Windows 10 Mail App mailbox data or choose Mail App files or folders.
Then, select the file saving option from the list which suits the user.
After that, select a required destination path for the saving of final data.
Then, press on the Next tab to start the backup process of emails of Windows 10 Mail App.
The tool will automatically open the resultant folder.
After taking backup users can use normal solutions according to their issues. By this user will be able to solve the issue of the Windows 10 Mail App not working with iCloud.
Windows 10 Mail App not working with iCloud – Get solution
Method 1: Solution to syncing issue
Many users were facing the syncing problems. They can use this method for this issue.
The app-specific password generator will work in this scenario. iCloud email is protected with Apple's two-step verification. The user just needs an "app-specific password" to sign into an app that's not provided by apple.
Method 2: Solution to the issue of iCloud email settings
Update your iCloud email settings. Users have to check the email service providers. Then update the configured iCloud+ email setting of mail.
Method 3: Solution to the issue of Windows settings are out of date
If still issue persists, the user can try different methods as well:
Make sure Windows has the latest update: select check for updates now.
Then select check for updates or select the start button.
After that, select settings then update and security.
Check for updates. If there is an available update, select install now.
Bottom lines
Taking backup is necessary to avoid data loss. As email data are important for every user. The mentioned software makes backup easier. If still user's issue remains unsolved then he can migrate his data to different email clients by using the same tool.