Why Windows 10 Mail App Not Showing All Emails & Receiving Emails?

If Windows 10 Mail App not showing all emails then continue read this blog post. Windows 10 comes with a built-in app designed to synchronize the mail accounts with it i.e. Windows Mail. The app is basically a webmail system.
If users have Gmail, Hotmail, Outlook, or Yahoo they can easily synchronize all of these with the Windows 10 Mail App. Nowadays there is a big problem which users are facing with Windows 10 mail app & i.e. some users are not able to view all their emails at all or they can view the first 30 emails only.
There are many reasons due to which users are unable to receive their mails in the mailbox. Some of them are:
Upgradation problem – Sometimes users upgrade their Windows version, like from Windows 8 to Windows 10. After upgradation, some users are unable to see all the mails in Windows 10 mail app.
Syncing issues – Some users are facing syncing issues in Windows 10 mail app. Because of syncing issues, they are unable to view their emails in the mailbox.
Connectivity issue – The connection issue is also one of the major problems of this issue. Internet connection is important to operate the Windows 10 mail app. If the internet connection will be poor, then the user will have to face the issue of the Windows 10 mail app not showing emails.
Server settings – If your default server settings have been changed then you may face problems i.e., windows 10 mail doesn't show all emails. Sometimes because of security reasons email service providers may change server settings then users face these types of errors.
Useful Software If Windows 10 Mail App Not Receiving Emails
If users have to deal with the issue of the Windows 10 Mail app not showing all emails then they have to take the backup of all the mails. By doing this user will not face the issue of data loss. The backup will help him a lot in this scenario.
If somehow, at the time of solving issues, the user loses his data, then they will not have to worry about that as they have already taken the backup. For taking backup users have to use the Email backup wizard.
Some users face difficulty in taking backup of data. This software understands the needs of the users and the importance and difficulty in taking backup of the data. This mentioned wizard performs the easiest backup of data. Some major features of this app are: –
Software Benefits
The extract Email address from Gmail, Yahoo, and other services.
Copy local email application files from one account to another.
Keep Windows 10 mail app email attributes while conversion- To, Cc, Bcc, Subject, Date, etc.
It will save a backup in multiple file formats like PDF, PST, DOC, MSG, MBOX, etc.
The backup IMAP email account for different email applications.
Keep the original on-folder hierarchy of the Mail App mailbox folder.
A supportive application is not required to get email file backup
How to Use Mentioned Software?
First, users have to download the recommended software and then install it on the Windows OS platform.
Select IMAP from the given list.
Then enter IMAP account credentials and press on the Convert tab to start to configure the email account.
Then, select the file saving option from the list which suits the user.
After that, select a destination path for the saving of the final data.
Then, press on the backup button to start the backup process of emails.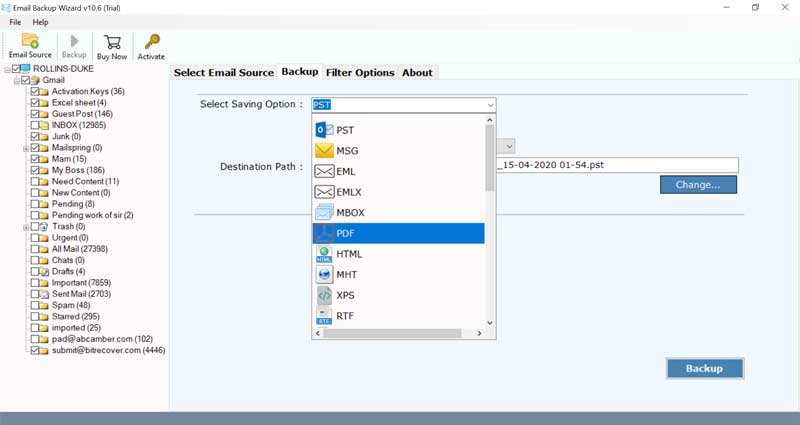 The Demo version of this application is also applicable, users can use this as well. The Demo version will migrate the first 25 emails to the different file formats. After satisfaction users can buy the licensed version of this tool.
After taking backup users can go for solutions, now their data are safe as they have a backup of that data. Now users can use manual solutions for the issues.
Windows 10 Mail App Not Showing All Emails – Get Solution
Suggestion 1: – Solution of up-gradation problem
When users upgrade from Windows's old version to the new version then, some users are unable to see their emails at that time. At that time users can select Outlook in the mail app, and then email address, after that right-click and then they have to select "Account settings". Then select "Change mailbox sync settings". Where it states "Download email from", change it to "any time". By doing this users will be able to see their emails in the mailbox.
Suggestion 2: – Solution to the issue of syncing issues
Syncing issue is one of the major problems among users nowadays. Make sure that your device has the latest operating system and app updates. After that check security software as well. Firewalls and antivirus software might prevent you from syncing your email and calendar events. Although don't turn off your security software permanently, temporarily turning off the software will let you determine if it is preventing you from syncing your email or calendar events.
Suggestion 3: – Solution to the issue of connectivity
Users need to check the connectivity of their email server as well. A good Internet connection is very important in this case. Check that your device is connected to the internet. To send or receive an email, you'll need internet access. Make sure your device is connected to the internet. Users have to update the email settings as well. If not updated.
Suggestion 4: – Solution for Server Settings Error
If Windows 10 Mail App not receiving emails because of updated server settings. Then open you need to follow the below-mentioned steps.
Run Mail App on your Windows 10 Computer
Click on the Accounts option from the menu
Choose an account under the Manage Accounts section
Thereafter, click on Delete account from this device
Press Delete button to continue deleting account
At last, again configure the account according to the latest server settings.
Bottom line
If Windows 10 mail app is not showing all emails properly, then before opting for any manual solution never forget to take a backup of the data. The mentioned software creates a backup of 90+ email services. It makes the process of backup easier which helps the user in backing up important data. This tool can back up any amount of email data and there are no limitations.