Windows 10 Mail App Not Working with Gmail Account – What to Do ?
Is your Windows 10 Mail App not working with Gmail account, and you're looking for a quick fix? Continue to solve the problem after reading this blog post. Windows 10 includes a built-in mail client that supports touch and has a flat style. The Windows 10 Mail App provides all of the necessary capabilities for managing Gmail accounts, but customers have reported that it does not always work properly with Gmail. Many Gmail users have expressed their dissatisfaction with Windows 10's incompatibility with Gmail.
Windows 10 Mail App Not Syncing with Gmail – Know The Issues
Syncing Problem – Users are facing problems in syncing their Gmail account with the Windows 10 mail app.
Mails are deleting automatically – Users are complaining that their mails are either getting deleted or being moved to the spam folder without any prior alert.
Mails got disappeared – Users are complaining that the emails they are sending, disappears and cannot be found in sent items, outbox, bin, spam, or anywhere. It appears that it automatically got deleted and erased from the server.
Attachments got disappeared – Sometimes users are unable to see their attachments of the emails, as Windows 10 mail app is unable to download attachments of the Gmail emails, which is a loss of data for them.
Not showing all the email messages – Users are unable to see all their email messages of Gmail in Windows 10 mail app and many Gmail emails have been moved to spam silently.
Note: Before opting any solution for the issues which users are facing at the time of using Gmail with Windows 10 mail app, they must do the following thing:
Why Taking Backup of Messages Is Important?
Before deciding on a solution, users should make a backup of all their emails, as they may lose some of their data in this situation. Users will not have to worry about data loss in the future if they backup their files.
If the user loses data while trying to solve the problem, they won't have to worry about it because they've already taken a backup. Users must utilize the Windows 10 Mail App Backup Software to create a backup.
Secure and Easy Method of Backup by Using Software
Windows 10 Mail App Migrator is aware of consumers' needs, as well as the importance and difficulties of data backup. This software makes data backup as simple as possible. The following are some of the software's most important features:
Finds and transforms configured Windows 10 mail accounts automatically.
While converting emails in the Windows 10 mail app, keep the following email qualities in mind: To, Cc, Bcc, Subject, Date, and so on.
Use advanced configuration filters to migrate emails from the Windows 10 mail app selectively.
It can save backups in a variety of file formats, including PDF, PST, DOC, MSG, MBOX, and others.
Both POP and IMAP configured Windows 10 Mail profiles can be migrated to the new app.
Keep the Windows 10 mail app mailbox folder's original On–Disk folder hierarchy.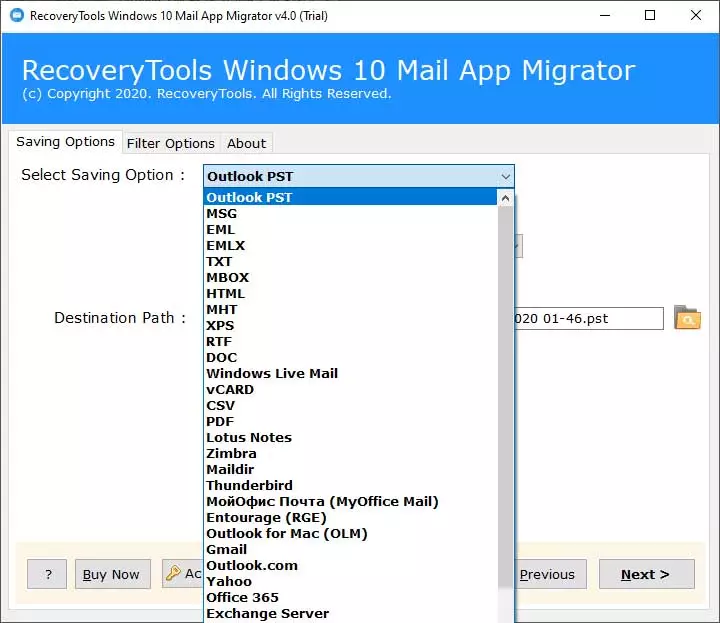 How to Use Suggested Software?
To begin, download and install the aforementioned applications on the Windows platform.
For manual conversion, select Configured Windows 10 mail app mailbox data or Windows 10 mail app files or folders.
Then, from the drop-down menu, choose the appropriate file-saving option.
Then, for saving the final data, choose a required destination path.
Hit the tab to begin the backup process for the Windows 10 Mail App's emails.
The utility will open the resulting folder automatically.
This application also comes with a demo version, which users can use to see if the tool is capable of solving their problems.
Users can seek solutions after taking a backup because their data is now safe because they have a backup of it. Users can now use manual approaches to resolve the problem with the Windows 10 Mail App not working with Gmail.
Windows 10 Mail App Not Working with Gmail – Get Solution
Handle user's issues manually
Method 1: Email synchronization
Many customers have complained that the Mail App does not allow them to read all of their Gmail email messages. They can try to solve their problem by doing the following steps:
To begin, launch the Mail App.
Right-click on the Gmail account and select account settings from the drop-down menu.
After that, go to mail change box sync settings and double-check that email sync is enabled.
The solution to the issue of mails got disappeared
Method 2: Update windows
If the problem continues, the user might try the following methods:
Check for updates now to ensure Windows has the most recent update.
Then choose between checking for updates and pressing the start button.
Then choose settings, then update, and finally security.
Keep an eye out for new information. Select Install Now if an update is available.
Method 3: Remove and re-configure the account from the Windows 10 Mail App
First, remove the existing account from the Mail App.
Configuring the accounts should force it to sync the mails.
By doing this, there are chances of recovering disappeared emails of Gmail.
Conclusion
If your Windows 10 Mail App not working with Gmail, make a backup before trying any solutions. Users will be able to avoid data loss by saving emails. Then, depending on the issues, apply manual procedures. If the user is unable to resolve the problem, he can migrate his data to other email clients. Users can do this by using this program, which includes the option of migrating.