How to Export Emails from Outlook 365 to Gmail Account Directly?
Many users want to know how to transfer emails from Outlook 365 to Gmail? Users are facing issues in completing this process. In this blog, we will give you solution of completing this process. By using Outlook 365 to Gmail Migrator Tool users can easily do this.
First, we will discuss about the reasons behind this migration process. Why users want to transfer their Outlook emails to Gmail. Some of the reasons are:
Outlook 365 is mainly designed for corporate users, on the other hand Gmail is convenient for home as well as corporate users. Therefore, few corporate users wish to copy emails right from Outlook 365 into Gmail account to fulfill the home and business desires.
Outlook 365 provides paid email service to its users. It is not free of cost. On the other hand, Gmail is almost free, and it comes with 16GB of cloud storage.
Gmail also provides other facilities like contacts, emails, calendar, and many more. So, these are some reasons why users are looking for how to export emails from Outlook 365 to Gmail.
Now we'll talk about the techniques of completing the process of Export mails from Outlook 365 to Gmail
Read Also ~ Migrate Outlook Account to Gmail Email
Techniques of how do I transfer emails from Outlook 365 to Gmail
Manual Method
Automatic Method
Method 1: Export Outlook 365 to Gmail by using manual method
First, you have to login into your Gmail account and click on a gear icon on the top right corner.
Then, click on a setting
After selecting the setting option, select Account and Import.
Then you have to click on "Import Mail and Contacts".
In a new tab enter your Outlook 365 account login credentials – login ID & Pass.
Then you have to select the items that you want to import.
Finally, hit the done button and then wait for the completion of the process.
Drawbacks of manual method
This is a lengthy process and will take a lot of time for completion. Completion of the process depends on the size of the file and it may take up to 2 days sometimes. Using this method is total waste of time. This method doesn't give a guarantee to the users as well.
Also, there is a need of technical skills to use this method. Non- technical users will not be able to use this method.
Method 2: Transfer emails from Outlook 365 to Gmail using automated method
Above mention method was not a reliable solution for users as it is time-consuming. In this technique, users can solve the issue of how do I transfer emails from Outlook 365 to Gmail by using software. Outlook.com Backup Software will help users in this scenario. It is a professional tool but non-technical users can also use this easily. This tool provides multiple file naming conventions through which user can arrange the output data files. It always preserves the folder hierarchy and email structure of the mailbox. Tool can export Outlook emails along with all its attachments. Now, let's see the working process of the software in brief.
How to export emails from Outlook 365 to Gmail – Step-by-step
There are some simple steps which user has to follow to start using this application. Those steps are:
1 – Install and run Outlook 365 to Gmail Migrator Tool on your system.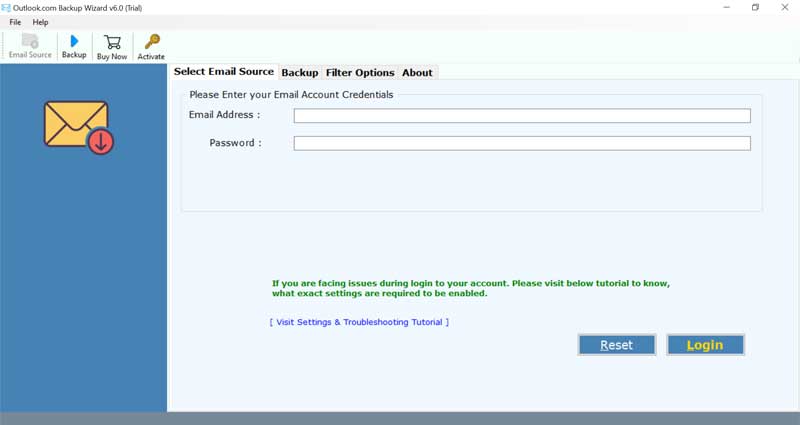 2 – Then enter Outlook 365 account login credentials – login id and pass.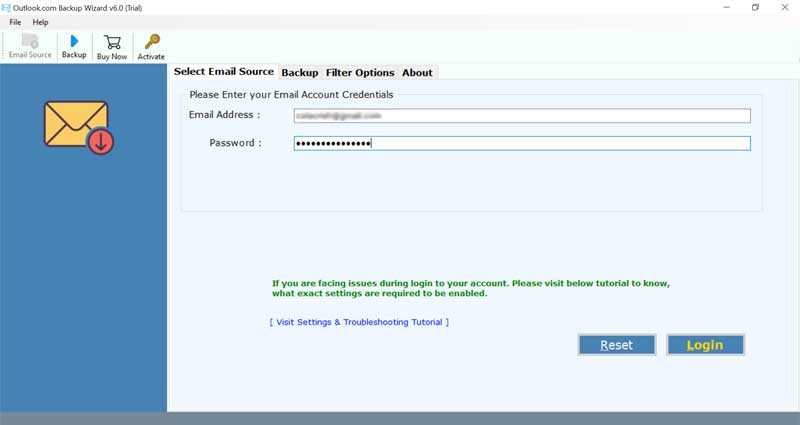 3 – User has to select the desired mailbox folders which he wants to import.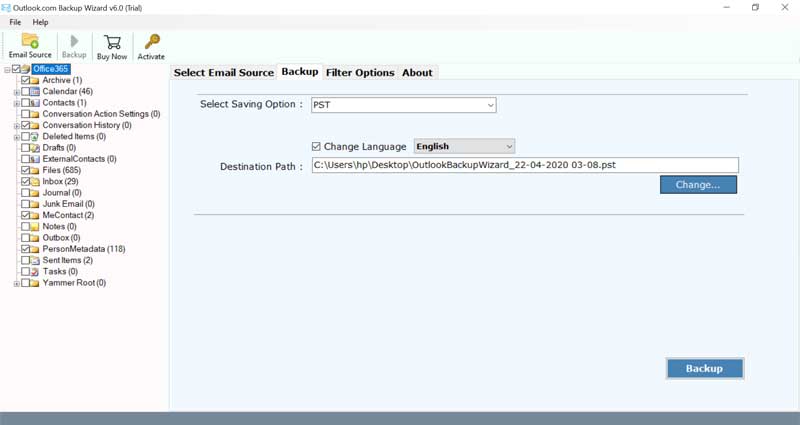 4 – Then select Gmail as the saving option from the given list.
5 – Now enter Gmail account credentials in the interface.
6 – Finally hit the backup button begin the migration process.
7 – You can see the live conversion process on your screen. After completion click on "OK".
8 – Now go to Gmail and check the resultant data.
Outlook 365 to Gmail Migrator Tool Features
Backup Outlook 365 emails with attachments
The Outlook 365 to Gmail migration tool is designed with advanced algorithms to download complete Outlook email information. All the Attachment files will also be converted while using this Outlook.com Migration tool. Attachment files are a very important part of the emails. This tool will keep all the attachments in their respective emails.
Retains original Outlook 365 folder structure
Outlook 365 to Gmail migration software will retain the original mailbox system folder hierarchy. It will map all the mailbox folders from Outlook account to destination account effortlessly. It can Migrate all Outlook 365 Inbox, Drafts, Deleted Items, Sent items, etc. with this utility.
Integrity of emails remain intact
User does not need to worried about much regarding the loss in any formatting or original data. It means that the software protects all the internal formatting of the Outlook 365 emails as original during the migration process. All the Metadata and all other properties of Outlook 365 emails like To, Cc, Bcc, Subject, Email Sent Date, Email Receive Date Completely Original.
Advanced Email Filters
Using this advanced email filter option users can filter and migrate emails according to their needs. Filter options include Date Range, To, From, Subject, etc.
Bulk download of all Outlook 365 emails
The Outlook 365 to Gmail migration software allows a complete import of whole mailbox items. It means that users can download data and export emails from Outlook 365 mailbox to computer in bulk. Just select all the Outlook folders and then select Gmail as saving format from the given list. Once you click on the Backup button, the software will instantly start migrating all mailbox items in bulk.
Conclusion
In this blog, we have discussed about the user's issue of how to transfer emails from Outlook 365 to Gmail. It is good to opt for the above mention professional technique. Opting Manual method is a waste of time for users & it did not guarantee success. By following the above steps user can easily complete the process. For the convenience of user, trial version of the tool is also available in which user can transfer the Outlook 365 emails to Gmail. By doing this users can make sure that this tool is a good choice for them or not. For more features, users can buy the product as well.