How to Convert Thunderbird Email to PDF with Email Attachments ?
A lot of Mozilla Thunderbird email client users are looking for a trustworthy Thunderbird to PDF Converter which can export Thunderbird emails to PDF Adobe format inclusive of attachments and other email components. BitRecover Software Company is serving users since 2011 in email conversion, email backup, and data recovery field but recently our support team has received few important queries related to convert Thunderbird to PDF. After receiving these problems, we have decided to publish this complete write-up.
Hello sir, I am contacting to you behalf of a forensic investigation agency, here I am working as a forensic investigator. I am looking for the best software to convert Thunderbird to PDF together with email attachments for submitting my case related digital evidence in the court. I have also tried the manual method to export Thunderbird to PDF but it is not relevant for me because it exports emails without attachments. If you have an excellent Thunderbird to PDF Converter, then please suggest it to me.
– Carrabelle, New York
Hi BitRecover Support team, I am currently working in a reputed university in Florida as registrar, here our staff is using Mozilla Thunderbird email client from past 7 years for sending and receiving the email messages. Now our management wants to batch print Thunderbird email to PDF which is possible after getting the emails in PDF Adobe. If you have reasonable software to convert Thunderbird email to PDF then recommend it to me.
– Elizabeth, Florida
Export Thunderbird Emails to PDF – Step-by-Step
At first, download the all-in-one Thunderbird Converter from the official product page and install the product setup on Windows Computer. This software is also known as Thunderbird to PDF Converter which has a separate option to batch convert Thunderbird email to PDF with attachments. It offers multiple file naming options too for storing the converted Adobe documents in different professional styles.
How to Save Thunderbird Emails as PDF Document ?
1 – Start Thunderbird to PDF Converter, it will automatically load Mozilla Thunderbird profile data in the software panel from the default storage location. Users can also press the Select Files or Select Folders button for adding Thunderbird data manually from the computer.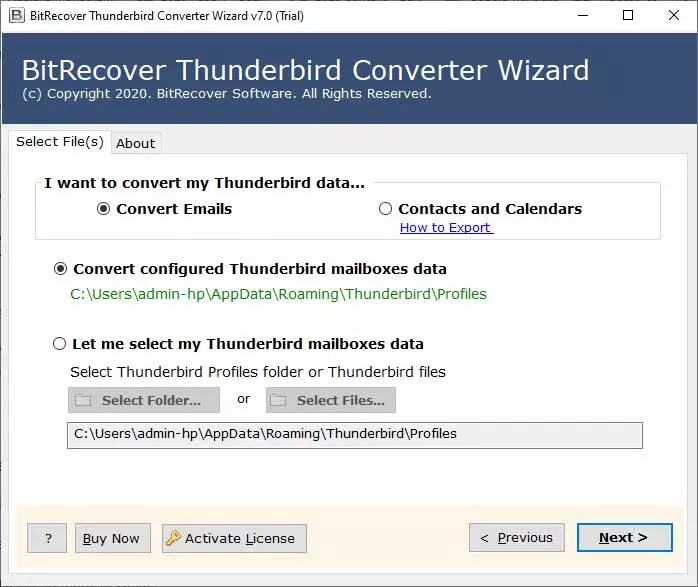 2 – The tool is capable to preview Thunderbird folders in the software panel. Select email folders from the software interface and press the Next button.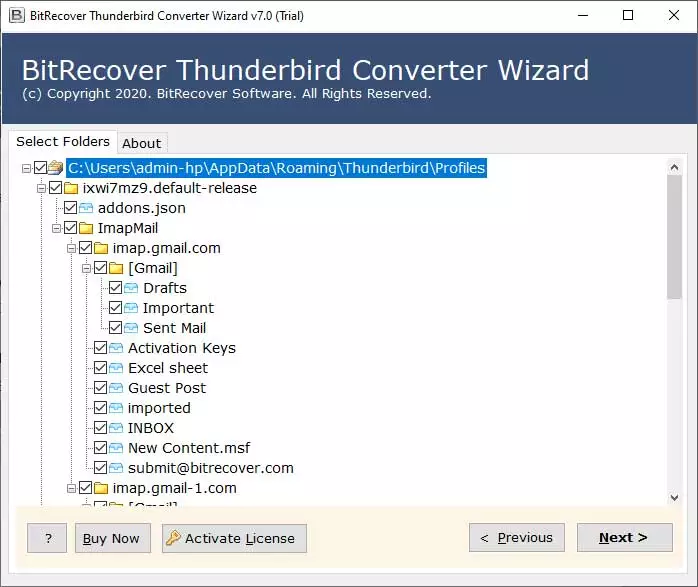 3 – This application offers multiple saving options, choose PDF as saving format.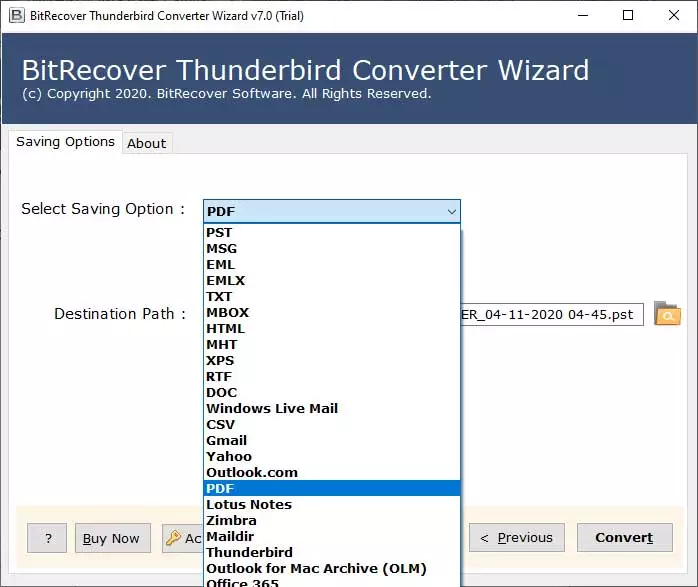 4 – Thereafter, select the file naming option according to your choice and select the destination path.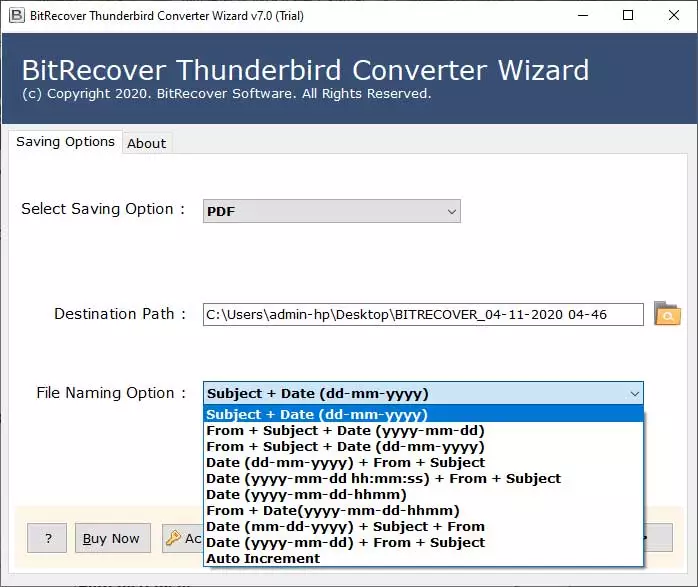 5 – After that, press the Next button to convert Thunderbird mail to PDF documents.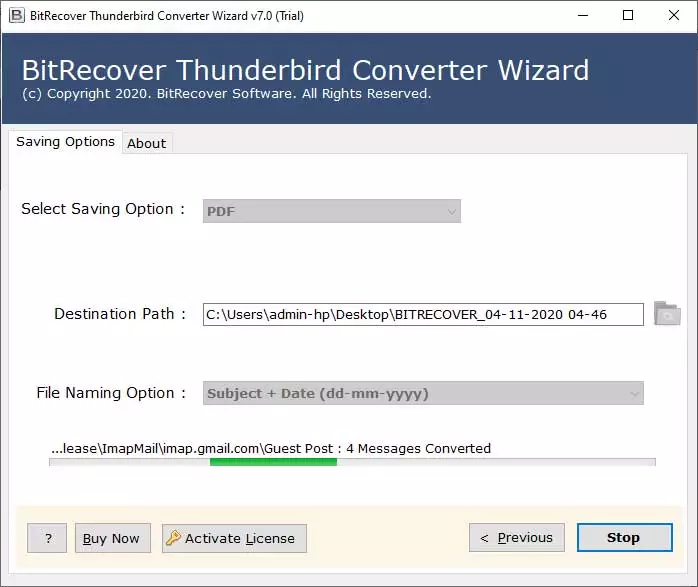 6 – After completion of the task, get your converted Adobe PDF documents from the selected destination path.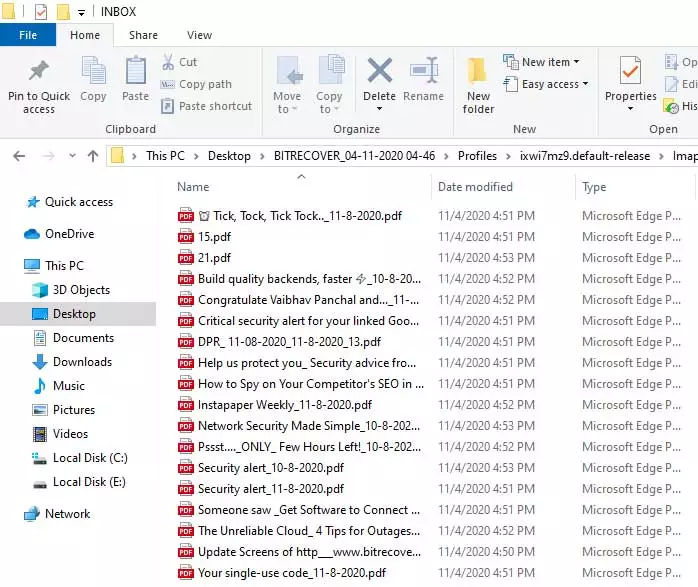 By following these steps, queries like 'how to convert Thunderbird email to PDF', 'can I export Thunderbird emails to PDF', 'how to save Thunderbird email to PDF' will also be solved in the easiest way.
Thunderbird to PDF Converter Highlighted Features
It is a well-suitable toolkit for batch convert Thunderbird to PDF so that users can save their valuable time and efforts.
Users can batch saveThunderbird email to PDF for completing their email printing-related issues.
Mozilla Thunderbird to PDF Converter assents to export Thunderbird to PDF including email attachments and components.
The tool keeps folders and sub-folders structure during the completion of the task so that users can understand the resultant data.
The toolkit gives permission to convert selective Thunderbird folders to Adobe PDF format.
Respective users can preview Mozilla Thunderbird emails/folders in the software UI before conversion.
Thunderbird to PDF Software provides several file naming options for storing the resultant documents in professional ways.
This application has the capacity to choose the destination path for storing the resultant Adobe PDF documents.
It is an excellent product for lawyers and forensic investigators for extracting the evidence from Mozilla Thunderbird to PDF as PDF documents can be easily print.
This software is available with a free demo edition so that you can evaluate it before purchasing the license keys.
Why PDF Format ?

A lot of professional and home users prefer to store their important information in Adobe PDF format because PDF documents can be easily printed without facing difficulties. Many government or non-government agencies allow submitting important information, evidence, document, etc. in Adobe PDF format. Adobe PDF documents can be easily accessible using various types of digital devices, for example, Computer, Laptop, Mobile Phone, Android, Tablet, etc. Adobe PDF documents allow to store more information in very less size and PDF documents can be easily send or receive by emails in a form of attachments. Users can also secure their Adobe documents using user level or owner level passwords.
Client Testimonials
I just want to say thank you team BitRecover for explaining the process to convert Thunderbird to PDF documents in the easiest way. After reading this simplified blog post, anyone can easily save Thunderbird emails as PDF without facing any type of difficulties.
– Jeremiah, Washington
J'ai également utilisé Thunderbird en PDF Convertisseur pour imprimer en lots le courrier électronique Thunderbird en PDF. Après utilisation du produit, je suis satisfait à 100% car j'ai obtenu un résultat précis sans perte d'informations importantes. Selon moi, ce sont des logiciels très gentils.
– Dominic, France
Commonly Asked Questions
Q 1 – How to export Thunderbird emails to PDF?
A – Follow these steps to convert Thunderbird to PDF.
Firstly, start Thunderbird to PDF Converter and add Thunderbird profile data in the software UI.
Select Thunderbird folders from software UI and press the Save button to continue.
Select PDF as saving format and choose destination path also.
Press the Ok button to start Thunderbird to PDF exporting and after completion, get converted documents from the destination path.
Q 2 – Can you please suggest to me the manual method to export Thunderbird emails to PDF and what are the limitations of the manual method?
A – Yes, you can follow these steps to save Thunderbird emails as PDF using the manual technique.
Start your Mozilla Thunderbird email client and download ImportExport Tools add-ons which are available free of cost.
Choose the Add-ons option from Menu.
Click on Settings and choose Install Add-Ons from the file option.
Browse the downloaded file (ImportExport Tools) and press the Open button.
After that, click on Install Now for installing the add-ons in Mozilla Thunderbird.
Now restart the Mozilla Thunderbird email client.
Select any email folder i.e. INBOX and right-click on the folder.
Thereafter, choose ImportExport Tools >> Export all messages in the folder option.
Select PDF as saving format and complete the process.
Limitations
Exported Adobe PDF documents don't contain email attachments.
Mozilla Thunderbird should be in running and healthy condition.
It requires technical knowledge for exporting Thunderbird emails in PDF.
Lengthy and time-consuming method for storing the Adobe documents.
Q 3 – Can I export batch Thunderbird emails to PDF Adobe documents at once using your software?
A – Yes, there is no size limitation to export Thunderbird emails into PDF Adobe documents.
The Closure
Above mentioned Thunderbird to PDF Converter is a great software that gives permission to export Thunderbird emails to PDF documents together with email attachments and attributes. The tool comes with a free trial version so that our respective clients can check the software functionality before upgrading to pro. However, In demo edition software permits to conversion of 25 emails from each Thunderbird folder to Adobe PDF. But, you can purchase a personal license or technical license at an affordable price for converting unlimited Thunderbird emails into PDF format without limitations. Let's enjoy the conversion now.