How to Backup Telstra Webmail Emails to Computer, Cloud Services ?
We are living in an age where the majority of our information is getting advanced. This valuable web database is more inclined to robbery and misfortune. Today more and more Telstra Webmail users are understanding the significance of keeping their strategic database backup up and stored all the time locally. With regards to business continuity and disaster recovery planning, the BitRecover Telstra Webmail Email Backup software is viewed as the best and cost proficient solution. In this article, we will take you through a reliable Telstra webmail backup tool. With this solution, you will be able to download Telstra emails to computer, email clients and other cloud services.
How to Download Telstra Emails to Computer ?
Follow these steps to save Telstra emails to computer.
Launch Telstra webmail backup tool on Windows.
Choose Telstra email source and specify the account details.
Enable desired Telstra mail folders and choose any saving format.
Set a destination path and a required file naming option.
Start to download emails from Telstra webmail to PC.
What is the Significance of Telstra Webmail Backup Tool ?
Telstra webmail backup solution is a professional tool that gives users the facility to download Telstra webmail emails to hard drive. It is compatible utility for each type of systems such as Windows and Server machines. The solution has a great proficiency and is well-known in online market due to its amazing functionalities. It comes with an intuitive interface which helps the users to understand the functioning of application in well manner. Without any technical assistance, you can save Telstra emails to hard drive. Just install the Telstra mail backup software and export Telstra emails to computer without any hassle.
Want to test the software before purchasing the license keys? If yes, then you will be happy to know that the BitRecover company offers a free demo version of Telstra webmail backup software. It permits users to take backup of Telstra webmail emails to local storage. Then, you are required to update the license keys for full and unlimited Telstra backup.
How to Backup Telstra Webmail Emails to Computer, Cloud-Based Services ?
To use the Telstra webmail backup tool, firstly download the setup file of the utility and launch it ion your machine. Then, quickly follow these steps to backup Telstra webmail messages to hard drive.
1- First of all, from the email source list, choose Telstra webmail option.
2- Now, enter the Email address and Password of your Telstra email account. Thereafter, press the login button to continue.
3- Then, the software is fetching all Telstra webmail emails into the GUI. Specify those Telstra webmail folders whose data you wish to backup.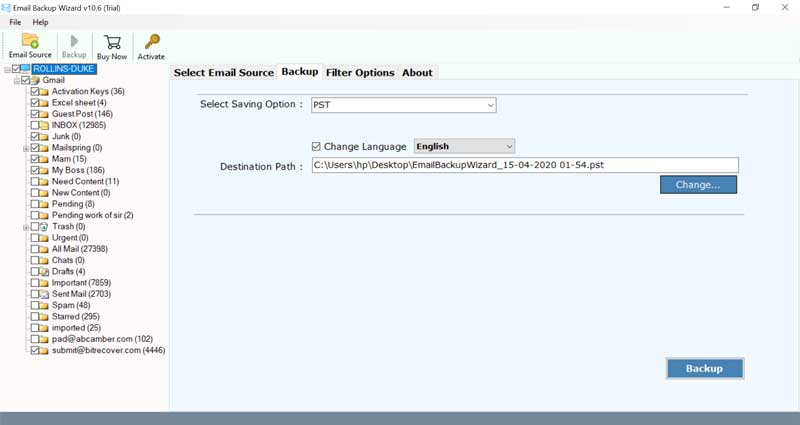 4- Now, go to the saving options list and choose a file saving type as per your requirement.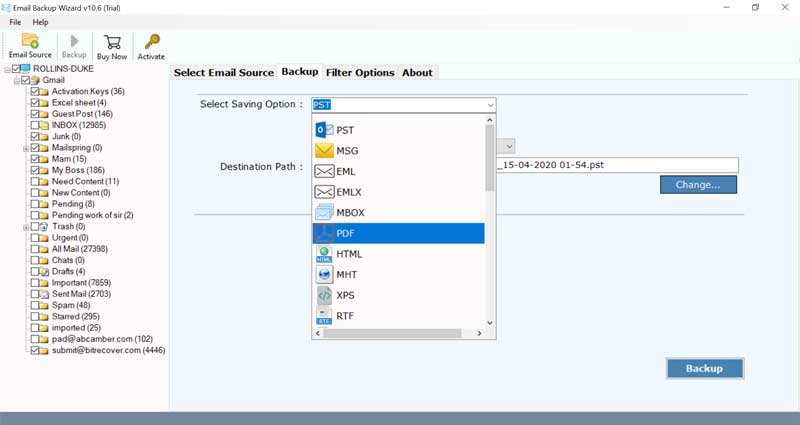 5- The Telstra mail backup tool also offers some file naming options. Choose a required one.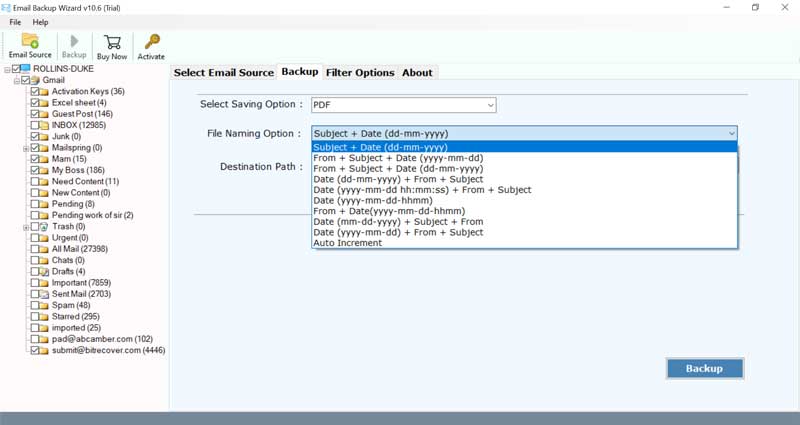 6- Now, in order to do a selective backup of Telstra emails, just enable this option – "Use Advance Settings for Selective Backup".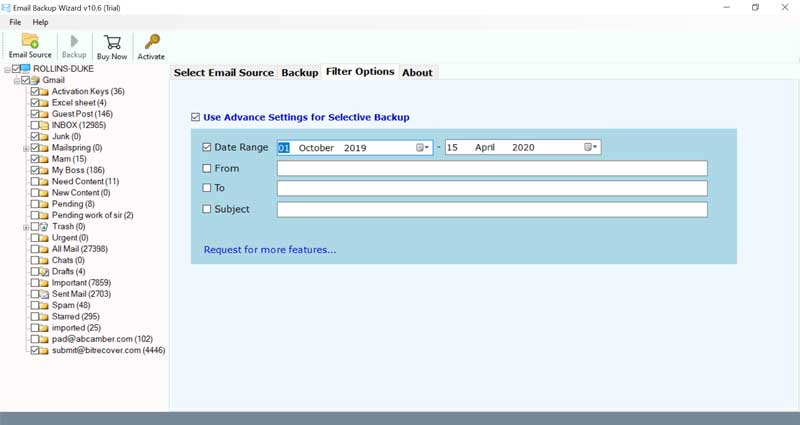 7- Thereafter, specify a destination location where you want to backup Telstra emails. Hit on the Backup tab to start to download Telstra emails to computer.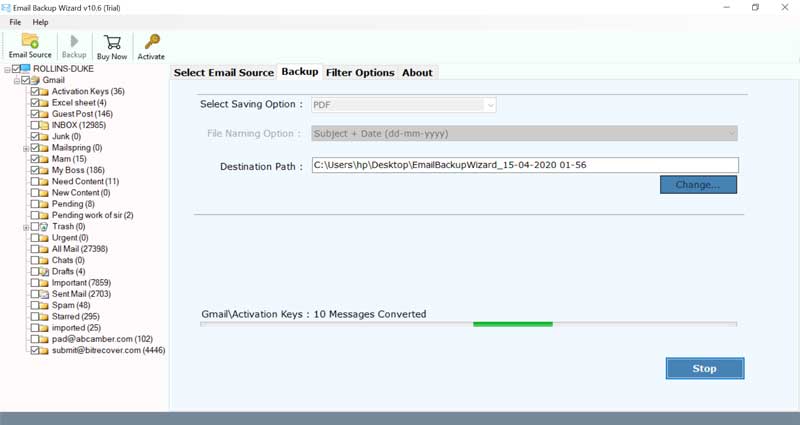 Once the backup process finishes, the Telstra webmail backup utility will give a completion message. Click on OK to end the task. Now, open the resultant folder containing your backup of Telstra emails. Or, if you have chosen an email service as a saving option then, sign in to your email account.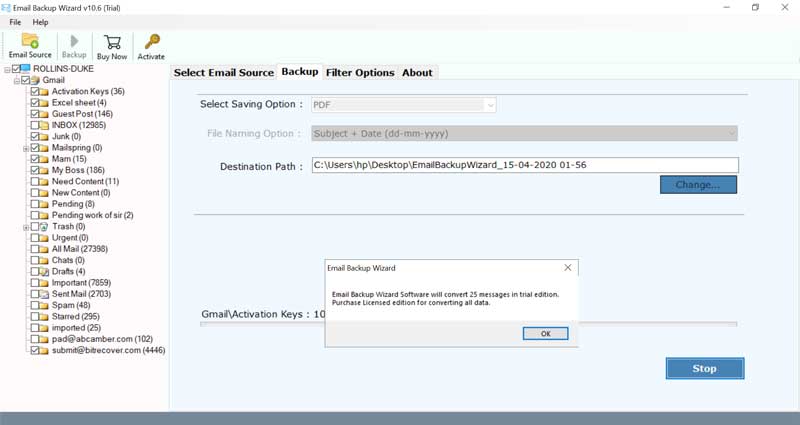 So, at the end, we can say that by following these steps, one can easily download Telstra emails to computer hard drive, webmail, email clients.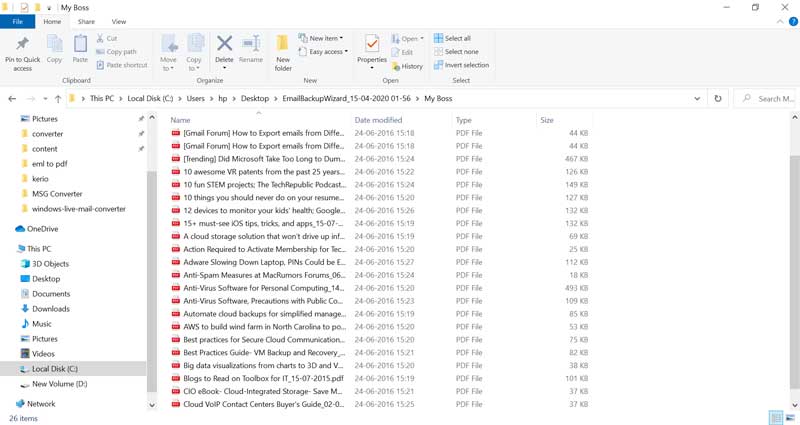 Few Reasons Why Telstra Mail Backup Solution is Important for You
1) Most Reliable strategy for Data Protection: Telstra Cloud backup keeps your data at a safe location on your computer. Consequently if there arises an occurrence data theft issues then you will get guaranteed of protection of your valuable data.
2) Trustworthy & Advanced Technology: Telstra webmail backup is worked around the most trend setting innovations that incorporates data safety and which are not accessible with other online software.
3) Versatile Data Accessibility: All of your database is being backed up on other cloud services or even in local storage. That means you can access your downloaded Telstra emails at any place. You can work around with your Telstra webmail backup files while voyaging or sitting at home.
4) Higher Compatibility: People normally face issues because of compatibility of gadgets. While with Telstra webmail backup software, you can recover your lost emails if you have a copy of data locally. You can choose saving options like PDF, DOC to save Telstra emails. That implies you will never need to confront any issue related with device compatibility.
Create Telstra Email Backup in Multiple Ways
This powerful tool provides various saving option for restoring your Telstra Webmail emails.
Different email formats: With this software, one can download Telstra Webmail emails to computer by choosing these standard email formats. You can backup Telstra Webmail to PST, Telstra Webmail to MSG, Telstra Webmail to EML, Telstra Webmail to EMLX, Telstra Webmail to MBOX, Telstra Webmail to PDF, Telstra Webmail to HTML, Telstra Webmail to MHT, Telstra Webmail to XPS, Telstra Webmail to RTF, Telstra Webmail to DOC, Telstra Webmail to CSV, Telstra Webmail to Zip.
Save Telstra Webmail backup data to email clients: Use this tool to take backup of emails from Telstra Webmail Solutions to popular email clients. Now, you can easily download Telstra emails to Windows Live Mail, Telstra to Lotus Notes, Telstra to Thunderbird, etc.
Telstra mail backup to cloud-services: With this tool, the users can create backup of emails from Telstra Webmail to Gmail, Telstra Webmail to Yahoo, Telstra Webmail to Outlook.com, Telstra Webmail to Office 365, Telstra Webmail to G Suite, etc.
Frequently Asked Queries

Q1 Can I download multiple Telstra webmail accounts to computer?

Ans- Yes, use the advance mode option of Telstra webmail backup software to save multiple Telstra email accounts to PC.

Q2 Will the software allow me to download Telstra emails to computer in batch?

Ans- Yes, with this solution, you can easily backup emails from Telstra mail to computer in batch.
Closure
In this article, we have described how to download Telstra emails to local storage easily. The software of Telstra webmail backup is very efficient. So, if you are one of those who is looking to backup Telstra mails to PC, other cloud services then, quickly download this utility. It provides a direct way to save multiple Telstra emails to PC.