Here's How to Print Multiple Emails to PDF File Format in One Go ?
From past few decades, emails have been playing a crucial role in business as well as personal communication. Email messages contains substantial data which are to be saved for future reference. Nowadays, it's very swift and simple to share files via email. However, it isn't ideal to use your email account for permanent file storage. Reason being, the data could be lost or cause you to exceed storage limits. Hence, we are going to show you how to print multiple emails to PDF format along with attachments for multiple purposes with an effective solution – BitRecover Email Backup Wizard.
Reasons for printing emails:
Emails are more inclined to data loss so one should save them in a secure medium such as PDF format.
Since emails can be huge in numbers, so it's quite difficult to archive all email messages.
Different email clients have their own file formats. Hence, it becomes difficult to transfer the data from one medium to another.
Why PDF Format is Recommended for Printing Multiple Emails ?
PDF (Portable Document Format) is a universally-compatible file format that gives you facility to you for viewing emails and other related data items in digital format. It was produced by Adobe systems. This permits the users to save all data securely and provides an environment where they can see their documents.
It facilitates to save text files, pictures, hyperlinks and other data items. PDF file format provides a more precise view of user emails and keep them more safe.
PDF files offers security to email files in these ways:
Password protection
Encryption
Watermarks
Moreover, PDF files can be very easily compressed so that the import and export process of multiple emails becomes efficient. Also, this PDF format is mostly adopted by law enforcement agencies as these files can be easily presented as an evidence. So, one can put a password on these PDF files and can show them in the court as an original email evidence.
How to Print Multiple Emails to PDF File Format ?
BitRecover Team provides a simple and effective technique for you to print multiple email conversation as PDF file with few simple clicks!
Download and install the software
Firstly, download the software to print multiple email messages to PDF files. Install and run the software on any Windows-compatible machine.
You can try the free demo version of this application. It permits to convert top 25 data items from chosen email account to supportable file format. In this way, you can analyse the software's features and working. For unlimited printing of bulk of emails into PDF format, purchase the license keys.
Choose email source and fill login details
From the left panel of the software's window, you can see the email sources list. The software supports more than 90 cloud email services. Hence, choose any of the email source as per choice.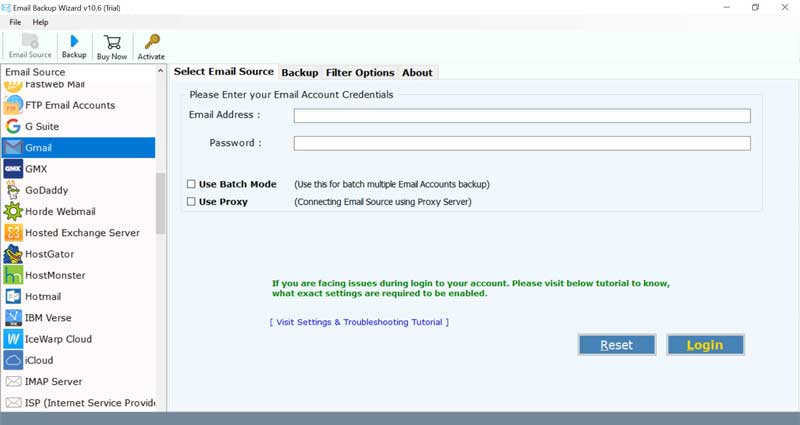 Then specify the login details of your chosen email account – email address and password. For printing multiple email account data to PDF format, enable the Use Advance Mode option. Threafter, press the login tab to start printing bulk of emails as PDF format.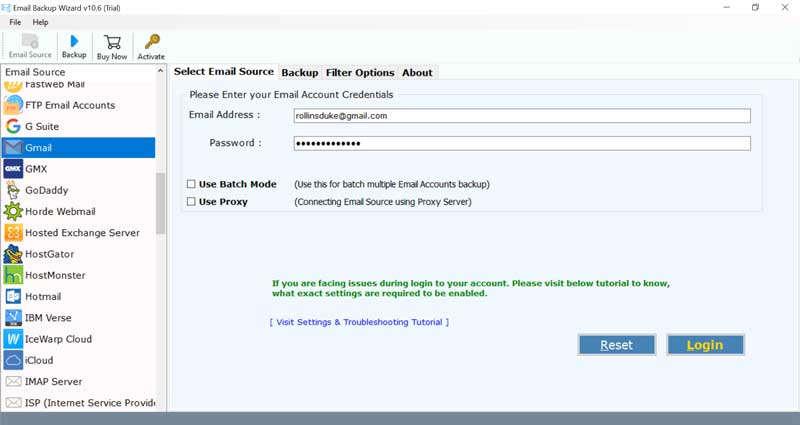 Preview email folders
Once you login, the software will load all the user-created email folders, inbox, sent, draft, personal folders into the software panel. So, enable all those email folders whose data you want to print in PDF format.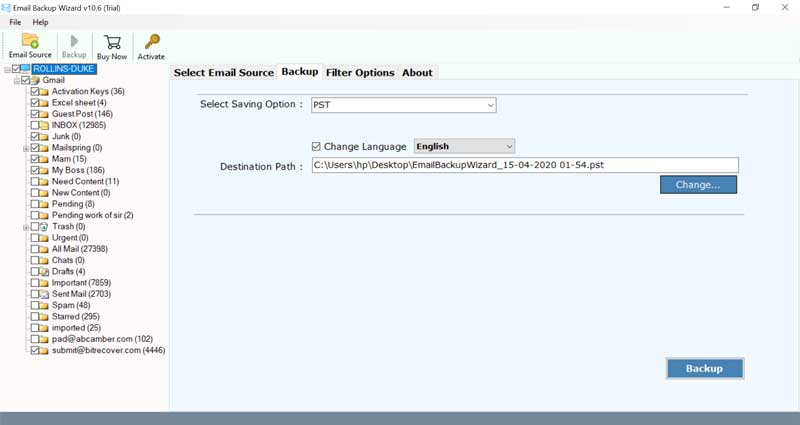 Select PDF format
The tool provides many saving options to it users. Here, navigate the mouse towards the PDF option.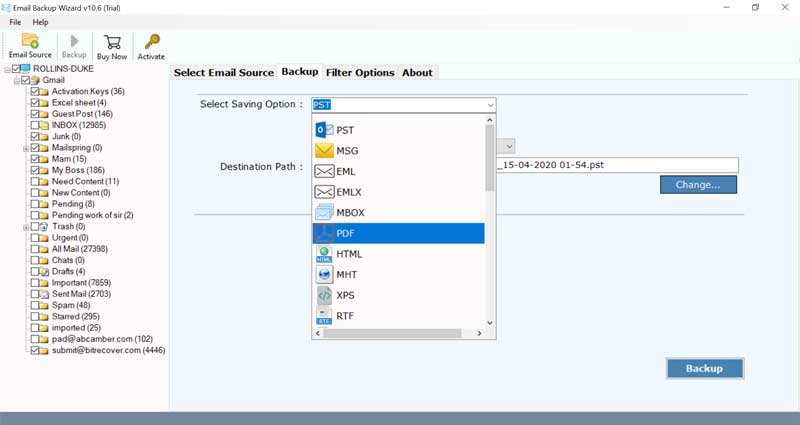 Select saving location
Along with this, now, choose a destination path to print multiple emails to PDF file format. Although the utility saves the output at the desktop location, but you can change as per requirement.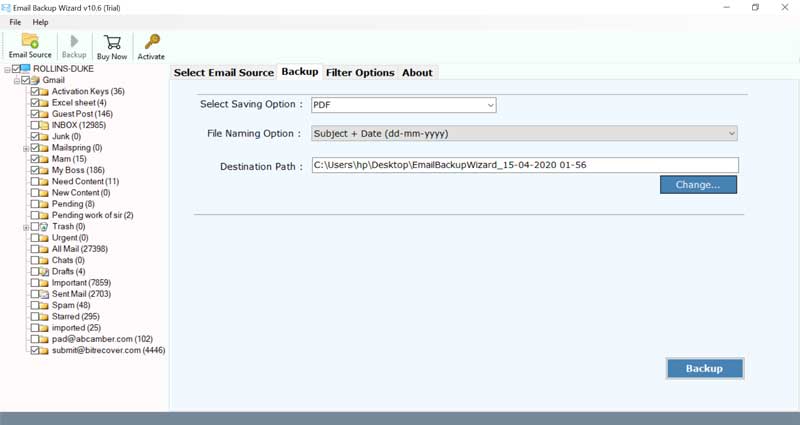 Start to print multiple emails as PDF
Hit on the backup tab to start to batch print emails to PDF file format. After the conversion process finishes, the tool will give a completion message at the end.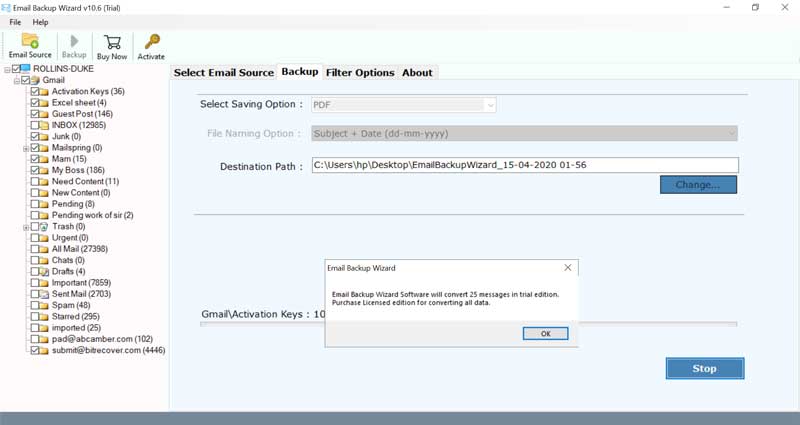 Now, open the resultant folder containing the PDF files.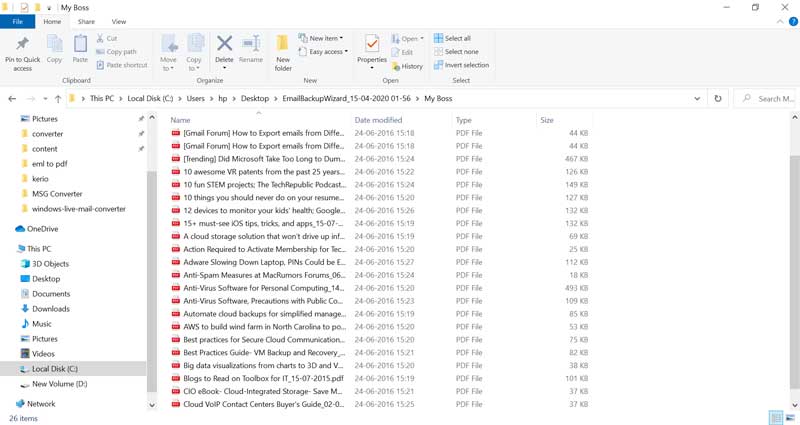 Significance of Printing Multiple Email Messages as PDF Format 
Share your PDF files with clients – Do you have a multi-week project? With few clicks, you can print multiple emails to PDF format and save them in a shared drive or project folder for future reference comprising of attachments. Thereafter, you can share these PDF files with your clients.
Forward PDF emails to seniors – Did your supervisor just volunteer you to solve a huge problem. Did you just forwarded some important emails detailing a situations that just now became your new task? Well, you can print multiple emails to PDF files and save them to your hard drive with a single click. Later you can refer to them as you work on that particular problem.
When working with legal – Getting charged? Are you locked in court with a client over non-payment? It's a quite challenging task to get all the paperwork together including emails with attachments your legal team requests. You can save and print multiple emails to PDF which makes it easy to get your data together for discovery.
While working with HR – Let's say there is a situation wherein you require to visit to HR. Then, you can print multiple emails to PDF file so as to quickly combine any communications you've had with a particular person. And forward them to HR as a hardcopy – instead of forwarding those emails one by one you can print emails.
Print Emails from Numerous Email Services into PDF format With This Software
Printing large number of emails as PDF files is not that easy and needs a long queue of steps for every emails to be converted into PDF files. So, if you have thousands of emails and want to print multiple emails as PDF files then a third-party solution is the only right choice. The manual tricks won't give you that efficiency and reliability that this software offers. The users can print emails from a large number of email services.
Print cloud-based email application data as PDF files
BitRecover software gives you facility to batch print large email documents as PDF files from cloud-based email applications. You can print emails from email applications like Office 365, Outlook webmail, Yahoo, Gmail, G Suite, Zoho Mail, Rediffmail, USA.com, iCloud.
Print hosted email accounts into PDF format
This software also gives facility to print emails from hosted email services to PDF file format. Hence, you can choose a relevant service provider for printing your important mailboxes in PDF format. Print IMAP, HostMonster, Bluehost, DreamHost, Horde Webmail emails into PDF format with this application.
Highlights of Software
The tool provides advanced email filter options which you can apply for selectively print multiple emails to PDF format.
It is a fully automatic and advanced application that only requires your email login details for completion of task.
It offers so many file naming options for a better email management.
The utility preserves the internal folder hierarchy throughout you print multiple messages in Adobe PDF format.
You can backup multiple email account data into PDF format in a single processing.
It is a completely independent tool which does not requires the installation of any external application.
You can download the utility on any latest and earlier versions of Windows OS.
Frequently Asked Questions

Q1: How to print multiple emails to PDF with attachments ?

A: Follow these steps to batch print emails as PDF files:

Download email to PDF converter on Windows OS.
Choose desired email account and fill login details.
Specify folders for conversion and pick PDF saving option.
Enter destination path and start to print multiple emails to PDF.

Q2: What is the minimum hard disk space to install this software ?

A: A minimum of 48.7 MB of free hard disk space is required to print bulk of messages in PDF format.
Over To You
In the above blog post, we have suggested an all-in-one solution to print multiple emails to PDF format from multiple email services i.e. Cloud, Desktop, Webmail, etc.
Now, anyone can easily batch print large emails to PDF with attachments. If you are facing any problem while using the software then feel free to ask with our technical support team.