How to Open MSG File in Lotus Notes – Let's Read
Can I open Outlook MSG file in Lotus Notes email client? This question is specially raised by users who have files with .msg extension and only have IBM installed on their system.
Does IBM Notes support files having MSG extension? The straight answer to this is NO. It is not at all possible to directly import and open MSG files in Lotus Notes.
Now what? Don't worry! You still have a path to view content of MSG files in IBM Notes. For this, you have to simply convert MSG files into NSF format. You can read this entire post because it's completely dedicated towards delivering of a solution that accomplishes MSG to NSF conversion.
"Recently, I am working with Lotus Notes application in my firm. My team lead gave me around 10,200 MSG files that I have to open in my IBM Notes program because my head has instructed me for the same. Now my nights are sleepless because I can't use any other applications to open MSG files like free MSG viewer. Please, someone, suggest me a way to come out of this hassle!"

– James, UK
We are going to tell you that how you can effortlessly save .msg files in .nsf format. After this, we'll tell assist you with the method of importing resultant NSF in your Lotus Notes mail client. We are going to guide you with each and every process, which you might require to open MSG files in Lotus Notes.
How Open Outlook MSG File in Lotus Notes – Simple Steps
Process 1 : Convert MSG to NSF Format
The first thing to open Outlook MSG File in Lotus Notes is to convert Outlook MSG files into NSF file format. It is not essential to have Microsoft Outlook installed on your system to complete this process. Yes, you are thinking correctly!! This solution is a quick method to save Outlook MSG files in IBM Notes NSF format. Following steps will tell you that how you can accomplish this task without suffering from any error :
1 – Click on the Download button given below for downloading the setup file of MSG Converter program. This program is majorly responsible for opening MSG file in Lotus Notes by completing the first process.
Note – Pre-installation of IBM Notes is mandatory to execute this procedure successfully without any error.
2 – Properly install the setup file of recently downloaded .exe file and launch the application.
3 – Upload MSG files in the software GUI using Select Files or Select Folders button. Click on Next to proceed further.
4 – Again, you have to select the folders that comprise of source MSG files in them. Check the checkbox of respective folders and then, click on the Next button.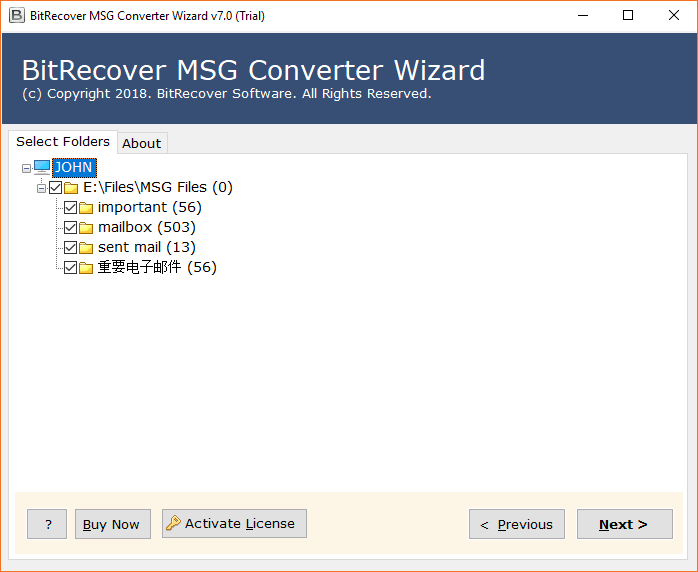 5 – Explore the menu of 'Select Saving Option' and select Lotus Notes from the explored list.
6 – Finally, click on the Convert button to execute the procedure of MSG to NSF conversion.
Query About – Open MSG File in Lotus Notes
"I have joined a new enterprise where IBM Notes mail client is being used. In my previous firm, I had been using MS Outlook 2016 for professional purpose. There are some important MSG files of a project that I have to access in current Lotus Notes program. Since I already knew about the solution to convert .msg file into .nsf therefore, I had already done that. But, now I actually want to confirm that the procedure to import this NSF file is same as for the others? Or, there exists some different steps? Actually things might go wrong, if I attempt the task without any confirmation. For example – my business tenant details can get hampered. Therefore, I thought of asking this question from you guys so that I get confidence while doing the same. If you are reading my problem, thanks for taking out time for me. And I request you to please help me."

– David, USA
Process 2 : How to Import Output NSF File in IBM Notes?
Now the second procedure to open MSG file in Lotus Notes calls for importing of resultant NSF files in target Lotus Notes. If you already know the process of importing NSF in your IBM mail client, no need to read this section. For users who don't know about this, we are providing stepwise guidance for the same. What for are we waiting for? Let's begin!
Launch the target IBM Notes app on your PC and click on File >> Import
This opens an 'Open Database' window where you have to select the server where source NSF file resides. Here, you have to select 'Local' because the file is saved in your computer itself.
After that, locate towards the location where NSF file is saved, select it, and then click on Import button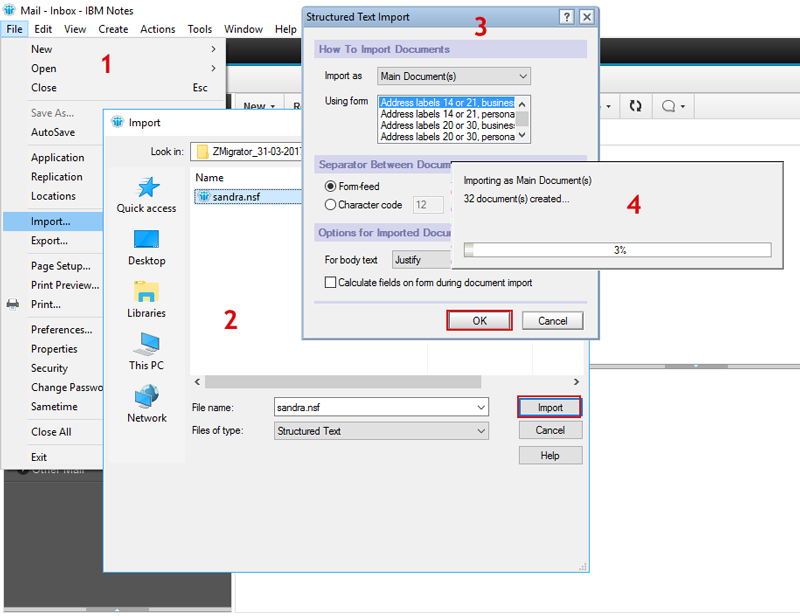 And, here its done!! See, how simple it was to open MSG file in Lotus Notes.
Observational Verdict
It is not at all complicated to open Outlook MSG File in Lotus Notes mail client. Organizational users have to opt for a correct platform to perform such task. The solution that we suggested you maintains the data integrity throughout the procedure. It allows users to attempt the task without any risk of data loss.
Read Also – Open MSG Files in Gmail