How to Open MSG File in Gmail Google Workspace?
Do you
wish to open MSG file
in Gmail account which is the most trending email platform?If
Yes
, you have landed at the correct place. Go through this entire blog to learn about an
easy way to open .msg file in Gmail
tenant.
How to Open MSG files in Gmail – This is one of the frequent question in today's era. Almost every business user raises this question. There could be several reasons to open MSG file into Gmail. People might wish to keep backup of MSG files data in their Gmail account. Or, they might wish to make MSG files accessible from anywhere at any instance of time.
Whatever the reason is, it is important to get to know about a foolproof method to open MSG files into Google mail account. For this, you have to read this post thoroughly and understand the simple way to open Outlook MSG file in Gmail account.
Why Gmail Is Trending Email Service?
Nowadays, Gmail Google Workspace became a trending email service because…
Gmail is a freeware cloud-based email service, which comes easy to use graphical user interface.
After creating Gmail account, users can enjoy Google's most crucial services i.e., Google Drive, YouTube, Google Photos, Online Excel, Online Word, etc.
Gmail provides 15 GB of free cloud space with each account which can be used to store user's emails and personal data.
Nowadays, most of the users are using Android Mobile phones which is also a Google product. It is mandatory to login with Gmail account to use complete Android services and benefits.
Users can easily upgrade Gmail at nominal cost after that they can use Google Gmail interface for their personal or professional email accounts.
Easily open .msg in Gmail
The solution involves an intelligent program named as MSG to Gmail converter. It is a robust tool which allows customers to directly open .msg in Gmail account. It does not require any other application installation to accomplish the task. Clients simply have to enter their Gmail credentials for moving the MSG files in their Gmail tenant. Well, let's read out the following steps to know about the effortless way to open MSG file in Gmail :
How to Open Outlook MSG Files in Gmail?
1 – Download and install the software to open .msg in Gmail. Ensure that you attempt this installation procedure completed without any interruption.
2 – Launch the application to begin with the procedure of uploading MSG file in Gmail account. Click on Next for further steps.
3 – Click on Select Folder option to browse the folder that comprises of source MSG files within it. Hit on the Next button after adding MSG files in the program.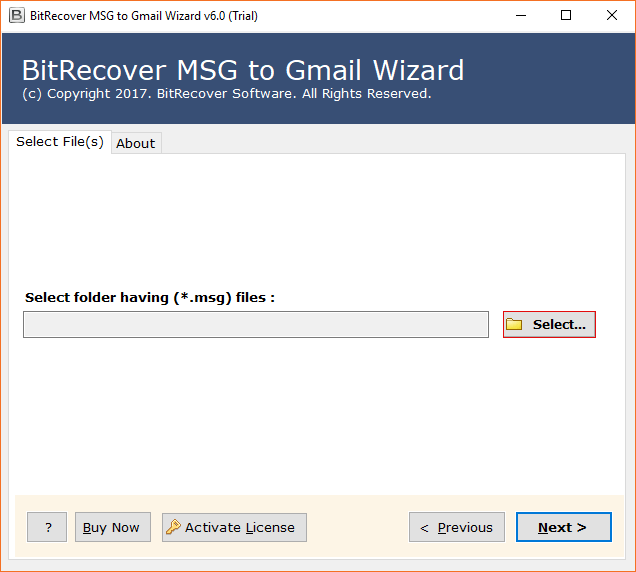 4 – It's now time to choose the sub-folders that you wish to process. Check all the source sub-folders and click on the Next button.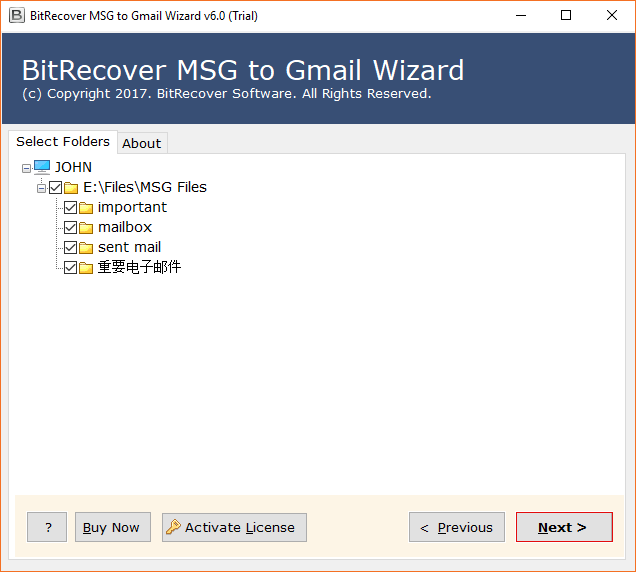 5 – Expand the menu of 'Select Saving Option' and select Gmail from the displayed list.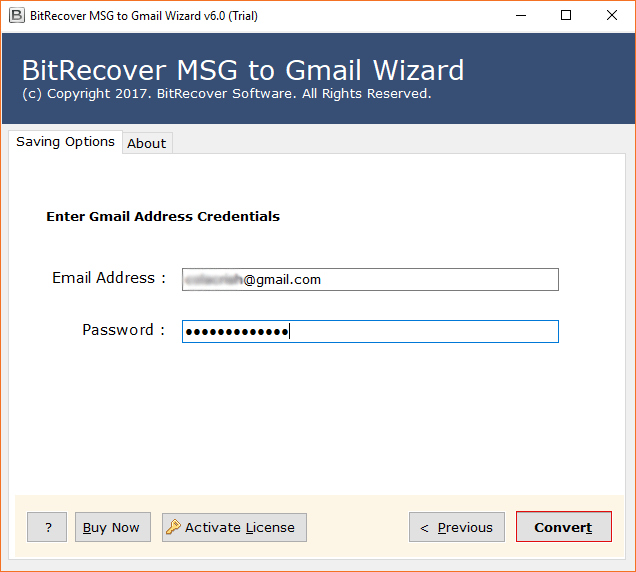 Note – The target Gmail account should be enabled with IMAP settings. Also, 'allow access to less secure apps' feature should be activated in this particular Gmail tenant.
6 – The program asks you to enter the credentials of the target Gmail account. Type email id and password of your tenant in the respective fields.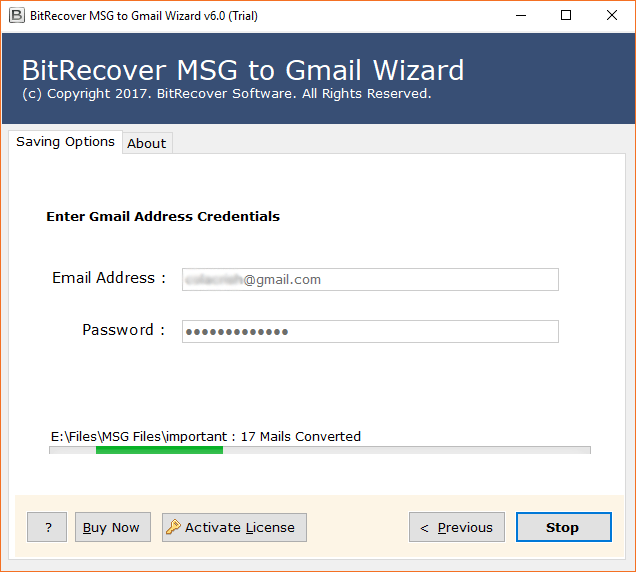 7 – Finally, hit on the Next button to allow the program to initiate the entire procedure.
Ensure that the internet connection is proper because MSG files are getting uploaded in Gmail's cloud. This process consumes less time duration in completing the entire task. Users don't have to worry about any data loss or content manipulation. The tool does not harm the existing content and mail structure. It keeps the entire data intact and allows consumers to upload multiple MSG files at a time. No data mixing or information breach incidents will take place if you opt for this approach.
Does there exist any manual way for the same?
Yes, there exists a manual method to open MSG file in Gmail. But for this, it is essential to have Microsoft Outlook installed on your machine. This desktop-based client should be present on your system with proper configuration settings. Now before we say anything, we would suggest you to read out the following steps. These steps will tell you that how you can open MSG file in Gmail manually.
Launch Microsoft Outlook on your PC and configure the target Gmail account in it. This configuration procedure needs to be carried away in a careful manner. Otherwise, things will not work for you.
When you are done with the configuration of Gmail in Outlook client, click on the folder whose MSG files you wish to upload in Gmail.
Select those Outlook messages that you wish to open in the Gmail account.
Now drag all the selected messages collectively and drop them in the Gmail account folder.
Let us warn you that there are no chances of this procedure to complete successfully. The biggest hurdle here is to configure Gmail into Outlook. There are many less technical keen users who don't know how to do this configuration. If they took this risk without full knowledge, they might have to pay high. Chances of data loss or permanent loss of crucial emails are there in this procedure. The procedure does not guarantee the preservation of meta properties while attempting the task.
The Smart Idea is to Opt for Professional Solution
The use of mentioned software is a smart idea to open MSG file in Gmail. It does not comprise of any risk of data loss, content manipulation, etc. And the most important thing – Even a less technical keen person can implement this method without any tension. The program comprises of an easy-to-use interface that enables clients to understand it easily. If you are still thinking that whether to trust us or not, we would suggest you to opt for free demo edition. This version is available for you to thoroughly examine and analyze the performance of our utility. There are no charges to use this free version and, once you get satisfied, you can upgrade to full version.