How to Export & Convert Outlook OLM Emails Files to Zimbra TGZ Format ?
In this article, we get to know about how can a user import OLM to Zimbra client. Use this OLM to Zimbra Converter tool which will enable the users to convert Outlook OLM emails into Zimbra TGZ file with attachment. This OLM to Zimbra Migration software recommended by the expert. It is designed with advanced algorithms to facilitate and simplify the entire process of Outlook OLM file conversion.
Free Download the OLM to Zimbra Migration toolkit from here and enjoy the data transfer from Outlook OLM folders to Zimbra TGZ format. The trial version of the BitRecover OLM converter tool will enable the users to export only the first 25 emails from each folder.
How to Migrate OLM to Zimbra Client Directly ?
In the above video tutorial, we will learn how to migrate OLM to Zimbra email server with the help of a professional toolkit. The application will successfully import Outlook OLM items to Zimbra Desktop email client. The will allow users to batch convert multiple OLM files to Zimbra TGZ files. We all know that Zimbra only allows you to import mailbox data only as TGZ files.
Therefore, use this amazing OLM to Zimbra migration software which provides a direct option to export OLM emails into Zimbra folder. One can successfully convert Outlook for MAC files to any of the Zimbra version or edition. One can easily understand the working of this software with the help of following simple steps:
Step 1: Run OLM to Zimbra Converter Wizard and read all significant instructions.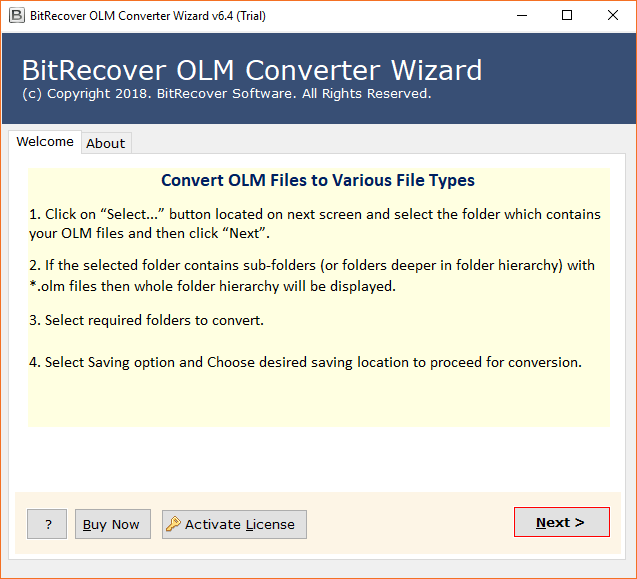 Step 2: The tool will ask the users to load OLM files by dual ways i.e. Select Files or Select Folders.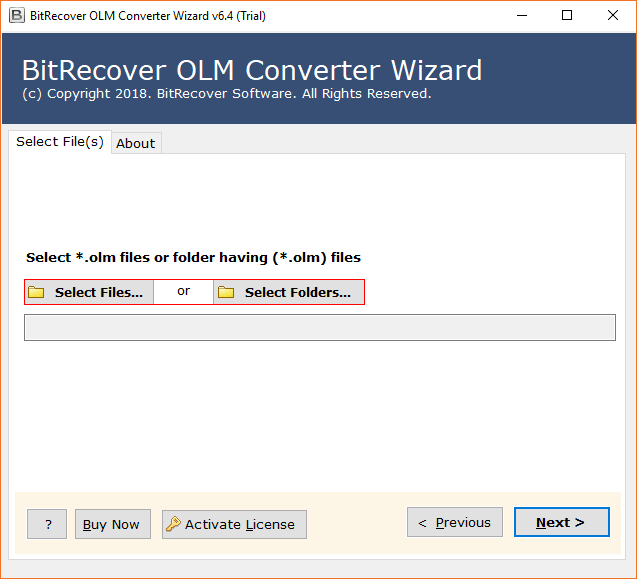 Step 3: Now you can view the path of OLM files, from here click on Next button.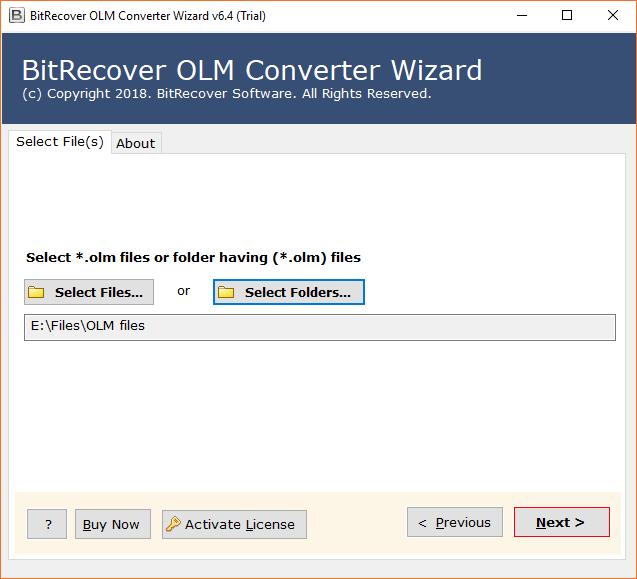 Step 4: The software is previewing all folders of OLM files, select them and hit on the Next button again.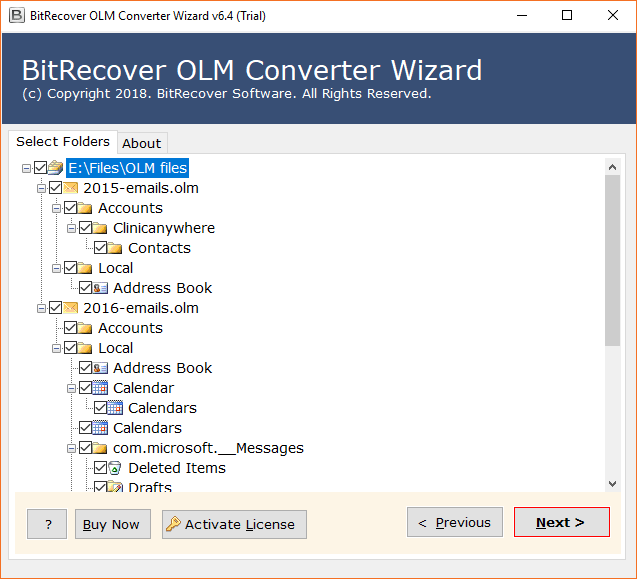 Step 5: Choose the Zimbra option from the given list of 20+ Select Saving options.

Step 6: Setup Outlook to Zimbra conversion options like Destination path.

Step 7: Mac Outlook to Zimbra conversion process is running now, please wait.

Step 8: After complete the OLM to Zimbra process, it will automatically open converted data file / folders, where you get your Resultant Data.
As we can see from above, the working of the utility is very easy and one never needed to have any technical knowledge about the migration of Outlook OLM to Zimbra. The utility never requires any installation of Zimbra Desktop or Zimbra Webmail Server or configured on your system. The tool will create the Zimbra TGZ file that can be easily imported into all the latest versions of Zimbra's email clients.
OLM to Zimbra Migration Tool – Major Features & Benefits:
This OLM to Zimbra converter software provides various advantages to its users. It is designed with advanced algorithms that make it the preferred choice of users. As a trend, users are looking for the perfect way to transfer bulk emails from Outlook OLM emails files to Zimbra Desktop. Some of the main benefits that come with this application are described below:
Batch Export Multiple Users Data: The application allows users to transfer multiple OLM data to Zimbra Mail client in batch. When a user loads source files by clicking on Select Folders. The utility also displays the user's default Outlook OLM users profile path where all the data will be stored.
No Zimbra Installation is Necessary: The utility is completely independent to perform its work, so it allows users to transfer data directly from the Zimbra email client. Convert Outlook Mac files and create compatible TGZ files with all the latest versions of ZCS, i.e., ZCS 8.7, Zimbra Desktop 7.3.1, Zimbra Collaboration 8.6.0, open source editing and networking, Zimbra Collaboration 8.7.11, Zimbra Collaboration 8.8.10, etc.
Preserves on-disk System Folder Hierarchy: The best thing about this application is that it keeps the hierarchy of system folders on the disk while converting OLM emails into TGZ files. All emails and their attributes will remain original and integrity will remain intact. No technical knowledge is required for users to transfer data from Outlook to Zimbra client.
Freedom to Choose Destination Path: OLM to Zimbra TGZ Converter software is an error-free solution to export Outlook OLM files to Zimbra format easily without facing any problem. By using these application users also select destination location to save OLM file to .tgz Format.
This Is the Best For Me
An effective and efficient approach to perform OLM to Zimbra migration is posted in this post. Instead of going on my words, I would suggest you guys to first download the trial version of the OLM to Zimbra converter tool, test it on your own for migrating Outlook OLM files into Zimbra TGZ format with attachments. If you get completely satisfied, what for are you waiting for? Just go and purchase it to enjoy the limitless feature of it!