How to Convert OLM to PST Files – A Complete Solution
"Hello! If you are new here, we welcome you and thank you for choosing us. BitRecover blog is aimed at providing solutions to the technical issues that users face during work. In today's post, we will describe an effective and efficient solution named as BitRecover OLM to PST Converter to quickly transfer/export Outlook MAC OLM files into PST format. So let's begin!"
OLM to PST Converter – Best Software to Export Outlook MAC OLM to PST
Instant Solution: Users can use BitRecover OLM Converter freely and upload their contacts or other data from the Outlook OLM mailbox to PST format. Simply click on the download button and perform your work in a few steps to export OLM to PST.
Available Versions of BitRecover OLM 2 PST Converter
Trial Version: Users can convert OLM to PST including Emails, Tasks, Calendars, Contacts, and many more without paying any cost.
Note: Only 25 items per folder can be exported to PST file format from Outlook Application via the free trial version.
Full Version: Migrate all the Outlook OLM Mailbox to PST format without any boundaries.
Steps to Convert OLM to PST file using Quick Guide
Trial Edition: Download the Free Demo version and explore its advanced functionality. This version allows you to convert the first 25 OLM items into PST mailbox. Once you are satisfied, after that you can buy the full version of the software, and continue bulk exporting Outlook OLM file to PST and other different formats as featured by the application.
Run the software, its first screen capture provides brief information about the use of the OLM to PST converter.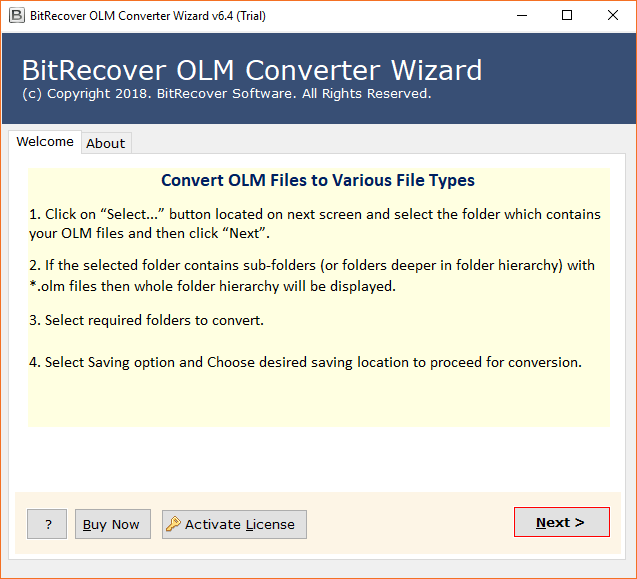 This tool offers dual options for browsing OLM files and folder to convert OLM to PST.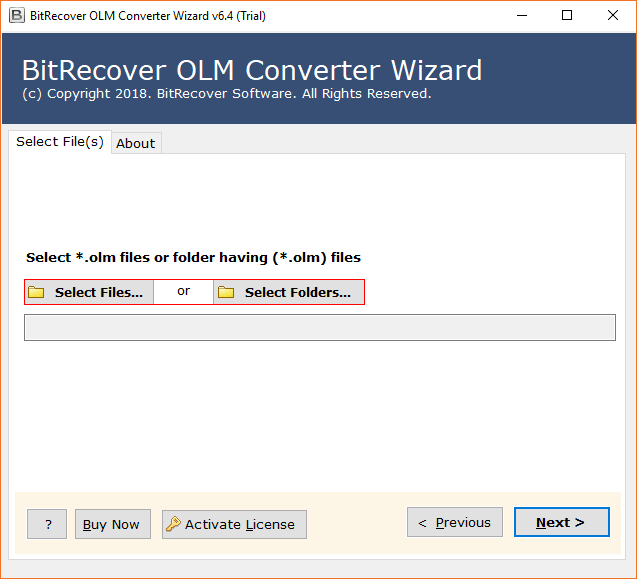 Select the folder having OLM files and click on the Next button.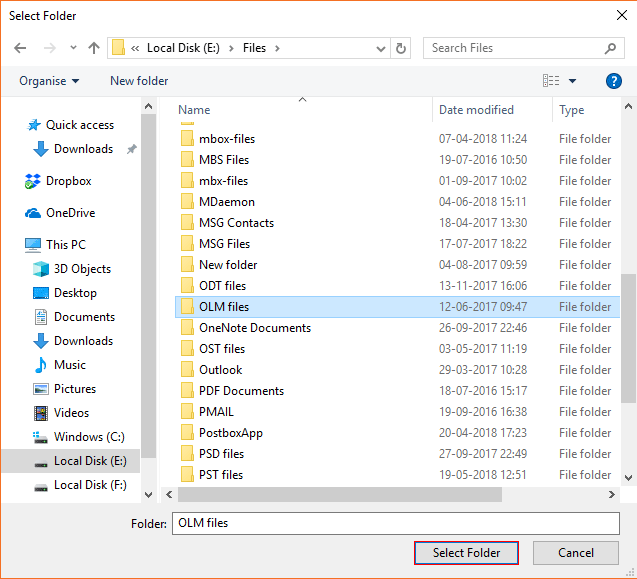 Now you can view the path of OLM files, from here click on the Next button.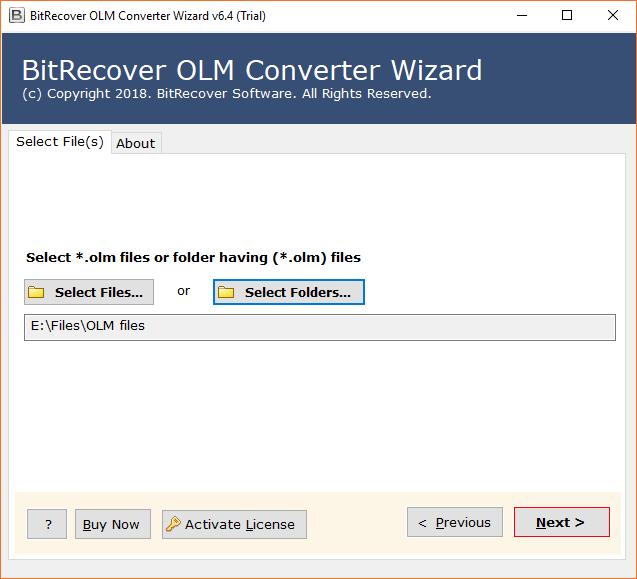 The software is previewing all OLM file folders, select them and press the Next button again.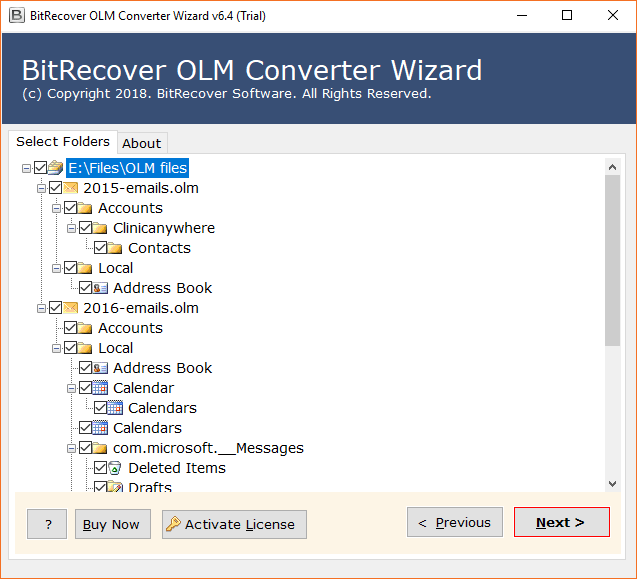 The OLM to PST Converter provides 3 different options to transfer all folder types, convert contacts and calendars separately. Choose the required saving format.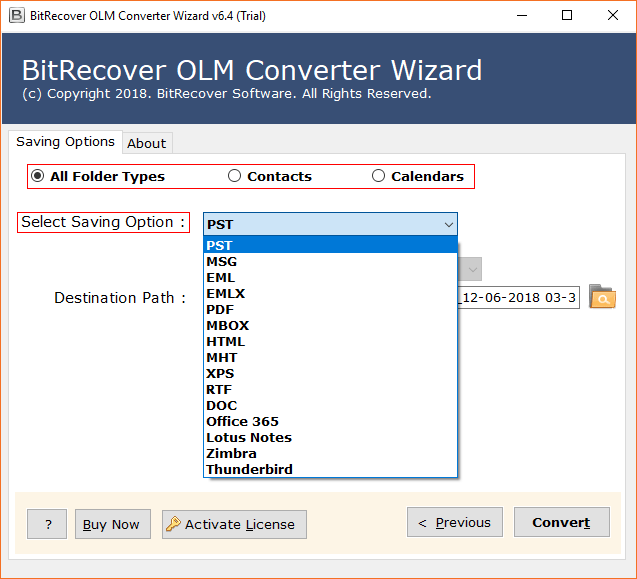 Here, you select PST format to save converted data then it also gives Change Language option for saving data in Dutch, French, German and Spanish. And, users can select Destination Path, File Naming Option. After picking the options click on Convert button to continue.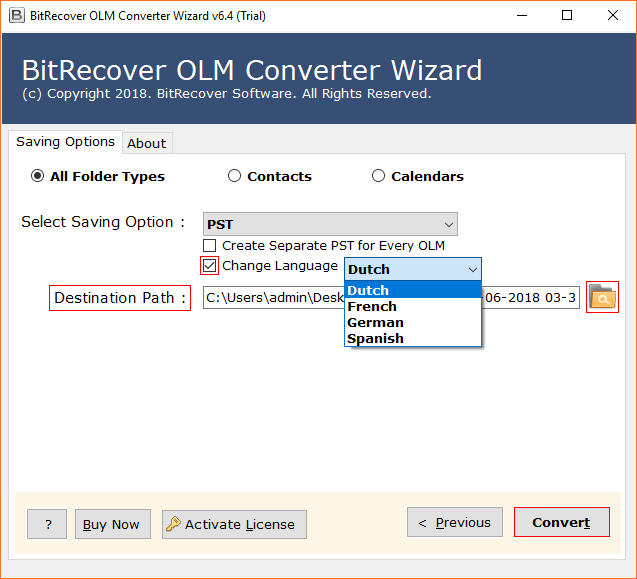 The conversion process is running, please wait.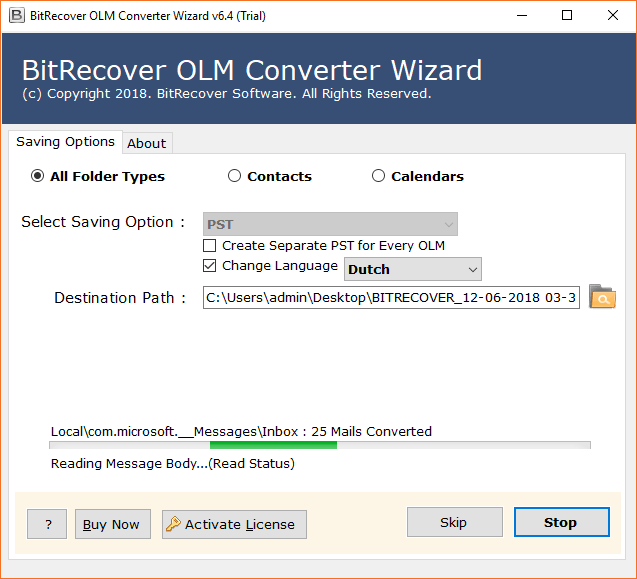 The migration process has been completed with the completion message. Now click on OK. After completing the OLM to PST conversion process, the converted data folder will be automatically opened.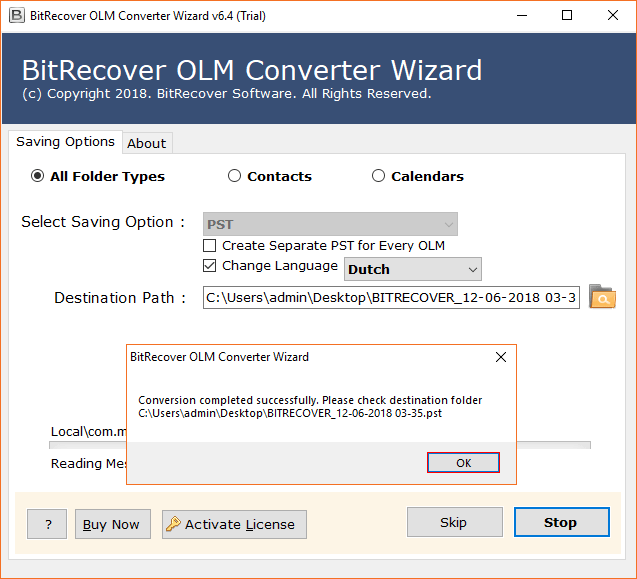 Here you get your Resultant PST file items.
Rapid Solution to Export OLM File to PST Mailbox
Now that you are familiar with many of the problems that may appear in the OLM file to PST file migration process, it is time to discuss the easiest and most reliable solution for the same. And the best utility that can overcome all obstacles is BitRecover OLM to PST Converter software. Some of the features of the utility are:
Supports All Versions of MS Outlook: BitRecover OLM to PST conversion tool is compatible with Outlook 2019, 2016, 2013, 2011, 2010, 2007, & below versions. You do not have to install the different applications or memorize other procedures to start converting OLM to PST file format.
Numerous Export Formats: This application has 14 more export options excluding PST. So, it can also be used to convert OLM files to PDF, EML, etc.
Choose desired Items: If any user wants to transfer only specific exchange items such as Emails, Contacts, Tasks, Calendars, etc. to PST file format, this utility plays a great role in doing this accurately.
Pick Desired Mailbox(es): The users can move all the Mailboxes from Outlook OLM to PST file format. But there can be some reasons why users need to export only a few Mailboxes. Also, this utility provides the notable feature to export selective OLM items to PST.
No Size Limitation: Users can export the OLM database of any size to PST file format. In addition to this, you can handle the huge Mailbox without any possibility of corruption.
Aggravating Situations during Outlook OLM to PST Migration
When it comes to experts, converting OLM to PST files is just a piece of cake. But when we talk about non-expert users, it suddenly becomes a problematic task. The following situations may annoy users:
Time Taking: When you export large-sized OLM to PST Mailbox, it takes a lot of time. Sometimes, the process gets stopped in between because of unknown reasons.
Professional's Guidance: A non-technical user may get stuck while implementing any step. He may need an expert's advice anytime as the migration process is not an easy task to execute for non-tech users.
Data Loss: In the process transfer OLM to PST file format, Outlook 2019, 2016, 2013, 2011, 2010, 2007 items such as emails, calendar, tasks, contacts, etc. They can be lost without any formal warning.
Benefits of PST Over OLM Format
PST file is used to store all the items such as contacts, calendars, Emails, etc. for each mailbox while MBOX files are used for storing email messages.
Personal Storage Table file stores all the different elements with different folders for the Inbox, sent items, contacts, calendars, tasks, etc. for each Outlook profile.
Internet connectivity is not necessary to access the emails that have been downloaded allowing users to access offline.
Outlook PST files have better database management than OLM file formats.
Frequently Asked Questions by Client's
Q: How can I convert OLM to PST file?
A: Simply follow these easy steps to transfer Outlook OLM files into PST file format.
Run BitRecover OLM to PST Converter tool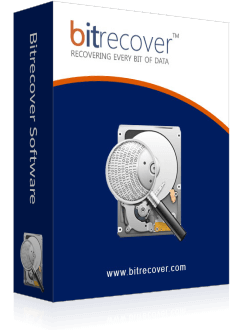 Browse the OLM files for exporting in PST format
Check specific OLM folders and PST as saving format
Select the destination path and hit on the Convert button
Convert OLM to PST successfully.
Q: Does the tool export Outlook OLM file to PST including attachments?
A: Yes, our expert team have developed this utility to convert OLM file to PST in such a way that it creates a separate folder for storing the email attachments during the conversion procedure.
Q: Can I move multiple OLM file messages to PST format at once?
A: Yes, the OLM to PST Converter application provides a dual-mode conversion option. With the help of this utility, you can add a folder to transfer numerous emails items in Outlook PST at one time.
Watch Live Conversion Video to Import OLM File to PST Format
Ending Words
In the above write-up, we discussed the simplest and most accurate solution to convert Mac Outlook OLM to PST format. With the help of OLM to PST Converter, you can easily export multiple Outlook OLM files to PST at once. It will also maintain the originality of the data during the conversion process. The free demo edition is available in this tool to verify the efficiency of the program.