How to Export Outlook Emails from OLM to PDF Format in Batch ?
Are you searching for the solution to import Outlook OLM emails files to PDF format? Then, you are landed at the correct page as we have come up with a solution to convert OLM to PDF format with OLM to PDF Converter.
Suggestion: If you want to export multiple emails from OLM to PDF then, go for a reliable third-party tool named as BitRecover OLM Converter.
Free Download OLM to PDF Converter Tool:
The free trial version of the OLM file to PDF file conversion software will allow users to export 25 OLM items to PDF mailbox quickly. It will help users to work and save all their important contacts in a much easier way. This is the easiest way to transfer emails from Outlook OLM folder and then add them to PDF format. You can easily convert OLM to PDF files in bulk.
How to Convert OLM to PDF Format ?
In the previous video tutorial, we know how a user can import Outlook OLM emails to PDF format speedily. The entire application works in the area of interest with respect to ease for users. Therefore, the complete functionality of the software can be better understood simply by following these few steps:
Step 1: Install and run OLM to PDF Converter into your local machine.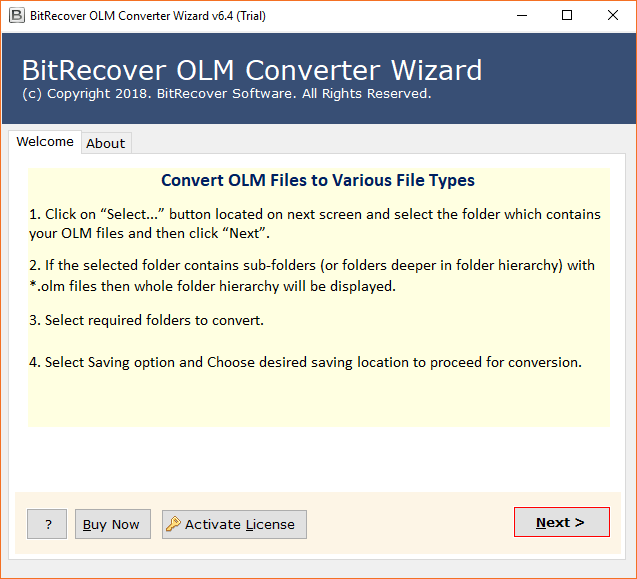 Step 2: Now, for exporting the multiple OLM files to PDF mailbox, you have to choose the Select Folder option, for individual file conversion, you can Select Files option to convert OLM to PDF with attachments.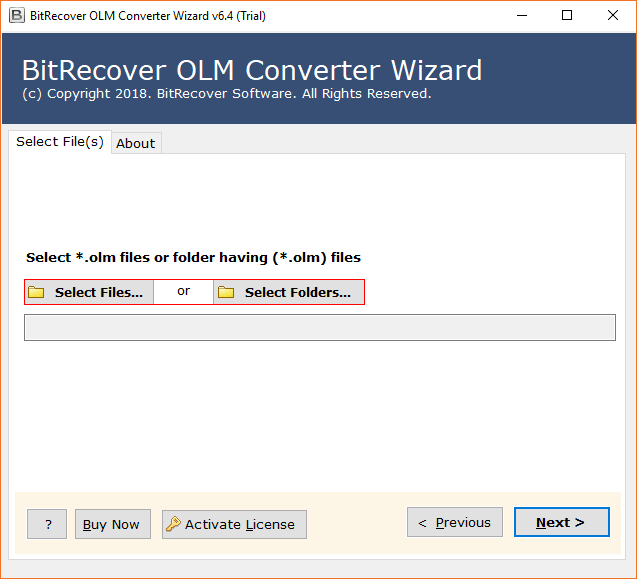 Step 3: After loading OLM files from the saved location, the application will display your file path. Click on the Next to convert OLM file to PDF mailbox.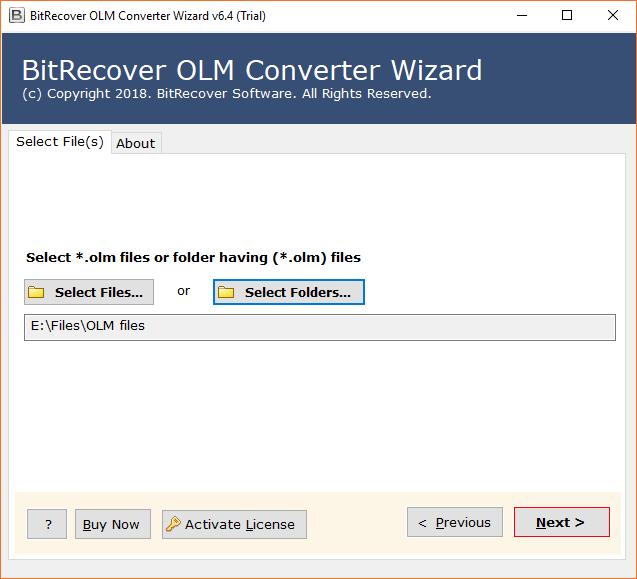 Step 4: The application will display all OLM items, check desired folders which you are needed to move from .olm to PDF format and hit on the Next.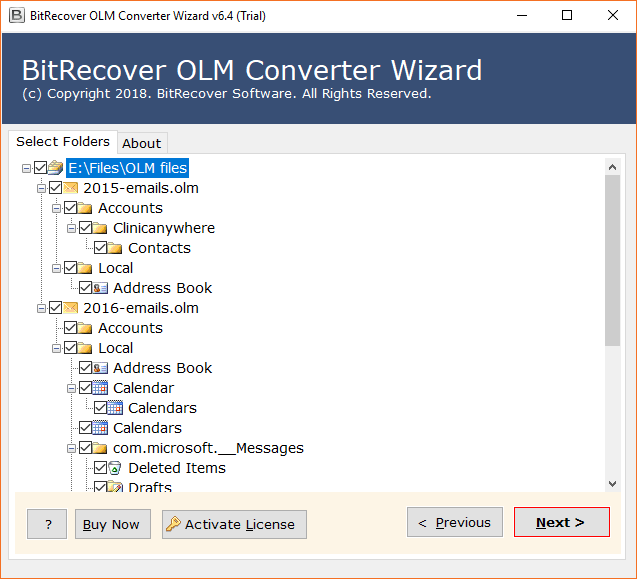 Step 5: Then, select PDF option for saving all OLM files in PDF format.

Step 6: Enter the destination location where you want to Save your converted PDF file. Press on the Next button to unlimited convert OLM files to PDF.

Step 7: The tool will offer Multiple File Naming Convention to arrange the data of the email professionally.

Step 8: Here, in this step, the OLM files to PDF conversion process is started now.

Step 9: Once the migration procedure is completed, then OLM to PDF tool will automatically open the desired route, where you get your Resultant Data freely.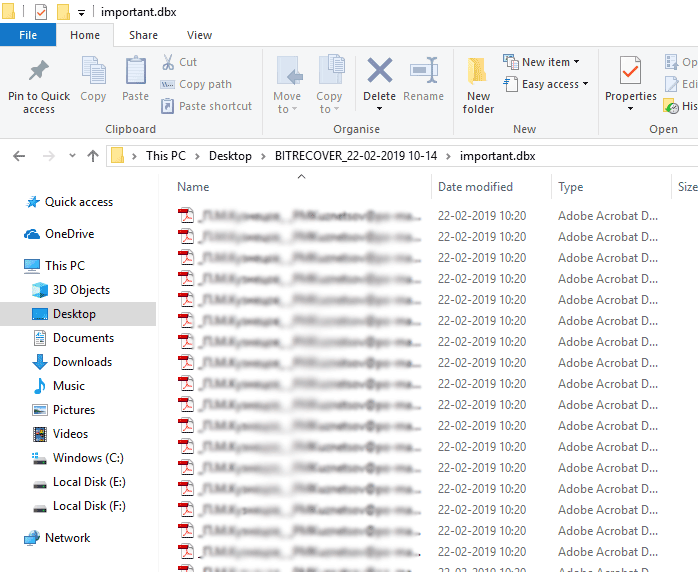 Outlook OLM to PDF Conversion – Why Users Need To Do It ?
Now, people have become workaholic to work and have continued the requirement to travel with work or data together wherever they go. Transporting email data generates a small problem, since you may not be able to obtain the same email application. Apart from this, there are some advantages of using the PDF format:
PDF is a portable file format that can be transferred to any device.
It is a safe and secure format and it provides password protection for all email messages.
Portable files are secure for saving data like text, image, hyperlink.
PDF files are mainly used by various organizations for making presentations and reports.
OLM to PDF Migration Software Features:
If you use our OLM file PDF Converter application, you will be able to execute batch conversion of Outlook to PDF format.
You can also download our OLM to PDF conversion tool for free since the demo version of the OLM to PDF converter tool can be downloaded absolutely free of cost without any hidden charges included.
With our toolkit, users can convert their all Outlook OLM file items to PDF format, in a secure process, since the design of the software has been made with the appropriate technical aspects and the high level of technology required for safe and complete conversion of OLM emails database.
The front end of the OLM to PDF conversion tool is utterly easy to use by any type of user, since the Graphical User Interface, that is, the GUI of software to convert OLM file to PDF is designed separately without including any techniques, as the complexities are put on the back – end of the tool.
Due to the advantages discussed above, converting email from OLM to PDF can be done successfully without any head-burn.
Versions of Microsoft Outlook OLM to PDF Conversion Tool
This application can be categorized into two different versions i.e., Demo and full version. According to the demand of the users, they can choose one of the following categories:
Demo Version: The OLM to PDF Converter tool is available only on the official website of the company. One can simply download this product to understand the general work steps of it. Although, the trial edition of the software transfer first 25 OLM items.
Full Version: The licensed version of this application lets you convert OLM files to PDF documents in batch. There is no limitation of this program, so one can buy it. After that freely move or migrate bulk of Outlook OLM emails files into PDF format quickly.
Its the Conclusion Time
In this article, we will learn how a user can successfully move their mailboxes from Outlook OLM files to PDF document. There are a lot of users who want to convert OLM to PDF format in simple steps. The software explained above is capable of exporting a large number of OLM files into an Office 365 account without providing any problems. The free trial version of the OLM to PDF converter software will enable the users to move the first 25 elements of each folder.