How to Implement Office 365 to Office 365 Migration in an Automated Manner?
Office 365 to Office 365 migration is distinct from migrating from another platform into O365. It is all about taking care of changes well ahead of time and avoiding hidden hazards. Thus, you will require to understand the big picture before embarking on a migration project. In this user guide, we will be looking at everything you need to know to migrate Office 365 to Office 365.
User Query: Hi! I am Zarina working in an IT Company. Recently our organization has acquired XYZ Company. Both the organizations were using Office 365. Now our organization has to move data of XYZ company into our Office 365 Account. But the issue we are facing right now is there is a lot of data and we don't have time to migrate it one – by – one. A manual technique is not a perfect solution for this procedure. Can anyone please suggest any technical solution for performing this task as soon as possible? Thanks in advance. 
Everything you Need to Know About Office 365 to Office 365 Migration- Reasons
Office 365 (now Microsoft 365) is currently very mature in the market and loads of organizations have been utilizing it for quite a while. In the common business, organizations converge with or acquire, different organizations. Because of this, we are presently observing plenty of users doing Office 365 to Microsoft Office 365 migration.
For instance, Company X (which is on Microsoft 365) acquires Company Y (additionally on O365) and they need to coordinate all the IT frameworks.
You may believe that as the two entities are on a similar stage – that is O365 – that Microsoft could simply flick a switch in the background and your emails are moved. Tragically, this isn't the situation.
How to Migrate Mailbox from Office 365 to Office 365 without Disruptions?
Migrating emails from Office 365 to Office 365 can have a huge impact on an organization or individual user. When switching to the cloud, migration is one of the greatest problem areas. The agony can only be wiped out with the assistance of a professional tool. BitRecover Email Backup Wizard dispenses with this trouble spot and makes it a streamlined and bother-free process. The software facilitates the users to batch migrate Office 365 to Office 365 with zero downtime or information loss.
The Office 365 to Office 365 Migration tool is built with powerful algorithms so users can conveniently move O365 mailbox to O365 – be it a single mailbox or multiple mailboxes. We have managed to program the software in a user-friendly manner so as to take care of all the problems that users/ organizations may face while migrating mailbox from Office 365 to Office 365.
Complete User Guide to Migrate Mailbox from Office 365 to Office 365
Before you start the migration, you can take a quick trial of the demo version of the software. It allows migrating a few O365 emails to O365. Plus, you can check the full functionality of the tool also.
Download for Win OS
Download for Mac OS
Now, select Office 365 as your source email account from the email source list.
Enter the details of your source Microsoft 365 account – Email Address and Password. Also, Enable the "I am Admin" option if required and click on the Login tab.
Then, the software will start fetching all mailboxes from your source O365 account into the toolkit.
After this, enable the desired mailbox folders or single O365 emails that you wish to move into another O365 account.
From the select saving option list, scroll down and choose "Office 365" as your destination.
Now, the tool will again ask your destination Microsoft 365 login credentials. So, fill it properly.
Note- If you wish to save the emails in the same source folder, enable the "Save messages in default folder" option. Also, if you are an admin then, enable the option "I am Admin". It helps to perform multiple account mapping. For using the user accounts be to ensure that Application Impersonation, as well as mailbox delegation, is allowed.
Click on "Use Advance Settings for Selective Backup" to migrate emails from Office 365 to Office 365 in a particular way. Hit on the Backup tab.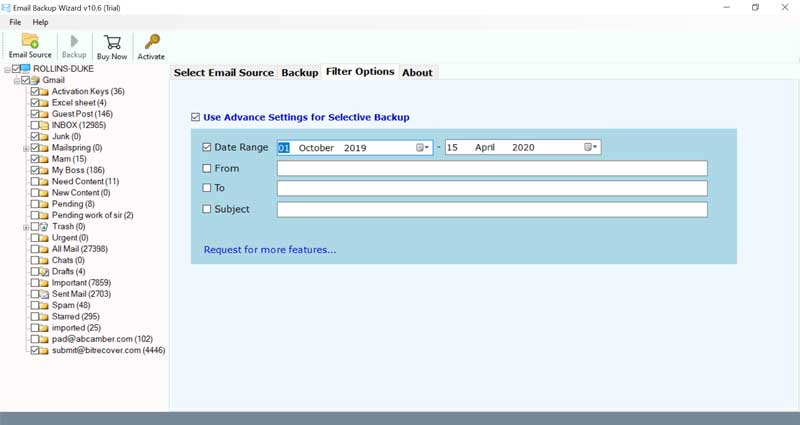 Now, you will see the Office 365 to Microsoft 365 migration process is going on smoothly. It will take a few moments depending on the amount of data.
You will get a conversion completed message. Thus, go to your target Office 365 account to see all messages from the source O365 account.
Extra-Ordinary Benefits & Features of Office 365 to Microsoft 365 Migration Tool
You can avail numerous benefits with just one software. Here are some of them as given below:
Selective email migration- You can move O365 emails to O365 in a selective manner with the help of this software. The tool gives the facility to sort emails as per category-based data filter options like Subject, Email Address, From, To, Cc, etc.
Migrate Admin Account: If you are an administrator, then with the batch mode functionality you can easily perform Office 365 to Office 365 migration.
No Downtimes during Transfer: Your emails won't be affected while migrating Office 365 mailboxes to another Office 365 account.
Well-defined Migration Process: The tool is designed with powerful algorithms and comes with an effective GUI. It provides the best possible service to migrate data from Office 365 to Microsoft 365.
Huge Successful Migrations Under the Belt: We have implemented batch O365 to Microsoft 365 migration without any information loss.
Independent Tool: One of the best things about this Office 365 to Office 365 migration tool is that you don't require to install or configure any supportive app to perform the task.
Vast Compatibility with Windows: No matter which version of Microsoft Windows OS you are working on, the tool performs amazingly. It supports all Windows platforms like Windows 10, 8.1, 8, 7, XP, Vista, Windows Server versions, etc.
Frequently Asked Queries

How to migrate mailbox from Office 365 to Office 365?

Follow these steps to migrate from Office 365 to Office 365:

Launch Office 365 to Office 365 Migration Tool.
Choose Office 365 as source account and fill all login details.
Specify O365 mailboxes for the process.
Select Office 365 as destination account and setup its login credentials.
Hit on Backup to start to migrate email from Office 365 to Office 365.

Can I migrate mailbox from Office 365 to Office 365 with associated attachments too?

Yes, the software will migrate all email items like mailboxes, attachments.

How can I perform Office 365 to Office 365 migration without any limitations?

You can buy BitRecover Office 365 to Microsoft 365 Migration software. It will let you to perform unlimited transfer of Office 365 emails to Office 365.
The Closure
The recommended automated software comes with power-packed functionality so as to enhance end-user productivity. We have taken care of all significant things in utmost detail to avoid even the smallest of issues while implementing Office 365 to Office 365 migration. Now, you use this software for accurate backup Office 365 mailboxes. If you have any queries, do contact our support team.
Related Blog Posts:
Migrate Office 365 to IMAP Server
Backup Office 365 to Local Storage
Office 365 to Windows Live Mail