Top Solution for G Suite to Zoho Mail Migration with Attachments– Complete Guide
Overview: You may have many decent reasons for G Suite to Zoho Mail Migration. If you are searching for a power pack solution for the job, you are in the right place. We will be giving you the easiest and fastest method to migrate G Suite to Zoho with all information. So, stay.
Your email account is a powerful source of daily communication. It helps in so many ways that you can't even count on your fingers. But, it is not easy to stick with one email platform for years. The reasons can be many like switching of job, exclusive features, termination of the service, and many others. So, if you are someone who wants to migrate emails from G Suite account/domain to Zoho Mail, it's going to be effortless for you. In the section below, study a precise solution for smooth and direct G Suite to Zoho Mail Migration. Use it and complete your task.
Most Valuable Software for G Suite to Zoho Mail Migration
BitRecover's G Suite Backup Wizard is a fully functional and reliable platform for migrating G Suite mailboxes to Zoho Mail with attachments. For the process, you have to provide credentials of both G Suite and Zoho Mail. The product has a cache-free environment, and your information is safe. It keeps all the email attributes, associated attachments, and other data items unaltered during the task. Moreover, it gives you advanced functions for selective G Suite email to Zoho Mail migration.
How to Migrate G Suite to Zoho Mail ?
Let's move on to the steps to migrate emails from G Suite to Zoho:
Run and open G Suite to Zoho Mail migrator.
Fill the login credentials of your G Suite email account.
Check the mailbox or folders to continue migration.
Choose IMAP as saving and enter Zoho Mail email Id and password.
Click on the Backup button to migrate G Suite to Zoho.
Now, you know the best way to migrate emails from G Suite to Zoho Mail in just a few clicks. If you want to test software free, have a look at the given information.
Free Test Drive without Giving Payment Details
Click on the download now button and the trial version of the software gets installed on your system. Also, Click on the Buy Now button and select the paid edition of the software. The specifications of the product are
1. 48.7 MB of free hard disk space
2. Minimum 64 MB is required
3. Intel® Pentium 1 GHz processor(x86,x64) or equivalent
Download for Windows OS


Download for Mac OS

After that, follow the five steps mentioned above to migrate the first 25 emails from Google Apps account to Zoho Mail. If you want to overcome the software limitation, get the paid version of the tool as per your need.
Here's Complete Guide to Migrate Emails from G Suite to Zoho Mail with Images
In this section, we will give you full statements and screenshots for the quick G Suite to Zoho Mail migration with all properties.
Follow the Stepwise Instructions:-
Download and open the G Suite to Zoho Mail Converter on your Windows OS computer.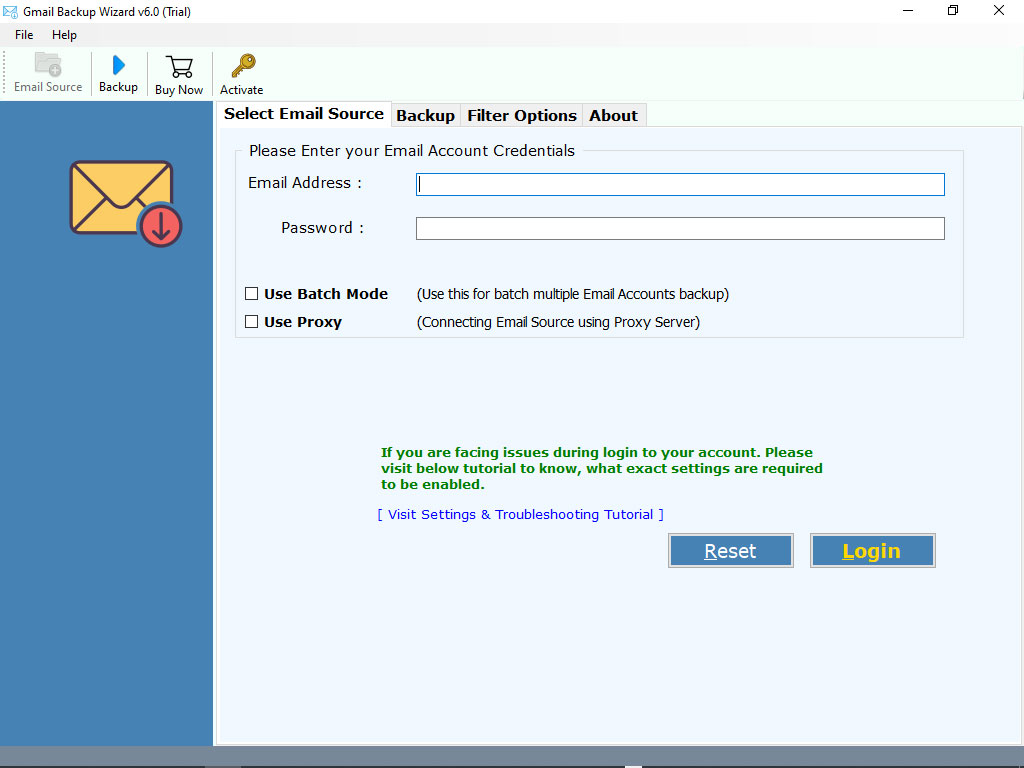 Enter the G Suite account credentials such as user name and password in the software panel.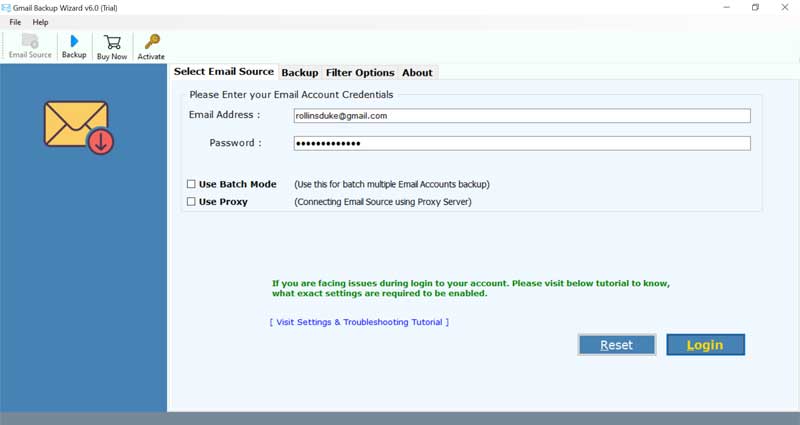 For Batch migration of G Suite accounts mailboxes to Zoho Mail, check the use batch mode given in the window. Provide a CSV file of email addresses and passwords then hit the Login button.
Now, you can see many folders in the software window. Check the required one for the migration process.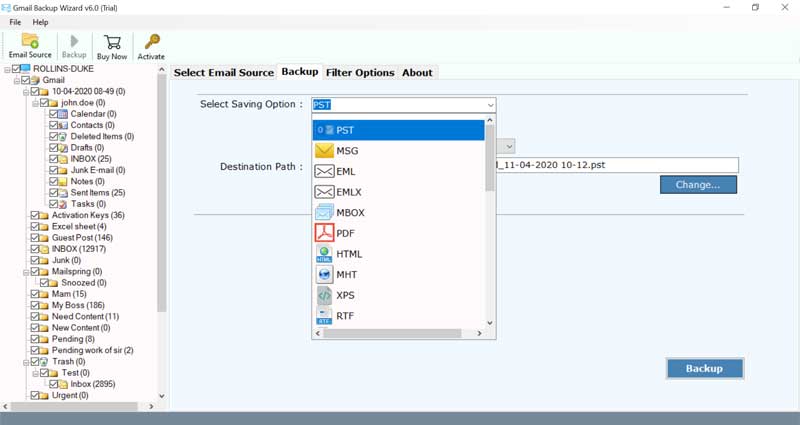 Choose IMAP from the saving list and enter the login credentials of the Zoho Mail account.
Go to the Filter options for selective migration of emails from G Suite to Zoho Mail. For this, you have a date range, from, to, and more.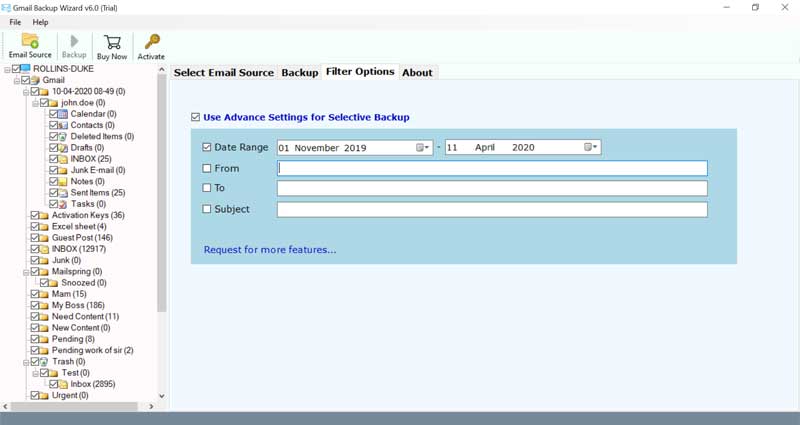 Now, tap on the Backup button and watch the live migration.
Once you get a log report, open your Zoho Mail account and get a folder named G Suite mailbox. That's all for the G Suite to Zoho Mail migration.
Notable Features 
It is an automatic solution that does not require technical knowledge to migrate G Suite attachments to Zoho Mail.
The tool has a simple and easy-to-use interface, so any user can easily use it.
This product is a standalone application that does not require any external installation to migrate email from G Suite account to Zoho Mail.
The software is 100% safe and provides accurate results while maintaining data integrity.
When migrating Google Apps mailbox to Zoho Mail, all email attachments are kept intact.
If you have any questions about the product or its work, the support team is available 24*7.
The tool maintains email properties and folder hierarchy throughout the process.
Users can migrate multiple G Suite user accounts mailboxes to Zoho user accounts without any loss.
Why You Should A Third-Party Solution?
In general, there are many ways to go with automatic software instead of a manual solution. But some of the most obvious are no limitations during G Suite to Zoho Mail migration. Also, it keeps the email properties, attachments, header, and essential information safe. One of the prominent reasons is that supports bulk migration of G Suite user accounts to Zoho Mail with 100% accuracy.
The Conclusion
For those of you switching from guides to guides for G Suite to Zoho Mail migration, read the blog above. It gives you the best and most comprehensive method to migrate emails from G Suite user account to Zoho email. It has many useful and special features like bulk migration, email classification, and more. You can also take the driving test.