How to Migrate Emails from Embarqmail to IMAP Server Directly ?
Migrate emails from Embarqmail to IMAP Server directly with the help of Embarqmail Webmail to IMAP Migration software. Batch transfer Embarqmail to IMAP easily.
Because of various professional and individual reasons, numerous clients routinely move messages starting with one platform then onto the next. As we saw, numerous users are confronting inconvenience while moving Embarqmail messages to IMAP Server. That is the reason we are here to disclose the answer for how to do Embarqmail to IMAP Server migration.
Embarq Corporation is a local organization that gives web and correspondence services in the United States. The organization built up an Embarqmail administration to interface your private and business without any problem. In 2009, Embarq Corporation was obtained by CenturyLink. That is the most compelling motivation for the users who need to switch from Embarqmail and to migrate Embarqmail to IMAP Server.
Hassle-Free Solution: Embarqmail to IMAP Server Migration
We advise you to try BitRecover Email Backup Software to migrate emails from Embarqmail to IMAP Server. This application provides a direct feature to move all or specific emails from Embarqmail email accounts to other email platforms. It is completely free from any errors and facilitates to export multiple Embarqmail accounts to IMAP at once. You can utilize the Embarqmail webmail backup to IMAP tool on both Windows and Mac PCs.
Take a free trial of the Software-
Please Note:- It's a demo version and allows to export top 25 email items from Embarqmail to IMAP Server. You can check the tool's features before buying the licensed version.
Steps to Migrate Emails from Embarqmail to IMAP Server
Download & Launch the Embarqmail to IMAP Migration Tool.
Choose Centurylink & enter Embarqmail IMAP settings.
Select email folders to move from Embarqmail to IMAP.
Pick IMAP Server as a saving option & fill required details.
Start to migrate emails from Embarqmail to IMAP Server.
How to Batch Transfer Embarqmail Emails to IMAP Server  ?
Firstly, download and start the software on your computer.
Now, select the IMAP option from the list of available email sources. Also, you can pick Centurylink because Embarqmail was taken by Centurylink. Then, you need to mention the Embarqmail account login details in the software interface.
If you have selected IMAP Server then, please fill in these details.
Username: Email Address of Embarqmail accountPassword: User password of Embarqmail webmail
IMAP Server: mail.centurylink.net
Port No.- 993
Security- SSL/TLS
Now, hit on the login button to proceed further.
Then, in this step mark those folders whose data you wish to transfer from Embarqmail to IMAP Server.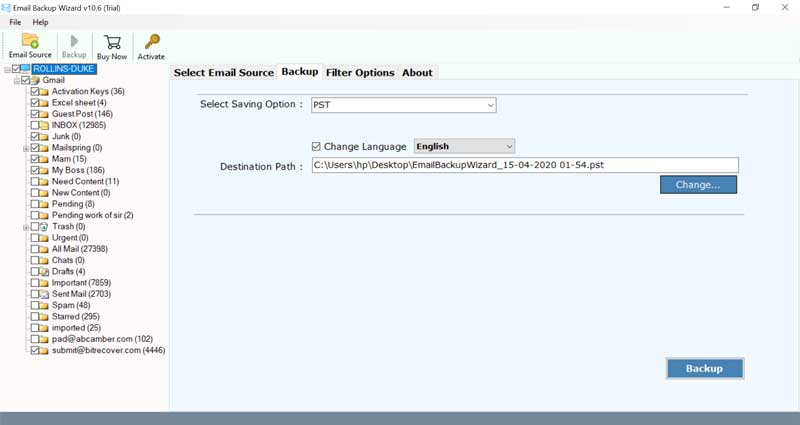 Next, select IMAP Server from the list of saving options. Enter the account details as well as other credentials in the software panel.
You can also pick advanced data filter options for selectively migrating emails from Embarqmail to IMAP Server.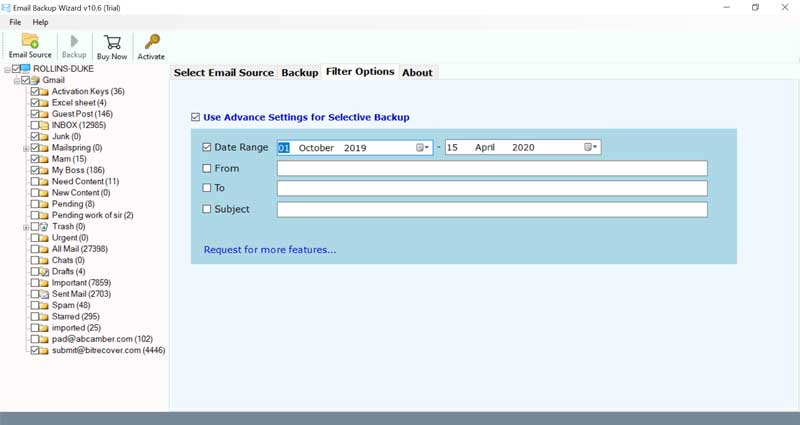 Lastly, click on the Next button to start to batch transfer Embarqmail to IMAP Server.
Top-Notch Features of Embarqmail to IMAP Tranfser Tool
Migrate Multiple Embarqmail Accounts- With this software, a user can move multiple Embarqmail email accounts to any IMAP Server in a single attempt. In order to do this, just mention all login details of all Embarqmail email accounts in a CSV file and upload them into the software panel.
Data Filter Options: The software also provides some data filter features that are quite helpful for migrate specific emails from Embarqmail to IMAP Server. These emails can sort out in the form of Email Addresses, Date Range, etc.
Keeps Intact Email Properties: This utility has the ability to preserve all email properties of Embarqmail throughout the migration procedure. It allows to move Embarqmail emails to IMAP with preserved attachments, images, hyperlinks, text formatting, etc.
Windows Compatibility: You can run this application on any latest and prior version of Windows OS like Windows 10, 8.1, 8, 7, XP, Vista, etc.
Maintains Folder Hierarchy: It preserves the on-disk folder hierarchy of emails during the process to migrate emails from Embarqmail to IMAP Server.
No Data Loss- During the migration of Embarqmail emails to IMAP account, there are no data loss issues. You will get resultant data in the selected file format without losing any information.
Frequently Asked User Queries
Can I use Embarqmail Webmail to IMAP transfer tool on my Windows Server 2016?
Yes, this software supports any version of Windows OS including Windows Server 2016 too.
Does the software provide any facility if I wish to move some emails of a particular date interval from Embarqmail to IMAP Server?
Yes, use the 'Advanced Settings for Selective Backup' to enable this feature in the tool.
If I want to transfer multiple Embarqmail email accounts to IMAP Server, then will this tool grants me to do this?
Yes, the batch mode option enables to export multiple Embarqmail webmail accounts to IMAP Server.
Let's Conclude
No one wants to lose their data while moving from one email platform to another. That's why experts always recommend relying on a professional solution for such type of email migration. The BitRecover Products are made up of with high proficiency and therefore provides 100% error-free results. In this write-up, we explained how to migrate emails from Embarqmail to IMAP Server. If you have any queries regarding this, please contact our support team.