How to Convert Multiple MBOX Emails to DOC file?
Introduction – Have you got some MBOX emails and wish to export MBOX emails to DOC format so that you can edit your entire email composition easily? Word is a powerful document editor and when it comes to convert MBOX data to DOC format. We have come up with a direct solution – MBOX to DOC converter. Yes, rejoice now MBOX users. Now, you can efficiently export mailbox emails into document file format within few moments.
Recently I was in urgent need to export some Apple Mail MBOX emails to my Facebook messenger application because I want to share some important MBOX data to my colleague. But, when due to the incompatibility of file format, I really got disappointed. So, I searched on the internet and got to know that this issue can be resolved if I export MBOX emails to DOC format. Can you suggest me a reliable MBOX to DOC converter. Thanks in advance!
MBOX to DOC Converter – What you Need to Know!
So, the query like the one mentioned above and all relatable doubts can be resolved with the MBOX to DOC converter. It is specially designed in such a manner that you can easily transfer MBOX files to DOC format directly. No external installation and no data loss issues! It's a simple, swift and a trustworthy application for migrating MBOX messages to DOC files.
Before going towards the solution about how to export MBOX files to DOC format, let's see why users are compelled for this conversion.
How to Convert MBOX Emails to MS Word ? – Understand the Complete Working of Tool
Basically, it's a very simple process to convert MBOX files to MS word. It entirely consists of five major steps after which you can read your MBOX email messages in a DOC file.
Step 1:- Start MBOX Converter tool
Firstly, download the MBOX to MS word tool and install it properly on your Windows machine. The starting screen will be as shown below.
Step 2:- Import MBOX files in software GUI
For this step, you should have MBOX files or folder of your respective email client. Now, import MBOX emails into the software panel with the help of Select file or select folder option.
Step 3:- Check required MBOX data
The MBOX to DOC export tool will upload all folders in the panel. Here you need to put a check on only those folders which you want to migrate from MBOX to DOC format.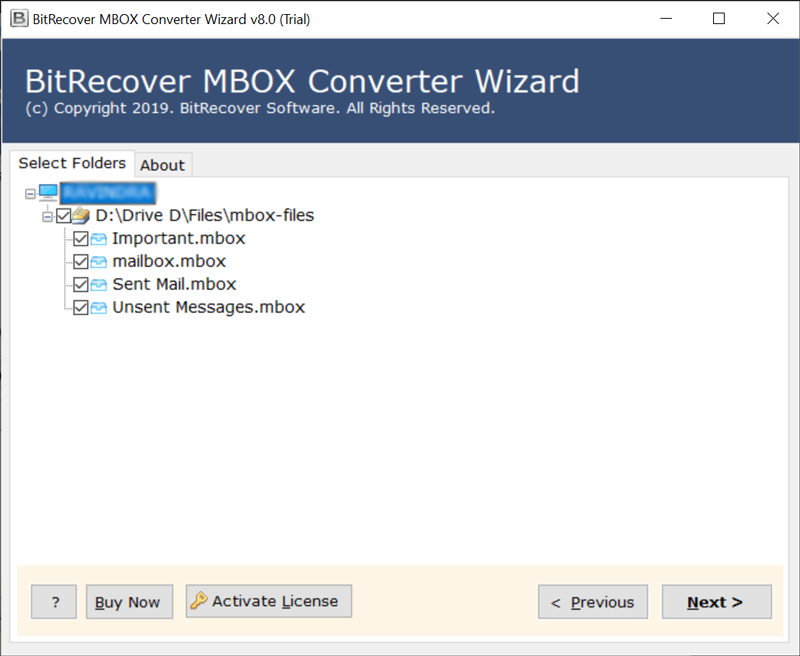 Step 4- Select DOC as file saving type
This is the major step for MBOX to DOC conversion process. Choose DOC as file saving type from the list of options.
Step 5:- Fill a target output location
Thereafter, enter a location for saving the output MBOX to DOC migrated files. Along with this, choose a desired file naming option to arrange the emails as per your choice.
Step 6:- Tap on convert button to begin process
Lastly, hit on the convert tab to start to export MBOX emails to DOC format.
Hence, in this way one can easily save MBOX files as DOC type. Now, open you resultant DOC folder to read the MBOX messages.
Read Some Facts About Software 
It is an expert solution to export MBOX emails to DOC files. This software supports MBOX files created by multiple email clients such as as Apple Mail, Alpine, Claws Mail, Evolution, Google Takeout, Eudora, PowerMail, SeaMonkey, Postbox, Mulberry, Entourage, Spicebird, Netscape, Earthlink, KMail, Opera Mail, Thunderbird, Mail Copa, Pocomail, Turnpike. You can also download the free DEMO Version of MBOX to DOC converter to take a quick tour of how the tool works.
#1 Easily extract MBOX files to DOC format with attachments.

#2 Choose the output folder in the desired target location.

#3 Swiftly save box as DOC in batch mode without any hassle.

#4 No spyware or errors – Ever!

#5 Dedicated technical support for 24*7
Why do Users Want to Export MBOX Emails to DOC Files ? – Read the Reasons
In this segment, you will discover the major aspects of why the people wish to move MBOX data to DOC files.
#1 Microsoft word documents are user's favorite as you can share them with your friends, colleagues, family by using multiple messaging applications such as Facebook, Telegram, Skype or WhatsApp, etc.
#2 Irrespective of the number of DOC files, one can send the documents to various email services or email clients in a single go.
#3 You can convert MBOX to DOC and can easily open MS word files with multiple text programs.
#4 Best thing about DOC files is that you can open, read, view, edit or insert any attachment in them.
#5 DOC files are simply shareable as they are smaller and lighter too.
Take a Free Trial to Save MBOX Files as DOC Format
The MBOX to DOC migrator offers a free demo version for its users. With this demo edition, you will be able to export first 25 MBOX messages to DOC format. You can test the tool's features as well as functionality with it. If you wish to convert unlimited MBOX emails to DOC files, then purchase the license keys.

Frequently Asked Queries

Q: How can I convert MBOX emails to DOC format?

Download and launch MBOX to DOC converter.
Choose MBOX emails to convert into DOC files.
Enable required folders and pick DOC as file saving type.
Specify output saving location and start to convert MBOX to DOC.

Q: Does the software supports to export MBOX emails to MS Word 2019 in batch ?

Yes, the tool supports to convert emails from MBOX to word DOC format in batch mode.

Q: Can I migrate some selective MBOX messages to my DOC folder?

Yes, why not! The MBOX to DOC converter is an automated solution using which you can convert some specific MBOX messages to DOC format easily.
The Ending Thoughts
In the above blog, we got to know how to export MBOX emails to DOC format quickly. If you want to convert multiple MBOX data items to DOC files, then this MBOX to DOC conversion tool is the most ideal choice. With this, you can efficiently transfer MBOX files to DOC format without any hassle. Moreover, with this software you can easily migrate MBOX emails to MS word 2019, 2016, 2013, 2011, 2010, 2008, 2007, and below versions.
Feel free to talk to our technical support team if you have any queries regarding MBOX to DOC file migration.
Similar blog posts:
1. Import MBOX to Windows 10 mail app
7. Import MBOX emails to Amazon WorkMail