How to Migrate Postbox to Yahoo Mail ? – Swift and Direct Solution
Quick Summary: Do you have bulk of emails in your Postbox account and intend to migrate Postbox to Yahoo mail? Are you switching from Postbox email client to Yahoo webmail and searching for a direct solution to import Postbox emails to Yahoo account? If yes, read this blog. Here, we have explained in the best possible manner how to transfer Postbox mailboxes to Yahoo.
Postbox was launched in 2008 at the TechCrunch 50 conference. It's a powerful, rich-feature email client for Windows and macOS. Despite of its short time on the market, it still has made a significant place among email applicatiions.
This email client manages your emails and you can also connect to third-party applications such as Evernote, Slack, Todoist, Salesforce, Mailchimp, etc. But, these features comes at a certain price which probably became a good reason for the users to think of a better alternative to Postbox.
It can be tough to justify the cost of Postbox especially when you have free email services around you just like the Yahoo! Mail. Also, perhaps you are a current Postbox user but have come to the conclusion that you don't utilize all the features.
Whatever reason, you can definitely choose to import Postbox emails to Yahoo account with a reliable Postbox to Yahoo migration tool.
The BitRecover software provides an appropriate solution to transfer Postbox data to Yahoo mail service. The name of solution is Postbox Converter and easily fits with all requirements of users.
How to Import Postbox Mailboxes to Yahoo Mail ?
Launch Postbox to Yahoo migration tool.
Load Postbox emails with dual options.
Select required Postbox mailboxes for conversion.
Choose Yahoo and fill all Yahoo account details.
Click on Next to import Postbox emails to Yahoo mail.
Reasons for Postbox to Yahoo Migration
There are multiple scenarios wherein users are in need to export Postbox data to Yahoo mail. Do you know these reasons. Read here:
#1 Offers huge free storage space – This is one of the favorite things that anyone can choose to import Postbox mailboxes to Yahoo. Well, Yahoo provides much of free storage space than other webmails lie Gmail (gives 15 GB before you have to pay for extra space), Hotmail (gives 500 GB free storage space). But, certainly it stands no where in list when your favourite Yahoo mail offers 1 TB of storage facility.

#2 Saves your hard drive space – As Yahoo mail is a webmail service so it saves all your data online rather than the Postbox which is an email client requiring some space on your hard drive.

#3 Facilitates free calendar functionality – Yahoo mail has a very nice calendar function. So, you keep a track of all your deadlines easily.

#4 Keep your notes in one place – The Yahoo webmail has a notepad feature using which one can add a new note or edit an existing one.

#5 Scans emails for viruses –  Probably the best feature that compel users to import Postbox emails to Yahoo. It scans quickly and saves you from getting a malicious virus.
Transfer Postbox Emails to Yahoo Webmail – Best Software to Migrate Almost Everything
Postbox to Yahoo Converter is the right choice is you have decided to transfer all Postbox emails into Yahoo. It offers a direct migration of emails, contacts, calendars from Postbox email client to your Yahoo mail account. There are no limitations for the conversion. Best part is you don't require to install any further software installation for Postbox to Yahoo migration. The users can also convert Postbox into Yahoo mail with attachments. Learn more about the software in the upcoming section of the blog.
Know a Detailed Solution About How to do Postbox to Yahoo Mail Migration
If you are looking for a complete solution to import mailboxes from Postbox into Yahoo, then go through these steps:
Firstly, download and launch the software on your Windows machine. Read each instruction and hit on Next tab.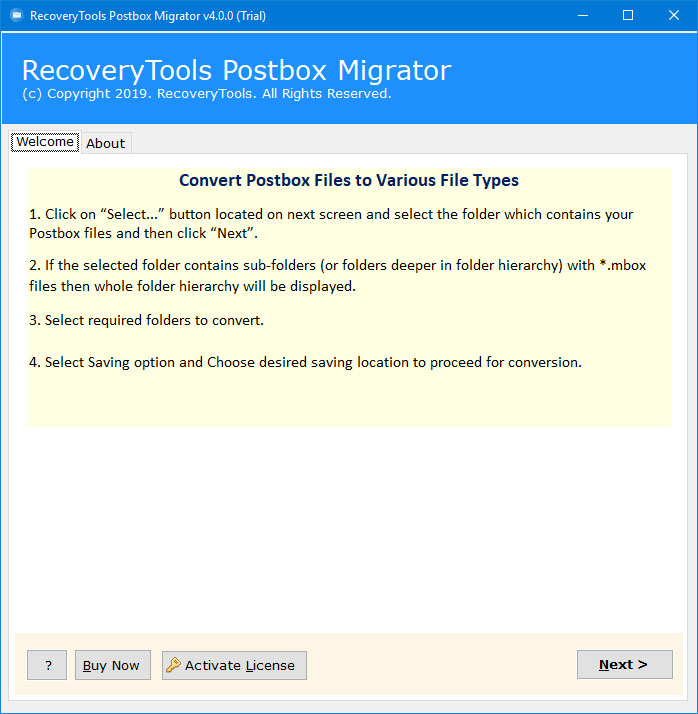 Now, here you can import each single thing from your Postbox account for conversion. If you wish to migrate only emails then hit on "Convert Emails" option for which you further get dual options for the import process. You can upload all Postbox emails (files/ folders) with these option. Then, if you want to migrate contacts and calendars then choose "Contacts and Calendars" option. Again hit on Next button.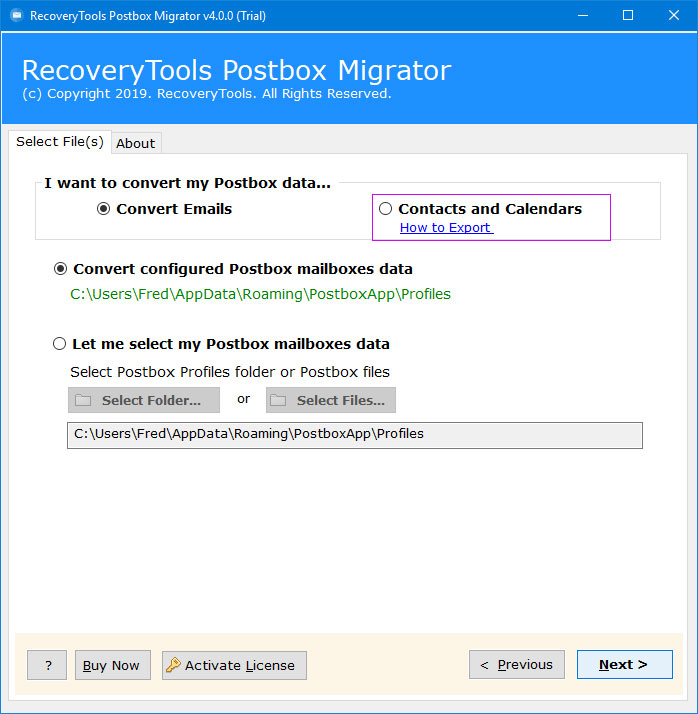 Then, once all Postbox files are chosen, you can see it in the software panel. Choose the required Postbox mailbox folders or subfolders that you wish to transfer from Postbox to Yahoo account.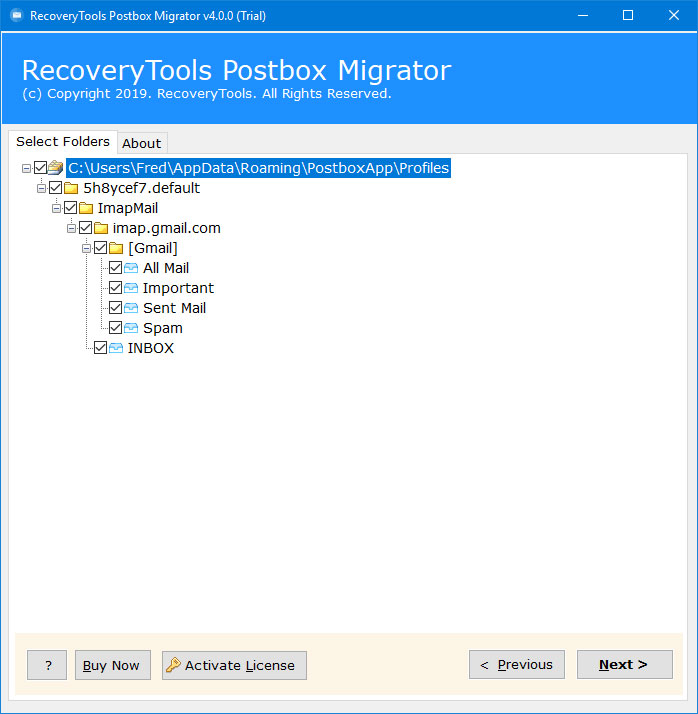 Thereafter, navigate your mouse towards the saving options list. Scroll down and choose Yahoo mail option from it.
Next, enter the email ID and password of your Yahoo mail account so that the software can connect with your mail account. Along with this, click on the Next tab to start to import Postbox emails to Yahoo.
The migration process begins here. Afterwards, once the entire conversion of Postbox mailboxes to Yahoo mail finishes, the tool gives a confirmation message.
Now, check your Yahoo mail account to view all Postbox emails, contacts, calendars.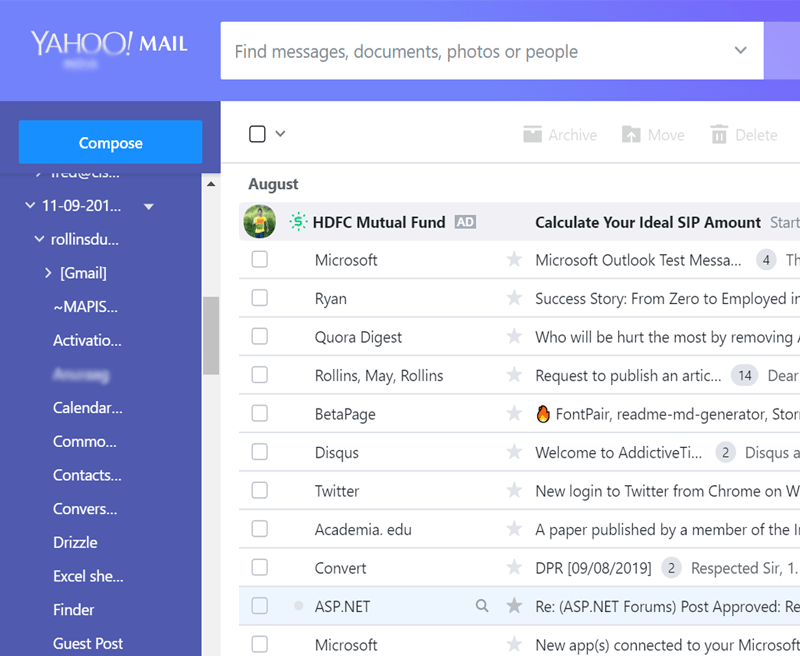 Move Data from Postbox to Yahoo Mail Service – Benefits & Features of Software
The software supports to transfer Postbox emails to many file formats, email clients, webmail.
The users can import Postbox emails with attachments to Yahoo mail directly without any problem.
It gives a separate option to migrate Postbox contacts and calendars to Yahoo mail service.
You can choose multiple users Postbox mailbox items for Postbox to Yahoo migration.
The users can selectively convert messages of Postbox mail to Yahoo account as per need.
The tool maintains the on-dis system folder hierarchy throughout the process to migrate Postbox folders to Yahoo mail.
It offers a quick and smart conversion of emails, contacts, calendars, tasks from Postbox to Yahoo mail.
The utility preserves the MetaData of Postbox emails such as sender and receiver information, attachments, inline images, hyperlinks, font style, formatting, etc.
You can operate this software on any Windows machine (All latest and earlier Windows OS).
Option to test the free demo version before purchasing the license keys of the software.
Frequently Asked Queries
Ques-1: How can I migrate Postbox contacts to Yahoo mail?
Ans: You can export Postbox contacts to csv file format with the "Contacts and Calendar" option in the software. Thereafter, import .csv file in Yahoo mail.
Ques-2: I setup Yahoo calendar so that I can handle my social calendars. But, some of my tasks are saved in Postbox calendars. How can I transfer Postbox calendar to Yahoo?
Ans: Yes, this Postbox to Yahoo migrator offers a calendar import function. Using this option, you can convert Postbox calendar to ics format. This iCalendar file can later be imported into Yahoo mail easily.
Ques-3: Does Postbox configuration is necessary to import Postbox emails into Yahoo?
Ans: No, our software is completely independent application which does not requires Postbox configuration.
Ques-4: I want to use Postbox to Yahoo transfer tool on my Linux machine. Does the software allows this?
Ans: No, this application is windows-based. It runs on Windows OS such as Windows 10, Windows 8.1, Windows 8, Windows 7, Windows XP, Windows Server 2019, Windows Server 2016, etc for both 32-bit and 64-bit OS editions.
Client Testimonials
I have almost larger than 11 GB of email data in my Postbox email client. I really don't use some features of Postbox. So, I decided to convert data from Postbox mailbox to Yahoo mail. My friend suggested me this utility "BitRecover Postbox to Yahoo Migration software". To my surprise, this application really works wonders! Using it, I immediately transfer huge amount of Postbox messages to my Yahoo account. I appreciate the efforts of your developer team who made this useful product.
-Churchill, USA
Last year I was able to help my friend creating a Postbox email client. But, now he says he didn't liked working on a desktop email client and wants to work on a webmail so that he can use his emails anytime, anywhere. We decided to move Postbox emails to Yahoo mail (I have been a long-time Yahoo user so suggested him!). But, due to lack of technical knowledge about it, we were unable to rule out the exact solution. Then, I came across this YouTube video tutorial while I was looking for the right solution. Really, really thanks to you BitRecover team. We are now able to batch transfer Postbox messages to Yahoo mail in a single processing. Highly recommendable tool!
-Cedar, California
Take a Test Drive of Free Demo Version
Any software application that requires you to open your wallet? Yes, the users generally asks is there a free version before investing our money on this. So, answer is YES! You can avail the free, full functional demo version of psotbox to Yahoo migration tool for Windows to see what it has to offer.
The current demo version is 5.0. It can be downloaded easily and lets you to evaluate the functions of the software. Plus, you can convert top 25 data items of Postbox to supported formats.
After you are entirely get in touch with the tool's functionality, upgrade the license keys for unlimited email migration.
Time to Conclude
We hope you have got a clear-cut idea about a direct migration procedure of Postbox emails to Yahoo mail account. The software is risk-free, standalone and a Windows-compatible program. Just download it now and enjoy its benefits. For more queries, join our live chat with the technical support team.
Our recent blog posts:
How to print Postbox emails to PDF file format?
 How to do Postbox to Outlook conversion?