How to Export / Import OLM Email files to Windows Outlook 2019, 2016, 2013 & 2007 ?
Are you using Microsoft Outlook on your Macintosh ? Fed up with Mac Outlook ? Do you want to import OLM file to Outlook for Windows?
Or it can be possible that someone sent you an OLM file and cannot access it in Windows Outlook. All these scenarios make you transfer emails from Mac Outlook to Windows Outlook 2019, 2016, 2013, 2007, etc. This means that it is necessary to convert the OLM files "Outlook for Mac" into the Personal Storage Table, commonly known as the PST file.
If you have an OLM file on the Windows machine and unable to access it, convert it to the Outlook PST format using BitRecover OLM Converter. Simple software with a user-friendly interface to perform the successful migration of Outlook to Windows from Mac.
Free Download OLM to Outlook Conversion tool. The free trial version of the software will enable the users to export the first 25 emails from each folder of Mac Outlook.
Furthermore, the software deals with a large number of queries, as some of them are listed below:
How to Import OLM file to Outlook for Windows?
How to Import .olm file to Windows Outlook 2016?
How to Import OLM into Outlook 2016 Windows?
How to export .olm emails to Windows Outlook 2010?
How to Transfer .olm to windows Outlook 2007?
How to add OLM file to Outlook 2013 Windows?
How to Import OLM File to Outlook for Windows ?
This blog has been written with the purpose of helping users to convert .olm files from Mac Outlook to PST format. However, this is the only way to move Outlook 2016 mail to Windows Outlook. But a question that could arise in the mind of a user is why it is necessary to move the mail from Mac Outlook to Windows Outlook. Know the reason below!
Need to Import .olm File to Windows Outlook 2016
There are some generic reasons due to which users want to change from Outlook for Mac to Outlook for Windows.
| | |
| --- | --- |
| Outlook for Windows | Outlook for Mac |
| All user can operate and use this application without any technical guidance. | To operate the Outlook for Mac application, basic technical knowledge is the most important |
| Cost-effective, reliable, and error-free installation | It comes with the high installation cost |
| Easy to use Graphical user interface | Complicated graphical user interface |
| It comes with the direct access feature | Direct access function is missing |
| Sharing the Outlook PST file for Windows is easy | Sharing the OLM file takes a long time |
Direct Steps to Import OLM into Outlook 2016 Windows
There is no doubt that everyone wants to adopt an easy means for everything. The same thing happens when the task is to export Outlook for Mac to the Windows email program. Therefore, instead of recommending a difficult manual process, a tool known as Mac OLM to Outlook for Windows Converter is recommended. However, the suggested application can convert OLM files only in PST format, which can be used in Windows Outlook.
Run the software, the first screen provides brief information about the use of the OLM to Outlook converter tool.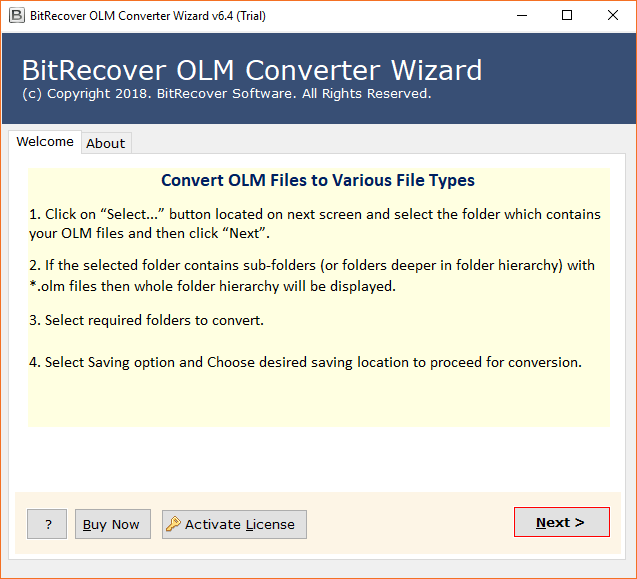 This application offers two options for loading OLM files and folders.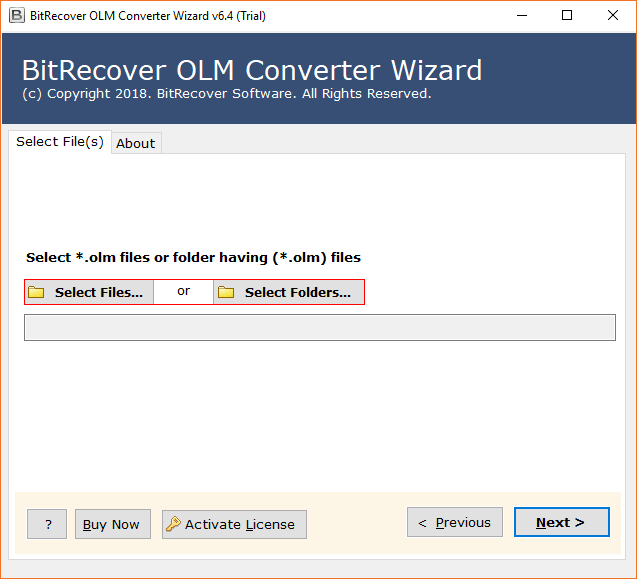 Select the folder that has OLM files.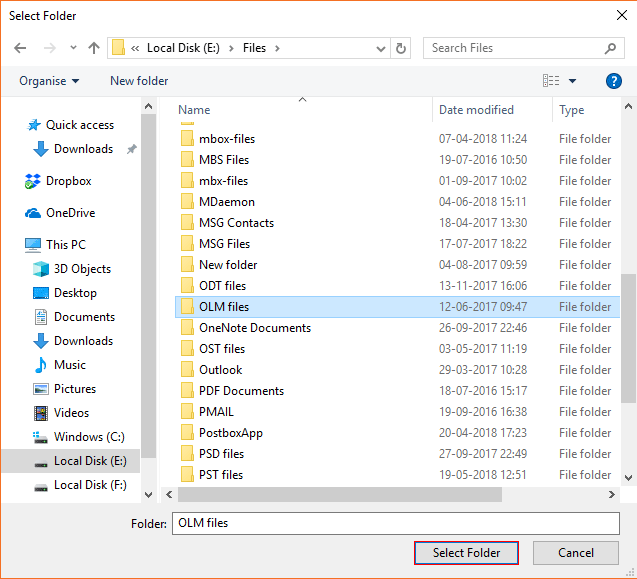 Now you can see the path of OLM files, from here click on the Next button.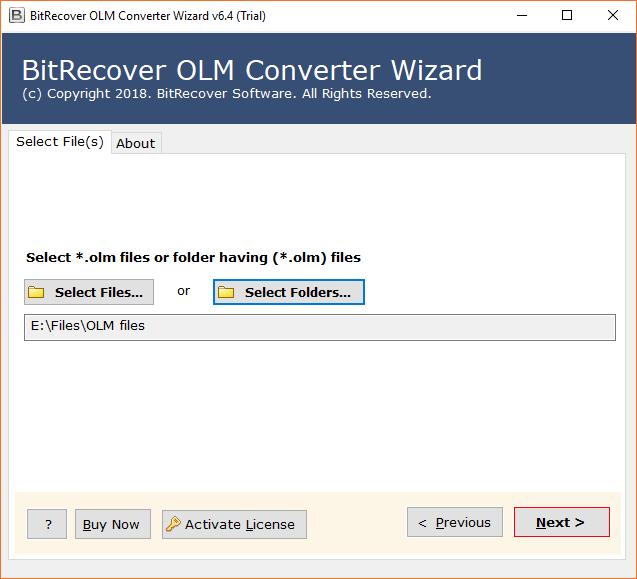 The software is previewing all the OLM file / folders, select them and press the Next button again.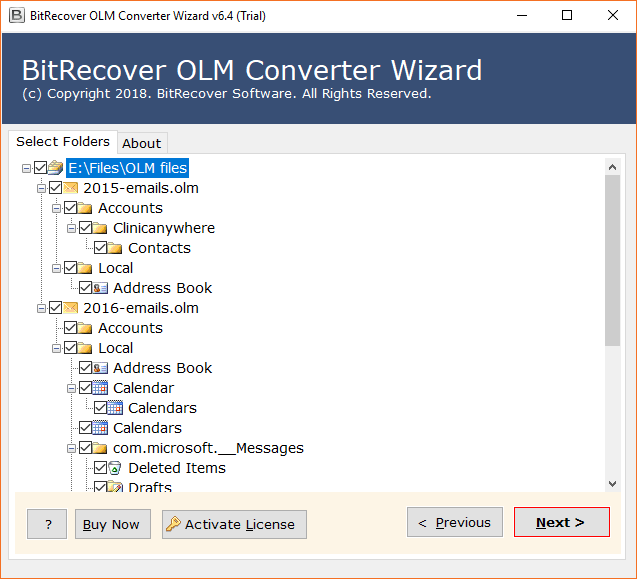 The tool provides 3 different options to convert all types of folders, transfer contacts and calendars separately. Choose the required saving format.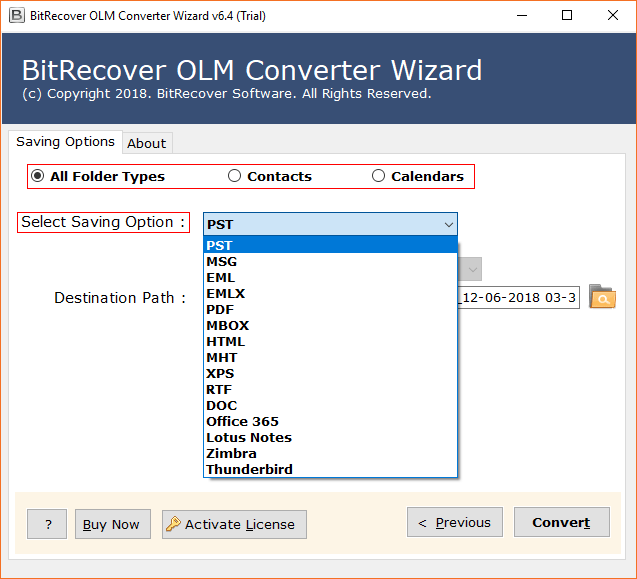 If you select the PST format to save the converted data, it also offers the Change language option for saving the data in Dutch, French, German and Spanish. From this panel, users can also select Destination Path, File Name Option, and Create separate PST for all OLM. After selecting the options, click on the Convert button to continue.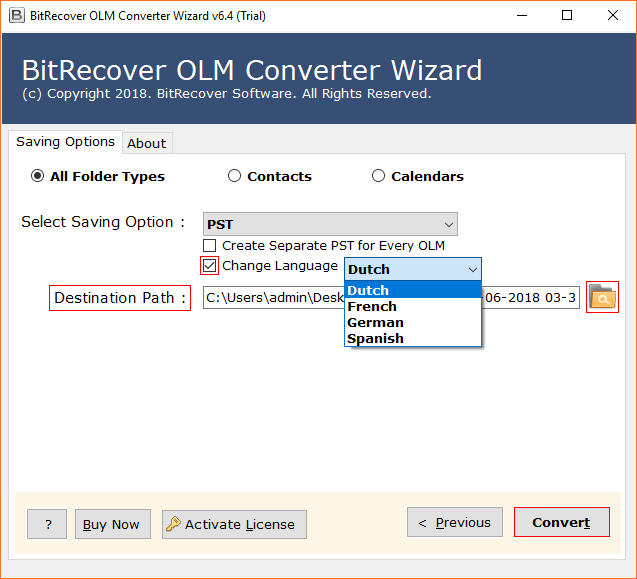 The migration process of Mac Outlook to Outlook Windows is running, please wait.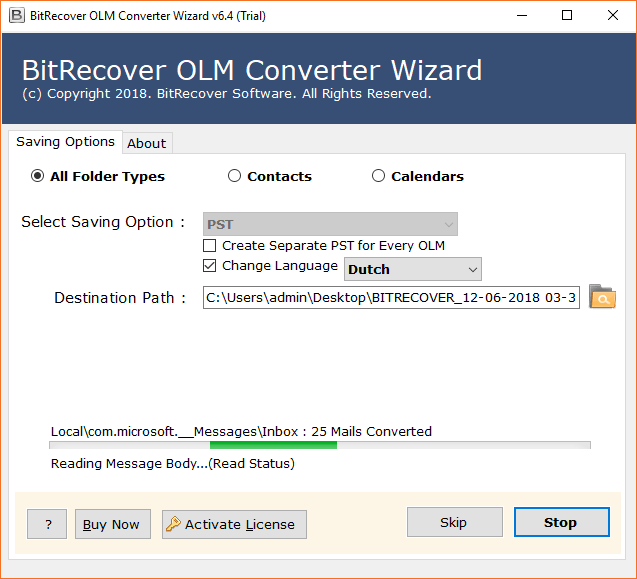 The migration process has been completed with the completion message. Now click on OK.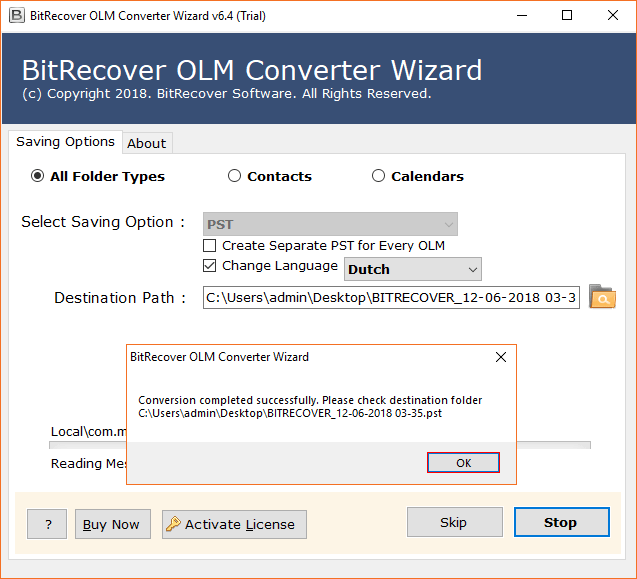 After completing the OLM conversion procedure, the converted data folder will be automatically opened.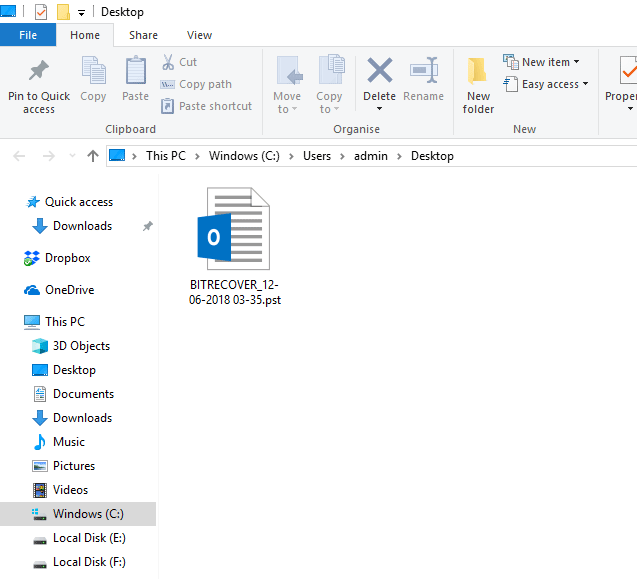 Here you export your PST files to Windows Outlook.
Why Choose Mac OLM to Outlook Windows Converter ?
Here are some key features of the tool that solve this confusion:
Has the ability to import OLM file to Outlook 2016 in bulk
Export OLM emails to Outlook Windows with attachments
Mac machine is not required for conversion
OLM to Outlook Windows Converter supports all Windows edition
Gives separate option to convert OLM calendars and contacts
Browse the destination where you want to save your resultant data
Preserves the email formatting during the migration process
For every single OLM file, the software creates the separate PST
The Last Lines
OLM files are exported from Mac Outlook, including emails, contacts, and calendar formats. A large number of users request a way to import OLM file to Outlook for Windows. There are countless solutions available to export or import OLM into Outlook 2019, 2016, 2013, 2007 windows, including free and advanced solutions. Free and manual methods are an excellent way to reduce the operating costs of the company.
But, manual methods require a lot of time and users require in-depth technical knowledge to perform this task successfully. Users can also face data loss since it also does not allow users to convert damaged OLM files.
Therefore, it is recommended to choose a third-party OLM to Outlook Windows converter. The software saves all the time and guarantees no loss of data. A user does not need technical knowledge to perform the conversion process in case you are not sure of performing the manual steps.