How to Import Google Takeout (Archive) to New Account ? – A Direct Solution
Introduction: Saving your Google Takeout data to your another Google account is a solid option if you wish to view MBOX files (basically Google archive) to new Google mail accounts also. But, do you know, after downloading Google Takeout emails, what is the next step. Well, are you aware of a direct solution to import Google Takeout to new account? If not, then this write-up will give you a complete guidance on how can you upload Google archive to new account.
Google Takeout is a service by Google Inc. which facilitates to download everything you have ever used in your Google account – emails, contacts, images, videos, etc and pack together in a simple .zip or .tgz file. This is a great option for taking backup of all Google data locally to your computer.
However, even after you have Google Takeout mails, the major problem arise when there is a need to import Google Takeout to new account.
We have received similar kind of query from our clients:
For certain reasons, I got to delete all of my personal data from my Google account. But, before that I have downloaded the emails with the traditional Google Takeout method. Now, here is the huge obstacle: I need to upload Google archive emails to another new account. What is the appropriate solution to upload Google Takeout archive to new account?
So, acknowledging this issue, we will explain to you how can you import Google Takeout to another account in some simple steps.
How to Import Google Takeout to New Account ?
With the help of these steps, import Google Takeout archive to new account:
Launch Google Takeout (archive) converter.
Import Google Takeout data with the dual options.
Enable email folders to upload into new Google account.
Choose Google Mail option and fill account credentials.
Start the process to import Google Takeout to new account.
There is no direct option in your Google account through which you can upload Google Takeout to new account. Hence, the best option is to use a reliable Google archive converter which can easily import Google Takeout data to another account. The BitRecover Google archive MBOX Converter is specifically designed to upload google archive to new account.
Download for Windows OS


Download for Mac OS

This software works on all Windows OS – Windows 10, Windows 8.1, Windows 8, Windows 7, Windows XP, Windows Vista, Windows Server 2019, Windows Server 2016, etc.
Suggested blog post:- How to import Google Takeout MBOX files to Office 365 account ?
Brief Insight of How to Upload Google Archive Data to New Account using an Automated Solution
These guidelines will give you an overview about how to import Google Takeout to new account. After properly downloading and launching the tool, proceed as follows:
Choose google archive files from your computer. Selection of files can be done by dual ways: Select files or Select folder option. Tap on the Next button.
Now, all the google archive files/ folders will be uploaded into the software GUI. Here, you need to enable only those specific data which you wish to import into another Google mail accounts.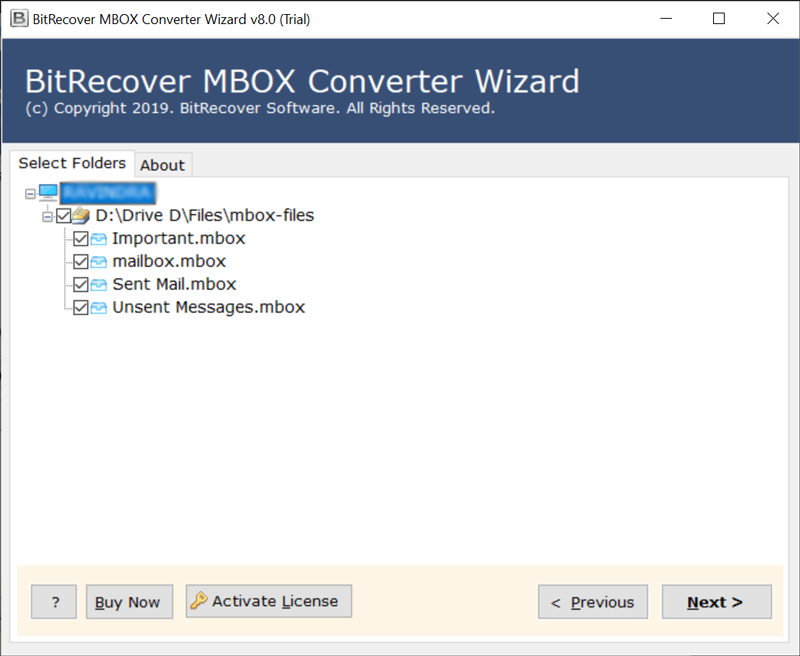 With this step, the first phase to upload Google archive email data into another account.
Then, from the saving options list, pick Google Mail option.
After this, specify all the login details of your Google Mail account – email address and password. Now, press on the Convert tab to start to upload google archive emails into new account.
After, the successful conversion of all emails, press on the OK tab and open your new account to see all the imported Google Takeout emails.
Quick Guide to Download Google Account Data with the Google Takeout Method
Step 1: Firstly, open this URL https://takeout.google.com/ and login in to your Google Mail account.
Step 2: Click on Download your data and Deselect All. Only choose the Mails and hit on the Next button.
Step 3: From the delivery method option, choose the "Send download link via email".
Step 4: Choose .zip option from the File type options.
Step 5: Pick 1GB, 2GB, 4GB, 10GB, 50GB archive size as per your need. Now, hit on the Create Archive button.
Step 6: The Google Takeout archive process starts. It will take time according to the amount of data.
Step 7: Once the entire process finishes, you will get this message "Download Archive" to download the Google emails.
Excellent Features of Upload Google Takeout to New Account Tool
It is a proficient solution to import Google Takeout to new account since it comes with so many beneficial features:
It offers batch mode feature that helps to upload Google Takeout emails to new Google mail account. All the information is exported to the new account without losing a single bit of information.
The tool supports to import Google Takeout archive along with associated attachments to another account.
The software preserves mailbox format and folder structure while restoring Google Takeout emails back into new account.
It is a direct solution to import Google Takeout to new account with simply entering the login details of Google Mail account.
It also comes with a free trial version that allows to convert first 25 data items from the Google account to the supportable file formats. After that, you can purchase the license keys of the software.
You can import gTakeout emails to new account with 100% accuracy as the tool has a simple and easy to use GUI.
The Final Verdict
In the above blog post, we have explained how to import Google Takeout to new account using an automated solution. Now, with the help of this recommended solution, you can upload google archive data into another account with efficiency. If you have any further queries, please contact to our technical support team.