How to Import Gmail Contacts to Outlook ?
Google contact is a significant feature present in our mail account. All those people who use Google contacts inside and outside of work already know its importance. It runs in the background and grants the users to access their contacts, telephone information updated from any device 24*7. Thus, it is a very essential app for small and medium-scale business users who require an easy, free and trustworthy contact management system.
However, if we talk about corporate people, most of them prefer Outlook over Google. Going beyond just a phone address book, Outlook offers a large variety of features that let you manage contacts in the easiest manner.
In this write-up, we will talk about an efficient technique to import Google contacts to Outlook. We have explained both the manual and automated ways for your convenience.
If you need to export Gmail contacts only, you should initially transform them into CSV files. The method which we will describe in the upcoming sections of the blog will help any individual and corporate user to sync Gmail contacts to Outlook.
Moreover, if you or your firm depends on Google Workspace accounts having their own domain then, there is no need to migrate all data. The automated solution will enable you to import Gmail contacts to Outlook in a selective manner.
Manual Method to Import Gmail Contacts to Outlook
Step 1- Export Contacts from Google Mail
From your Gmail account, one can export the contact details. In order to save specific passages, you can name them first. Make another label utilizing the menu option and include the necessary details in the list. Please note that while you download Gmail contacts to Outlook with this method, you can only migrate this folder exclusively.
Sign in to your Gmail account.
On the home page, click on the square made up of nine dots. Find the contacts from the drop-down menu.
Tap on the 'Contacts' button from Gmail.
In the left panel of the screen, search for the Export option and click on it.
Select the category which you want to transfer like the 'frequently contacted' or any other label.
Pick the Google CSV option as the target format.
Hit on the export button to finish the first step to export Gmail contacts to Outlook.
Add Gmail Contacts to Outlook Application
Now you have the Gmail exported contacts, so you can import Gmail contacts to Outlook. This approach includes the use of the default wizard.
Open the MS Outlook client and perform the steps to import Gmail contacts to Outlook.
Navigate to File>> Open & Export>> Import/Export
In the Import and Export Wizard window, select 'Import from another program or file' as your source
Select the Outlook CSV format for the output (other options are Google CSV and vCard format)
Choose the contact file and select an action for duplicates
Setup the destination path folder for importing Gmail contacts to Outlook
In order to cross-verify whether the contacts are transferred or not, click on Contacts via Address Book. It will display all the entries saved within it, comprising the newly migrated contacts.
Why does this Manual Method Fails ?
The manual technique to export Gmail contacts to Outlook account isn't that simple. It accompanies significant shortcomings which justifies the utilization of automated Gmail to Outlook contacts conversion software.
Some of the main issues which the users face when attempting to copy Gmail contacts to Outlook:
You can experience sudden mistakes if you attempt to migrate a large number of Gmail contacts to Outlook immediately.
The exported contact may not show up in Outlook because the document doesn't contain any contacts.
There is a possibility that when you import Gmail contacts to Outlook via manual way, a portion of the data may be lost.
It is simply conceivable to move contacts from a single Gmail account.
Professional Solution to Import Google Mail Contacts to Outlook 2019, 2016, 2013, 2010
Corporate users whether small, medium or large-sized organizations may depend on G Suite services. People may connect numerous accounts and thus the above manual method can't take care of importing Gmail contacts to Outlook in a single attempt.
Hence, in order to get the job done, you can easily migrate Gmail contacts to Outlook with extraordinary software- BitRecover vCard Conversion Tool.
With this automated utility, one can securely export Gmail contacts to Outlook. This will ensure a hassle-free process.
As with the first step explained above, you have the vCard generated files which now you need to feed into Microsoft Outlook. And for this, use our prime software to import Gmail contacts to Outlook.
Usage of Automated Software to Move Gmail Contacts to Outlook
Download and launch the software on your Windows machine. Wait for few seconds to get the software opened.
Now, choose the vCard files exported from Google mail.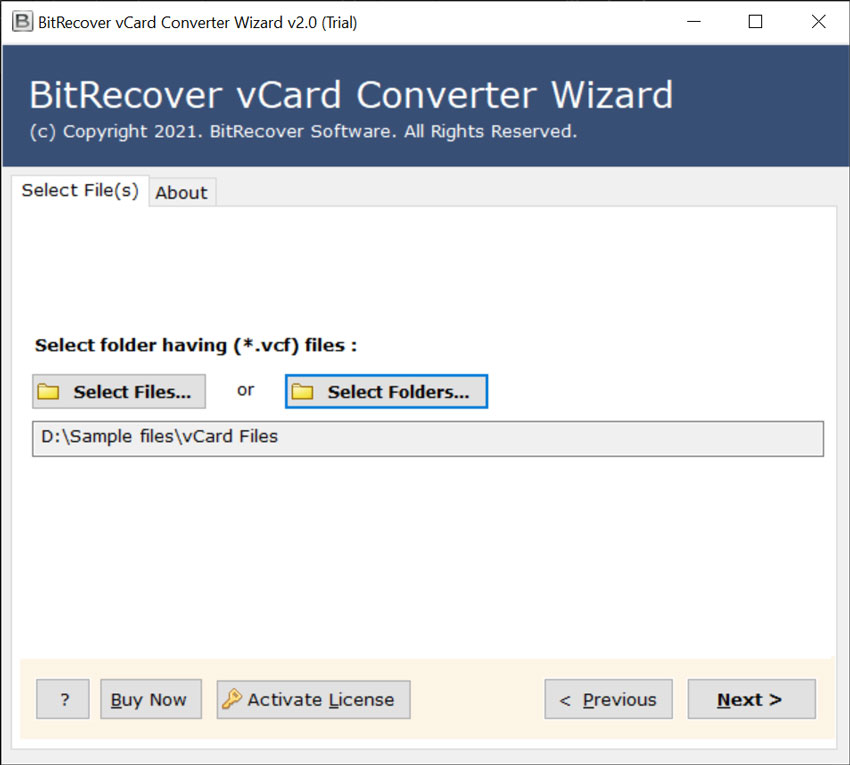 Then, preview all files by double-tapping them.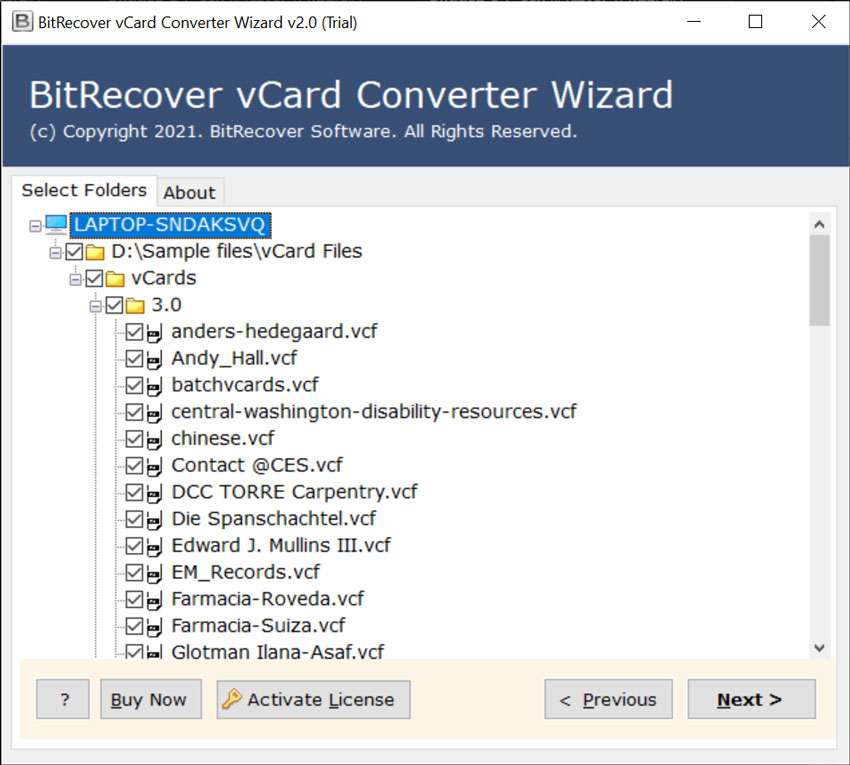 Thereafter, select CSV as the saving option.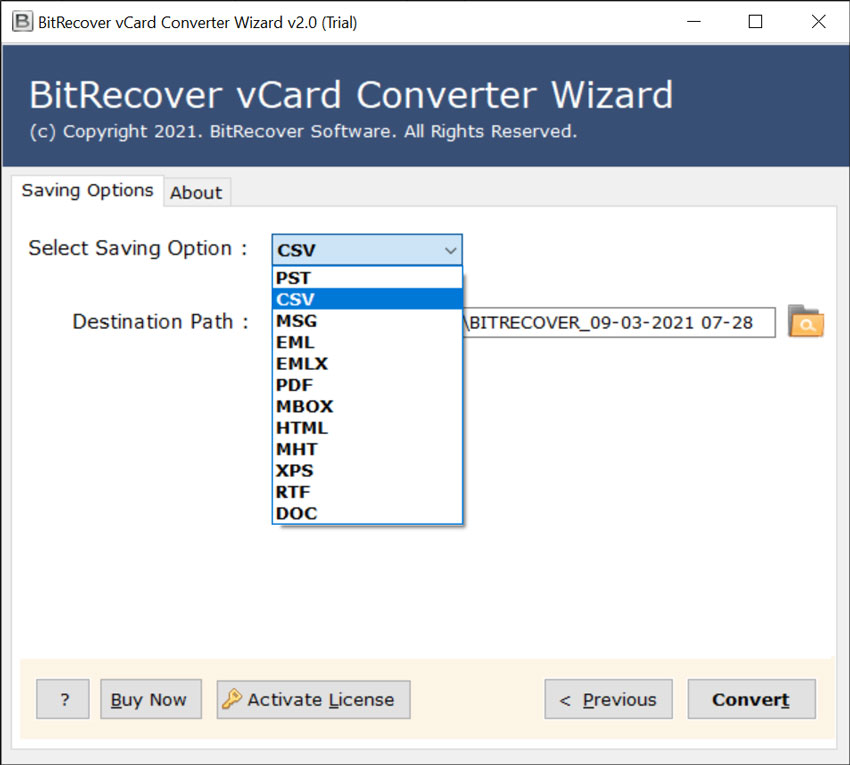 Click on the Convert tab to begin converting Gmail contacts to Outlook.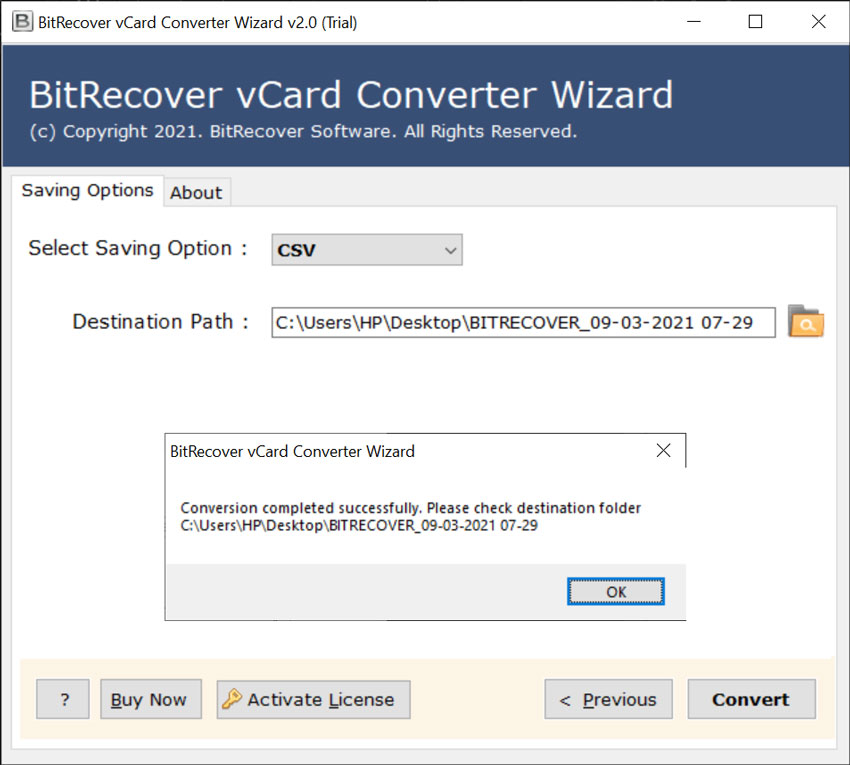 Why Should you Choose BitRecover Solution ?
BitRecover software to import Gmail contacts to Outlook is one of the most user-friendly applications available in the online market. It provides a modern Graphical User Interface having self-descriptive features. It can convert the bulk of Gmail contacts to MS Outlook as well as many other file formats. And we don't stop here!
Before starting the conversion, you can view the inherent details present in your contacts files by the preview option so as to ensure accuracy.
Most of the standard conversion solutions lost significant data along the way. Our highly skilled professionals who made this software know that missing data can mean a lot. Hence, our tool is far more reliable and gives you correct results without any downtime.
Your Free Demo Edition is Just a Click Away
Ready to check the proficiency of the tool? Take a free test run of the tool import Google contacts to Outlook. evaluate how simple it is to use. You can gain the benefit of the conversion tool's FREE trial version. Also, can use this trial edition for as long as you require and can convert few files from it. We ensure you that our utility has vast compatibility with your PC and gives you what you need.
Final Words
We hope that now you get the idea of how to sync Gmail contacts to Outlook. The professional solution will enable you to directly convert the Google contact files to CSV format. Efficiently save Google contact address book in CSV format. Since the manual method has certain limitations. Thus, it is highly suggested to use the automated utility so as to prevent typical data loss issues.