How to Import Evernote to Outlook Application without Changing Text Formatting ?
What is the best method to import Evernote to Outlook app? Is this question running in your mind? If, yes then we have got the right way to solve this query.
Evernote has for some time been the best application for taking notes, tracking files, arranging projects, and for the most part being the spot to put anything you would need later.
Over the most recent years, Evernote's reputation has been affected because of an old interface and price changes. So, thousands of people are trying to switch over from Evernote. Even if you don't intend to switch, it's a smart thought to export data from Evernote for an independent backup.
Fortunately, there are various applications, for example, Microsoft Outlook where you can easily put all your emails, files, images, documents, contacts, and other stuff. In this article, we will reveal to you how you can import Evernote to Outlook application.
Precise Tool to Add Evernote Files to Outlook
In order to add Evernote files to Outlook, you should use an automated software – BitRecover Evernote Converter Wizard. This software simply import Evernote to Outlook without losing any details. All you need to do is to upload all Evernote ENEF files in the toolkit and choose PST as your saving option. The rest of the work will be done by the software automatically within a couple of seconds.
Take a note- The following steps are applicable for converting Evernote files to any version of Outlook. This software supports all latest versions of Microsoft Outlook like Outlook 2019, Outlook 2016, Outlook 2013, Outlook 2010, and prior versions.
Download the Evernote to Outlook tool on your Windows or Mac OS:

How to Import Evernote to Outlook with All Email Attributes ?
Go through these steps to export files from Evernote to MS Outlook:
RAM- Minimum 512 MB required
Free Download- Trial version supports to convert top 5 Evernote files to Outlook
Preview Files- View selected Evernote folders before conversion
Email Attachments- Import file attachments as well to Outlook
Windows Support- Vast compatibility with Windows 10, 8.1, 8, 7, XP, Vista, etc
First of all, download and install the application on either of your Windows or Mac machine. Read all instructions given in the Welcome screen.
Now, choose a folder having *.enex or *.html or *.mht files with the dual options that are Select Files or Select Folder.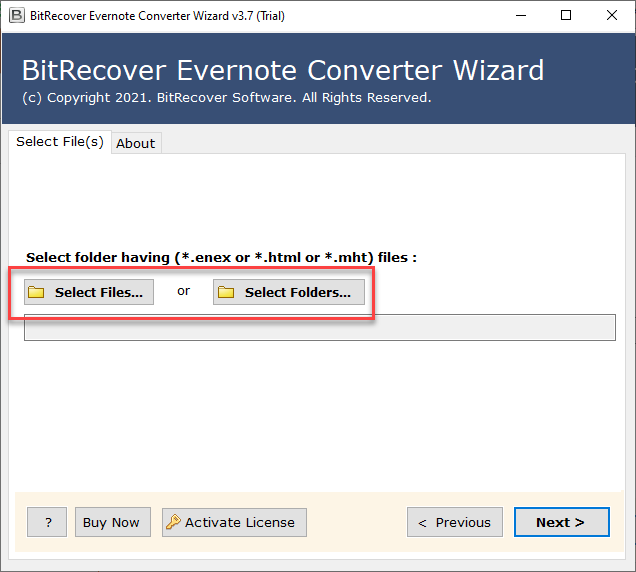 Then, select folders whose data you want to export from Evernote to Outlook.
Thereafter, go to the 'Select saving option' list and choose PST.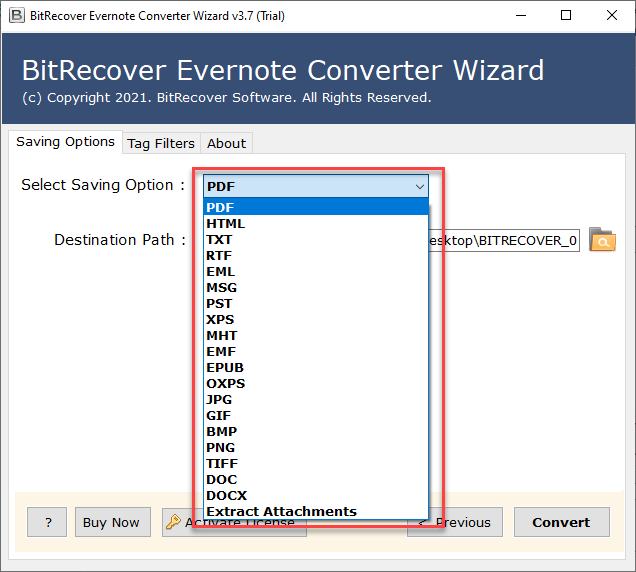 Browse a required destination location for saving the output.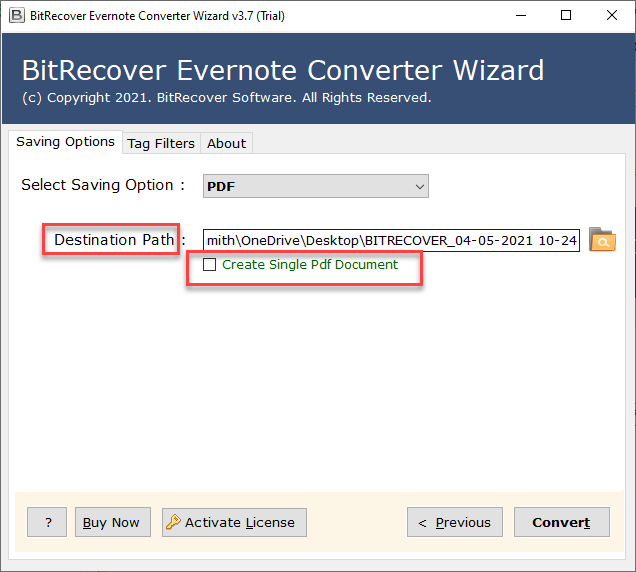 Lastly, click on the convert button to start importing Evernote to Outlook process.
That's it! With these simple steps, one can efficiently add Evernote files to Outlook.
Watch Live Video Tutorial – How to Export from Evernote to Outlook
Prime Benefits and Features of Tool
This software is most recommended for all users whether professional or home. People can effortlessly move data from Evernote to Outlook within few clicks. The tool comes with amazing advantages which are explained below:
Easily Convert Evernote Notebook & Notes
The tool has the ability to migrate Evernote Notebook and Note files (*.enex, *.html, *.mht) into Outlook. It will transfer all Evernote files to Outlook such as Todo, Meal Planner, Daily Reflection, Meeting Note, Project Plan, lecture Notes, Essay Outline, weekly Planner, etc.
Batch Import Evernote to Outlook
The suggested tool has the proficiency to bulk add Evernote to Outlook application. Within a single attempt, a user can convert multiple Evernote files to PST for Outlook.
Keeps Intact Data Integrity
During the migration of Evernote ENEX files to Outlook, this software maintains all email attributes. It protects the on-disk folder hierarchy, all email elements, text formatting, images, hyperlinks, meta headers, signature, etc.
Save Output at any Location
It allows to store the Evernote to Outlook converted files at any location on computer.
Independent Application
This tool is standalone because it does not require the installation of any external app for its functioning. It can help you to add Evernote to Outlook without installing any plug-in or app.
Conclusion
We hope that you have got the idea about how to import Evernote to Outlook. This process is very simple and will hardly take few minutes for its completion. You can try the free trial version for evaluating its features. There are no limitations with the licensed edition for adding Evernote files to Outlook.