Backup Hornet.email Accounts to Windows/Mac PC – Easy to do Migration Procedure
Today cloud email backup is very important to ensure a safe archive of a set of all business email information so that one can restore the data when the original messages are deleted or destroyed. But, the issue is that most backup solutions are problematic to handle, adding more burden to the IT infrastructure. That's where BitRecover software can assist- with an easy-to-understand solution that will ultimately lessen the burden on you. Through this blog post, you will learn a very user-friendly solution to migrate your business data of an email service called Hornet.Email webmail. Read the best solution to backup Hornet.Email accounts to Windows or Mac PC.
Do you know?
Hornet.Email webmail is a popular webmail client for businesses that you can use under the Hornet.Email address. Other than basic services like creating, sending, and receiving emails, this client also offers a collaboration platform for managing events, tasks in calendars, or organizing address books.
Though Hornet.Email is a perfect cost-effective solution that provides the same AI-based security mechanisms as Microsoft 365. But, since cyberattacks are so rampant nowadays that it is very significant to backup Hornet.Email accounts data.
By migrating Hornet.Email account business emails, organizations can review their employee email discussions, sales email transaction narratives, and more for all clients or all organization's email histories.
Note- There is an automatic archiving mechanism in this service but this backup is kept only for 14 days.
How to Migrate Hornet.Email Accounts to Windows or Mac computer ?
Losing your Hornet.Email accounts data due to data corruption, cybercrime, or unintentional deletion can be a great loss to your business operations. But, you can avoid it by taking a backup of Hornet.Email accounts database to your local PC.
The BitRecover IMAP Backup Tool offers a simple and streamlined method to migrate Hornet.Email accounts information to cloud-based email services, email clients, and to PC.
You can use this software to keep a backup of emails from Hornet.Email account service to another storage device. In this way, you will have a copy of the data in case of an internal or external mishap.
The best thing is that the application can be downloaded on both Windows and Mac machines irrespective of their editions.
Steps to Backup Hornet.Email Accounts on PC
Launch the Hornet.Email backup tool
Enter Hornet.Email account address, password
Specify IMAP host as imap.Hornet.Email & port no. as 993
Choose required mailboxes for email migration
Pick any saving format & a target storage location
Start to backup Hornet.Email accounts on PC
A Complete Tutorial to Migrate Data from Hornet.Email Account
Please follow the steps given below to backup Hornet.Email accounts to the computer.
First of all, download and install the setup of the recommended software on your PC.

Now, enter the email address and password of your Hornet.Email account. Fill in the server hostname as imap.Hornet.Email and Port number as 993. Click on the login tab.
If you are willing to backup multiple Hornet.Email accounts then, enable the 'use batch mode' option.
Then, specify the mailboxes from where you want to migrate Hornet.Email accounts data.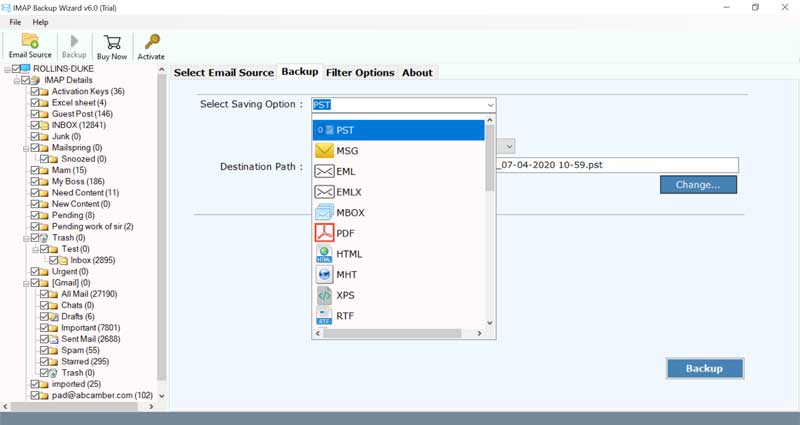 Thereafter, navigate to the list of saving options. Choose anyone as per your need.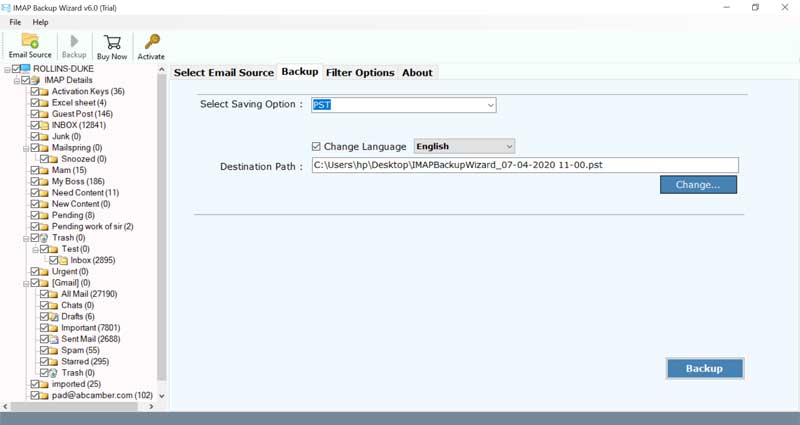 If you wish to have the backup data in some cloud service then you need to mention the email ID and password of the destination email account.
Lastly, click on the backup button to start the migration task.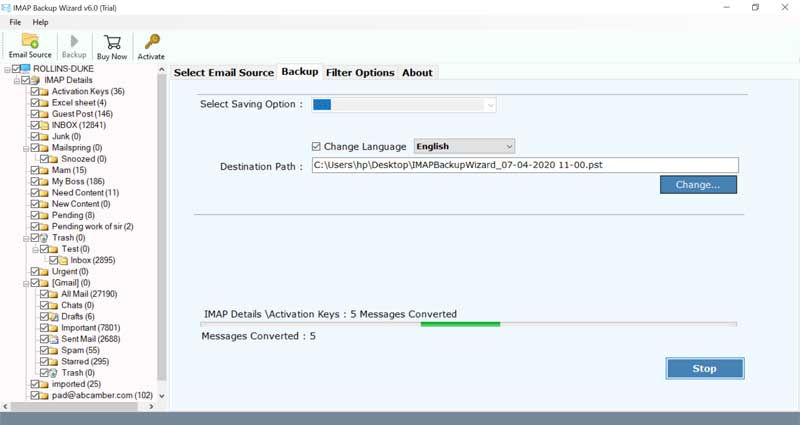 Various Storage Options in which one can Backup Data from Hornet.Email Accounts
In document and email formats- Users can take the help of this application to migrate Hornet.Email accounts to computer in file formats like PST, MSG, EML, EMLX, MBOX, PDF, HTML, MHT, XPS, RTF, DOC.
To Mail Servers- One can also backup their messages from Hornet.Email accounts to servers such as Exchange, IBM Domino Server, Zimbra Collaboration Server, IMAP Server, etc.
To Cloud Services- Use the Hornet.Email accounts backup tool to save your emails in Gmail, G Suite, Yahoo, Microsoft 365, Outlook.com, IBM Verse, Rediffmail, etc.
Searching the best of the lot- Software's Benefits
The suggested application comes with a dedicated and easy-to-understand interface to backup data hassle-free. It brings so many features and benefits so as to have a successful Hornet.Email migration.
Users can migrate Hornet.Email accounts data in batch. Hence, if you have lots of data then you will find this utility very beneficial. The reason is that the conventional tools to backup data from Hornet.Email accounts don't give such a feature.
The tool keeps intact the email properties such as attachments, inline images, signature, sender details, recipient details, etc.
The software preserves the folder structure of Hornet.Email accounts data. The hierarchy of the folder remains the same as that of the original.
With this utility, the users can also backup multiple Hornet.Email accounts messages at once. For this, the user needs to upload the account credentials in a CSV file to the software kit.
There is a selective data backup feature using which you can migrate Hornet.Email accounts in a selective manner. Various filter options are available for this such as email address, subject, etc.
The tool is completely independent and does not require the installation of any external application for its working.
You can install the software on any Windows machine such as Windows 11, Windows 10, Windows 8.1, Windows 8, Windows 7, Windows XP, Windows Vista, Windows Server 2019, Windows Server 2016, Windows Server 2012, etc.
Conclusion
The above blog explains the detailed procedural steps to backup Hornet.Email accounts. If you are someone who is new to email conversion methods then the above utility will help you a lot. It will enable you to execute a swift and efficient migration of email messages from Hornet.Email accounts to your favorite location whether it is cloud service, email client, or to your local computer. We assure you that the above solution will give accurate results without any downtime issues.