How to Archive IMAP Email in Thunderbird Account ? -The Complete Guide
Do you want to archive IMAP email in Thunderbird to keep them secure for future purpose? If your answer is yes, then read this guide. Here we have explained the best automated method to add IMAP account to Thunderbird.
You may wish to archive emails from IMAP server to Thunderbird so as to create a permanent copy of emails before you leave any IMAP configured email service. Or, perhaps to lessen the server disk storage utilized by huge number of emails.
Following the user guide will enable you to easily archive IMAP email in Thunderbird. Let's start.
Complete Method to Save IMAP Server Emails into Mozilla Thunderbird
For doing this, first of all, download and install the above software on any of your Windows or Mac machine.
Now, after launching the tool, mention the email address as well as password of your IMAP account. Also, fill in your IMAP host and port no. Tap on the login button to continue further.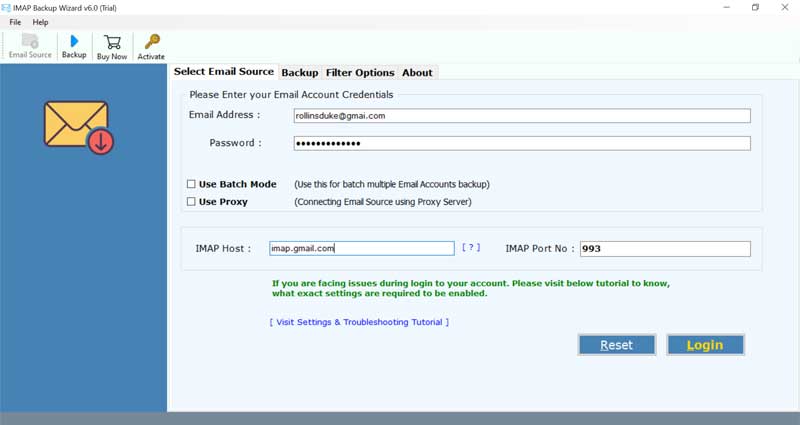 Then, immediately after the login button is clicked, the software starts to fetch emails from the chosen IMAP account. Now, you will see a list of all email folders so pick the necessary emails.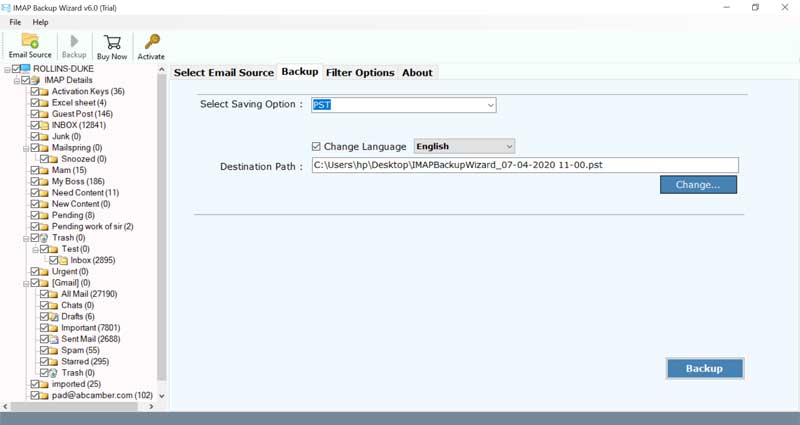 Thereafter, in the saving options list, choose Thunderbird.
Along with it, also browse or search a particular location on your computer wherein you need to save the emails.
After this, click on the backup button to begin the process to archive IMAP email in Thunderbird.
Last step
Go to the resultant folder to check the saved email messages from IMAP server. Also, navigate to your Thunderbird account to view all emails.
What Benefits will you get from Tool to Convert IMAP Emails to Thunderbird ?
Bulk Email Transfer: By using this software, the users can easily bulk archive IMAP email in Thunderbird. In this way, one can save multiple emails from IMAP server to Thunderbird at once within few seconds.
Preserves Email Elements: With this tool, you don't need to worry about the email components of IMAP account messages. It keeps intact all attachments, inline images, attachments, hyperlinks, signature, formatting of email text, etc.
Save Emails from Multiple IMAP Accounts: A prime advantage of this application is that you can export multiple IMAP account emails to Thunderbird. Let's say you have three or four or more than that IMAP account and you intend to save IMAP emails in Thunderbird from all these accounts. Then, the batch mode option enables you to do so. It will ask the login credentials of your IMAP account, store it in a CSV file and lastly upload it into the software panel.
Secures User's Data Privacy: The too never disturbs the integrity of data. It performs the whole process to archive IMAP emails in Thunderbird without any data loss.
Maintains the Folder Structure: During the task to save IMAP account to Mozilla Thunderbird, this utility preserves the on-disk folder structure. It keeps the original folder hierarchy throughout the archiving of IMAP emails into Thunderbird.
Windows and Mac Compatible Tool: Users can download this application on any version of Windows OS such as Windows 10, Windows 8.1, Windows 8, Windows 7, Windows XP, Windows Vista, Windows Server 2019, Windows Server 2016, Windows Server 2012, etc. Also, it supports Mac 10.15 Catalina, 10.14 Mojave, 10.13 High Sierra, 10.12 Sierra, OS X 10.11 El Capitan, 10.10 Yosemite, 10.9 Mavericks, 10.8 Mountain Lion, etc.
Concluding Words
Saving IMAP account to Mozilla Thunderbird when you have massive number of emails and you particularly want to store them on a local email client. It safeguards your IMAP emails, attachments from any sort of virus or malware attacks.
You can even take a free trial of the IMAP to Thunderbird backup tool for evaluating the features and benefits. It enables to convert top 25 email items from IMAP server to Mozilla Thunderbird. In order to perform unlimited migration, you need to upgrade the license keys of the product.
If you liked this article to archive IMAP email in Thunderbird, do follow our other blogs.