How to Migrate IMAP Server to G Suite (Google Business Emails) ?
For different reasons, we are presently attempting to relocate around 1000 clients of our hosted Zimbra Collaboration Server to G Suite. I have been endeavoring to run IMAP to G Suite migration for quite a while utilizing the IMAP Migration Tool given by Google yet it continuously fails after a timeframe. There isn't anything truly telling in the Zimbra logs in regards to the conversion.
I have been looking however not had the option to turn up anything. is there some sort of IMAP Timeout on the Zimbra Side that may be making this migration fail?
Truly searching for any ideas about how to migrate IMAP to G Suite so I can wrap this task up and push ahead, any assistance would be generally valued!!
Regards
David, UK
Google provides many free devices and services to its clients. Yet, for business productivity, you want benefits that bring greater portability, adaptability, and scalability in the work. That is the place where Google's brilliant service G Suite comes into the picture.
It is the bundle of all smart and cloud-based Applications created by Google. You can move your current IMAP Server to G Suite for business or whatsoever reasons and can enjoy its numerous benefits.
Migrating IMAP Server to Google Workspace is very much required nowadays because the Google Workspace (G Suite) will offer you a myriad of advantages like business email, file migration service, endless data storage, extreme security, Google Apps, cost-effectiveness, G Suite admin panel, offline functions, etc. Also, it gives speed, trustworthiness, easy setup, high data integrity, and much more. That's one of the major reasons that limitless business, commercial, enterprise users have switched to G Suite.
It does not take a long time to complete the IMAP to G Suite migration process with the automated solution. In this article, you'll learn how to migrate IMAP emails to G Suite account.
IMAP to G Suite Migration Software: A Hassle-Free Solution for All!
In order to migrate IMAP server emails to G Suite, you will need highly reliable software. So, try using the BitRecover IMAP Mail Backup Tool. This software is compatible with both Windows and Mac machines.
Steps to Migrate IMAP to G Suite
Follow these steps to migrate emails from IMAP server to G Suite:
Launch IMAP to G Suite migration software.
Setup IMAP account login details into tool.
Choose emails and G Suite as the saving option.
Fill in the G Suite login credentials.
Start to migrate IMAP to G Suite account.
How to Transfer/ Migrate IMAP to Google Workspace Account ?
Firstly, download and install the IMAP to G Suite backup tool on your Windows or Mac machine.
Now, fill in the IMAP account email address, password, IMAP host, and IMAP port number in the respective fields. Click on the login button.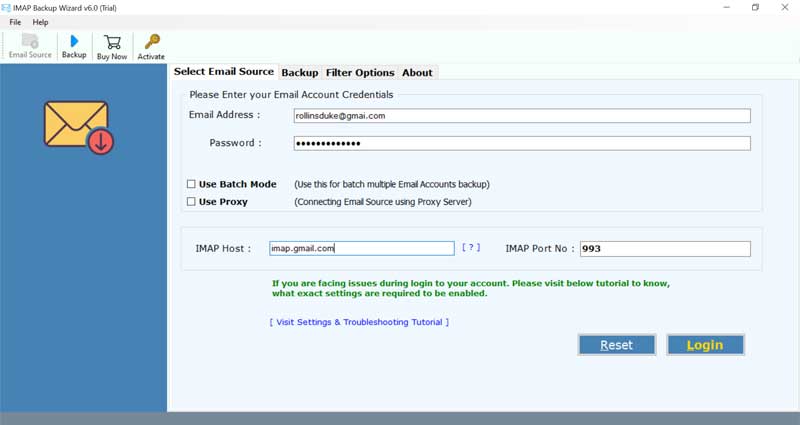 Then, choose the required email folders which you need to backup from IMAP account to Google Workspace.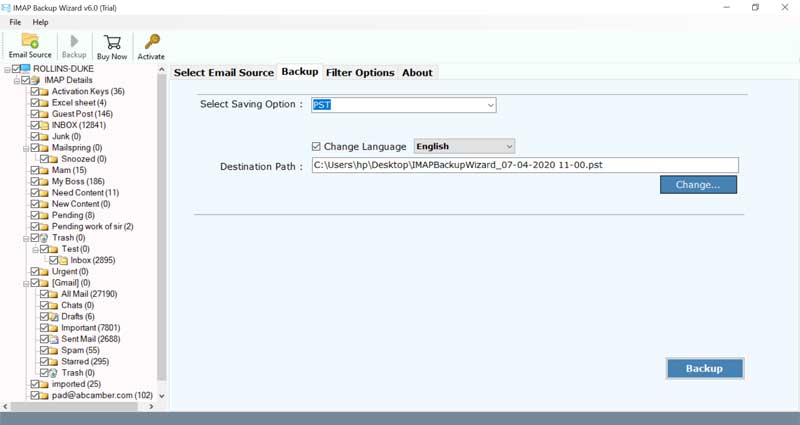 After this, choose G Suite from the available saving options list.
Select any filter if you need to migrate IMAP to G Suite in a selective manner.
Thereafter, set up the G Suite account login details in the tool's panel.
Lastly, tap on the backup tab to start the IMAP to G Suite migration process.
Salient Benefits of IMAP to Google Workspace Migration Software
Bulk Migrate Multiple IMAP Accounts to G Suite
With this IMAP to G Suite migration tool, the users can easily export bulk IMAP account emails to Google Workspace account. It offers a batch mode option using which you can enter various IMAP account login credentials in a CSV file and upload them into the toolkit.
Preserves Email Properties
While migrating IMAP to G Suite, this utility maintains all email elements such as attachments, images, email address, mail headers, hyperlinks, text formatting, etc.
Selectively Export IMAP to G Suite
By using the software, you can even migrate selective emails from IMAP server to G Suite account. The various filters in the IMAP to G Suite migration toolkit enable sorting emails as per date range, subject, email address, etc.
Transfer On-Premise and Hosted IMAP Server
This software is made in such a manner that it can easily migrate any IMAP server on-premise and hosted emails. So, one can effortlessly transfer local IMAP account emails to G Suite account.
Compatible with Windows and Mac machine
The IMAP to G Suite migration tool can easily run on all latest and earlier versions of Windows OS. It works on any Windows OS such as Windows 10, Windows 8.1, Windows 8, Windows 7, Windows XP, Windows Vista, Windows Server 2019, Windows Server 2016, Windows Server 2012, etc. Also, it is compatible with Mac 10.15 Catalina, 10.14 Mojave, 10.13 High Sierra, 10.12 Sierra, OS X 10.11 El Capitan, 10.10 Yosemite, 10.9 Mavericks, 10.8 Mountain Lion, etc.
Free Trial Version
For evaluating the features and benefits of the tool, you can try our free version of the software. It facilitates to convert top 25 email items from IMAP account to your Google Workspace account.
Over to you
In this article, we explained the complete ways to migrate IMAP to G Suite account. The software mentioned in this post is free from any errors. It is perfectly suited for all enterprise as well as business users. The time taken to finish this migration process completely depends upon the number of emails present in your IMAP mailbox.
If you need any help regarding the IMAP to G Suite migration tool, then feel free to contact our technical support team.