How to Backup Windstream.net Webmail to Computer, Email Clients ?
Overview: With the passage of cloud technology, it is still prone to catastrophe like crashes and hacks, you just never know. Hence, there is no need to dwell on why it is mandate to backup entire emails, calendar items, contacts, etc. In this blog, we will walk through how to download Windstream emails to PC using a reliable solution – Windstream.net Webmail backup tool.
Read this user Query to get a clear idea what is the existent issue:
Recently, I was in a dire need to transfer Windstream emails to my Thunderbird account. I use dual accounts – Windstream.net for workplace and thunderbird for my personal email activity. Suddenly, my Windstream account has ceased to work properly, also crashes whenever I open the account. Now, I don't want to lose my crucial data. Please guide me an instant Windstream.net Webmail backup software so that I can download all Windstream emails into thunderbird.
Without wasting time, let us move towards the respective solution for the same problem.
BitRecover Email Backup Wizard is a comprehensive software that fulfils al your needs for migrating emails from Windstream.net to computer. Whether you are technical user or non-technical user, there will be no issue to handle the application. So, let's dive in to the working steps about the Windstream.net Webmail backup.
How to Use Windstream.net Webmail Backup Tool ?
Follow these steps to backup Windstream.net Webmail data: – –
Launch Windstream.net Webmail Backup software.
Choose Windstream as email source and fill its credentials.
Select desired saving option for Windstream.net backup.
Enter a required destination location for saving the data.
Click on Backup to start transferring Windstream Webmail to PC.
How to Backup Windstream.net Webmail to Computer ?
In order to backup Windstream emails to PC, the users first need to download Windstream.net Webmail backup tool on their Windows machine. After proper installation of the tool, just follow these guidelines to take Windstream backup.
Then, in the left panel of GUI, take your mouse towards the email sources. Scroll down and Choose the Windstream option from the list of email sources. Enter the credentials of email account such as Email ID and Password.
Here, you will get list of folder in the preview panel. Enable only those folders whose data you want to backup.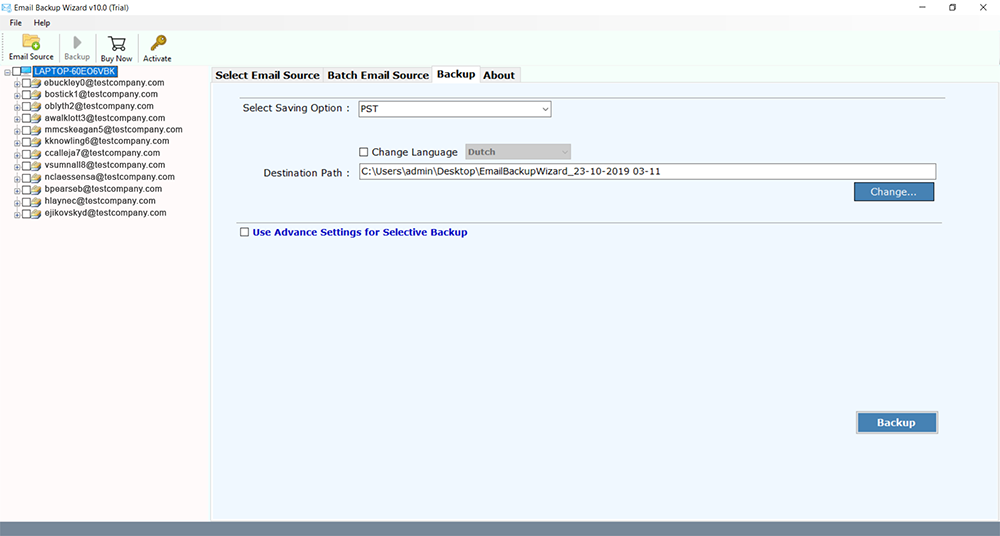 Thereafter, Select any saving option of your choice. Here we are taking PDF for an illustration.
Then, pick a desired file naming option for arranging the resultant data.
Then, enter a file saving path where you want to store the Windstream.net Webmail backup data.
Now, you can also enable the Use Advance Settings option for selective backup process.
Finally, click on Backup button to start to transfer Windstream emails to PC. Here, the software of Windstream.net Webmail downloader starts the backup process. It will take some time and provide a completion message at the end.
Once, you have downloaded Windstream emails, it will automatically open the location where your converted Windstream. net Webmail emails are saved.
Windstream.net Webmail Downloader – Get the Best Solution!
Countless computer users leverage Webmail as an essential thing for their digital lives. Irrespective of so many security settings, the Webmails are still not away from hackers for misuse. Moreover, whenever your email accounts like Windstream.net crashes, it becomes inaccessible and then there is full chance for you to loose data. There is a simple and efficient solution to prevent from this kind of catastrophe by taking backup of emails from Windstream.net Webmail.
Windstream.net Webmail backup tool is an ultimate solution for migrating Windstream mails to other online email accounts or PC. It gives you accessibility to save Windstream Webmail emails directly to your computer in batch mode. Moreover, you can backup Windstream.net Webmail data to computer, Webmails, email clients in different ways. Let us see how:
Transfer Windstream Data to Email Accounts/ PC in Different Ways
Backup Windstream emails to hard drive formats: It supports to take backup of multiple Windstream.net email accounts to PST, Windstream.net to MSG, Windstream.net to EML, Windstream.net to EMLX, Windstream.net to MBOX, Windstream.net to HTML, Windstream.net to MHT, Windstream.net to XPS, Windstream.net to RTF, Windstream.net to DOC.
Save Windstream to cloud-based email services: With this tool, you can backup emails from Windstream.net to Gmail, Windstream.net to Yahoo, Windstream.net to Office 365, Windstream.net to Outlook.com, Windstream.net to Exchange Server, Windstream.net to Hosted Exchange Server, Windstream.net to G Suite, Windstream.net to Rediffmail, Windstream.net to IBM Verse.
Download Windstream.net to email clients: This software allows to transfer Windstreaam mails to many email clients. Now, backup Windstream.net to Thunderbird, Windstream.net to Windows Live Mail, Windstream.net to Zimbra, Windstream.net to Lotus Notes, etc.
Benefits of Software 
Batch migrate Windstream: The backup utility permits to batch download Windstream emails to PC in a single processing. Therefore, in this way one can backup multiple Windstream.net Webmail data to computer or other platforms.
Selective email conversion: Sometimes there are few folders that you don't want to create backup. Thus, with Windstream.net Webmail backup software, you can transfer only selective email folders of Windstream mail account.
Preserves email attributes: This software assures to preserve the email components while you migrate Windstream.net Webmail TO computer. It keeps intact all email properties such as Subject, Date, From, To, Inline images, active links, formatting, etc.
Maintains internal folder hierarchy:- During the process to backup emails from Windstream.net Webmail, the software assures to preserve the folder structure. It guarantees to keep the original email content as that of original one.
Move all Windstream email folders: No matter what kind of folder does your Windstream email accounts holds, it will move all folders in the backup process. The software backup all folders like inbox, sent items, drafts, personal folders, etc.
100% safe backup With this utility, all the data in your Windstream.net email account gets saved. The tool does not saves any credentials of email account
Advance Mode option:- It offers an option to do selective backup by providing a separate option of "Advance Mode". With this option, you can sort emails by date range, from, to, subject, and many more.
Facility of 80+ email services: The software offers numerous email services to backup different email accounts to multiple formats.
More About Windstream.net Webmail
Windstream corporation was founded from the spinoff of Alltel Corporation's landline business and merger with VALOR Communications Group. It is a FORTUNE 500 company that offers advanced network communications and technology solutions for various kind of users. These users can be small business setups, consumers, small or big enterprise organizations. The Windstream company is also a leading producer of data, cloud solutions, unified communications and multiple advanced services to business.
Get this Demo Version of Software to Check Tool's Proficiency
Are you not sure to invest your money on buying the software? Don't worry! Try this free demo version of Windstream.net Webmail backup tool that allows to backup first 25 emails from each folder to the selected file format. After this, you can switch to the licensed version of software for enjoying an unlimited backup of emails.

Summing up Together
In this write-up, we have provided a direct solution to download Windstream.net Webmail emails to PC. By using Windstream.net Webmail backup tool, users can successfully create a backup of emails from Windstream to different saving options.
If you have query related to conversion of emails, please feel free to our technical support team which is available for you 24*7.