How to Backup Multiple Email Accounts in Batch ?- The Complete Guide
Summary: With mails for your workplace or perhaps with your personal life, sometimes just one email account simply won't serve all purposes. Want to make sure you have a copy of all your business email account and personal history account at a single place? In this article, we will elaborate an excellent approach to backup multiple email accounts simultaneously.
Gone are the days of logging in and out of separate email accounts and download all email accounts one by one. Our concern is to save your time and manage to backup multiple email accounts easily.
BitRecover Email Backup Wizard is one such utility that allows you to save collective email accounts on computer. With this utility, whether you are at home or in office, you can shift over and get access of all details on your desktop or laptop as well. So, let's start about the software's working process.
Table of Contents
How to Backup Multiple Email Accounts ?
Follow these steps to batch download all email accounts:
Launch the Email Backup software on Windows.
Choose any email source and fill email account credentials.
Select Use Batch mode and create CSV file containing all email accounts details.
Press Login tab and choose desired saving option.
Enter destination path and hit on Backup to start the process.
Save Multiple Email Accounts Together: All Email in One Place
Regardless of how may email accounts do you use, with this software you can manage to backup all email accounts in batch. In this section, we will explain how to save multiple email accounts together.
Working Guide with Images
Firstly, run notepad in your computer.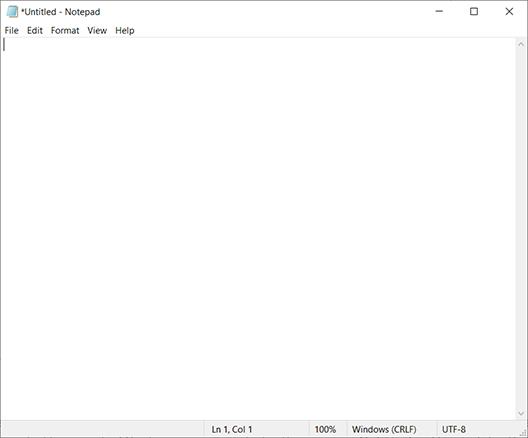 Now, write down all of your email account details in this notepad. For this, write in this way: Email address and password with a comma in between.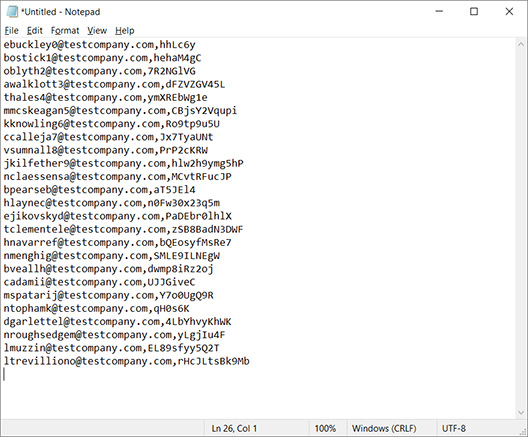 Then, in the 'File name' box type, save the CSV file with a desired name. Save the file as: Name of the file.csv and click on Save button.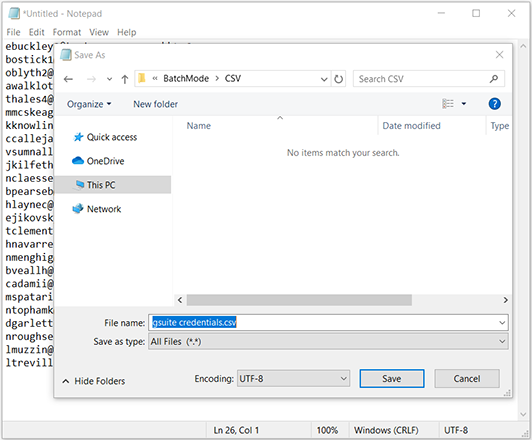 Thereafter, download, install and run the recommended backup software.
Now, in the GUI you will see 85+ email services. Choose a desired email account from the left panel of the windows. Click on this option "Use Batch Mode" to save collective email accounts together.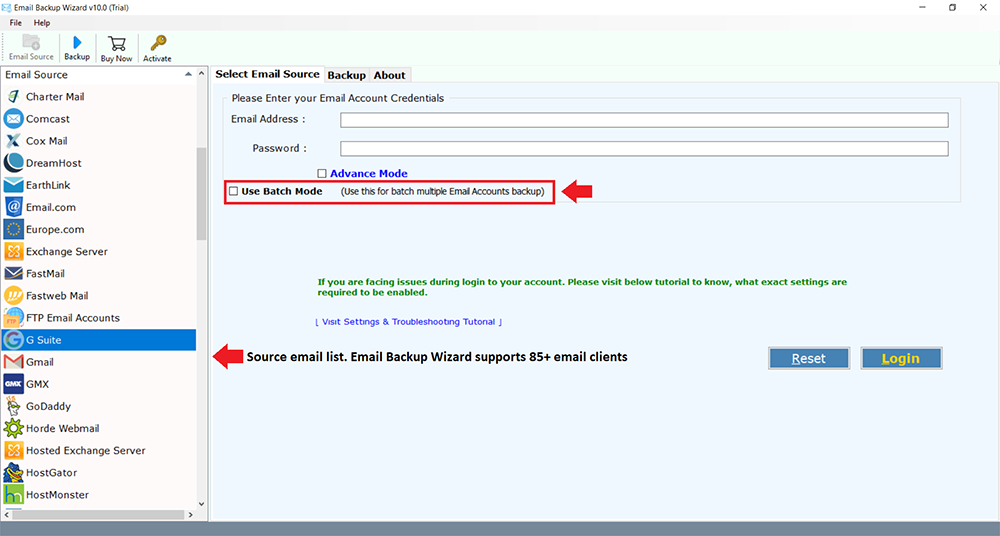 Then, search for the CSV file containing your email credentials with this Browse icon.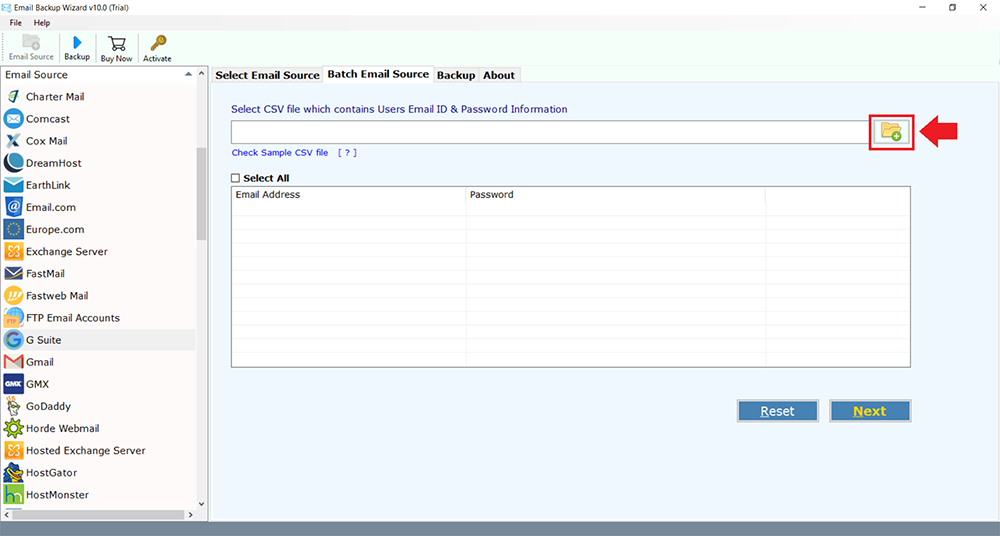 Now, check only the selective email addresses that you want to create a backup. Here, click on the Next tab.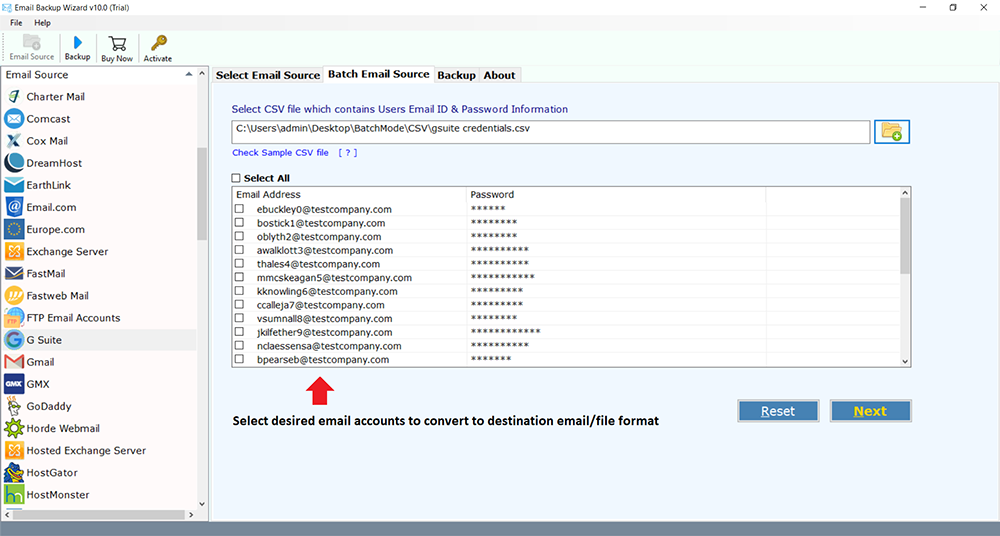 After this, choose the user account folders from the left panel of the software window.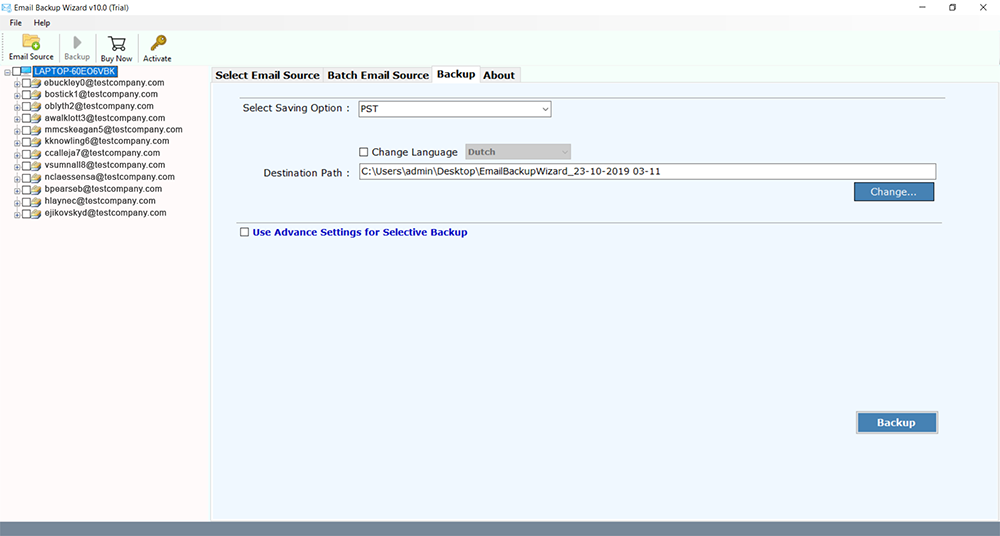 Then, select a saving option from the list of options available in the tool. Here, we are illustrating by taking PDF as saving option.
Thereafter, choose a required file naming option for saving the resultant backup data.
Now, click on the Destination path to store the backup of all email accounts at a user-friendly path.
Enable the Use Advance Settings option for selective backup.
Lastly, click on the Backup tab to start to batch download multiple emails at a single location. The backup process is running and will provide a live conversion progressive report at the end of backup.
Once you have downloaded all email accounts, the software will automatically open the location containing your backup data.
Numerous Saving Options – Take Full Control over Multiple Email Accounts
Backup email accounts to hard drive formats: It supports to take backup of multiple email accounts to PST, MSG, EML, EMLX, MBOX, HTML, MHT, XPS, RTF, DOC.
Backup all accounts to cloud-based email services: With this tool, now, backup multiple email accounts to Gmail, Yahoo, Office 365, Outlook.com, Exchange Server, Hosted Exchange Server, G Suite, Rediffmail, IBM Verse.
Download multiple email accounts to email clients: This software allows to migrate multiple email accounts to email clients. Now, backup multiple email accounts to Thunderbird, Windows Live Mail, Zimbra, Lotus Notes, etc.
Why Need to Download All Accounts Together ?
For those who are handling multiple email accounts like Gmail, Yahoo, G Suite, Hotmail, etc, we offer the advantage by taking backup of different accounts collectively. This software permits to have a full accessibility and control of your different email accounts from anywhere – desktop, Webmails, email clients.
If you have a huge database of emails, you may want to be able to drill down quickly and intend to backup only a specific email precisely. It is useless to spend ages manually ploughing through hundreds of mails to find a particular email. This software provides option to take backup of multiple email accounts and that too of only the selective email folders.
Now, you must wondering why there is an urge to backup multiple email accounts together. Well, the users manage different email accounts as they can't rely on a single email application. In fact, users move to as many as cloud applications due to the different kind of benefits that each email service provides.
Although today email services are power-packed with security features but the fact remains the same that your email accounts could be hacked. There is a huge probability that anyone could log in to your email account and misuse it. Also, many of us have major-crucial business and personal data in our email accounts. Hence, it is a smart idea to periodically backup multiple accounts at a single location.
User-Problems
I am running two accounts and those are my primary email accounts. Being concerned about not to loss 1000+ messages that are stored in it. Now, downloading each PST file from multiple Outlook email accounts is too slow and inefficient for. So, is there any method to backup all Outlook email accounts simultaneously ? Please help!

-Hugo, USA

I want to create a personal backup copy of all my Gmail account in PDF format. So, that I can refer them later too. These email accounts contain the details about all of the projects that I worked on. Hence, I can't compromise with any data loss issue. Can anyone guide me an instant solution to backup multiple email accounts in one place.

-Steffan, New York

Hi, please help me with this problem. I have 3 email account that have many GBs of my personal mails. Now, I want to download all email accounts collectively on my computer. I want to do a full backup of multiple email accounts so that I could restore them during any mishap. Though, I have tried manual methods but not even a single method solved my problem. I will be grateful to you if you could help me in this problem.

-Devin, California
Prominent Features of Software
Batch migration: The backup utility permits to batch download multiple email accounts in a single processing. The user just need to add the different account credentials and thereafter begin the backup of multiple email accounts.
Selective email conversion: Sometimes there are few folders that you don't want to backup. Thus in this software you can transfer only selective email folders of different email accounts.
Preserves email attributes: This software assures to maintain all the email components while you migrate multiple email accounts on computer. It keeps intact all email properties like Subject, Date, From, To, Inline images, active links, formatting, etc.
Maintains folder structure: While the user export multiple email accounts for backup, the tool maintains the internal folder hierarchy. It keeps the folder structure same as that of the original one.
Move all email folders from accounts: No matter what kind of folder does your email accounts holds, it will transfer all folders in the backup process. The software backup multiple email accounts comprising of inbox, sent items, drafts, personal folders, etc.
100% safe migration of email accounts: With this utility, all the data in your email accounts are kept safe. The tool does not saves any credentials and guarantees for a secure backup process.
Advance Mode option to download only vital emails: It offers an option to do selective backup by sorting date range, from, to, subject, and many more.
80+ email services: The software numerous email services to backup different email accounts together at a one place.
How Can I Test the Software ? – Try Free Demo version
This software comes with a free demo version. It permits to convert first 25 items from each folder to the selected format. With this demo version of tool, you can analyze the working of software. Once you are satisfied with it, please active the tool's full pro version. Moreover, this software is a Windows-based utility. It is compatible with Windows 10, Windows 8.1, Windows 8, Windows 7, Windows XP, Windows Vista, Windows Server 2019, Windows Server 2016, Windows Server 2012, etc.

Summing up Together
Whether you have a demanding life that requires multitasking of handling numerous email addresses. Or, you just like to have an overview of all personal and workplace emails and ensure that everything is neatly organized. So, taking a backup of multiple email accounts in a single place helps you to simplify your life. In this blog, we have explained a proper solution to backup multiple email accounts together.