How to Export Windows 10 Mail to Office 365?
Objective: – You landed on this tutorial to know how Windows 10 Mail export to Office 365 account. Here we will tell you about an efficacious solution to migrate emails from Windows 10 Mail app to O365. It is useful for the individual, administrator, and migration project. So, read on.
Windows 10 Mail App is a free email client that comes with the Operating system. It was introduced to the general public in 2015. Thousands of users work with it to manage their day-to-day task. But, when Windows 10 Mail compared to Office 365, the Microsoft services take the lead. Office 365 believed to one of the most comfortable email solutions for enterprises. It has many advanced features that make the daily task of communication, meetings, and more an easy one. The security provided by Microsoft Office 365 is far better than Windows 10 Mail.
Now, what is the exact way to transfer Windows 10 Mail app to Office 365? Find out a reliable and powerful solution in the next section.
Best Ever Solution to Migrate from Windows 10 Mail to Office 365 
There is no as such complete solution for Windows 10 Mail export to Office 365 process. It is why one has to go with a third-party solution. The highly recommended solution to transfer Windows 10 Mail app data to Office 365 is Windows 10 Mail App Backup. It is an exclusively designed solution for Windows 10 Mail to Microsoft Office 365 with all information. It is a great program for project and administrator use. Using it, users can convert bulk Windows 10 Mail emails to Office 365 with attachments. It also gives you many useful options to accomplish the task 100% accurately.
You can try it For FREE
Click on the Download Now button given below. After some time, the free version of the tool gets open on your system. You can test it for the work. But, please note that the demo edition can only let you migrate the first 25 Windows 10 Mail emails to Office 365. So, for the further task, check the Standard, Pro, and License editions of the program.

Now, if you want to know quick and easy Windows 10 mail export to Office 365 method, check the following guide.
Follow the Step-by-Step Method for Windows 10 Mail Export to Office 365 Account
Using the mentioned solution, transferring emails from Windows 10 Mail client to O365 is the easiest and fastest. You have to go through just 5 simple steps.
System Specification to Download and use the Tool
The tool has the very least requirements like the minimum 2.4 GHz Processor, 2 GB RAM, and 100 MB of Hard Drive Space.
The complete process to migrate from Windows 10 Mail to O365 email account:-
Step1: Run the program on 32 bit or 64 bit Windows 10 OS. Then, read the information mentioned.
Step2: Now, enable Windows 10 Mail configured mailbox option and tool automatically detects mailbox from the saved location. Then, tap on Next.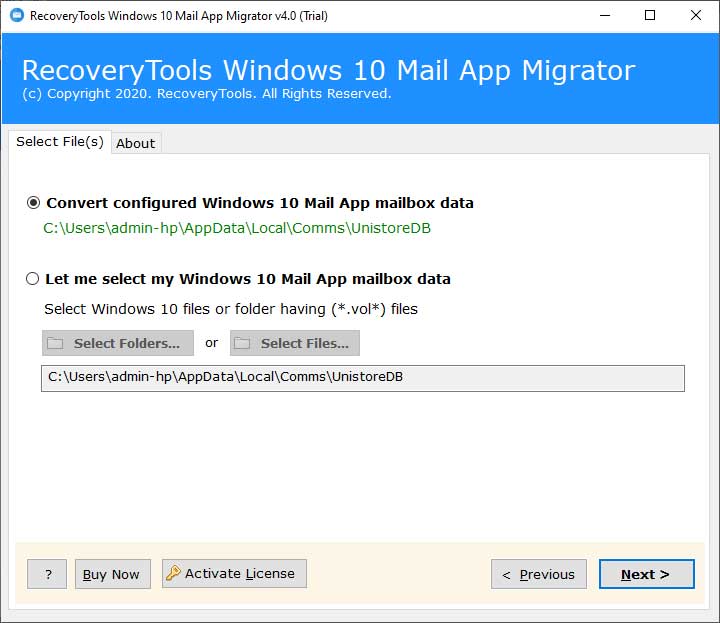 (Read a Note:- However, if you want to manually select a file or folder, you can enable the "Select Folder and Select Folder" option and browse the data and then click the "Open" button.)
Step3: Choose the required Windows 10 Mail mailbox and continue by hitting the Next button.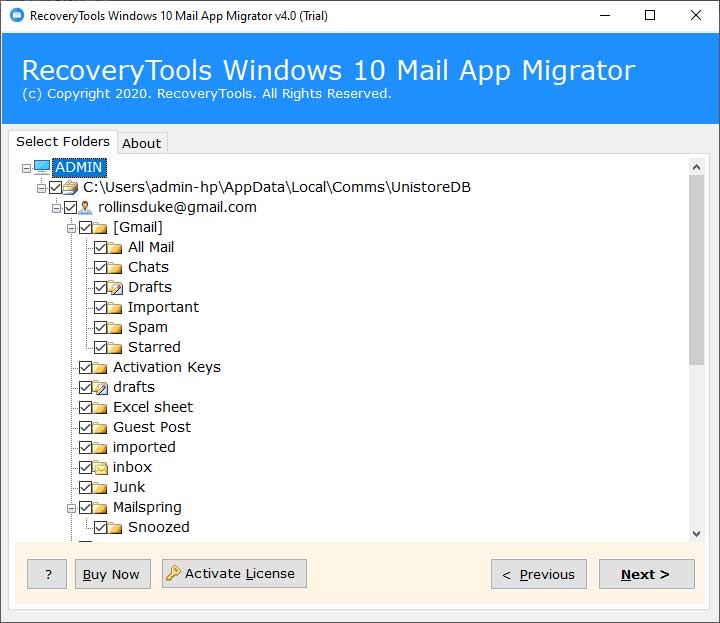 Step4: Now, pick Office 365 as the required saving option.
Step 5:  Next, fill your O365 credentials such as email address and password.
Please Note:- Check the useful options like "I am Admin" for Office 365 administrator. Enabling the Change language option, you can transform the folder name of the corresponding language. The Copy to default folder option is to transfer email folders to various default folders in Office 365 account.
Step 7: Now, click on the Next button and wait for the live migration from Windows 10 Mail client to Office 365.
After some time, a complete conversion message appears on your screen. Click on its OK button. You get a log text report of the complete migration. Now, login to your Microsoft Office 365 account, and check Windows 10 Mail emails and attachments.
It's all for the task.
Read the Quick Advantages of Windows 10 Mail to Office 365 Export Tool
The program has a user-friendly interface and a simplified workflow.
It is 100% safe to use and will not change any of your information.
The tool provides selective data migration through various filter options (such as date filters, project filters, etc.).
During the complete Windows 10 mail to Office 365 conversion process, the software will maintain all email attributes and attributes.
The folder structure Windows 10 Mail remained the same throughout the migration task.
If you have any questions about the tool, function, payment method, license version, please feel free to consult our support team.
The Bottom Line
If you are finding any solution for Windows 10 Mail export to Office 365, read the above guide. It gives you information about a proper and accurate solution. The tutorial also mentions the step-by-step process with images. In case of any doubt, feel free to contact the support team anytime.
More Windows 10 Mail App Related Blog Posts:
1. Convert Windows 10 Mail App to Thunderbird
2. Export Mail from Windows 10 Mail App
3. Transfer Windows 10 Mail to New Computer
4. Import Emails from Windows 10 Mail App to Exchange Server