How to Save IncrediMail Emails to Hard Drive or Computer Desktop – Before It's Lost
Summary: In this article, we will have a study on how to save IncrediMail emails to hard drive. As it is announced throughout the globe that IncrediMail will shut down its servers and desktop application be March 20, 2020, it is a suggested measure to create a backup of your emails and other mailbox items. We will have techniques to save important emails to the hard drive in this article.
Note: This article will also help users who are facing issue due to discontinued support for Adobe Flash Player. And now they are looking for a way to save emails from IncrediMail as Incredimail fails to open without Flash.
IncrediMail is Shutting Down!! : This is an announcement made by the IncrediMail that it is being shut down by 20 March 2020. Afterward, the IncrediMail desktop application will be no longer available for users. Also, all the servers will be shut down.
With this as a major concern, IncrediMail is suggesting its users create a backup of emails, contacts, and other mailbox data so that the users don't lose their data. If you are unaware of this, please move to the IncrediMail home site and know the reality!
If you want your email data to be safe for long after this shutdown and also accessible, create a backup of your IncrediMail account and save emails on hard drive. Being an IncrediMail user, you might be familiar with the Backup process. There are many ways to save your data in other mail applications supported formats. The methods to backup IncrediMail emails in those formats are discussed in the sections below.
IncrediMail Emails Extractor to Save All Emails to Hard Drive
IncrediMail Email Extractor is an efficient utility designed in such a short time to help you save all your data in IncrediMail account to the local hard drive. It offers to save your data in various file formats and to the same major webmail applications.
The IncrediMail account can be simply exported to PST, EML, MSG, EMLX, MBOX, MBX, PDF, RTF, HTML, TXT, MHT, XPS, DOC, Entourage (RGE), CSV. Some email clients and webmail applications supported for data transfer are:  Windows Live Mail, Thunderbird, Apple Mail, Gmail, Yahoo, Office 365, Exchange Server, Hosted Exchange Server, IBM Verse, Amazon WorkMail,  Kerio, SmarterMail, Mdaemon, etc.
This is such a wide range of options delivered for user relief. You can try this application and create a backup of your important data on the local hard drive by the following procedure.
How to Save IncrediMail Emails to Hard Drive ?
Follow the below steps to save IncrediMail mailbox to Hard Drive: –
Run IncrediMail Email Extractor on Windows.
Select Manually and Automatically IncrediMail data Folders.
Select the required email folder that you want to save in hard drive.
Choose the right saving options from the file saving list.
Set location and click on the convert button to save IncrediMail emails to PC.
Complete Guided Solution to Export IncrediMail Data Folder to Hard Drive: –
Install and Run IncrediMail Email Extractor Software on your system.
Select the configured IncrediMail database automatically and also manually Load IncrediMail data You can also select backup files: IMM, IML, DB (if created before for data migration). Choose the version of IncrediMail application (0 or 2.5).
Select the email folders to create the backup on hard drive.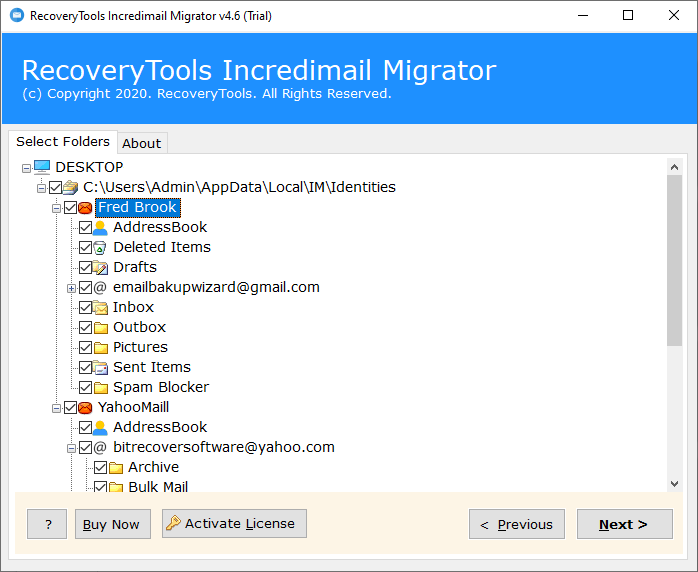 Select the file format to save IncrediMail emails to hard drive.
Browse a location on the system to save the output file.
Click on Export option and start the email migration process.
 This is the smartest process to save your data in Incredimail to local hard drive. In case you have some data saved in the .cab format. Import that data to the Incredimail account and perform any of the procedures mentioned above to create a backup of your data before the IncrediMail shuts down forever.
Manually Save IncrediMail Emails to Desktop or Hard Drive ?
As we were discussing IncrediMail Backup, you need to know what version of IncrediMail you have set up on your system. The latest version of IncrediMail is v2.5. Thus, the users, who have this version does not have the mailbox export option. It is not available for this version. They need to purchase the IncrediMail Plus application to get their emails downloaded and saved on the local hard drive.
The users with v2.0 can easily use the data export option. This process will save your data to the local hard drive in the CAB file format. But for now, this option has been removed from the IncrediMail as of the reason that this format file is not supported by any other mail client. Thus, in case you have a .cab file as a backup of your IncrediMail account, then import the messages using the Import data and Settings Wizard. Then, perform any of the below-discussed methods to save your data offline in further accessible mail file formats.
The IncrediMail application provides the option to save individual emails to the local hard drive. There are four formats available for the data download: EML, TXT, HTML, and PDF.
To save your IncrediMail emails in EML, TXT, and HTML format, perform the process below:
Manual Steps to Backup IncrediMail Email to Hard Drive
Select an Email in the IncrediMail.
Go to File Menu and click on Save as option.
Browse the destination folder to save the email file.
Choose the Save as type (EML, HTML, TXT).
Click on Save
This will save your email on the desktop document folder in the desired format.
Note: EML file is supported by many email clients: Outlook, Thunderbird, Apple Mail, Zoho Mail, etc.
How to Save IncrediMail Email in Hard Drive as PDF Format ?
Click on the Email in IncrediMail.
Click in File menu and select Print Or else to press Ctrl+P.
Select Adobe PDF option from the printer selection list and click on Print
Browse the destination location and click on the Save
 These above procedures are not helpful in case of the mailbox containing 1000+ emails. The IncrediMail with a large number of email lists will take a long time to save individual emails and the effort to perform the task is also too much to bear. So what you can do to save your data efficiently?  A suggestion to this is to use IncrediMail Migrator and create IncrediMail emails backup easily. Learn more about this facility in the coming section.
Conclusion
If you are an IncrediMail user, then it is a suggestion for you to backup IncrediMail data before 20 March 2020. This is a deadline provided by the IncrediMail to backup your data as when this day gets off IncrediMail will shut all their servers and the desktop application. Use the methods above in the article to understand how to save IncrediMail emails to hard drive. If you are undone in this process, you will not be accessing your data after the IncrediMail ends forever.