How to Print Yahoo Email to PDF Format with all Attachments ?
Summary- Do you have bulk of emails in your Yahoo account and want to print Yahoo email to PDF format? Or perhaps your Yahoo account has some sensitive information and you wish to store them in a password protected PDF file. Then, quickly follow these informative guide and directly print multiple Yahoo emails into PDF.
PDF is a universal file format that is compatible with many devices and Operating Systems. Generally users wish to print Yahoo email to PDF due to various benefits of PDF format-
Portable Document format is well known for file sharing purpose. One can easily share the copies of PDF files containing the database with others.
One can apply a strong password on PDF file and avoid the misuse or any unauthorized access to the PDF documents.
Nobody can edit or read the PDF content unless being aware of the correct password.
Users can safeguard the hard copies of business information from any sort of copyright infringement by printing Yahoo emails to PDF format and applying a watermark on it.
So, let's begin how to print Yahoo email to PDF format.
How to Print Yahoo Email to PDF ?
Follow these steps to print emails from Yahoo into PDF:
Launch Yahoo Backup Tool on your Windows.
Enter Yahoo mail credentials and hit on login.
Enable desired Yahoo mail folders for printing into PDF.
Choose PDF as saving format and enter a destination path.
Start to print Yahoo email to PDF by clicking on backup tab.
Take the Help of Screenshots to Print Multiple Yahoo Emails into PDF File Format
Read me first- Before we explain the process, quickly take a free trial of the demo version of Yahoo to PDF conversion tool. It permits to save top 25 Yahoo mail items into PDF format. Later you can purchase the license keys for unlimited printing of Yahoo mailboxes into PDF.
Step 1. Firstly, enter the details of your Yahoo mail account such as username and the password. Then, hit on the login button to start the processing.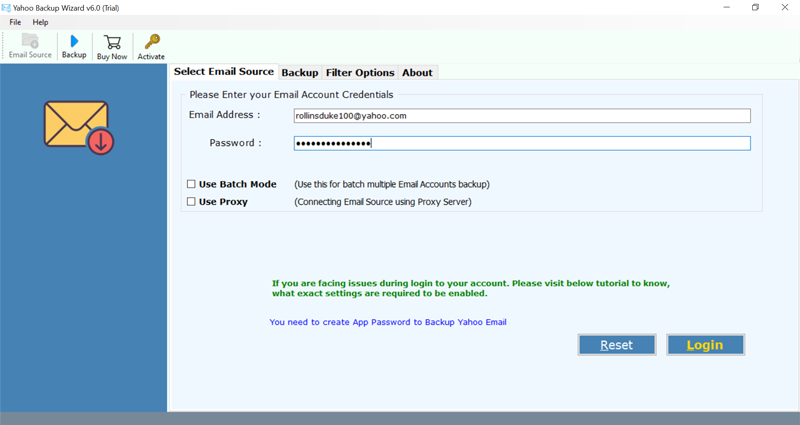 Note – If you have many Yahoo mail accounts, then enable the 'use batch mode' option to print multiple Yahoo accounts to PDF.
Step 2. Thereafter, the tool will start the fetching the email folders into the software panel. Just choose the desired emails from your Yahoo account which you wish to print into PDF.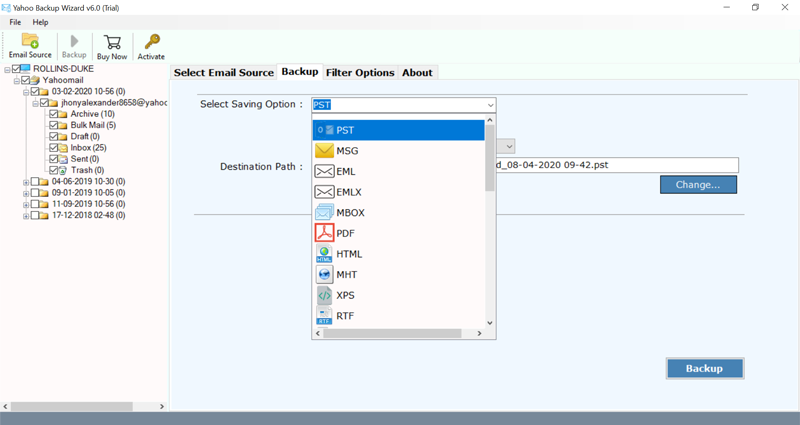 Step 3. Then, navigate to the saving options list and pick PDF option from it.
Step 4. Now, enter a saving location where you wish to save the Yahoo mail to PDF converted data. Also, choose a desired file naming option.
Note – If you wish to perform selective print of Yahoo into PDF then enable the "use advance mode for selective print" option.
Step 5. After this, hit on the backup button to start to print Yahoo emails to PDF format.
The process is running and will end after some moments. You can finish it by clicking on the OK button of the confirmation message. Now, open the resultant folder containing the PDF documents.
Print Yahoo Mail to PDF Tool – Benefits of Software
If you are already decided to print Yahoo email to PDF with this utility then, quickly take a note of all these amazing features of software.
The software provides option to batch print multiple Yahoo email accounts into PDF format.
It never saves the account details in the software's database throughout the process to print Yahoo email to PDF.
Users can selectively choose folders of Yahoo mail accounts of which they want to save the information in PDF format.
The tool gives many file naming options for good email management.
It offers you facility to save the output at a desired location on local machine.
This tool is compatible with all versions of Windows OS – Windows 10, 8.1, 8, 7, XP, Vista, etc.
Users can use the data filter options like "use advance mode for selective print" in order to selectively print Yahoo email to PDF file.
There are file limitations with the pro version of this software.
It is a completely standalone utility. Users don't require to install any external application for the process.
The software facilitates to print multiple Yahoo mails to PDF with attachments.
Concluding Words
In the above blog, we have explained how to print Yahoo email to PDF format with all attachments. Now, one easily save Yahoo mailboxes into PDF format in batch mode. The tool has a simple and user-friendly interface. So, one can use it without any hassle. If there is still any doubts regarding the software, then our technical support team is always available for you.