How to Backup MWEB Emails to Computer?
Overview: – If you are someone who wants to take MWEB mail backup on your computer with no loss, then you will find this blog helpful. It teaches you the best way you can download MWEB emails to Computer with all information. In order to for download all MWEB emails to computer, take the help of  BitRecover Email Backup Wizard. So, read the information and follow the same.
Talking about MWEB email service – General Introduction
You may know that MWEB is one of the largest Internet service providers in South Africa. Along with it, the brand is quite popular for its other services such as mobile networks, Webmail, retail stores, gaming areas, Fibre Channel, etc. MWEB webmail is an email client that lets users send and receive messages or information anywhere in the world with an internet connection.
What are the Common Reasons for Taking MWEB Mail Backup ?
There can be several reasons for someone taking MWEB Mail backup depending upon the requirements. In the section below, we are mentioning two user queries received by our support team for saving MWEB emails to a Computer. Please have a look:
First user: "A few days ago, I received an email from the MWEB support team saying that some had tried to access my account and it was not me. After that information, I have decided to make a full backup of my MWEB emails to my computer. I am looking for a solution that can meet my requirements without any loss. Thank you very much in advance" – Alex Williams
Second User: "I am working on a confidential project. I want a solution that helps me to backup all emails related to my project. So later I will delete from my MWEB account. Is there a professional solution to the needs? Please answer." – Mark Jonson
The solution we are going to introduce in the section below is not only capable to resolve the above two queries, but any user query related to the MWEB Backup task. So, here we go.
Steps to Download MWEB Emails to Computer / Hard Drive in a Few Minutes
Read me first:-Use the green button below to download the MWEB mail backup tool for free. After that, follow the steps below to understand how this utility works.
Step 1. Install and start the MWEB Webmail backup tool on any Windows-based system.
Step 2. Now, select the MWEB Webmail option and enter your account credentials.
Step3.  In this step, the tool will connect to your account and upload all the folders. Here, select the desired email folder.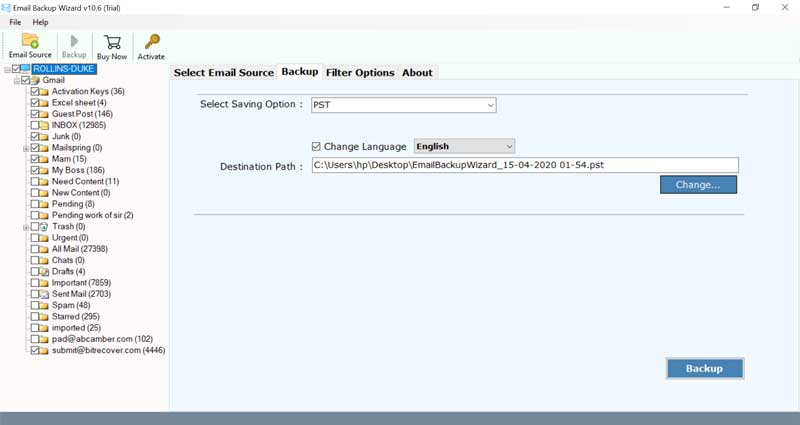 Step 4. After that, select the desired save format to download the MWEB email to computer.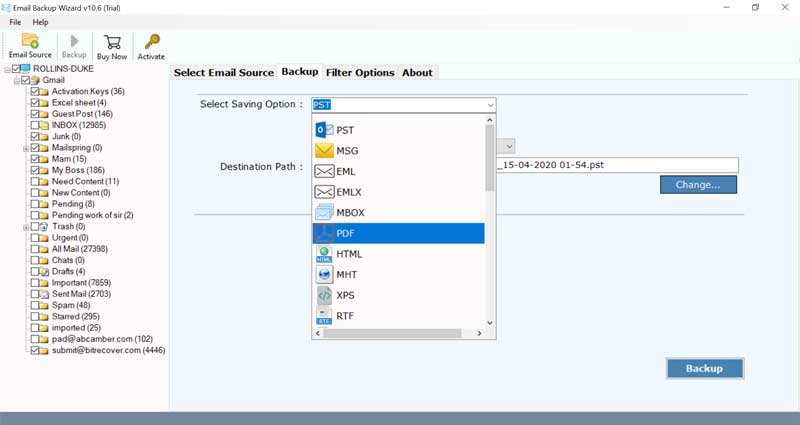 Step 5. Now, fill a specific location in the destination path tab to save the results.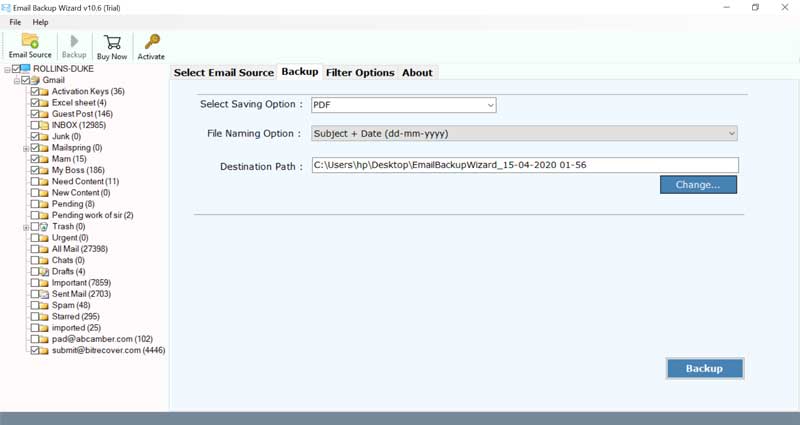 (Please Note – After the MWEB backup process gets completed, you will get the final results at this location only.)
Step6. The software provides several file naming options and advanced filter setting options. Please check and select if any required.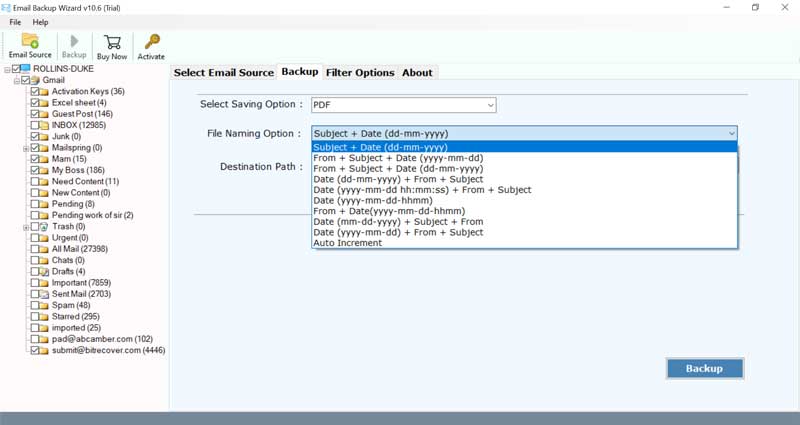 Step 6. After all, click on the Backup button to start the MWEB mail backup process.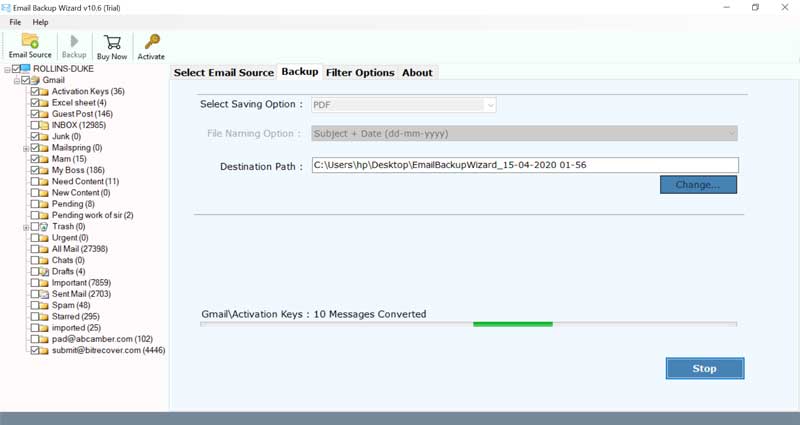 That's all. We hope you find this method to download MWEB emails to Computer quick and simple.
For the demo edition of the software, please note that it saves only the first 25 emails from MWEB account to computer. It has limitations. So, switch to a licensed edition of the tool that has no limitations and lets you take a full backup of MWEB emails to Computer with attachments.
Save MWEB Emails in Multiple Ways –
The software offers a large number of saving options, please have a look:
Common or Standard File Format:- The utility helps you to save MWEB emails into Outlook (PST or MSG), MBOX, EML, EMLX, PDF, HTML, MHT, DOC, ZIP, XPS, RTF, etc.
Webmail Email Applications: – The user can download the MWEB emails to Gmail, G Suite, Lotus Notes, Office 365, Outlook.com, Exchange Server, Yahoo Mail, Rediffmail, IMAP, etc.
Desktop-based email client:- The tool allows you to backup MWEB emails to Windows Live Mail, Thunderbird, Zimbra, Lotus Notes or IBM Notes, and many others.
Now, in the next section, we will explain the full procedure to backup of MWEB account to computer. It will be step-by-step learning with screenshot images of the software.
Key Features of MWEB Backup Tool to Download and Save Emails
It is designed using advanced algorithm technology and lets you take a complete MWEB webmail account without any restrictions.
It keeps the Meta headers of all emails and the format with accurate details.
Download MWEB Server emails and their attachments without any changes.
It provides a variety of file naming combinations, which can save MWEB Webmail archive data to the hard drive.
Advanced filters facilitate selective data migration from the MWEB email server to supported output options.
The solution enables users to move only the folder items required by the MWEB Webmail user account.
The interactive GUI even provides a convenient MWEB mail backup solution for novice users.
You can save the automatically generated log report in TXT for future reference.
It will keep the folder hierarchy of the MWEB Webmail Server user account database unchanged.
Compatible with all versions of Microsoft Windows operating system, including Windows 10, Windows 8.1, Windows 8, Windows 7, Server 2019, Server 2016, etc.
The Closing Thoughts
In the above article, we have given information about how to backup MWEB emails to your computer. Now you can directly transfer emails from the MWEB account to another webmail. The mentioned application provides the ability to archive emails from MWEB accounts in hard drive format without any loss.