How to Migrate Emails from Lotus Notes to Google Apps Workspace ?
Helpless old Lotus Notes has had its day. It's been around since the early-stage days of the web (the last part of the 80's) yet the cloud computing meteor made an eradication event. The security measure that the Notes offers for both; administrative control and end-user is unmatched. However, its interface, on the other hand, has had issues of complexity amongst some users. Nevertheless, this hasn't been major trouble since there are dedicated IT departments in every organization filling in such gaps. Despite it all, there has been a gradual rise in the demand for Lotus Notes to Google Apps migration.
The portable, collaborative, cost-effective, adaptable, low support, instinctive, integrated, and cool cloud services like Google Apps have advanced to assume control over the efficiency software niche.
Our motivation in writing this article is to give an overview of the user's complications while switching from Lotus Notes to Google Apps. Also, we will provide a brief insight into how to migrate emails from Lotus Notes to Google Apps.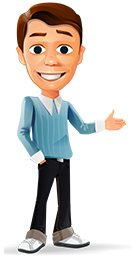 All-in-One Solution for Lotus Notes to Google Apps Migration
If you are planning to migrate emails from Lotus Notes to Google Apps/ Google Workspace, then we highly recommend sticking to an enterprise-based software. BitRecover NSF Converter software can be utilized to backup Lotus Notes emails to Google Apps service. We will walk you through the methods concerning a safe migration of emails, contacts, and calendar data.
BitRecover customers can enjoy a seamless experience while migrating Lotus Notes to Google Apps. Our software solution is compatible with all Lotus Notes platforms from 1.0 upwards. Our prime job is to guide you through a profitable switch over so that you can instantly begin benefiting from Google Apps.
Download the software on your Windows machine by snapping on this green button given below:
Launch Lotus Notes to Google Apps migration tool.
Add Lotus Notes files/ folders to migrate into Google Apps.
Enable specific mailboxes & Preview complete data items.
Select G Suite & enter login details in respective fields.
Begin migrating emails from Lotus Notes to Google Apps.
Before we discuss the solution to backup Lotus Notes to Google Apps, let's take a glance at the challenges with IBM Lotus Notes.
Challenges with Lotus Notes
More than complications or varied user needs, the restricted operations of IBM Notes make it a selectively used application. Once you become a Notes user, you have to remain one until another alternative is adopted.
The top three limitations encountered by Notes users are:
Proprietary: The unique quality of the Notes database is that unlike many other databases and email repositories, the NSF file cannot be accessed without the Notes application. Many proprietary files can be read individually with a third-party tool but not NSF. The only way to know how to read Lotus Notes archive files is to have the respective platform installed & configured.
Encryption: Security is the strongest quality featured by IBM Notes for protecting user data. Encryption is a part of the same security measure. Therefore, if database-level encryption is assigned to any database, users will face issues in accessing their database.
Notes ID: Notes profiles are attached to a Notes ID, which helps IBM Notes identify the profile tried being accessed. On selection of the profile to be logged into, a Notes ID is asked for without which one cannot read the contents of a database.
All the conditions discussed above have one thing in common, i.e. the dependency on Notes. Even if you do have a way around the situation, Notes has should be configured on your machine for decrypting the database, accessing the Notes database, using Notes ID.
Manual Method Complications while doing Lotus Notes to Google Apps Migration
It is possible to manually workaround the migration of Lotus Notes to Google Apps. However, technical workarounds need system requirements to be fulfilled successfully in order to get the desired output. Similarly, the following is a list of challenges faced when you convert Lotus Notes to Google Apps.
Firstly, whether you want to open a database or open an NSF archive without Lotus Notes, it is not possible. In order to carry out a smooth conversion, the foremost requirement is to have Lotus Notes installed and configured on the machine.
Secondly, when Notes databases are concerned, some of the other sort of security must be expected. The database used to import .nsf files to Gmail must not be protected by any type of security – encryption, message-level encryption, password protection. If so, then the security rights must be owned.
Thirdly, every IBM Notes profile/database is associated with a Notes ID file. Just in case you are trying to migrate Lotus Notes email to Gmail in Google Apps, then you must have the Notes ID for the profile. Without the ID file, it is next to impossible to access the profile.
TIP: Getting a licensed copy of IBM Notes just to transfer the Lotus Notes archive to Gmail for Google Apps would be a waste. Therefore, you can get a trial of the IBM Notes application instead and proceed.
Step-by-Step Method to Migrate Emails from Lotus Notes to Google Apps
Instead of carrying out the migration from IBM Notes manually, one can go for a third-party solution. Lotus Notes to Google Apps Migration namely can be used for the purpose. The tool comes with a freeware trial facility, which can be downloaded for testing the product beforehand. You can migrate multiple Notes databases at once to the specified Google Apps profiles. Moreover, other additional facilities have been featured to support the migration and render a successfully convenient output.
Firstly, download and install the complete setup of Lotus Notes to Google Apps migration software on your Windows PC.
Now, browse and load Lotus Notes files using the dual options:- Add Files or Add Folders option.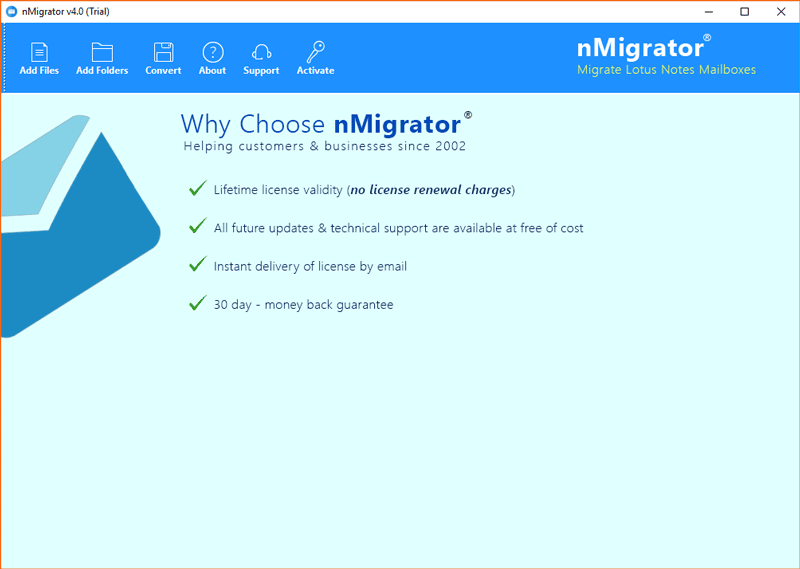 Then, a pop-up window appears. Here, choose the path of source NSF files and tap on the OK tab.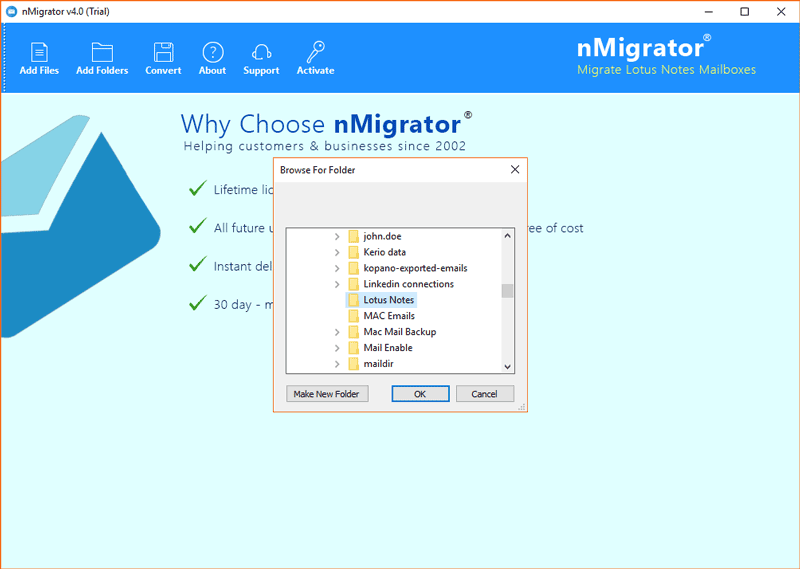 After this, the Lotus Notes data is shown in the toolkit. You can click on a particular email and check the email and its attachment preview.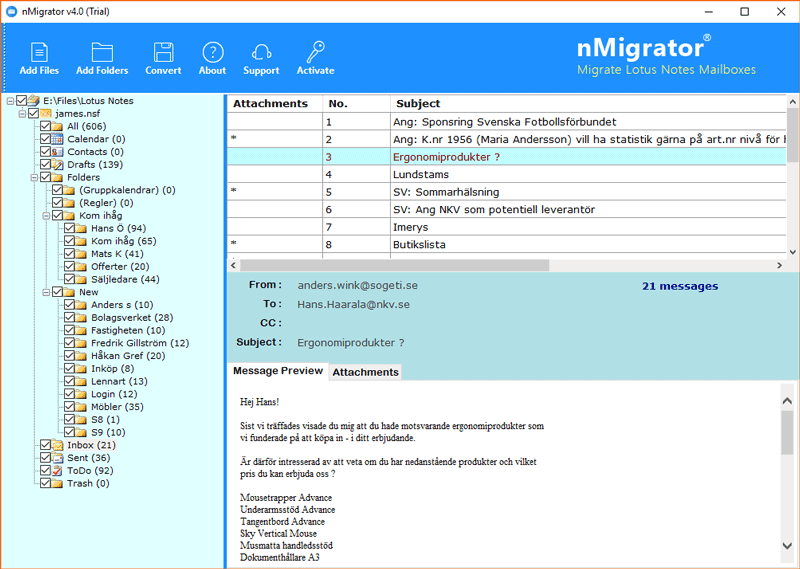 Thereafter, check a mark on those mailboxes from which you want to migrate Lotus Notes to Google Apps. Click on the Convert tab to start the process to migrate emails from Lotus Notes to Google Apps.
Now, choose G Suite as a saving option and fill in the account login credentials in the respective fields.
Lastly, click on the Next button to begin migrating emails from Lotus Notes to Google Workspace. When all process ends, a successful message appears. Tap on the OK button and now you can view resultant Lotus Notes files into your Google Apps.
Why Switch from IBM Lotus Notes to Google Apps ? – Reasons Explained
Bidding adieu to Notes can be justified owing to the limitations and cost of maintenance it comes with. However, what surprises is that Google Apps is the most demanded alternative over Notes and not just another client-based utility suite.
On a comparative note, Google Apps can play a suitable replacement to Lotus Notes largely. Therefore, on planning to migrate the Lotus Notes application to Google Apps you will be at ease as you won't have to compromise on much.
Following are the reasons why users prefer to migrate Lotus Notes to Google Apps.
NOTE: As discussed earlier, IBM Notes is used commonly within large-scale enterprises. Therefore, Google Apps for Business is considered for a fairer comparison.
IBM Notes being a client-based application is restricted to environment accessibility. On the other hand, Google Apps is by default comes with mobility owing to its web accessibility. Even if one does want to access Notes over the web, Lotus Notes Traveller needs to be configured.
Self-introductory UI- In comparison to Lotus Notes, Google Apps user interface offers an interactive Graphical User Interface. UI of the latter is not user-specific like Notes and is built for universal users, which by default makes it easy to operate. The complication faced in the operations of the client has put off a lot users in the trial phase only.
Serves Multiple Applications- Emailing is one of the applications offered in the suite of Lotus Notes and similar is the case with Google Apps. However, what brings all the difference is the variety of applications offered by Google Apps over Notes. The choices offered are far more user friendly as compared to Notes.
Enhanced Security- Email experts claim that the IBM Notes serves best security measures. However, the difference is with the provision of security is easier and customizable in the case of Google Apps, unlike Notes application. Notes offers, email-based encryption, database-level encryption, and access control permissions, Notes ID security, and more. Yet the usage and implementation are complicated.
What do our Customers tell About Us ?
We were looking for a constructive method to altogether decrease our office foundation costs while at the same time improving client coordinated effort also, profitability. So, we thought that this objective is attainable by switching to Google Apps. But, the manual workarounds were a headache. Luckily got Lotus Notes to Google Apps migration tool! Huge thanks to the BitRecover team for developing software for a comprehensive migration of emails, contacts, calendars from Lotus Notes.
-Robert, USA
We determined out over a five-year period and understood that we could accomplish an 80% decrease in our email framework Total Cost of Possession by moving to Google Apps. The BitRecover team has provided an ultimate solution for accomplishing Lotus Notes to Google Apps migration. Thanks a ton!!
-Brent, UK
Conclusion
Google Apps is a trusted brand of application suite and provided on the web. Lotus Notes is a client-based suite of applications, which can be connected to a web interface but with a traveler application. The restricted operations and other downsides of the latter service have made plenty of users to choose Lotus Notes to Google Apps migration. As per the observation of all the possible options that can be implemented for the same, the use of a third-party application is recommendable in this case. The prime advantages are that commercial tools offer an effortless and guaranteed solution and come with a trial, which is free. Therefore, as an observational conclusion use of a third-party tool is recommendable over any other workaround applicable.