How to Import Thunderbird Emails to OE Classic Mail ?
If you are not happy with Mozilla Thunderbird due to any reason and wish to import your email messages to a more desirable email service like OE Classic then this blog is for you. Here, we have explained how to import Thunderbird emails to OE Classic mail account.
Thunderbird was initially made by Mozilla in 2004, and since the time of its invention, Thunderbird has been somewhat famous among the users. Notwithstanding, Mozilla chose to pause the improvement of Thunderbird in order to target more significant things.
Then again, OE Classic takes after Outlook Express and it gives a valiant effort to utilize the very basic visual style that numerous Windows mail users know about. In case you're searching for an email client that is an appropriate Outlook Express substitution, OE Classic may be exactly what you require. Dissimilar to OE Classic, Thunderbird's UI depends intensely on tabs, and numerous Outlook Express clients probably won't care for the selected interface. Another benefit of OE Classic is its large and bright icons that permit you to handily check for mail or make another email message.
So, if you are interested in importing email messages from Thunderbird to OE Classic mail. Then, quickly take a glance at the most appropriate solution discussed below.
Best Approach to Import Thunderbird Emails to OE Classic Mail
Still in dilemma how to import Mozilla Thunderbird email messages into OE Classic? Well, it's a matter of disappointment that you can't directly import Thunderbird emails to OE Classic mail. You can only import multiple EML files of any email service to OE Classic mail. Since Thunderbird recognized EML format thus the most precise thing to do here is to: convert Thunderbird to EML format.
Once you perform this conversion then straightforwardly, you can import Thunderbird emails to OE Classic mail.
But for this, you'll require a genuine and proficient solution. BitRecover Thunderbird Converter is a hassle-free solution that gives a direct feature of performing Thunderbird email conversion.
How to Import Thunderbird Emails to OE Classic Mail Account ?
#1 Convert Thunderbird Messages into EML
Step1: Download and install the software on your Windows PC.
Step2: Now, choose Thunderbird EML files or folders with the dual options.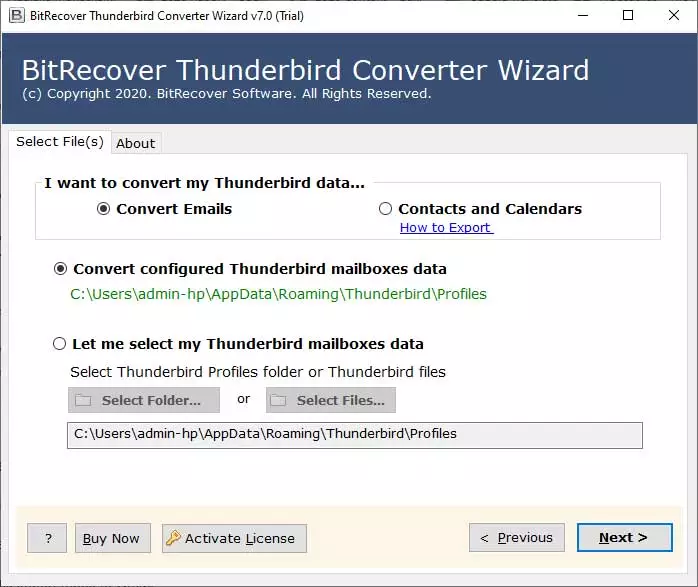 Step3: Then, specify desired Thunderbird emails to import into OE Classic.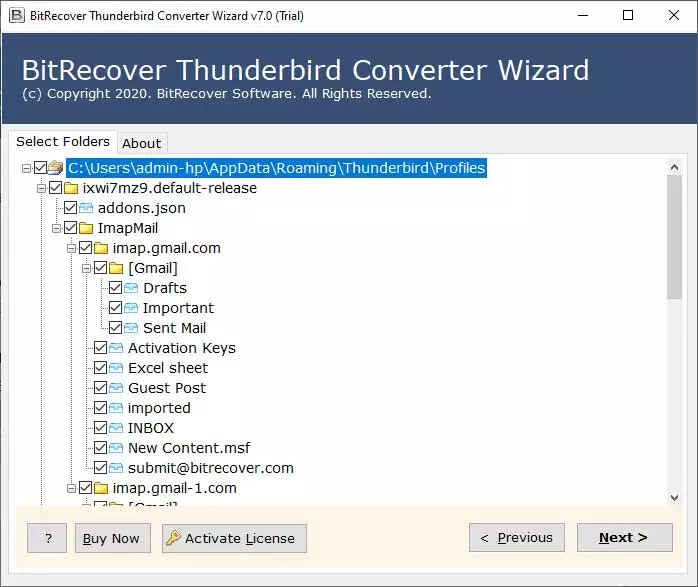 Step4: Thereafter, choose EML as a file saving option.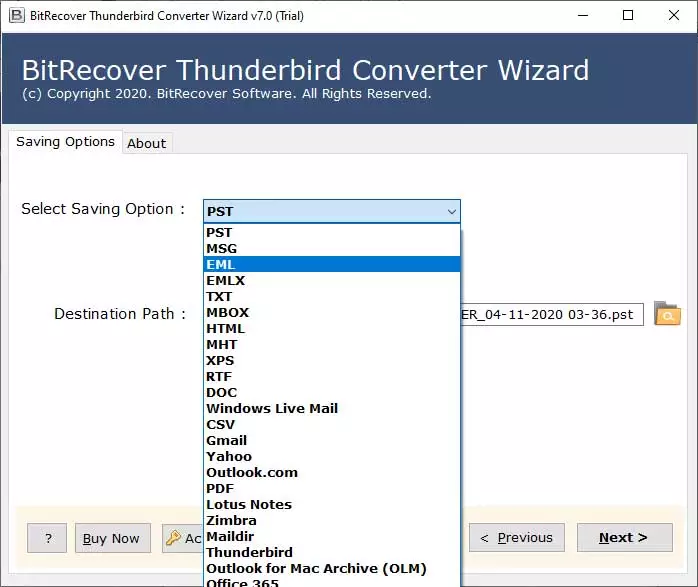 Step 5: After this, enter a destination path and a file naming option.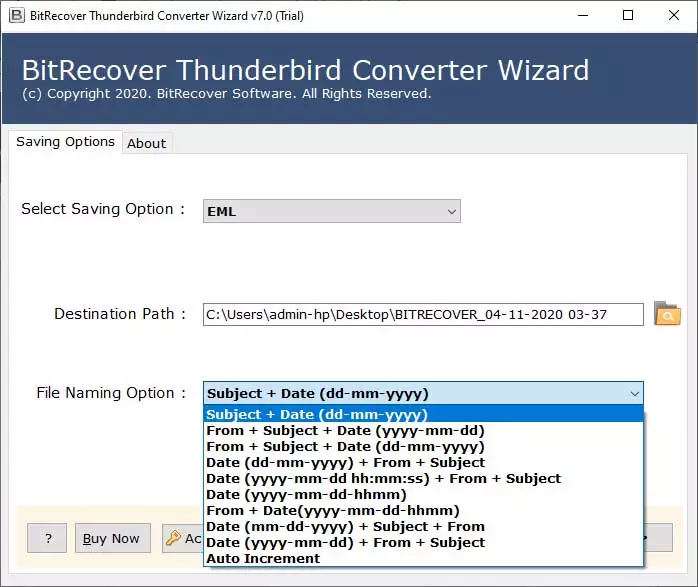 Step 6: Finally hit on the convert tab to start the conversion.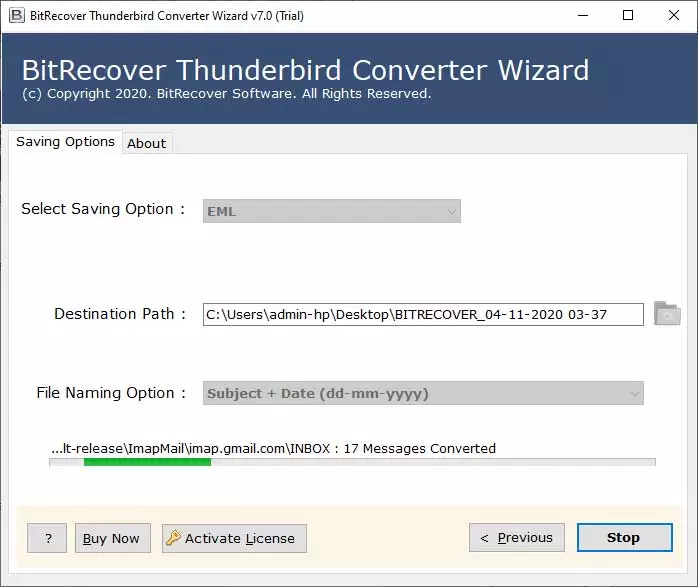 Soon you will have .eml files at the chosen destination location.
#2 Import Thunderbird Emails to OE Classic Mail
Step1: Open OE Classic email account on your PC.
Step2: Now, go to File>> Import option.
Step3: Then, choose Multiple .eml files (raw email from selected folders and its sub-folder).
Step4: Thereafter, go to the browse button and select output EML files.
Step 5: Hit on the Next tab to begin the import task.
The process to import Thunderbird emails to OE Classic mail is running. In few moments, all your Thunderbird messages will be imported into OE Classic mail account.
Precisely Import Thunderbird to OE Classic – Benefits of Software
Dual File Selection Options: The software provides two choices to the users for importing Thunderbird messages into UI. Either user can import emails manually or automatically. With the automatic option, the utility convert configured Thunderbird mailbox data from Thunderbird profiles.
Exclude Unwanted Folders: If you don't wish to import all Thunderbird emails to OE Classic then there has an option for you. The software gives a feature to include only necessary Thunderbird messages into OE Classic mail.
Freedom to Save Emails Anywhere: There is no boundation of storing Thunderbird email messages at a particular location. You can save them at any target path.
Various File Naming Options: Users can save the resultant files with any file naming option. These options help so that you can arrange the output in a more systematic manner.
Automatic Conversion: Once you are completely done with all the major steps involved in importing Thunderbird emails to OE Classic. Then, the software automatically starts the process without any delay.
Compatibility with Latest Windows OS: The best part about using this application is that you can install it on any of your Windows machines. It runs smoothly on Windows 10, 8.1, 8, 7, XP, Vista, and prior versions.
Preserves Data Integrity: During the whole process of how to import Thunderbird emails to OE Classic, the software maintains the integrity of data. It keeps intact the email meta key elements, attachments, inline images, hyperlinks, etc.
Ending
Thunderbird offers a cutting-edge selected UI that looks incredible, yet you may feel that the interface is loaded with unwanted features. OE Classic doesn't have present-day UI, yet it tackles its work impeccably. As we referenced, OE Classic is motivated by Outlook Express, quite possibly the most utilized email clients on Windows. Thus, it looks like Outlook Express regarding straightforwardness and UI.
In this blog post, we have explained how you can import Thunderbird emails to OE Classic. Hopefully, this process will be very easy for you because the interface of the software is very intuitive. Kindly connected to our website to get updates about productive email migration products. For more queries about the software, feel free to talk to our technical support team.