How to Import MBOX to Entourage with Attachments? – A Few Clicks Process 
Introduction: – If you want to import MBOX to Entourage email client, then this user guide will surely help you. Here, we will talk about the simplest way of importing MBOX files into Entourage with attachments. So, let's get started.
MBOX File and Entourage Email Client Connection – Read Something Interesting
As we all know that MBOX is a file type that saves messages in the plain file format. Whereas Entourage is a discontinued email client by Microsoft developed for macOS. But, it is interesting to note that a file with .mbox extension is supportive by many email clients such as Mozilla Thunderbird, Apple Mail and even Entourage. So, importing MBOX files to Entourage is not a very difficult task.
But, if you do this the following way, it may end up leaving you in trouble:-
Drag and drop MBOX files into Entourage account.
Upload MBOX files to Entourage using the USB device.
These ways are not safe nor does the right way to import MBOX file to Entourage. You may see some changes in the messages. Also, the received time of the message gets changed. So, if you want a solution that imports MBOX to Entourage with all elements then try BitRecover MBOX Converter.
Do it a Perfect Way: – MBOX to Entourage Import tool is a reliable solution. It transfers multiple MBOX files in Entourage application with attachments. Also, it supports the bulk conversion facility. The utility is entirely easy-to-use for technical and non-technical both. It has a simplified user interface and performs the task accurately. The software gives 100% exact results with no compromise.
How Can I Import MBOX to Entourage Directly? 
Follow this simple process that helps you import MBOX files into Entourage.
Start the MBOX to Entourage converter.
Click on Select Files and Folder to upload MBOX files.
Check the required folder and select Entourage.
Fill the destination location and choose the File Naming option.
Go to Convert tab and wait for the results.
Now, let's take a look at the software screenshot that gives you perfect knowledge on how to import MBOX to Entourage easily. So, here we go.
Explore the Step-by-Step Process to Transfer MBOX File into Entourage Mail Client
 Before we start: – Here comes good news if you use the mentioned software. It lets you import MBOX files into Entourage free. The free trial edition of the software has limitations and helps you to transfer only 25 MBOX data in Entourage with attachments. To convert multiple MBOX files to Entourage without count, switch to Pro edition. Now, see the screenshots to get a better understanding of the program.
Download for Windows OS


Download for Mac OS

Let's start by downloading and running the tool on Windows machine. Then, read the pointers mentioned in the software window and tap on Next.
Now, you have dual options to upload files with .mbox extension. One is Select Files, and other is Select Folders. So, pick as per the requirements.
After this, the software analyses the MBOX files and folders. Choose the required and click on Next to continue the process.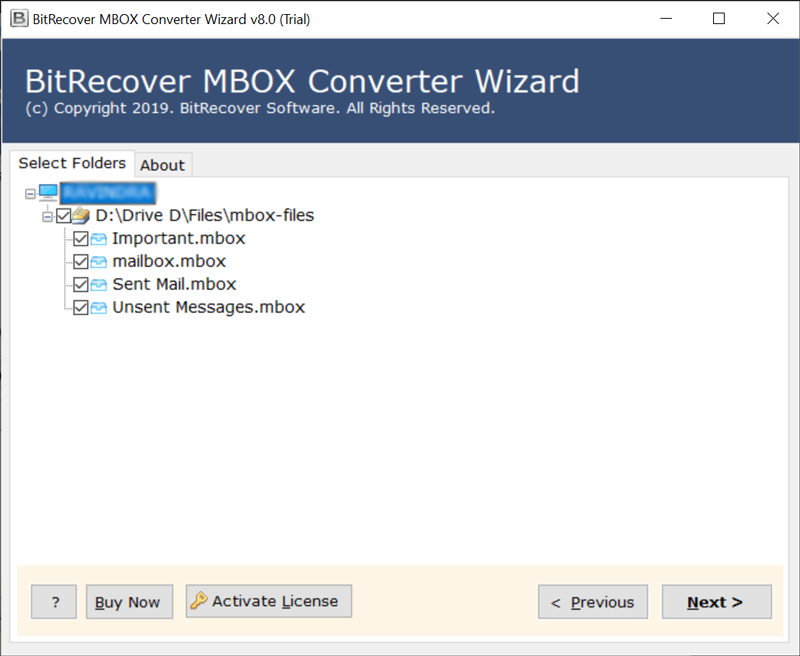 Scroll down the Select saving option list and pick Entourage as shown in the screenshot. Next, specify a location in the destination path to get the results.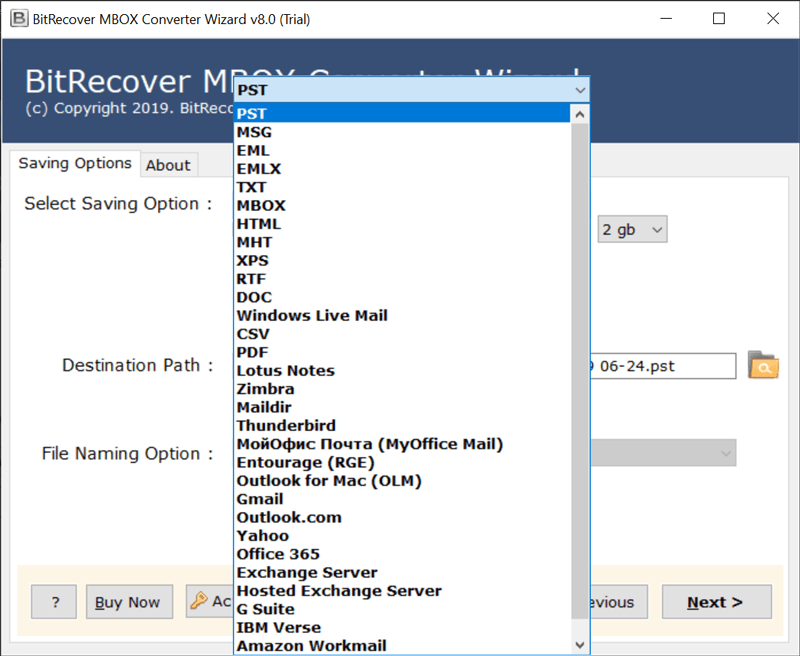 This file naming option feature of the software lets you manage the files more professionally. So, check this option if required.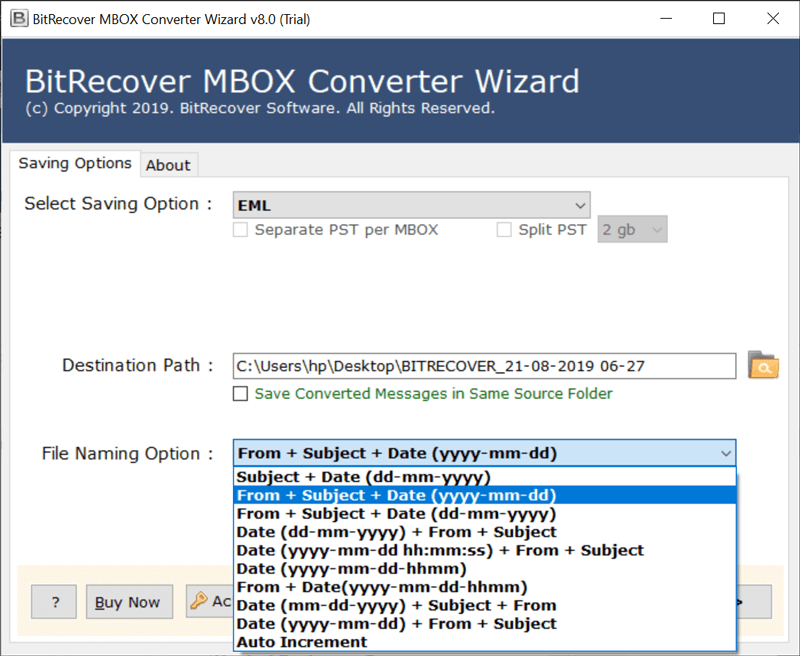 Tap on the Convert button to start the import process.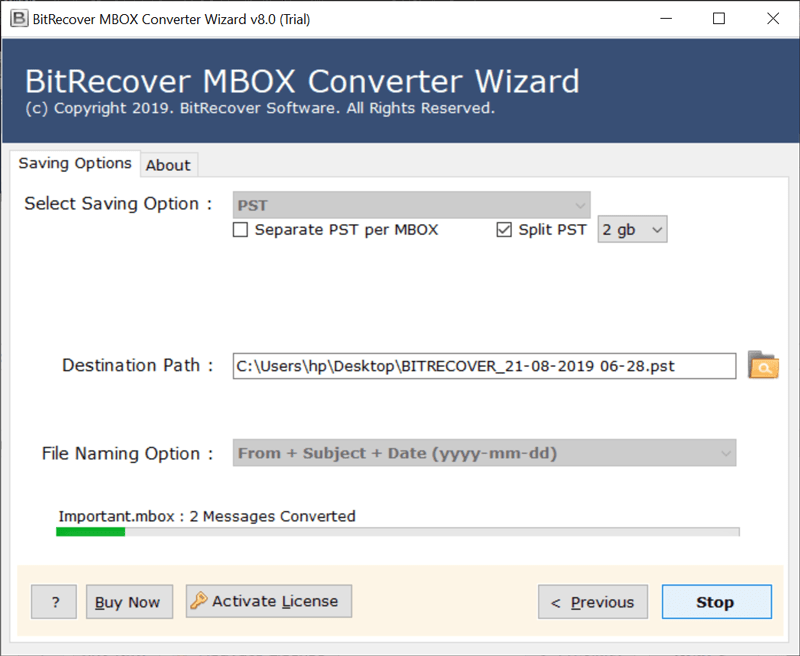 Time to Check the Final Outcome: – After the task gets completed, the software pops up a complete conversion message on your screen. After that, a log report appears containing all the necessary details about the process. That's all you are good to go.
Read the Major Advantages of the MBOX to Entourage Import Software
The program is 100% reliable and powerful to import MBOX to Entourage with attachments.
Two options for loading archived MBOX files and folders containing MBOX files from your computer.
The application is standalone and does not require any external application for the procedure.
The user can easily import MBOX in Entourage 2008, 2004, 2001 and Entourage X editions.
It allows the user to import specific email folders and items into the MS Entourage email client.
Users can import MBOX files from common email applications such as Mozilla Thunderbird, SeaMonkey, Eudora, Apple Mail, and many others.
This utility allows you to save the resulting Entourage RGE files to any destination path.
It ensures that properties and elements are fully maintained during the task.
Creates a SavingLog.txt file that contains complete information about the imported data.
The program supports all the latest and previous editions of the Windows operating system, including versions of the Windows Server system.
The Closing Thoughts
If you are someone looking for a solution that imports MBOX to Entourage RGE format directly then end your search. In the blog above, we explained the complete information to transfer multiple MBOX files to Entourage mail client with attachments. It is a quick and fast method. Moreover, an excellent choice for beginners, as the utility is very simplified. So, go and try the solution now.