Import Entourage to Thunderbird on Windows with Simple Technique
Microsoft Entourage for Mac OS have long been a popular choice among professionals. However, a recent surge in Thunderbird for Windows OS has opened up a lot of new options you might not have previously considered. If you find yourself frustrated by your Entourage mail set-up, may be it's time to try something new. Maybe it's time to import Entourage to Thunderbird for Windows OS.
Fortunately, there is a simplest workaround that will help you to smoothly import emails from Entourage to Thunderbird.
How to Import Entourage to Thunderbird Directly ? – A Two-step Process
Migrating from Entourage mail to Thunderbird is a two-step process.
First you'll need to extract MBOX files from Entourage email account. Then, import Entourage to Thunderbird with the help of BitRecover Thunderbird Import Wizard.
This software to migrate Entourage to Thunderbird offers a powerful and direct method to import Entourage MBOX files to Thunderbird account. You can even familiarize yourself with the interface and functionalities of this application with the demo version. This is the best thing that any application can offer – the demo edition is absolutely free of cost. Just download it and try it's working to import Entourage to Thunderbird.
Now, we will give you a brief step-wise solution about Entourage to Thunderbird migration.
Stage 1 – Extract MBOX Files from Entourage Mail
The MS Entourage email application stores its mailboxes in MBOX format on Mac machine. In order to transfer Entourage into Thunderbird, one needs to export MBOX files from Entourage mail account and thereafter import Entourage to Thunderbird.
Have a look at these guidelines to export Entourage MBOX emails.
Step 1. First of all, start your Entourage mail account on Mac machine.
Step 2. Now, tap on the File tab and choose the Export option from it.
Step 3. Thereafter, select the radio button corresponding to Items to an Entourage Archive option. Now, choose the checkbox labelled to desired emails which you wish to migrate from Entourage to Thunderbird.
Step 4. Then, when the email prompts, hit on "Yes, Delete Items from Entourage After They are Archived".
Step 5. Select the folder to export as MBOX format.
Now, you have exported MBOX files from Entourage account which you can easily copy to a pen drive or an external drive. Later, in the next step you can import Entourage to Thunderbird on Windows platform.
Stage 2 – Import Entourage to Thunderbird Email Account
Once you have the MBOX files of Entourage on your Windows machine, then it now becomes super easy for migrating Entourage mailboxes into Thunderbird.
To accomplish this conversion, quickly download the Thunderbird Import Wizard by BitRecover software. Install it properly and thereafter, follow these stepwise guidelines to import Entourage to Thunderbird.
This Entourage to Thunderbird converter, provides dual options to load one or more MBOX file(s) of Entourage or any other MBOX supported application. You can batch migrate Entourage emails to Thunderbird with this application and that too in a single go.
Here we go for the major steps involved in importing Entourage emails to Thunderbird process.
Step 1. In the software panel, you will see two options for uploading MBOX emails.
Select Files… –> This option enables users to load a single MBOX file (s) in a single processing.
Select Folder… –> This option enables users to load a complete folder consisting of MBOX data.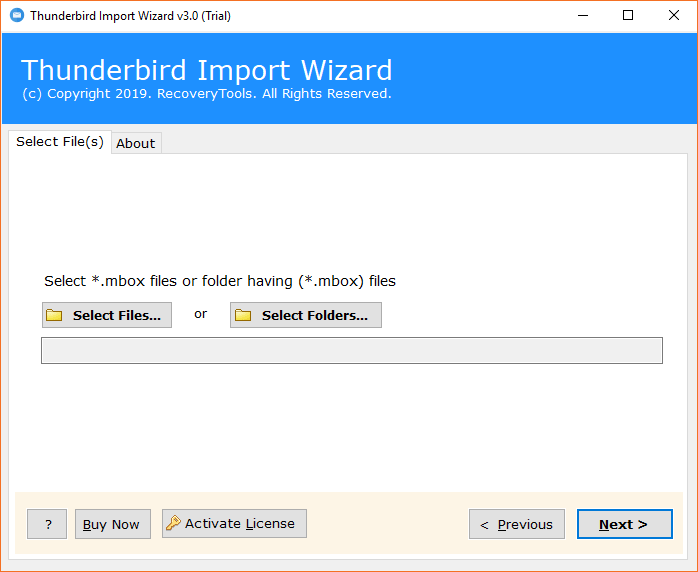 Step 2. Now, after choosing the Entourage MBOX files, click on the Next button and here you will see the path of all chosen files in the toolkit.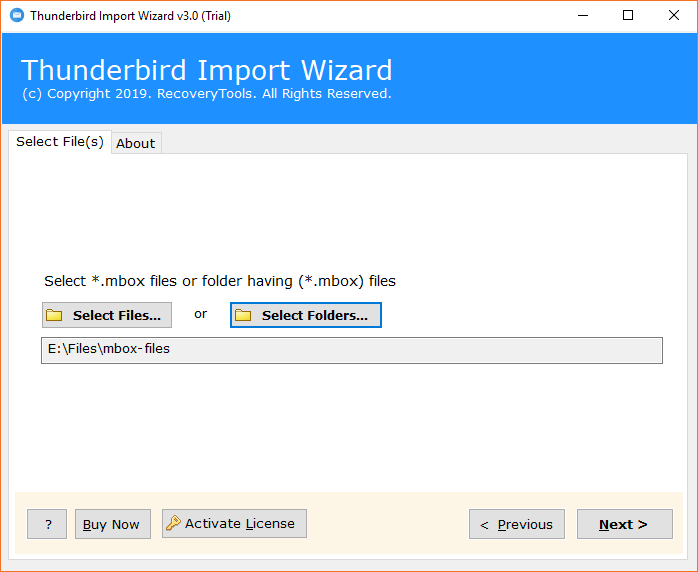 Step 3. Then, choose all or required Entourage files from GUI and hit on Next tab to proceed further.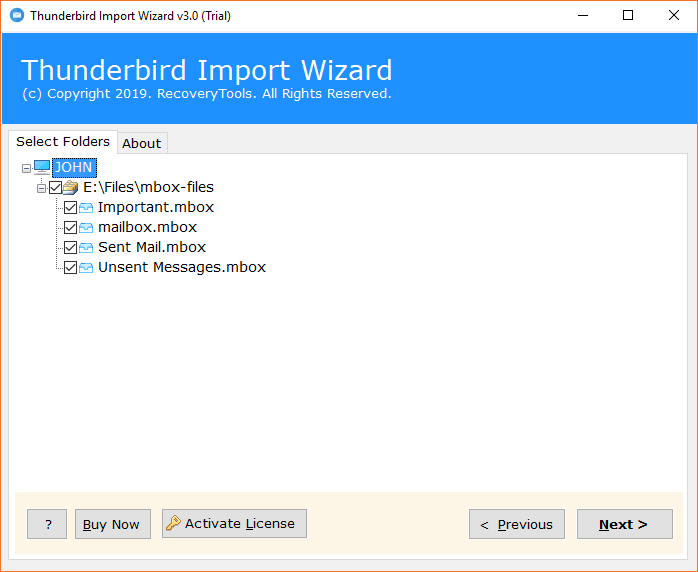 Step 4. After this, the software automatically chooses the default destination path. Now, hit on Next button to move further.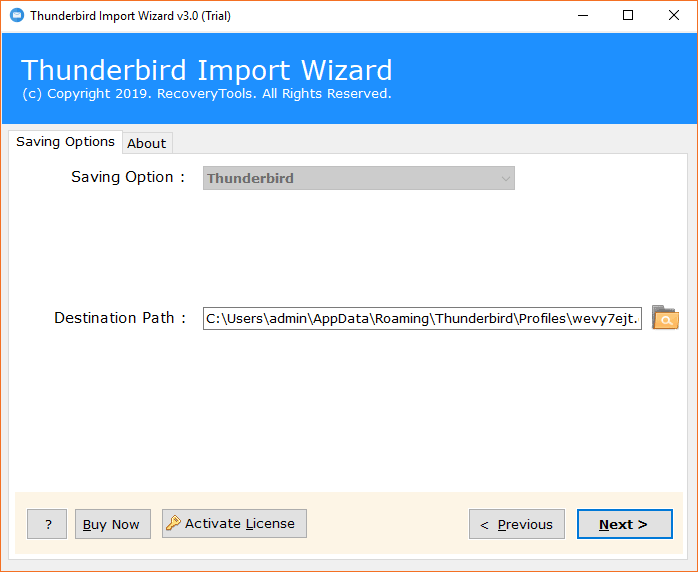 Step 5. Thus, the process to import Entourage to Thunderbird is running and will end after sometime. You can see the live conversion in the software panel.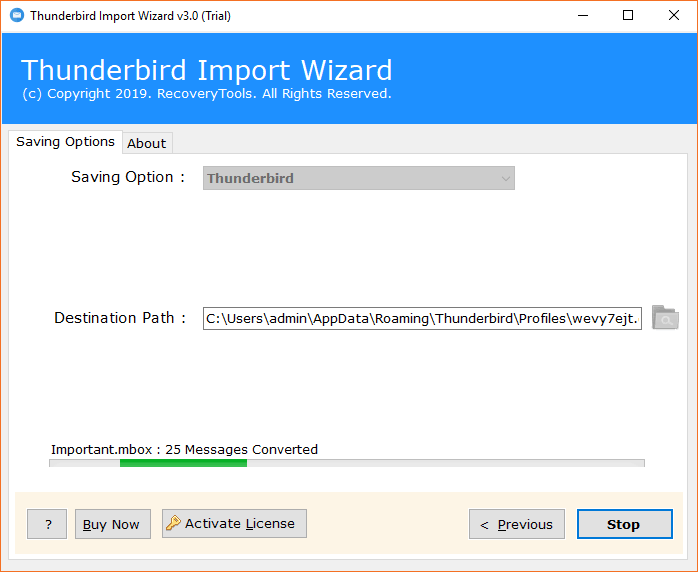 Step 6. Once this task completes, the tool will give a completion message. So, click on OK to confirm it.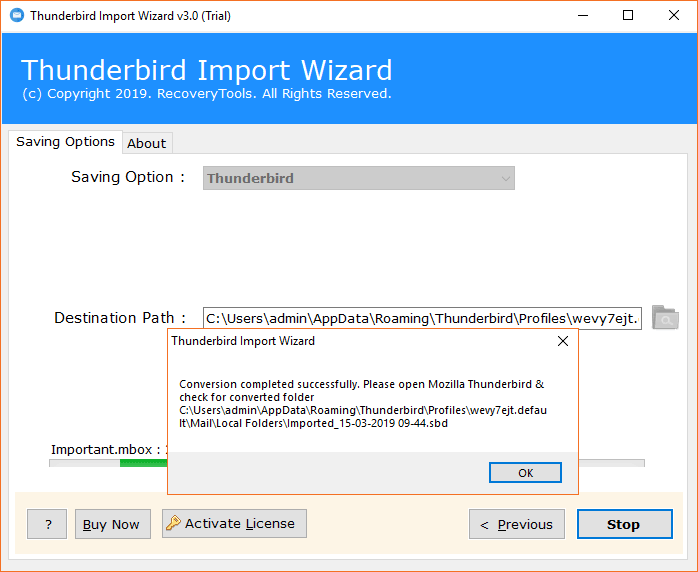 What Next? That's it! Now, just open your Mozilla Thunderbird email client to check the imported Entourage mailboxes as well as attachments just as shown in this picture.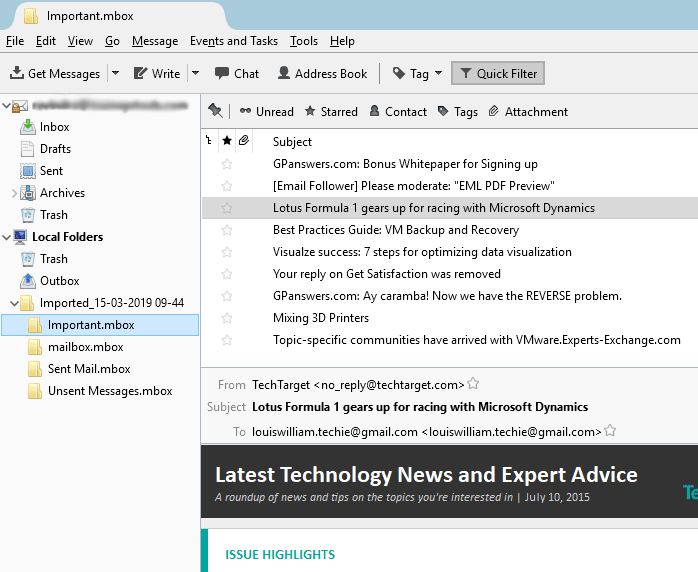 Remarkable Features of Entourage to Thunderbird Migration Tool
This software is completely Windows-based and hence, a user can efficiently import Entourage to Thunderbird on Windows platform. It supports MBOX files of numerous email applications which are popular among users like Eudora Mail, Apple Mail, Mac Mail, Gmail Takeout, SeaMonkey, Netscape Mail, The BAT, etc. Also, this software is capable to migrate unlimited Entourage mailboxes to Thunderbird without disturbing the original formatting of data. Users can evaluate the tool's features with the free demo version. However, if it is completely satisfactory to you, then purchase it for unlimited transfer of Entourage emails to Thunderbird.
Users can upload Entourage MBOX files into Thunderbird software in batch mode.
There are dual approaches to load MBOX files into software panel for the conversion.
It allows to migrate Entourage to Thunderbird with associated attachments without any hassle.
This utility supports all latest and earlier versions of MS Windows Operating System.
The toolkit retains the integrity of data as well as the original hierarchy of all folders.
With the per version of this toolkit, there are no file limitations.
This software is secure and never saves the details of the user in the database of toolkit.
Please Read – Here's are some reasons worth considering for Entourage to Thunderbird Migration:

1. The stand-alone Thunderbird email client application provides features such as a user-trainable junk mail filter which are not offered by Entourage.

2. Thunderbird's tight security never allows scripts to run by default and not automatically download pictures sent in emails.

3. The layout of Entourage is disastrous – default font sizes and line spacing are too large. This is not in the case with Thunderbird.
Some Queries of Users and Expert's Replies
Query 1: Scarlett, UK
Hi, I want to switch from Entourage 2008 to the latest Thunderbird version. Although I have looked for the instructions online but since I am new to it thus, couldn't find any directions to import Entourage to Thunderbird. Can you help me with this migration process?
Reply : Yes, you can definitely import Entourage to Thunderbird application by using an automated solution. The solution recommended above suits best as per your requirements and can efficiently migrate Entourage mailboxes to Thunderbird.
Query 2: Avery, London
Hi, I recently shifted from Entourage for Mac to my Windows 10 laptop which has Thunderbird 78.0 installed on it. It's a hard time for me to import the various Entourage folders to the newly created Thunderbird account. Actually, I am disappointed with the switch from Mac to Windows platform so instead of doing it manually. Now, I want an automated solution to smoothly import emails from Entourage to Thunderbird. Is there any way to carry out this import process?
Reply: Yes, the Entourage to Thunderbird migration tool is a professionally tested application and is evaluated as best by the experts. It can swiftly import Entourage to Thunderbird application on Windows. You can also test the conversion with the demo version and later switch to the full pro version of countless migration.
The Concluding Words
In this write-up, we have completely explained how a user can export Entourage MBOX files to Thunderbird application. We have described the proper guidelines of this automated solution. This software provides a perfect set of features which are required for a fluent email migration from Entourage mail to Thunderbird for Windows. For any query, please contact too our technical support team.