How to Export Emails from HTML to MSG File Format Directly ?
After receiving some queries asking about the same thing, that is, how can I convert HTML to MSG Outlook 2019 2016, 2013, 2010, 2007 and 2003, here we are with the solution ? Read ahead and know the answer to all your HTML files conversion questions.
Nowadays, a large number of users are concerned about their crucial data. They want their data stored in a secure and organized manner. Microsoft Outlook is one of the most favored email applications that is used by many users and enterprises around the world. Henceforth, there are several queries from the user side to save or convert HTML email to MSG. Some of those queries are listed below:
"I have a lot of emails stored in the HTML format that is not even needed and I want to save the selected emails from them. Can anyone help me to convert HTML to MSG format in bulk so that I can save them into my system. ? "
"Hi, I have some important emails in my HTML file and I want to send some of my emails to one of my friend. But, instead of forwarding, I need a solution that allows me to save multiple HTML data items as MSG files so I can send them once to my friend. Please, give me a solution. Any help will be appreciated. "
Direct Solution: Users can freely use BitRecover HTML Converter and upload their emails data with attachments into the MSG format. Simply click on the download button and complete your work in a few steps.
Trial Version: I used the FREE DEMO version of the HTML to MSG converter software before investing on it to understand its full functionality before buying the tool to convert HTML to MSG Outlook. It allows users to export the first 25 HTML items into MSG mailbox.
How to Convert HTML to MSG Format ?
Step 1: Run HTML to MSG Converter software in your local machine.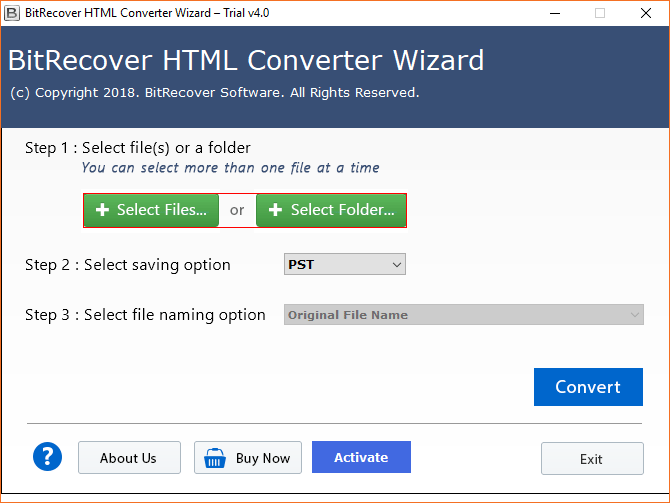 Step 2: Browse HTML files which you want to transfer, Select Files or Select Folders option to convert HTML to MSG file.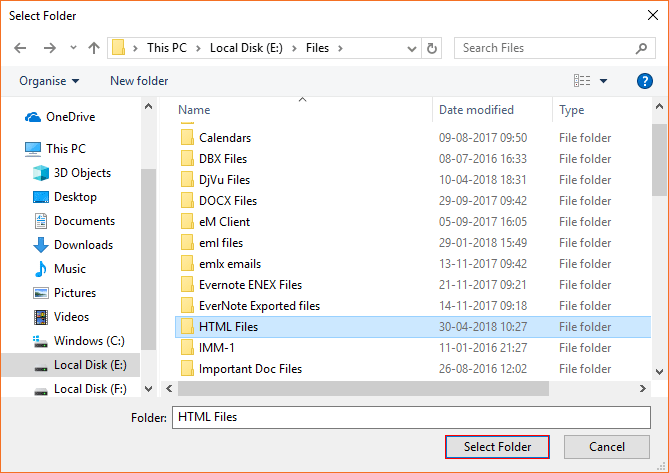 Step 3: Choose the MSG format as a saving option to convert HTML email to MSG.

Step 4: HTML to MSG converter provides File Naming Option, so you can select any of one from the several options.

Step 5: Now, choose the Destination Location Path to move further.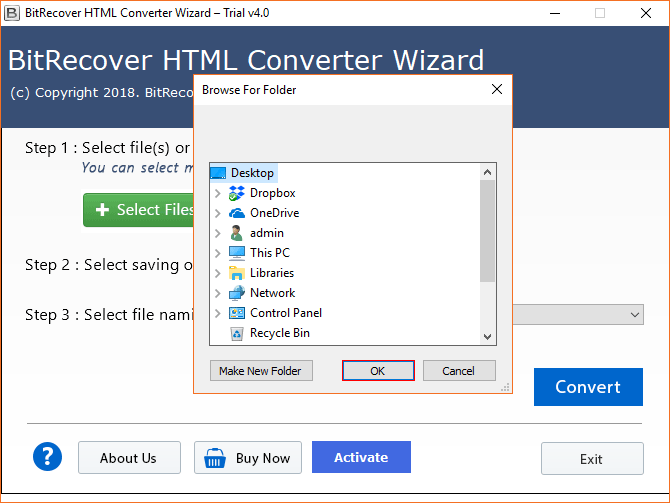 Step 6: Click on the Convert button and then quickly start the process to batch convert HTML to MSG format.

Step 7: The tool to convert HTML email to MSG conversion is running now, it will complete in a few seconds.

Step 8: Access the resulting data files directly from the destination folder.
Users do not need to have any additional knowledge about the HTML or MSG files for this direct procedure. In this blog, the solution provided is designed with a simplified graphical interface. Apart from all this, users can easily convert HTML files to MSG format with the help of this recommended approach i.e., HTML to MSG Converter. It has enough capacity to export HTML emails files to MSG Outlook type.
Advantages of HTML to MSG Converter Tool
Bulk Export emails files from HTML to MSG Outlook format
Compatible with all latest editions of Windows OS platform
Standalone application to batch convert HTML to MSG format
Migrate or Convert selective emails and saved in .msg file format
Retains integrity throughout the HTML to MSG conversion process
Why Users Migrate HTML Emails to MSG Files ?
Sometimes, most of the users want their HTML emails to be converted into MSG Outlook 2019 2016, 2013, 2010, 2007 and 2003 due to some requirements. Therefore, we have discussed some genuine reasons in the next section, which is responsible for the HTML to MSG conversion.
Easy Access to Data: It makes it easier for the user to access MS Outlook's data without any error issue.
Manageable: After exporting messages from HTML file to MSG, it is so easy to manage the saved emails in multiple aspects.
Reduces Chances of Data Corruption: Once the PST file is converted into MSG format, then there are lesser chances of data getting damaged.
Archive Forensic Email: Another advantage of converting HTML files to MSG is that it can be used for forensic email purposes because it maintains the complete integrity of the data.
Final Thoughts
As already mentioned, there is no direct manual approach through which users can migrate their emails from data files from HTML files to MSG Outlook 2019 2016, 2013, 2010, 2007 and 2003. Furthermore, users have to opt an expert way i.e. HTML to MSG converter to perform the file conversion successfully. This solution is the best option for millions of users around the world to convert HTML to MSG format. Thus, it is the secure solution that is the reason why users can use it freely without fear of data loss.