How to Convert Export Horde Mailboxes to Multiple Formats ?
Summary- Do you need a converter version to export emails from Horde webmail into applications like MS Outlook, Apple Mail, Thunderbird, Windows Live Mail? Horde Webmail is a balanced webmail client having peculiarity which will not agree well with everybody. You need to be patient to learn your way around how to convert Horde Webmail to Outlook, Apple Mail, Windows Live Mail. We will walk you through how to do this!
Horde Webmail is a fully functional web-based email client and a tight competitor of Roundcube, Squirrelmail. The Horde framework is largely used by web-hosting and telecommunication organizations to offer a power-packed email management tool to their users. Despite various benefits, it comes with few demerits like – 'Login failed problem due to the wrong configuration', 'Wrong per-user settings in Horde UI', 'Partial database entries in Horde webmail'.
If you have come upon this page, you must certainly be not happy with web-based email clients like Horde. And you are looking for a decent solution to convert exported Horde mailboxes to multiple formats (which are compatible with desktop email clients).
In order to import Horde emails to Outlook (PST, MSG), Apple Mail (EMLX), and Windows Live Mail (EML) you will require to follow two major steps.
First Export Horde Webmail emails into MBOX format and second, convert Horde emails into the desired file format.
How to Export Emails from Horde Webmail Account ?
Follow these steps to export Horde Webmail emails-
Sign in to the Horde Webmail application by cPanel icon.
Select on Folder Actions>> Show All Mailboxes.
Select the desired from Inbox, Draft, Sent, or other>> Right-click on it>> choose the Export option.
Download Horde webmail emails into MBOX file format.
Best Professional Solution to Convert Horde Webmail Emails
By utilizing Horde MBOX Converter, users can easily export Horde mail to Outlook without any loss of essential information. A highly technical designed solution that is also capable to convert Horde mails into Windows Live Mail. Quickly converts single folder as well as multiple folders at one time, no matter how many more subfolders a single folder is containing. Horde Email Converter maintains the formatting of message and folder structure throughout the entire conversion process.
Steps to Convert Horde Webmail to Outlook, Apple Mail, Windows Live Mail 
Many users are not satisfied with the overall performance of Horde Webmail. So, they need to import their data into the offline mode or desktop-based email client. So, if you are also willing to move to a more secure network then check MS Outlook. In the following section, we have given all steps about how to migrate Horde webmail to Outlook.
Follow these steps to convert Horde Webmail emails to Outlook PST, Apple Mail EMLX and Windows Live Mail EML format.
Step 1: After downloading the Horde Webmail Converter application, quickly launch it on your PC.
Step 2: Now, select *.mbox files or folder having (*.mbox) files. After choosing MBOX files, click on the Next tab.
Then, the Horde Webmail conversion tool starts analyzing folders, please wait.
Step3: Thereafter, check a mark on those MBOX files or folders which you want to use to convert Horde Webmail emails.
Step4: Now, in the saving options list, choose PST format. Enable the 'Separate PST per MBOX' and 'Split PST' option if you desire.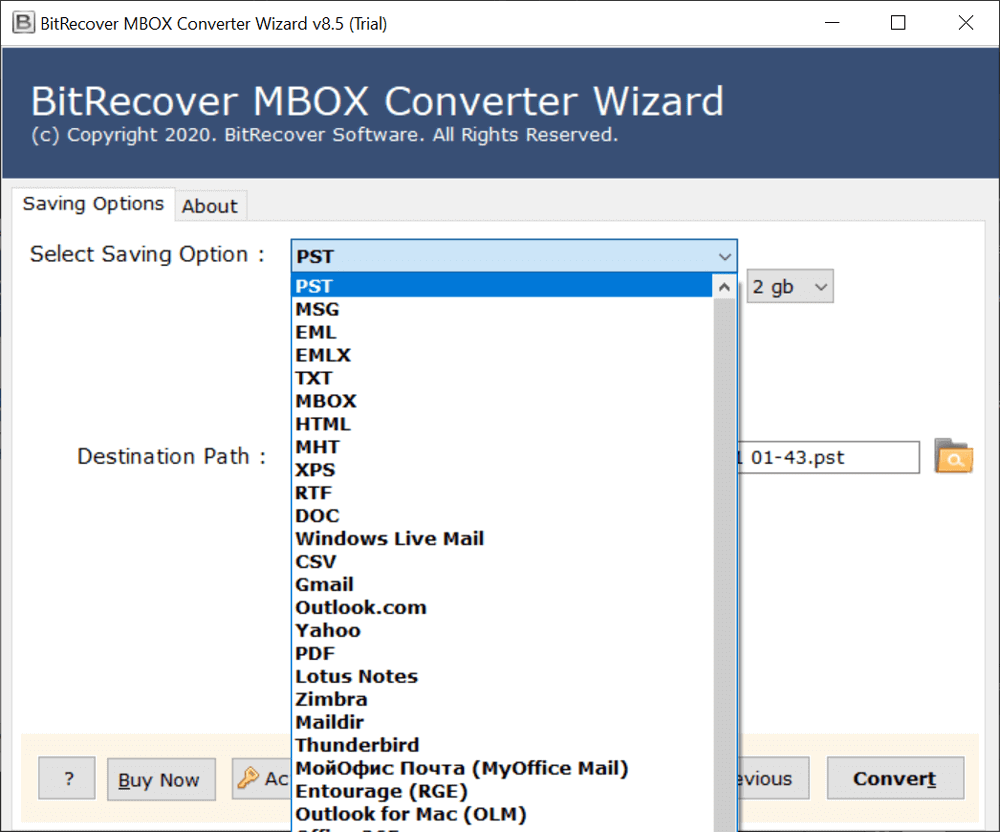 In order to convert Horde Webmail to Apple Mail, choose EMLX as a saving option.
For converting Horde emails to Windows Live Mail, select EML as saving file type.
Step 5: After this, browse a destination location from the browse folder icon in the left.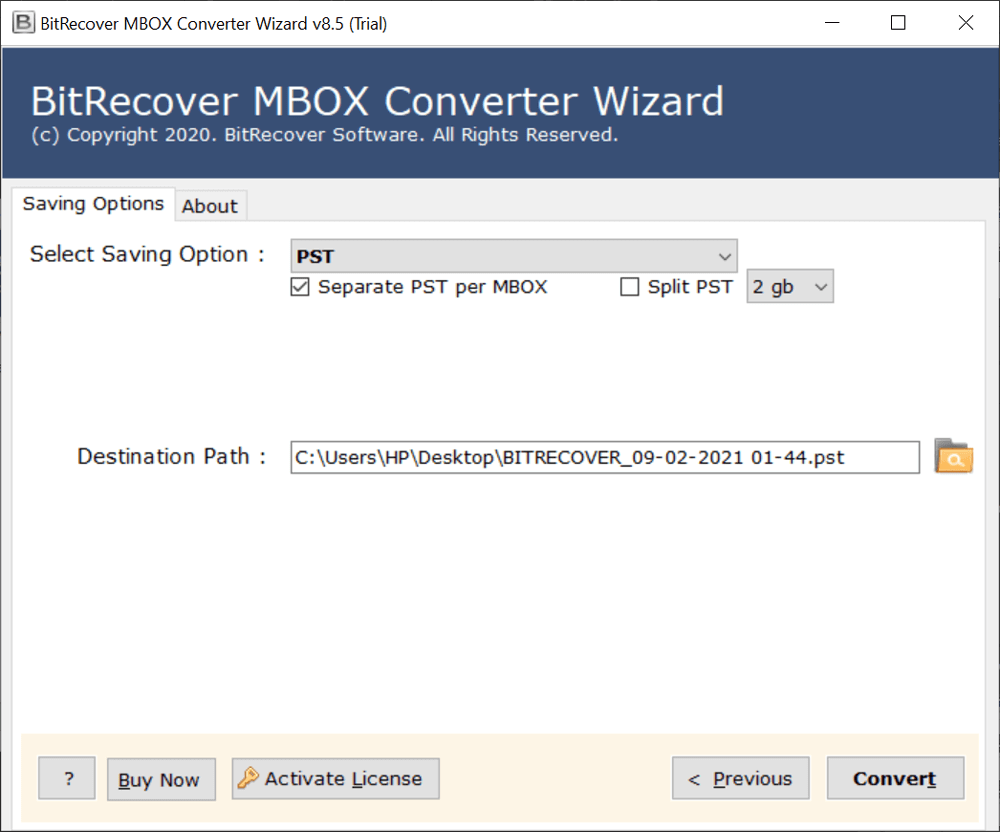 Step6: Finally, click on the convert button to begin exporting emails from Horde webmail.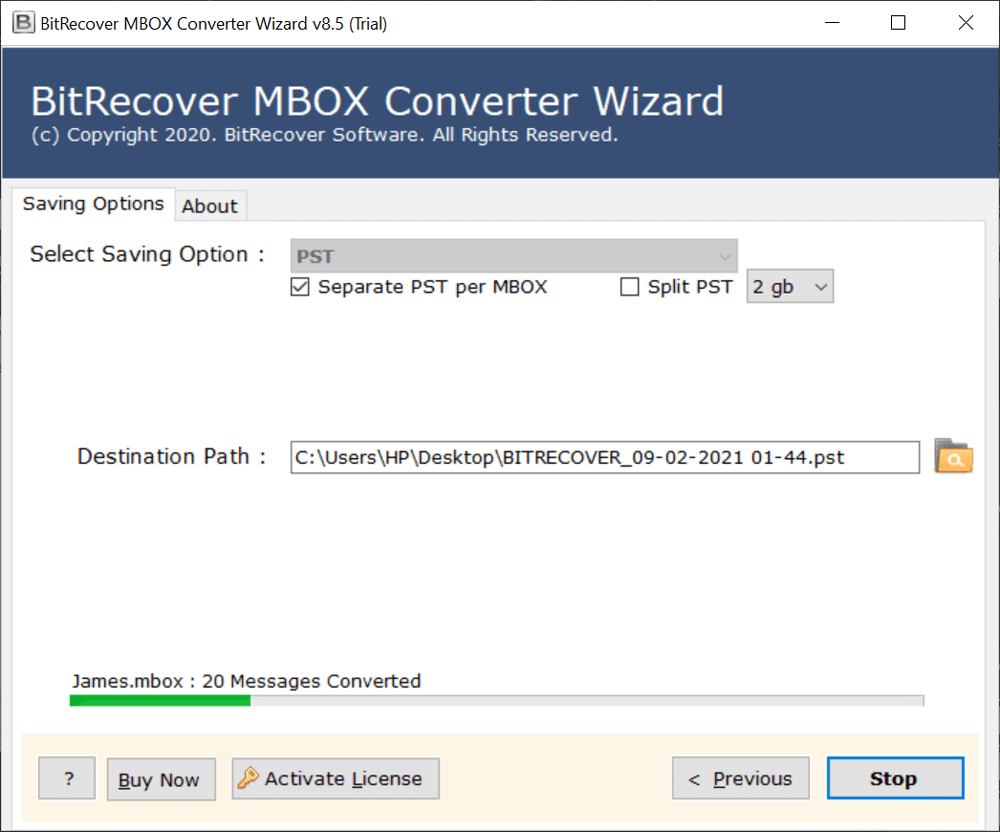 Step 7: The process to convert Horde webmail emails to Outlook PST format starts at this step. It will give a successful conversion completed message. Click on OK to end the task.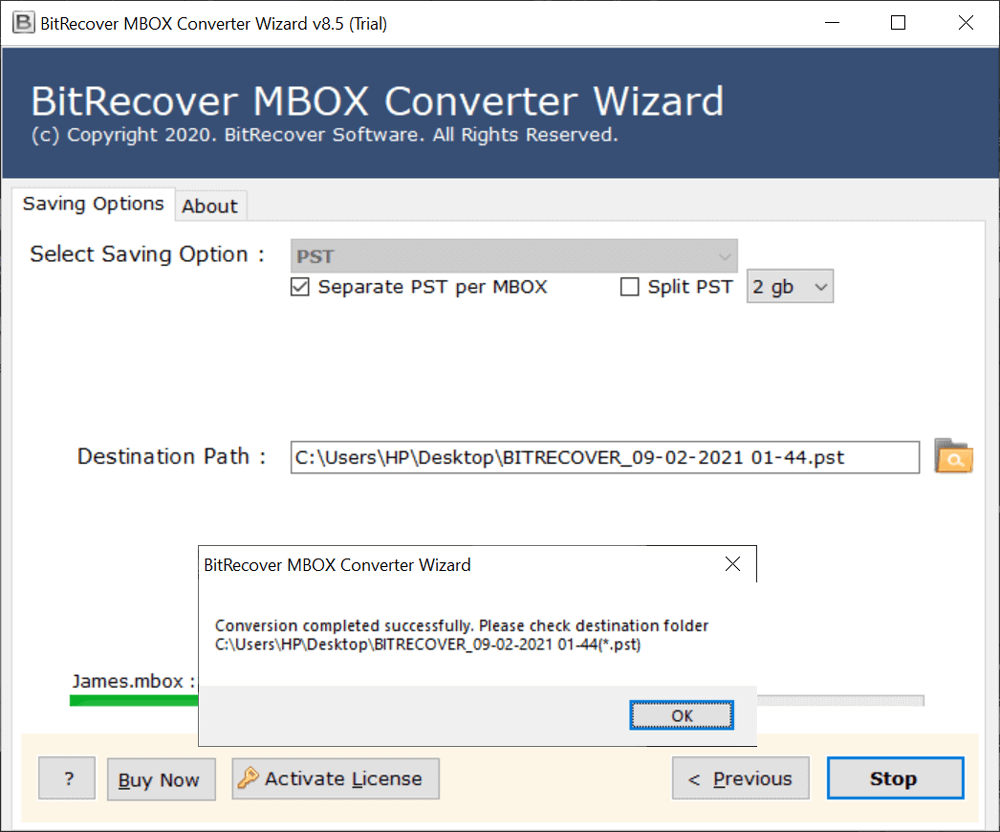 Step 8: Now, you can open the resultant *.mbox files of Horde webmail at the chosen location.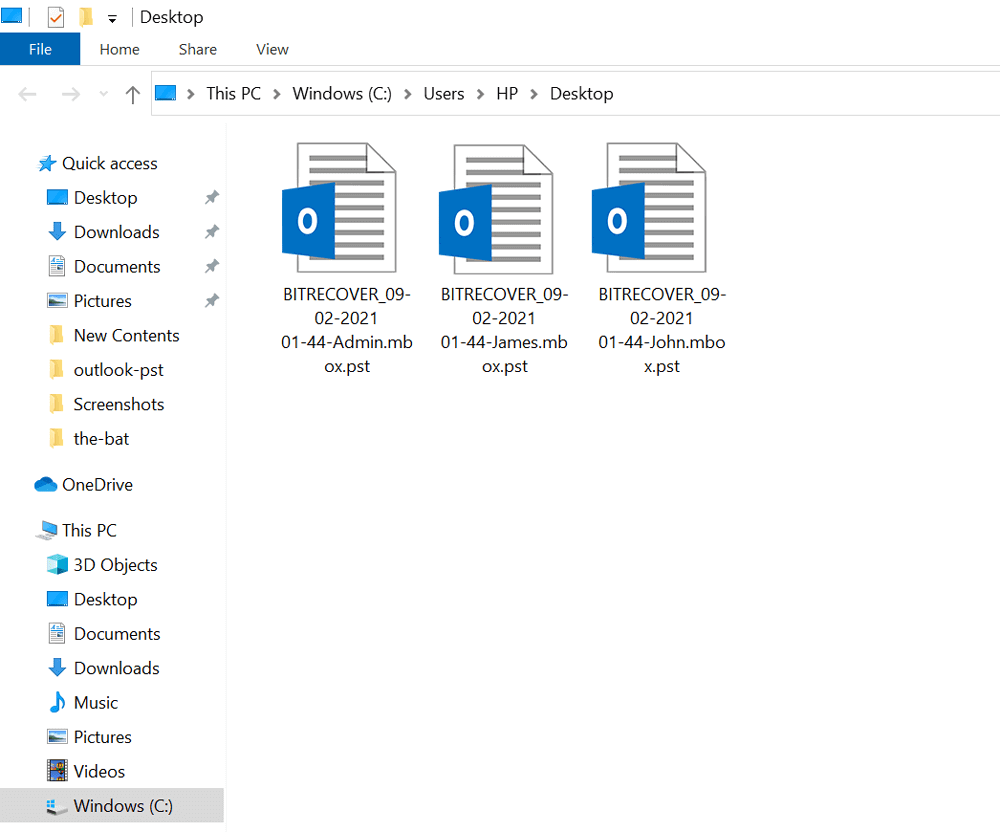 Here, comes the time when you will require to import Horde emails to Outlook.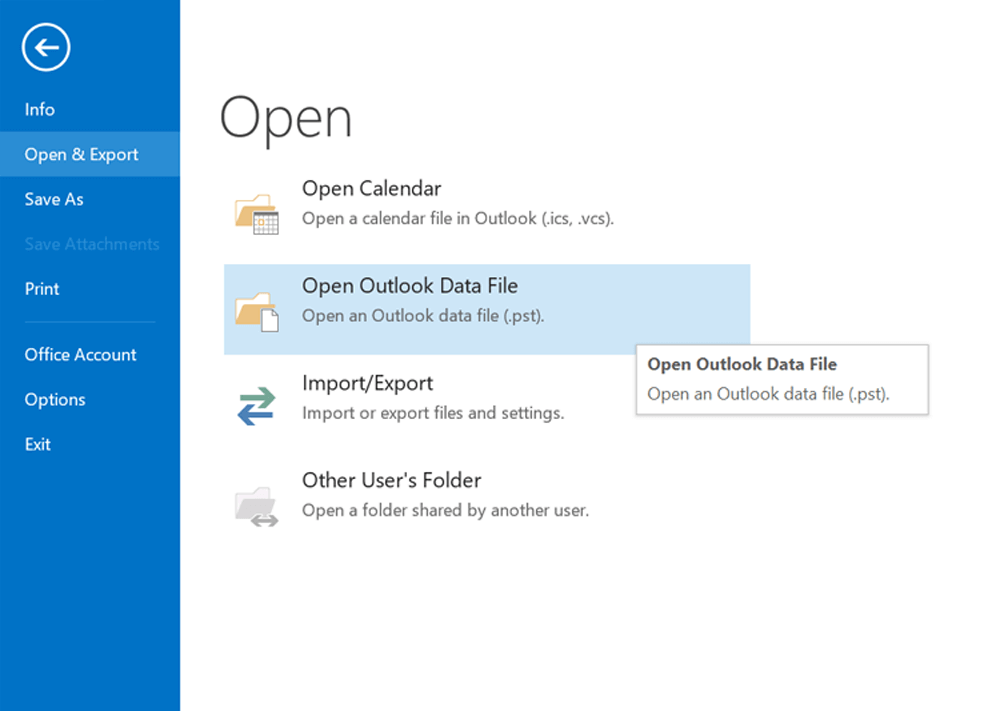 Horde Webmail Converter – Prime Features of Software
✅ Convert Horde Mail to Outlook within seconds
Horde Mail Converter instantly import and export Horde Mail to Outlook and quickly saves Horde emails to PST and MSG format. Using a single conversion process as well as a batch conversion process users can perform Horde webmail to Outlook conversion with no issues.
✅ Capable to Transfer Horde Mail to Windows Live Mail
With the help of this utility, you can easily migrate Horde Emails to Windows Live Mail with exact formatting and metadata properties.
✅ Supports single email conversion
The tool provides an option to convert a single email conversion with the help of which users can transfer a single email folder with the entire content. No matter how many subfolders contained by that single folder.
✅ Provide Batch Conversion facility
Horde Email Converter also provides a batch conversion facility using which you can select multiple desired folder and convert them into respective files at one time within a minute.
✅ Maintains Folder Hierarchy Structure
It maintains the entire structure of folder and subfolders during Horde Webmail to Outlook and Windows Live Mail conversion process.
✅ Software Compatibility
The tool is compatible with all editions of Windows OS and Windows Server. Also compatible with all the versions of MS Outlook including Outlook 2016.
Some Additional Information You Must Know
Reasons to convert Horde mail to Outlook or Windows Live Mail
In Horde, the interface looks a bit less professional and completely chaotic with unnecessary links and icons. The links in the left navigation panel are not really clear either as to what exactly they are for. Moreover, users prefer Outlook and Windows Live Mail as compared to Horde. They are more reliable and simple to use, not complicated as Horde webmail.
What is Horde and what is the file format that Horde holds?
Horde Groupware Webmail is a free, enterprise-ready, browser-based communication suite. Users can ready, send, manage and organize email messages, share calendars, contacts, tasks, notes, files, and bookmarks with the standard-compliant factors from the Horde project. It combines the separately available applications IMP, lngo, Kronolith, Turba, Nag, Mnemo, Gollem, and trean.
What is the location of reading Horde mail?
C-panel << Webmail << Go to Webmail Login << Read Mail Using Horde
FAQs
I have tried many times to import Horde to Outlook but failed, nothing happened and I repeatedly get an error message. Will this tool help me out from this situation?
Yes, this utility will surely help you to migrate Horde mail to Outlook.
My folder is carrying a number of Horde file which I need to convert them in Windows Live Mail. So, is there any file size limitation?
No, there is no file size limitation. You can easily perform migration from Horde email to Windows Live Mail.
Can I download this Horde Webmail Converter on Windows 10 as currently I am using that version only?
Yes, why not. It is capable of working on all editions of Windows OS whether it is Win 10, 8.1, 8 and etc.
Client Reviews
Our clients give their valuable feedback to us. Have a look:
Thank you BitRecover for developing such a great tool. I was very worried as I was not getting a perfect tool to convert Horde Mail to Outlook. But now I am so much happy as it easily converted all my Horde files into Outlook in just a few seconds. – Jason Abram, United States
Simple and great tool. It converted my so many Horde files into Windows Live Mail with no issues so easily. A perfect tool for all those who work on Horde webmail. – Adams Bennet, Russia
Over to you
In this blog, we have provided complete step-by-step processing about how to convert Horde Webmail emails to Outlook, Windows Live Mail, Apple Mail, and file formats. Try the free demo version of the Horde Webmail Export solution today! It will help you evaluate the performance of the tool and also allows you to export 25 Horde webmail emails. After getting fully satisfied with it, you can move on to the full licensed version.
Hopefully, you liked this blog! Stay tuned to our blog page to know the different ranges of BitRecover Products.