Convert Google Takeout to PDF for Printing Data, Legal Discovery, Email Inspection
There's one thing we've all become used to during the pandemic its takeout. Did you know there's one more type of takeout that permits you to send out a duplicate of content in your Google Account for backup or to use the emails outside Google?
Believe it or not. The service is appropriately known as, Google Takeout.
With the tool, you can archive old emails of Gmail to store on your hard drive or any application. When forensics or security professionals are tasked to gather and inspect the Gmail email content, they often use the Google Takeout service.
But, the question comes up what if someone wants the Gmail database for offline email reading or for legal discovery? Well, in such circumstances you will require a third-party solution.
When a user downloads emails from a Gmail account using the Google takeout service, then Google saves your all data in the ZIP folder. And when the user extracts the ZIP file, then the user will get all the Gmail emails in the .mbox file.
Hence, you need a dedicated solution to convert Google Takeout emails into a file format that is more universal and has vast compatibility. The answer is certain- PDF format! Read the ultimate solution of Google Takeout to PDF converter.
Can I Print Google Takeout Emails to PDF ?
Query- I have recently taken some backups of important Google files using the Takeout feature for data extraction. Now, I urgently want to print them for sharing it, however, simply forwarding it via an email service won't do. I also need to add some comments and notations before printing these Google Takeout emails. Also, there are some embedded attachments as well. What should I do to overcome this problem?
Solution- Hello! The answer is very easy- convert Google Takeout emails into editable PDF format. In this way, you can print and share your important email stuff without any hassle.
Here's the download link of the Google Takeout to PDF Converter which will certainly resolve your problem. It will easily export all Google Takeout MBOX files to PDF format without any limitations. Moreover, you can convert Google Takeout attachments as PDF document pages too with it.

How to Convert Google Takeout to PDF ?
Download Gmail emails in MBOX format using Google Takeout
Run Google takeout to PDF converter
Upload Google Takeout mailbox files in GUI
Choose PDF as a saving option and click on the Convert button.
Google Takeout to PDF conversion process started
Why it is Beneficial to Use Google Takeout to PDF converter?
There are several kinds of solutions available in the market. But user only wants that solution which can solve their issue effortlessly and every software doesn't guarantee 100% success. But Google Takeout Converter is a reliable solution for every user to solve this query easily. This software is compatible with Gmail Takeout export in single emails with multiple file naming options. This tool can also migrate batch Gmail & G suite takeout files easily. This software preserves mailbox attachments and items during the conversion process. Let's see the complete working process of the application to use it in an effortless way.
How to Export Gmail Takeout Emails to PDF in Bulk – Complete Working Process
Follow these simple steps to easily operate this software without facing any issue:
First, install and download MBOX to PDF Wizard on your system.
Then select Files and select Folders for uploading Google takeout MBOX files.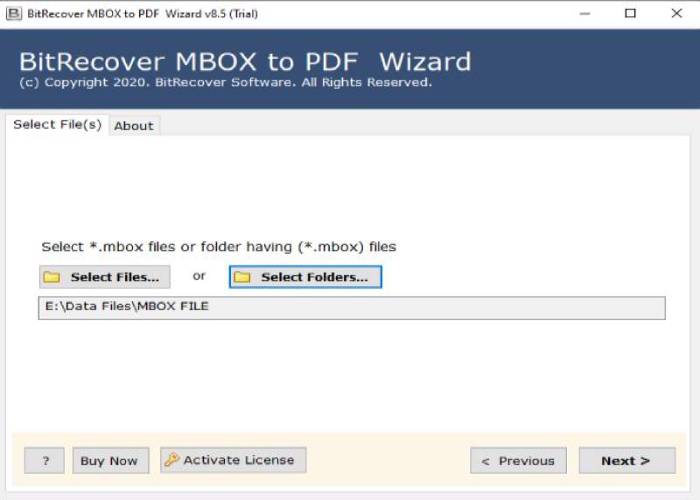 Choose Google Takeout files from software GUI and press the Next Button.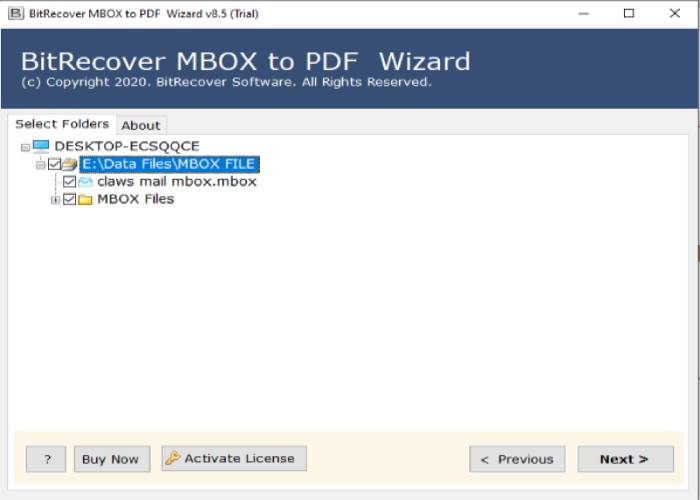 Thereafter, select PDF saving format to convert google takeout MBOX files into PDF format.
You can also convert Google Takeout attachments as PDF. It also provides Black and white mode.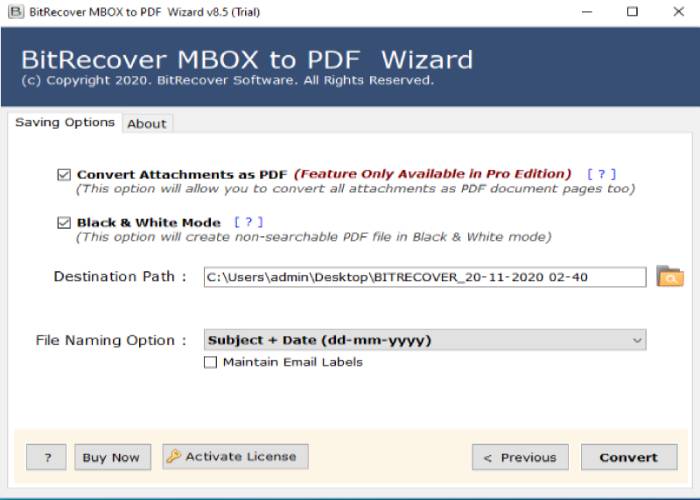 Select a folder to store output PDF files.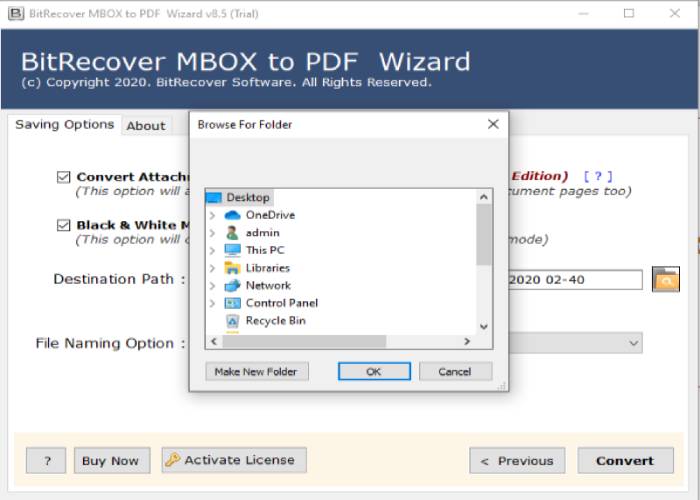 It also provides multiple file naming options.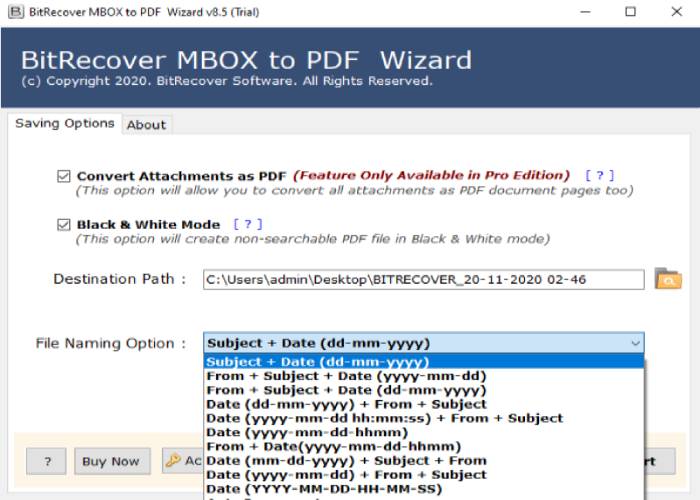 Finally, the process to export Google Takeout mails to PDF will begin.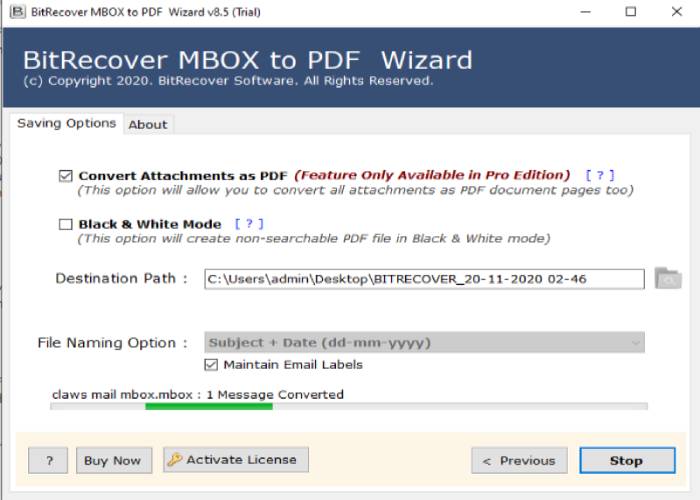 Why Trust this software ? – Benefits and Features
Let's discuss the benefits provided by the software to the users:
Maintain folder structure and attachments
The utility maintains the structure of the folder as it is maintained on disk during the entire conversion of Google Takeout files to PDF. Gmail Takeout to PDF converter application holds all email attachments during the completion of the task.
Assures 100 % data integrity to the users
This utility preserves the data integrity of the user's complete data. It maintains all the email components like sender/receiver details, subject, time, attachments, images, hyperlinks, etc.
Option to choose both Google takeout Files and Folders
No matter how many Google takeout files or folders users have. This application will do the conversion in a few seconds. It offers dual options for users to save single or multiple Google Takeout MBOX files for conversion.
Various File naming options
Google Takeout to PDF converter has the ability to change Gmail Takeout in PDF saving format. If the user chooses a single email or document format from saving options then it will provide several file naming options to manage output emails by date, time, year, subject, from, etc.
Download Free Gmail Takeout to PDF Converter
For the convenience of the user's free trial version of the application is also available. By using the demo version users can easily convert 25 emails into PDF format. Through this users will be able to know the software very well.
After satisfaction user can purchase the licensed version of the application. Here, users will get extra features that will help the user easily complete the conversion process.
Bringing them together
In this blog, we have discussed the process to export Gmail Takeout emails to PDF documents. Now, we hope that it would be clear in everyone's mind regarding the conversion process. The above suggested Google Takeout to PDF Converter is specially programmed to convert Google takeout to pdf format. So, follow the above-mentioned steps to complete the process easily without any hassle.