How to Get Email Addresses for Marketing Purposes ?
Email is a mind-boggling promoting tool with its inescapable reach and capacity to actually interface with possibilities. If you have reached this blog, then it is certain that you want to get email addresses for marketing. Luckily, there are many simple approaches to do it which you will find in this write-up.
The reasons for acquiring email addresses are crystal clear. Maybe you are changing your organization or shutting your old email accounts. So, you may lose your essential contacts.
As an obedient marketer or a professional, you should get email addresses for marketing and continue to refresh your email records consistently.
This process may sound troublesome. However, you can bulk collect email addresses for marketing effectively with fewer efforts by executing certain strategies.
Best Solution to get email addresses for email marketing for free- Try
BitRecover Email Address Extractor Software
to find email addresses for marketing purposes. The free trial version grants users to collect 25 email addresses from each folder of any webmail. Later, the extracted email address can be imported into popular email marketing solutions like
Mailchimp, SendinBlue, Drip, AWeber, GetResponse, ConvertKit
, etc.
How to Get Email Addresses for Marketing ?
Follow these steps to collect email addresses for marketing:
Download and launch software on any Windows PC.
Choose an email service and enter login credentials.
Select the required folders for acquiring email addresses.
Enable the 'Use Selective Settings for Extracting Email Addresses'.
Setup a target saving path and hit on backup to begin the process.
A Professional Way to Collect Email Addresses 
If you are also looking to reach out to a solution for getting email addresses for marketing then, your search is over! No, we are not talking about those expensive solutions available on the web.
We have come up with the most reliable and cost-effective method to get email addresses for marketing.
As we discussed above the recommended software helps users to collect bulk email addresses. With this software, you can selective email addresses from various cloud-based services in a snap. Moreover, with the tool, you can find email IDs from any label of any webmail account.
Step-by-Step Process to Get Email Addresses 
First of all, download and install the software on your Windows machine.
Now, choose any webmail service from which you wish to acquire email addresses for marketing.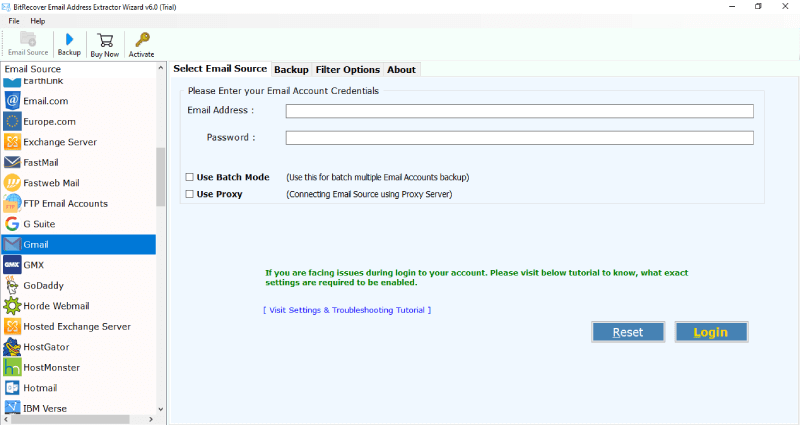 Then, enter the email address and password of the chosen email account.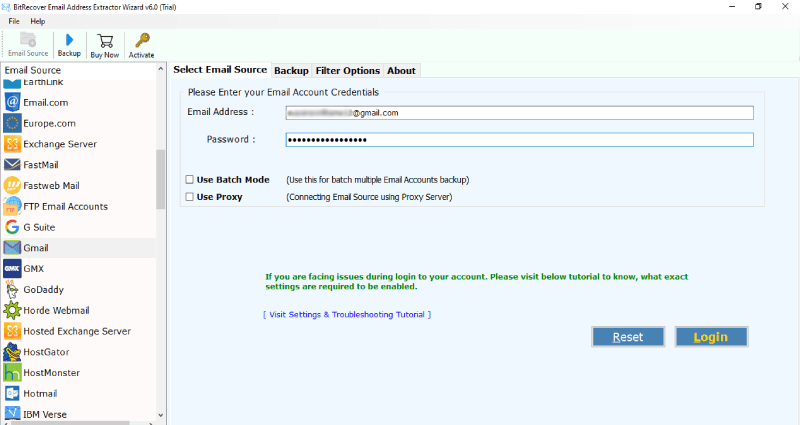 The software offers a special 'Use Batch Mode' option that enables users to collect email addresses from multiple email accounts. Enable this option if needed otherwise ignore it.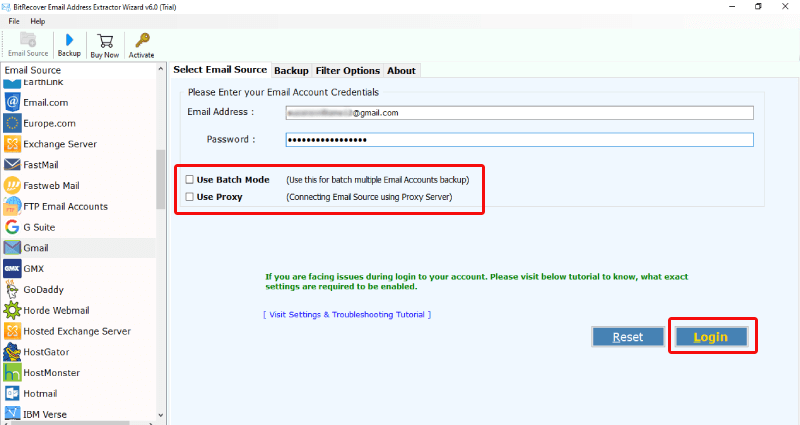 After this, snap on the login button.
The tool starts to fetch all email folders from the selected webmail. Now, check a mark on those labels on which you wish to get email addresses for marketing.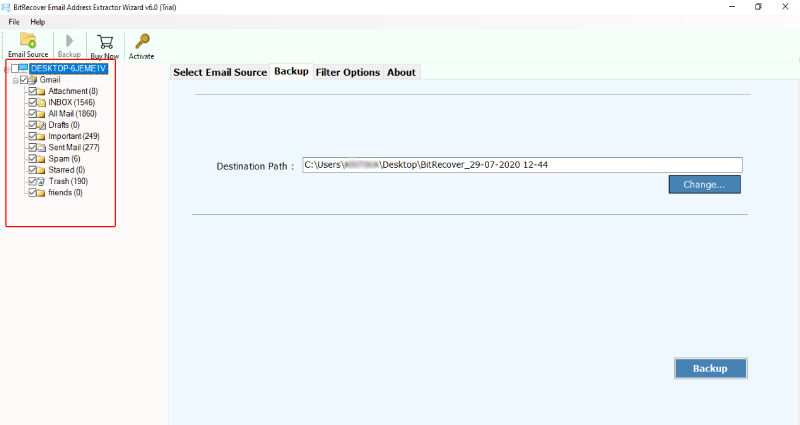 Thereafter, navigate to the filter options. Enable the 'Use Selective Export Settings for Extracting Email Addresses'.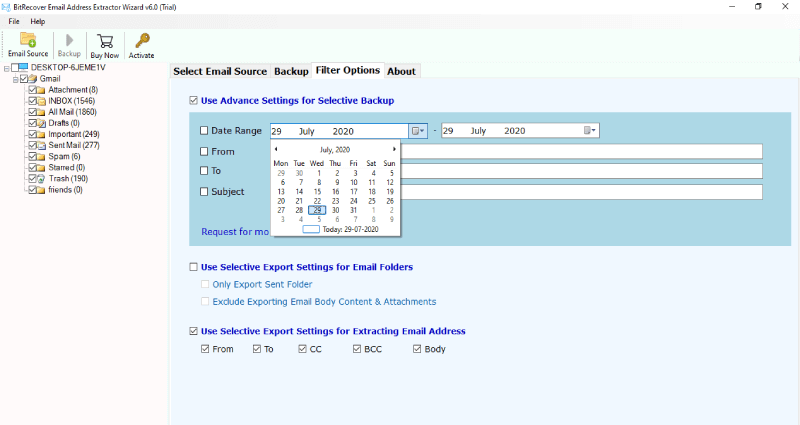 Please Note- For extracting selective email addresses please choose 'Use Advance Settings for Selective Backup'.
Now, enter a saving location where you wish to store the extracted email addresses.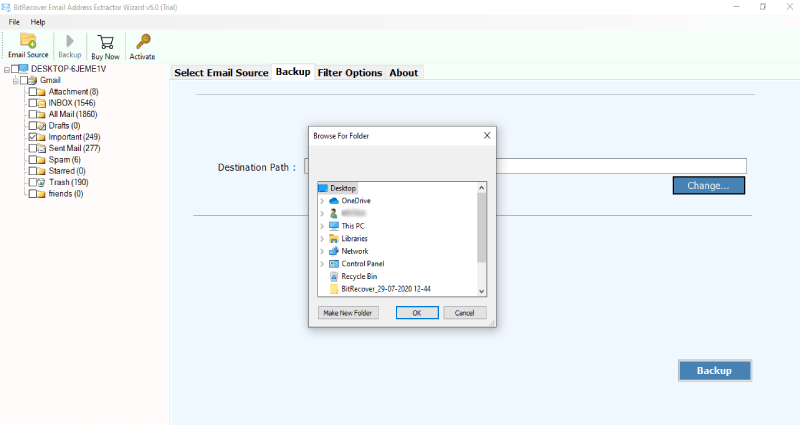 Finally, hit on the backup tab to start the task. The process is running and you can see the live processing.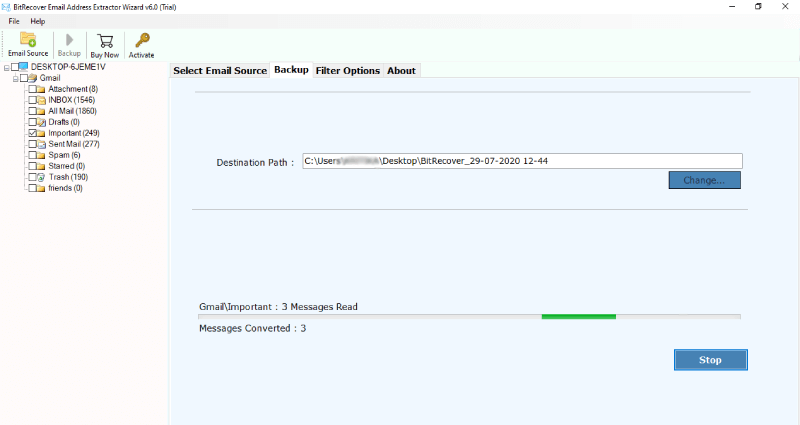 Once the process finishes, you will receive an 'extraction completed' message. Click on OK to exit from there.
Open the resultant folder comprising the collected email addresses.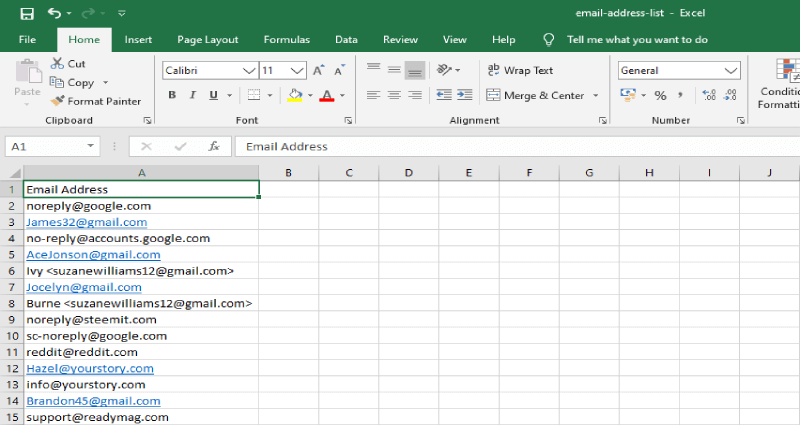 What Benefits does the Software Holds ?
Get Email Addresses from 90+ Webmail: This software offers multiple options for the users to collect email addresses for marketing. The available options include webmail like Gmail, Yahoo Mail, Outlook.com, Office 365, G Suite, Yahoo Mail, Exchange Server, MDaemon Cloud, Amazon WorkMail, Zoho Mail, Rediffmail, IBM Verse, FTP Email Accounts, GMX, GoDaddy, Horde Webmail, HostGator, HostMonster, Rackspace, Europe.com, DreamHost, IMAP, 1 & 1 Mail, Amazon WorkMail, AOL, Arcor, Aruba, BT Mail, Comcast, FastMail, etc.
Find Email Addresses from any Label: The tool has the ability to get email addresses from any label of an email account. Users can select email IDs from all folders or from folders such as inbox, outbox, starred, spam, trash, etc.
Selective Export Settings: Users can selectively find email addresses of the webmail service from "Body of Message", From (Sender address), TO (Recipient's address), CC, BCC.
Categorically Fetch Email Addresses: With the Advance Settings option users have the option to sort the email addresses as per Date Range, From, To, Subject, etc.
Batch Collect Email Addresses: Another option of 'Batch Mode' enables users to bulk collect email addresses from multiple email accounts in a single round of processing.
Proxy Server to Store Data Securely: The tool offers a 'Proxy Mode' option that helps users to easily connect the email source to get email addresses for marketing.
Save Output at Any Location: You can browse any location on your computer to save the collected email addresses. By default, the tool saves it at your desktop location.
Frequently Asked User Queries
I am currently working in an event hosting industry and maintain the communication of all clients on my Gmail account. The list is long as I have been regularly adding contacts of clients that I would like to get in touch with. Now, I need the email addresses of certain clients so that I can import them to the email marketing solutions. Is there any service or application that could do this for me? Please suggest me a solution to get email addresses for marketing in bulk.
Yes, there exists an appropriate solution for this! You can easily extract email addresses from Gmail account in bulk with the help of the above-suggested solution.
Can I get a targeted email address for marketing for free with the help of your software?
Yes, the trial version of software permits to get email addresses for marketing for free.
Does your tool help to find email addresses from 'body of message'?
Yes, it allows getting email addresses from message body too.
Conclusion
As a marketer, it's your duty to ensure that you are consistently getting all the email addresses of your clients for marketing purposes. Whether you are switching from one organization to another or abandoning the old email account for any reason. But, acquiring all email addresses is essential for engaging with your potential customers.
By reading this write-up, you must be doubt-free regarding how to get email addresses for marketing. If there is any query that is still running in your mind, feel free to contact our technical support team.