Fastmail Attachment Downloader / Extractor
Do you want to download Fastmail email attachments in bulk? Or, looking for a secure way to save Fastmail attachments on local storage? If yes, stay on this guide to learn an easy and quick way to download attachments from Fastmail without any limitations.
Many Fastmail users have mentioned the issues they face while downloading email attachments on the BitRecover support chat.
Some of the common are extracting one attachment at a time and downloading attachments like .exe, .bmp, .ftp, and more. Also, many have asked that the attachment downloaded is not showing up on the system.
From the above scenario, one thing is clear that any manual way is not good to extract Fastmail attachments. Therefore, considering reliable third-party software will be a better solution.
BitRecover launched the Email Attachment downloader software to extract email attachments from 90+ webmail clients. The user can also use it to download Fastmail email attachments with accuracy.
It has a simple working and downloads all attachments from Fastmail account in a few snaps!
Fastmail Attachment downloading process in just 5 Steps
Below are the steps to use a Fastmail attachment extractor:
Open the Fastmail attachment downloader software.
Select Fastmail from the source list and fill in the login credentials.
Now, choose the folder to extract attachments from Fastmail.
Go to the Filter option and check the export settings for extracting attachments.
Mention a location to save the resultant files and hit the Backup button.
It is much easier to download multiple attachments from a Fastmail account using professional software.
What More You Should Know about Fastmail Attachment Extractor?
It is one of the most reliable and fastest solutions to download email attachments from a Fastmail account. The software only saves mail attachments from one profile but multiple using the Batch Mode. It allows users to save the download attachments files from Fastmail to a computer folder or any other storage location.
This app is designed with a high-tech algorithm that handles processes to download Fastmail attachments easily and safely. It can let you extract attachments from various Fastmail mailboxes such as inbox, draft, sent, or any other personal folder with complete properties. Users can also try the free version of the software.
How to download Free Fastmail Attachment Extractor edition?
Users can try the unpaid version of the Fastmail attachment downloader software. It does not request payment details for extracting ten attachments from each Fastmail folder. However, the free trial version is limited and only extracts few attachments. Therefore, the user needs to download the Toolkit Pro license and download multiple attachments easily.
Screenshots Guide to save email attachments from Fastmail
First, download and launch the Fastmail Email Attachment extractor tool.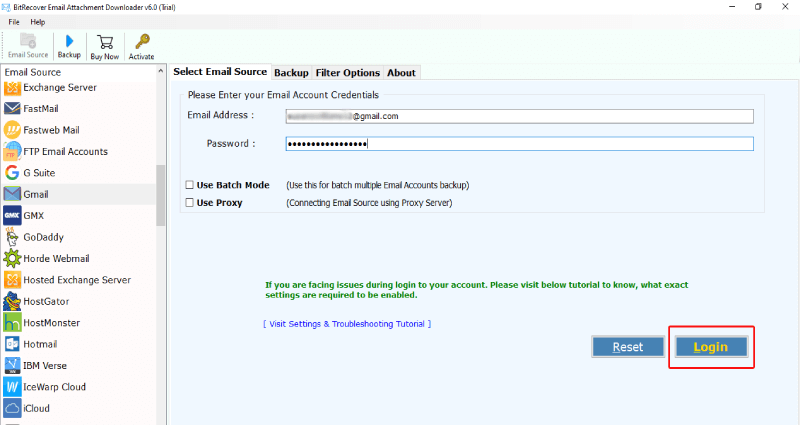 Choose Fastmail as the required email source and enter the account credential. Then tap the login button.
Now, select the mailbox to extract attachments from the Fastmail emails.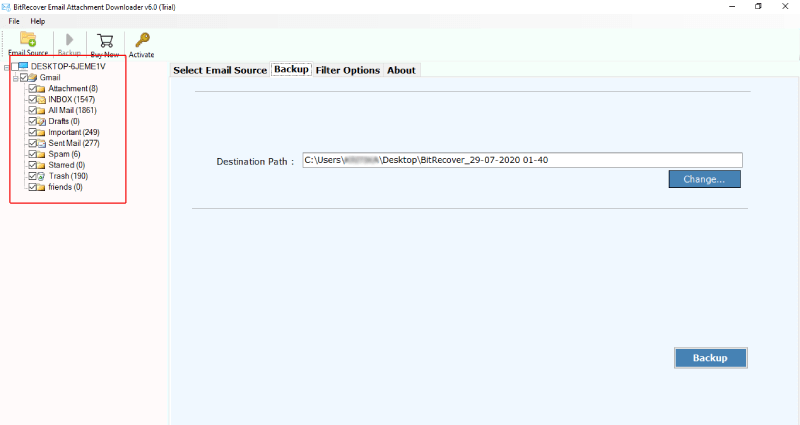 Next, navigate to the Filter Options tab and enable the Export settings to extract attachments. This allows you to fill attachment file type extension like docx, .pdf, .jpeg, .txt, .png, .zip, .mp3, .avi, .mov, etc. You can download the attachment.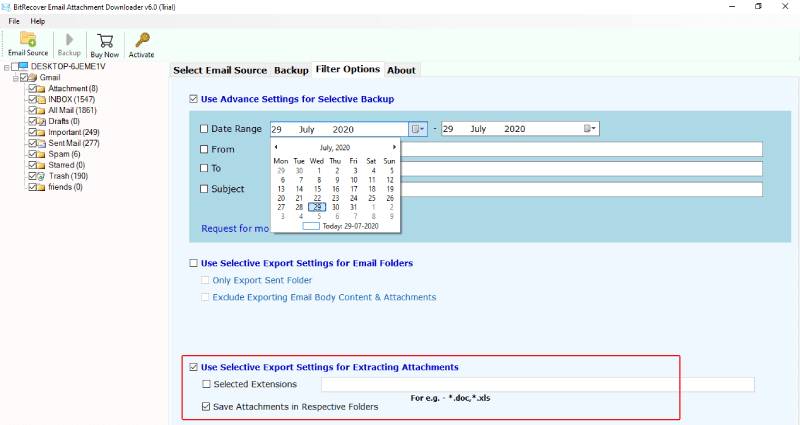 Pick a destination on your system to save downloaded Fastmail email attachments and press the backup button.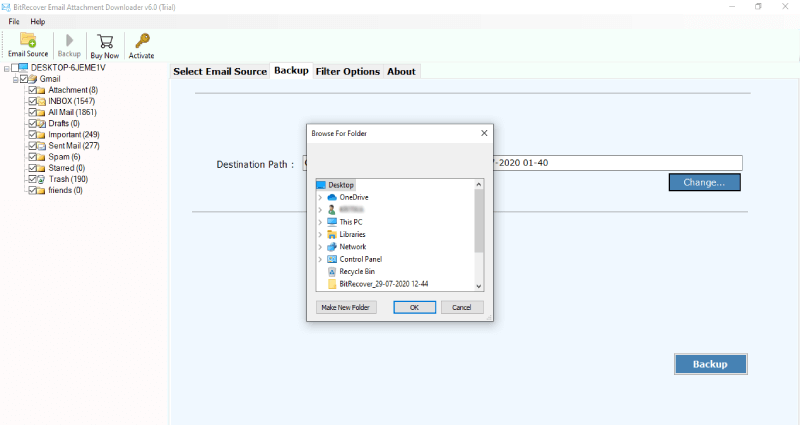 Finally, the process of extracting attachments from Fastmail account completed successfully.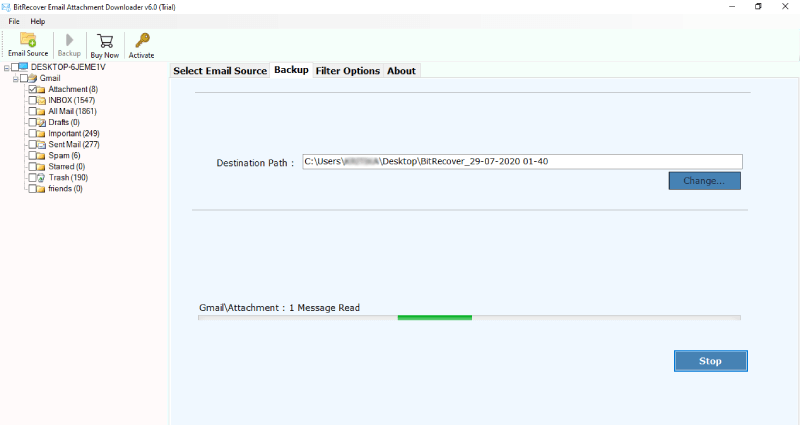 7 Best Features of the Extract Fastmail attachments toolkit
The software allows users to sort Fastmail email attachments using various filters such as date range, from, and more.
Users can access this tool to download attachments from Fastmail without file size limitations.
While downloading the Fastmail account email file attachments, users do not have to install an external app. Software is an independent solution.
This utility has a batch mode feature that allows you to download Fastmail email attachments from many accounts.
The utility gives 100% accurate results and extracts the attachment without interfering with the integrity of the data.
The app offers to download attachments from Fastmail and save them to the default folder such as inbox, send, draft, etc.
Users can install this utility on any Windows PC, such as Windows 10, 8.1, 8, 7, XP, Vista.
Conclusion
The above talks about the email attachment process for Fastmail webmail. It reveals a powerful yet reliable solution for Fastmail email extraction without any loss and lists all the steps for the method. In case of any question about the software solution, you can connect to BitRecover live chat, and our professionals will provide the best solution to your queries.