How to Import Sylpheed to Outlook 2019, 2016, 2013 ?
Web technologies still haven't made the desktop clients obsolete, so they don't seem to be going anyway. Wondering to switch from Sylpheed to Outlook PST ? It's an hour of need – for everyone, whether you are a corporate person or just for personal use. Sylpheed stores it's data in MBOX file format which is incompatible with Outlook. Hence, in order to import Sylpheed to Outlook, first you need to convert Sylpheed to PST file format.
Being part of a Microsoft Office Suite, Outlook is a personal information manager that lets you work actively with email, contacts, calendars, tasks and more – all together in one platform.
In this write-up, we will explain a quick solution about how to convert Sylpheed to PST file format. So, let's start it out!
Expert Solution – BitRecover Sylpheed Converter is one such solution that we would recommend you to import Sylpheed to Outlook. This proficient utility helps to convert Sylpheed to PST format including all attachments without any hassle. This advanced application is an integration of latest features that ensures secure conversion of Sylpheed emails in Outlook. Even, if your Sylpheed mail client crashes, this software can still export to PST by converting the configured Sylpheed mailbox data. This one-stop-solution will resolve all your worries related to Sylpheed email to PST file migration.
How to Import Sylpheed to Outlook by Converting Sylpheed to PST Format ?
Follow these steps to export Sylpheed emails to Outlook:
Download and run Sylpheed to Outlook converter.
Upload "Sylpheed" data into the software.
Enable required emails for conversion.
Select PST format and Convert Sylpheed to PST.
Open MS Outlook to import converted Sylpheed emails.
Why Switch from Sylpheed to Outlook PST ?
Sylpheed is a popular email client which runs on multiple platforms like Windows, UNIX, Mac, Linux, etc. It provides various ultimate features like spam filtering, password protection, encryption, extensibility through plugins. If we talk about its saving format, Sylpheed stores emails in MBOX format. No doubt, it is an easy to use application, but while comparing it with Outlook, it lacks infew functionalities. Some useful functions of Outlook are listed below:
Outlook – Choose the Best Mail Client for your Emails
1. Outlook reminds you to insert attachments, pictures in email messages.
2. It gives function to ignore a particular email message in email conversation.
3. Outlook's new item alerts will tell you to whenever you receive an incoming message that meets with a specific criteria.
4. If you have many threads in your inbox with dozens of email messages, you can use clean up button to delete these messages and leave only those emails which are unread.
5. Outlook has a functionality to switch to multiple Outlook Windows so that you can go back and forth between different email functions.
6. It can be used as an independent application or can work with MS Exchange Server and MS SharePoint Server for numerous users in an organization.
7. It gives an amazing chat and collaboration module for simplifying group work for organizations.
8. MS Outlook permits to move a particular email conversation directly from Outlook to a team chat so that users can better target their messages.
These features and benefits enforces users to move from Sylpheed to Outlook. Hence, you can use the above solution to convert Sylpheed emails into Outlook PST format.
Sylpheed to Outlook Converter – Convert Emails into PST Format
Due to the file format compatibility issue, there is no manual approach to convert Sylpheed to PST format. Thus, you can use this automated solution to import Sylpheed to Outlook account.
First of all, download, install and run this software. Then , you can use the dual options to choose Sylpheed emails:
Convert configured Sylpheed mailbox data : Enables to recover crashed Sylpheed emails.
Select Files or Select Folder option: With this you can convert single as well as multiple Sylpheed emails into Outlook PST format.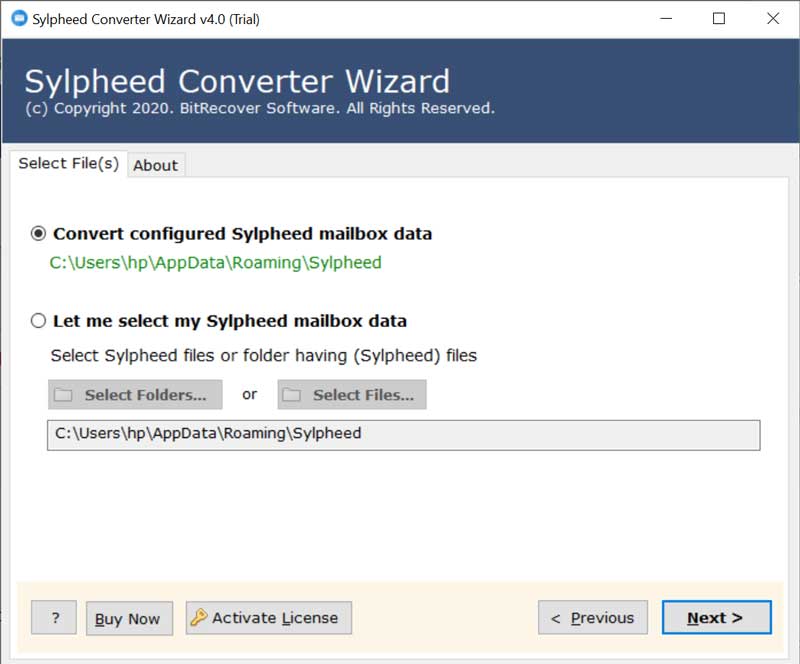 Now, enable all those Sylpheed mailboxes whose data you want ton import into Outlook.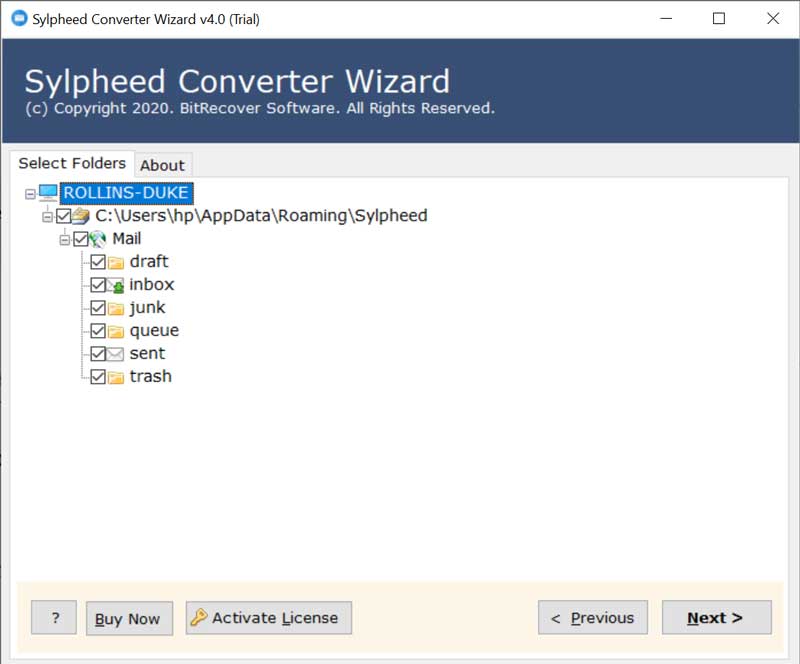 After this, navigate your mouse towards file saving options. Choose PST as saving option.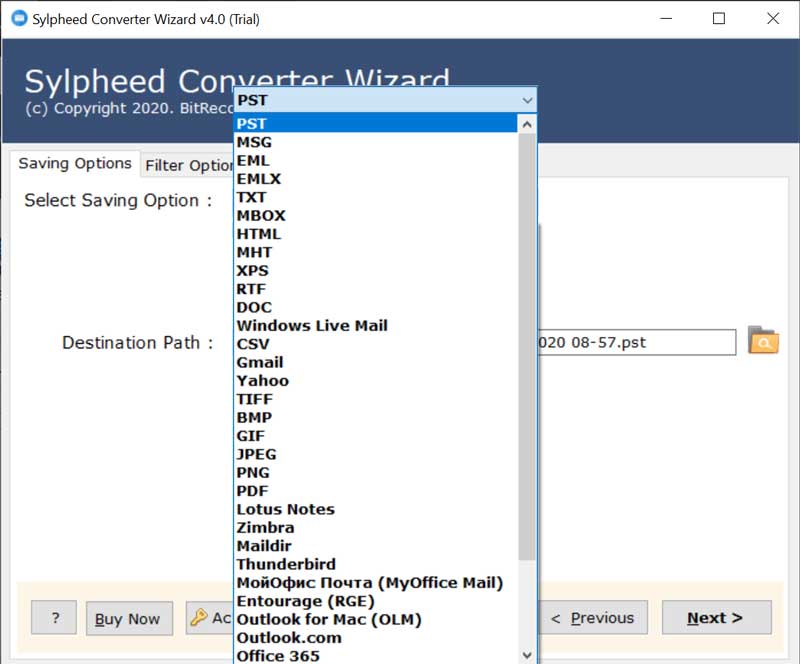 Now, select a target location for saving the Sylpheed to Outlook PST converted data.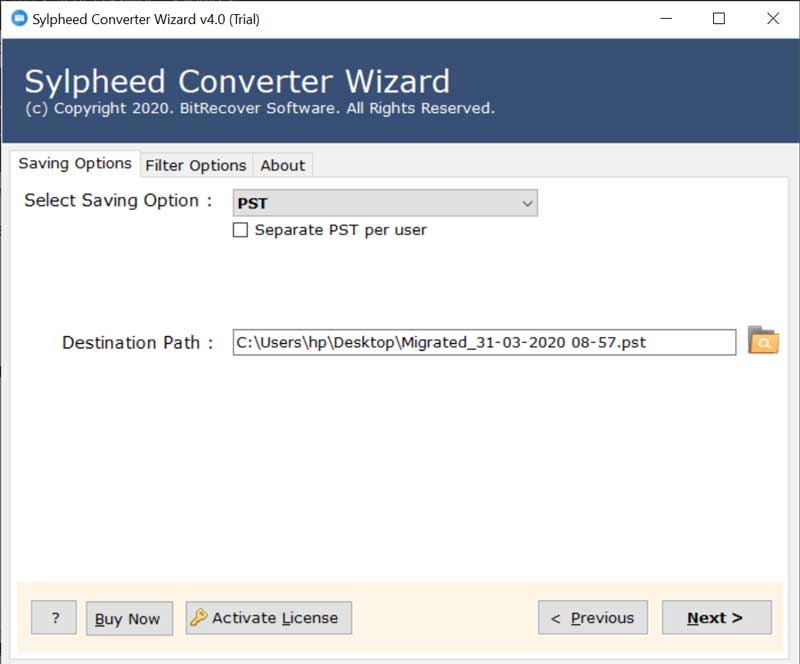 The Sylpheed to PST file migration is running successfully.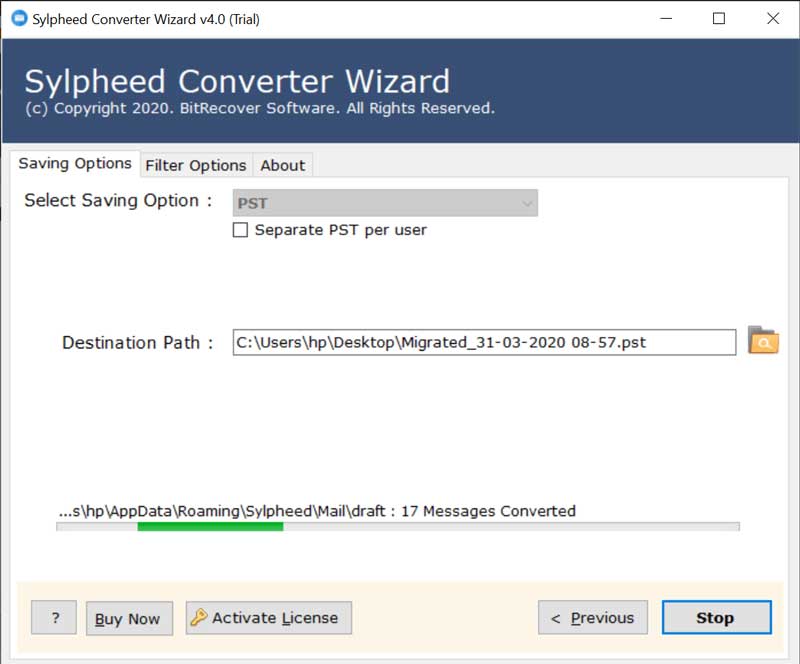 After migration of emails from Sylpheed to PST, the tool will show a completion message at the end.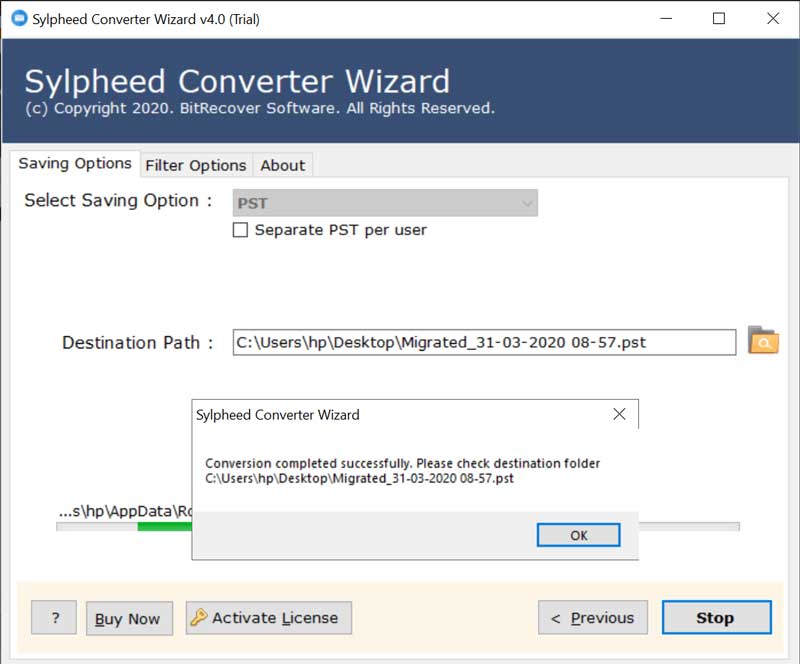 Once you have migrated Sylpheed emails to PST format, the tool will automatically open the resultant folder containing PST files.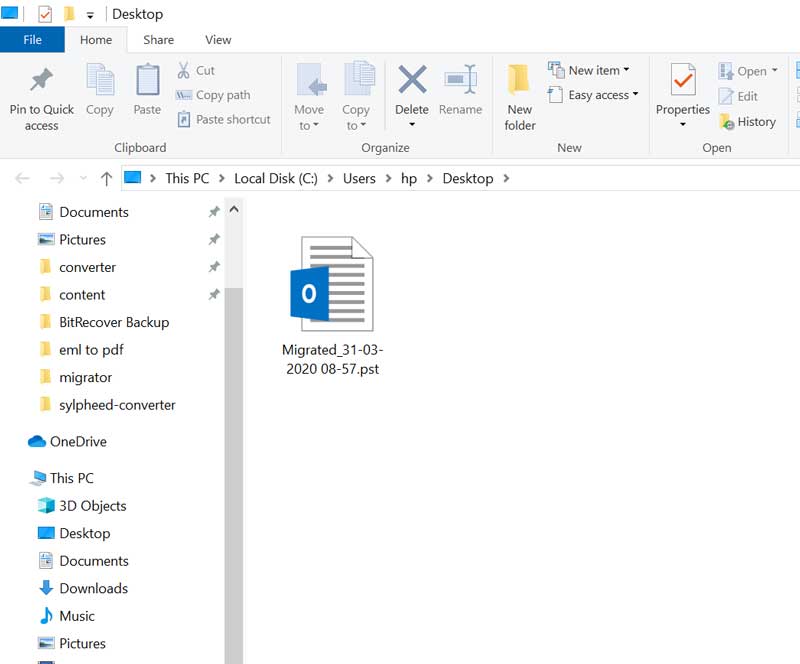 Lastly, open your Outlook account and import the Sylpheed converted PST emails into it.
Important Note: Download the free demo version of Sylpheed to PST migration tool. It permits to convert first 25 items from each Sylpheed folder to the selected file format. You can check the functions and features of the software with this demo version. Later, you can switch to its full pro version for unlimited migrations of emails from Sylpheed to Outlook.
How to Export Sylpheed Data ?
Open Sylpheed Mailing System on Windows OS.
Go to File and click on Export Mail data.
Keep the file format as UNIX MBOX only.
Select the desired folder you want to export.
Select the destination where you want to save the export folder.
Go to file saved location and rename it as filename MBOX.
Best Features of Software
Sylpheed Email Converter in order to convert Sylpheed MBOX files to Outlook PST as well as also in other multiple file formats. User can easily convert Sylpheed files along with attachments, metadata, attributes and etc. It is is appropriate and excellent tool for professionals as well as non-professionals.
User friendly interface: Whether you are technical or non-technical user, you can easily perform conversion process with this tool.
Quick Sylpheed to PST conversion: Users can get results in seconds as it convert Sylpheed to Outlook in a swift manner.
User-friendly saving location: With this tool, you can save the resultant files at the desired location
Dual file selection option: It supports both Single Conversion Mode option as well as Batch Conversion Mode option. Users can choose these modes as per their need in order to convert Sylpheed emails to Outlook PST.
Supports all Windows OS: It is compatible with all version of Windows Operating System such as Windows 10, Windows 8.1, Windows 8, Windows 7, Windows XP, Windows Vista, Windows Server 2019, Windows Server 2016, Windows Server 2012, Windows Server 2008 and prior versions.
Important Note: One can export Sylpheed mails if they are aware of the storage path of sylplheed mails. The default storage location where you can locate Sylpheed emails are: 'C:\Users\admin\AppData\Roaming\Sylpheed\Mailboxes\Mail'
Client Testimonials
My friend suggested me this tool as I was looking for some solution which can convert Sylpheed to Outlook. I immediately downloaded it and now I am satisfied. I am very much happy after the usage of this softwarel.

– Lily Smith, UK

What an unbelievable tool! Immediately converted all my Sylpheed files to PST format in a minute. Moreover, it offers so many features. This software enabled me to import Sylpheed to PST without installing Sylpheed application.

-Tom Johnson, USA

This is all in one tool which contains everything that one user wants in a particular software. It is a perfect and very effective tool to migrate Sylpheed to PST file with atatchments.

-David Brenner, Australia
Summing up
Transferring Sylpheed emails to Outlook PST seems tough as Sylpheed gives only MBOX as an export feature. And if Outlook does not supports MBOX files. So, it is highly recommended to trust on a reliable utility such as the Sylpheed to Outlook conversion tool. Hopefylly, this blog must have cleared all your any confusion in mind, doubts about this Sylpheed to PST migration. If you are still have confusion in mind, please contact to our technical support team which is available for you 24*7.