How to Convert SeaMonkey to PDF Documents and Batch Print Emails?
Many SeaMonkey email client users want to export SeaMonkey mail to PDF documents. Because Adobe PDF files can be easily printed and it is very easy to manage. Recently some digital users contacted the support team for solving different types of problems. Actually, users want to extract SeaMonkey emails to Adobe PDF documents because of several personal and business-related reasons. Here I am mentioning some possible reasons behind the conversion process.
Why do users extract SeaMonkey emails to PDF documents?

Several computer users want to print SeaMonkey emails but manually it is a time consuming and complicated task. But after print SeaMonkey mail to PDF documents. Users can easily print the resultant documents in bath mode. Therefore users want to extract SeaMonkey emails to Adobe PDF.

PDF is a multifunctional commonly used file extension that can be easily handled by both professional and home users. Users prefer to store emails in Adobe PDF (Portable Document Format) to open emails on mobile phones, tablets, computers, laptops, etc.

A lot of users want to archive SeaMonkey emails into Adobe PDF because they can securely save them into the hard drive. Users can easily apply user-level and owner level passwords on resultant .pdf documents for security reasons.
Verified method to export SeaMonkey mail to PDF files
SeaMonkey Converter Wizard is a well-suitable program that has an isolated option to print SeaMonkey mail to PDF in bulk. Therefore, our respective clients can save their valuable time and effort. The tool is compatible with all SeaMonkey editions. You can follow the given instructions to convert SeaMonkey to PDF files.
Launch SeaMonkey to PDF Converter and it will automatically upload profile data.
Thereafter, users can select all or specific SeaMonkey folders and press Next.
Select PDF from available saving options and browse a destination path.
Now click on the Next button to extract SeaMonkey emails to Adobe PDF files.
Lastly, it will open the destination folder so that you can get resultant .pdf files.
Print SeaMonkey mail to PDF documents – step-by-step
Now watch the live video tutorial and also see the steps to export SeaMonkey emails to PDF with real-time screenshots.
1 – Firstly, download SeaMonkey to PDF export tool and install the setup on your Windows computer.
2 – Start the tool and select SeaMonkey profile data in the software interface from default storage location automatically.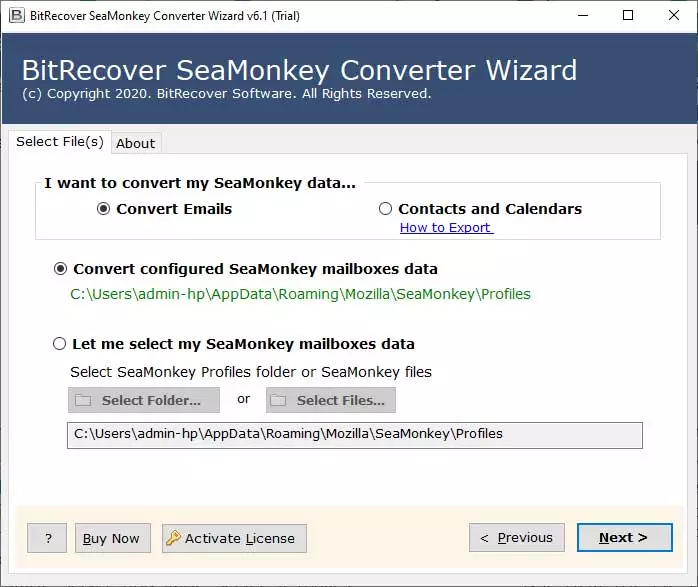 3 – After that, select SeaMonkey folders from software window and press the Next button.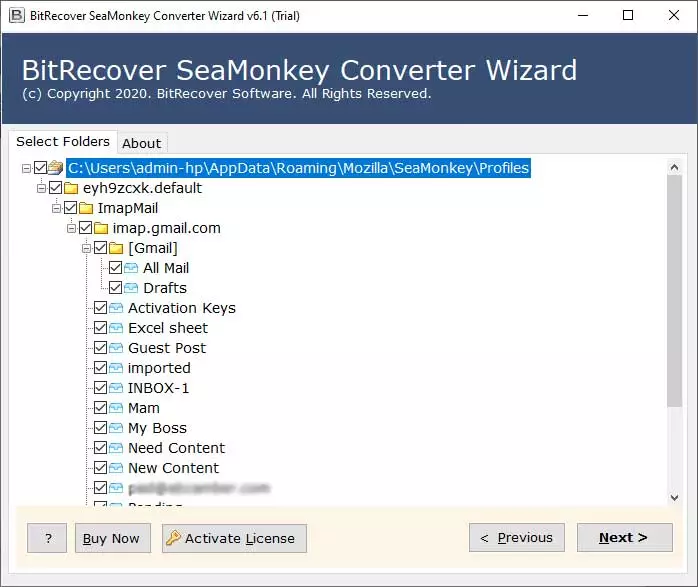 4 – Now select PDF as saving format.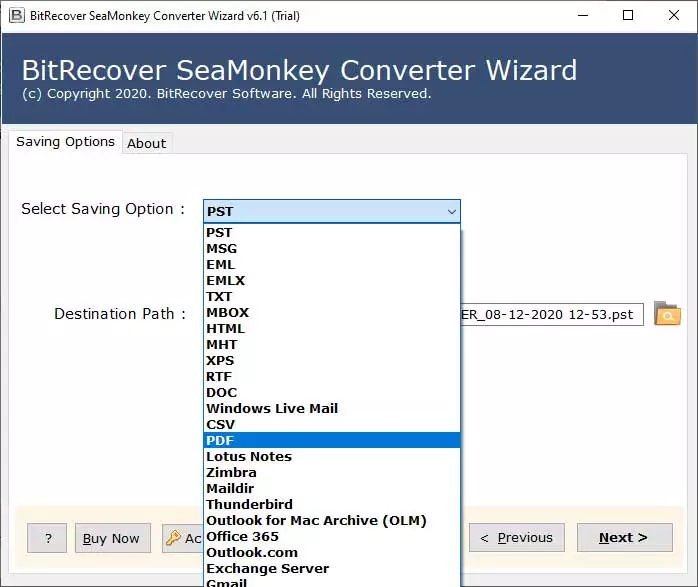 5 – Select file naming option to manage exported .pdf files, if required.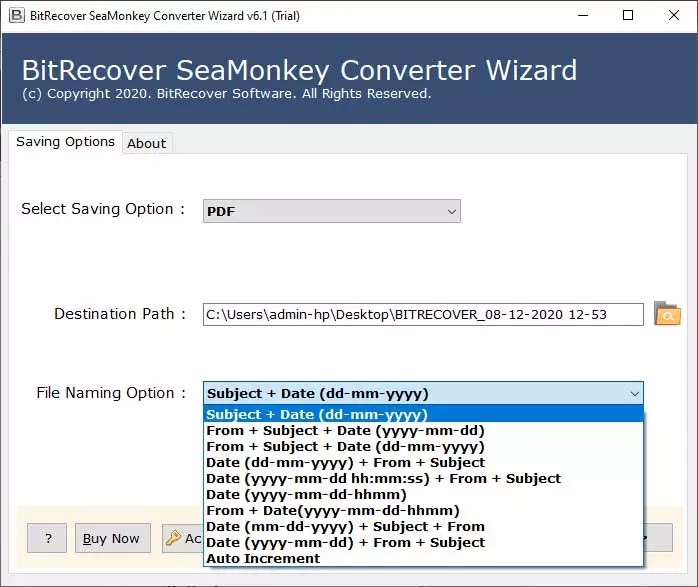 6 – Thereafter, browse a destination folder to store output data according to your choice.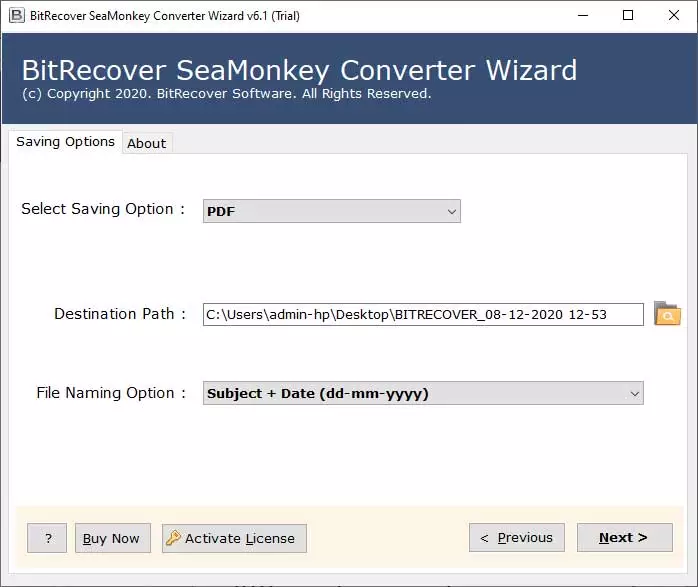 7 – Click on the Next button to start SeaMonkey to PDF migration process.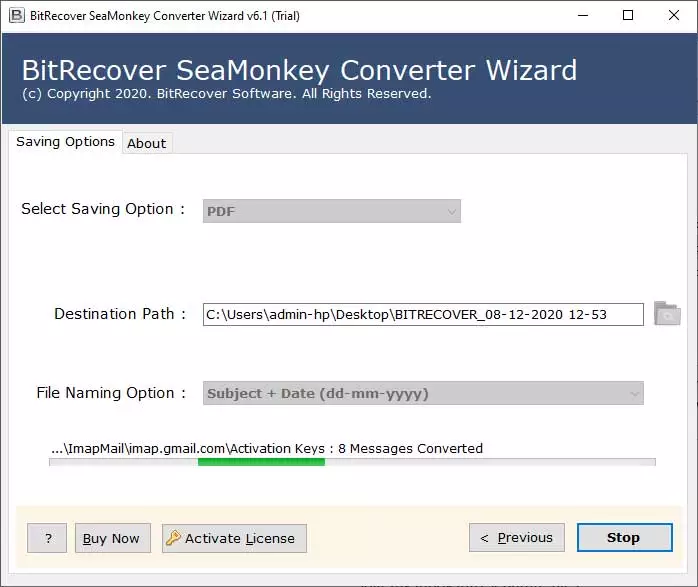 8 – Lastly, it will automatically open the destination folder and get resultant documents. Now you can print resultant PDF documents without any trouble.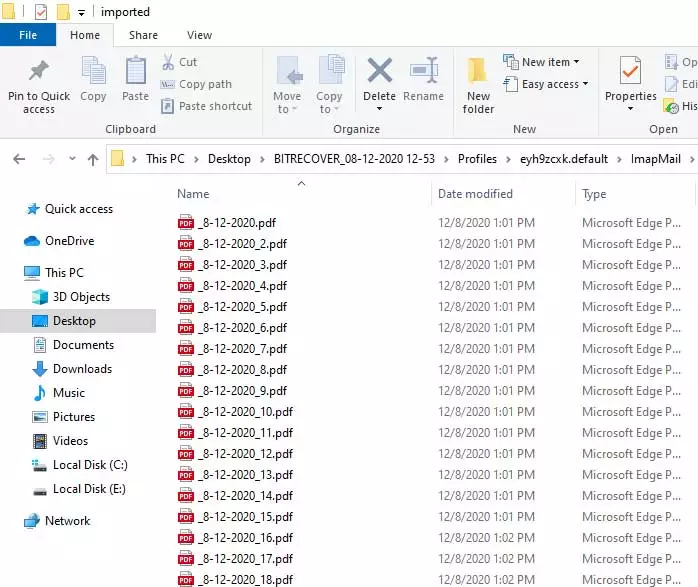 By following the above-mentioned steps, anyone can easily export SeaMonkey mail to PDF files. This SeaMonkey to PDF Export Tool maintains all important information during the completion of the task. Even it also preserves attachments and embedded attachments.
SeaMonkey to PDF Converter Benefits & Features
The tool is designed in such a way that it can be easily operable by both technical and non-technical users. It is capable to upload SeaMonkey profile data in the software GUI automatically from a default storage location. Even, the tool provides manual options for uploading profile data i.e. Select Folder or Select Files.
SeaMonkey to PDF export tool previews all email folders in the software window. From here, users can check or uncheck only required folders and export SeaMonkey emails into PDF. It is a common but most important feature because users can avoid the conversion of unnecessary folders.
This application creates a separate .pdf file for each email message. Therefore, users can easily understand the output data. For example, if your SeaMonkey INBOX folder has 1000 emails then it will automatically create 1000 PDF documents under the INBOX folder.
SeaMonkey to PDF Converter offers various file naming conversion options. So that users can manage the resultant Adobe documents in different styles i.e. Subject + Date (dd-mm-yyyy), From + Subject + Date (yyyy-mm-dd),  From + Subject + Date (dd-mm-yyyy), Date (dd-mm-yyyy) + From + Subject, Auto Increment, etc.
This utility automatically chooses the desktop as a destination path. But if someone does not want to store output data on the desktop then he can browse a different location accordingly. Even users can connect external storage devices (Pen Drive or Hard Drive) to store PDF files.
Frequently asked questions

Que 1 – What are the benefits of PDF documents?

Ans – Here read some PDF file benefits.

Users can easily secure PDF documents with owner level and user-level passwords.
You can restrict PDF files from editing, printing, and copying data accordingly.
PDF files can be easily open by double-clicking.
Users can access PDF documents using multiple devices i.e. Mobile Phones, Computers, Tablets, etc.

Que 2 – How can I print SeaMonkey mail to PDF manually and what is the limitation of the manual method?

Ans – First of all, run SeaMonkey email client and open an email that you want to print. After that press "Ctrl + P", now choose a folder and after that your email will be saved in Adobe PDF file.

Limitation – It is a time-consuming method that takes much time. While most of the users always want to export SeaMonkey mail to PDF in bulk. However, home-based users can use the manual method if they want to save some money.

Que 3 – After extracting SeaMonkey mail to PDF files, can I open them using Adobe Reader or Acrobat programs?

And – Yes, the tool creates generic PDF documents that seem fully compatible with Adobe programs.
About free trial edition
Free BitRecover SeaMonkey to PDF Export Software permits to convert maximum 25 emails SeaMonkey to Adobe PDF with company watermark. It works same as professional version so that users can understand its working process and its features. After getting complete satisfaction, choose a license according to your need and avoid the limitations.
Read Also