How to Download All Attachments from Gmail Account at Once to Computer ?
Do you have chunks of emails in Gmail account that contains multiple attachments of different types and now you intend to download all attachments from Gmail account at once to desktop? How do you do this? Well, here is an easy workaround for you. Introducing the Gmail email attachments extractor which is specifically designed to bulk save Gmail attachments to hard drive.
Dear, BitRecover team,
Over the years, I have accumulated huge amount of files and images in attachments throughout my Gmail emails. What I am looking for now is an all-in-one product that can download all attachments from Gmail account to desktop in one fell swoop. Thanks in advance!
There may be some manual ways to do it, but here we are going to describe an easy and fast solution to download attachments from multiple Gmail emails to a local folder using all-in-one solution: Email Attachment Downloader.
How to Download All Attachments from Gmail Account at Once ?
Read me first- Firstly take a free trial of Gmail email attachment downloading tool. It will give you a clear picture how the software works and allows to extract first 20 attachments. Once you are completely satisfied with the application, buy the license keys for downloading unlimited email attachments from Gmail account at once.

Now, after downloading the software, start it on any Windows machine. Thereafter, go to the email source list and choose Gmail from it.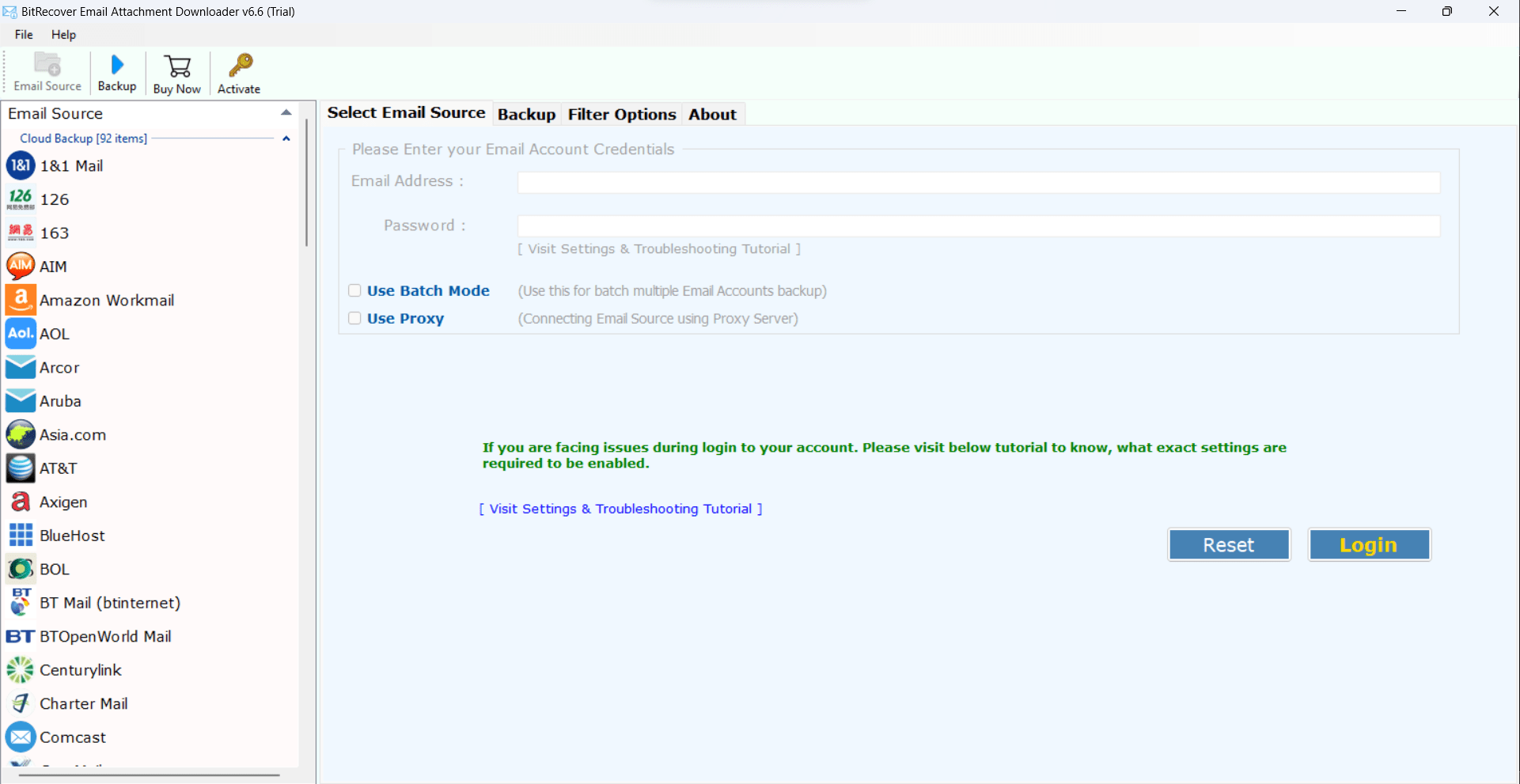 Then, specify the login details of your Gmail account such as email ID and password. Click on the login button to move to the next step.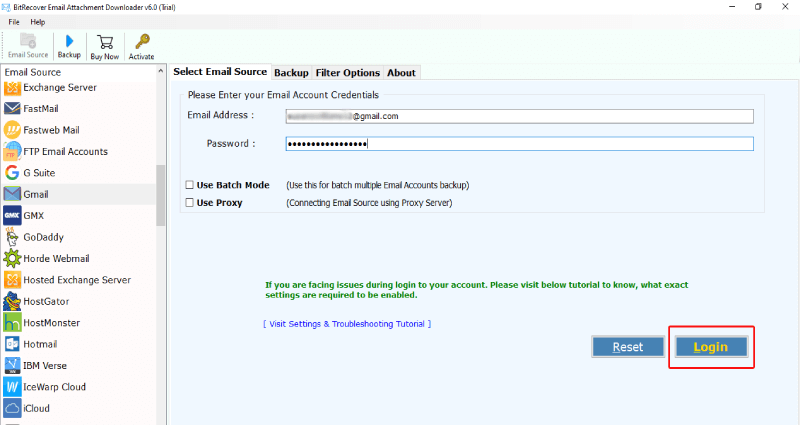 Now, in this step, the tool will fetch all the emails from your Gmail account into the GUI. In the saving options list, scroll down the "Extract Email Attachments".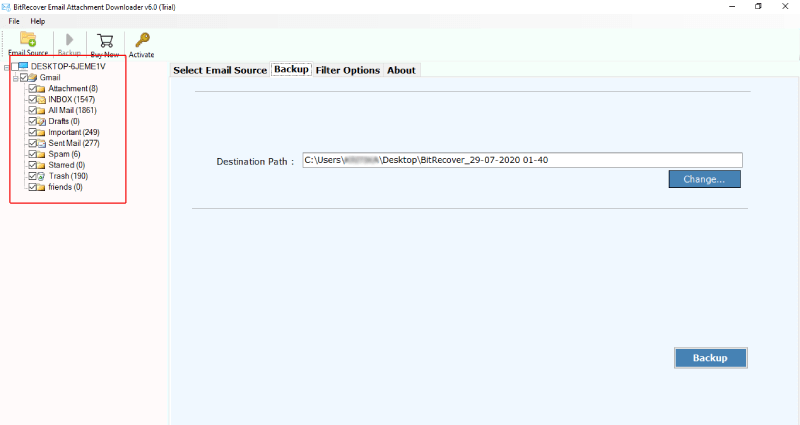 Thereafter, navigate to the Filter options list and choose "Use Selective Export Settings for Extracting Attachments". Enable the "Selected Extensions" and also the "Save Attachments in Respective Folders" option.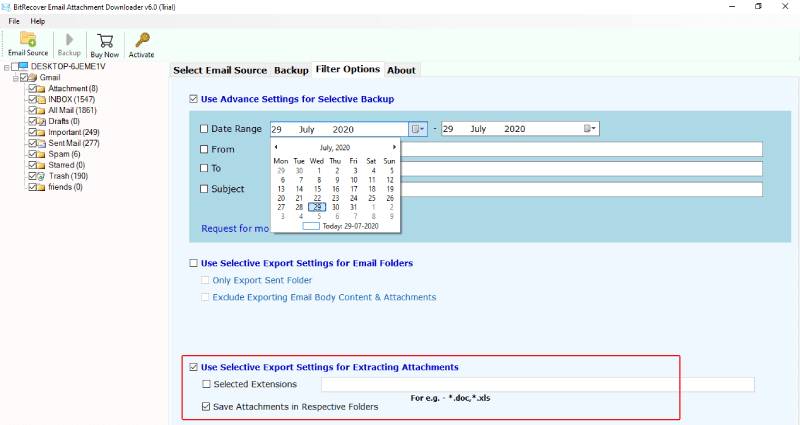 Go to the Backup option and enter a destination path to save the email attachments of Gmail at the desired location on your computer. Tap on the Backup button to start the processing.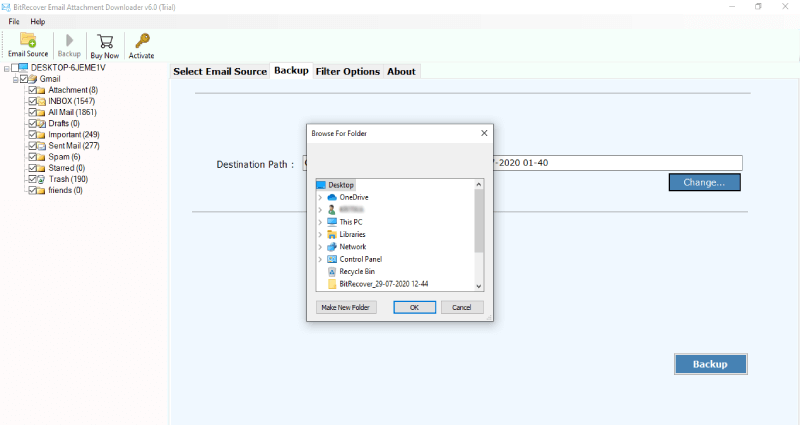 Now, the process to download all Gmail email attachments starts. It will take some and will end in a few moments. The software will give a completion message at the end of backup.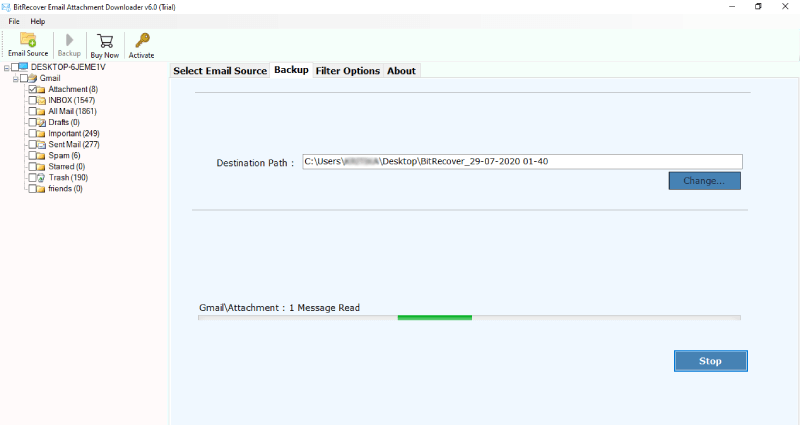 Lastly, open the resultant folder containing the downloaded Gmail attachments.
Save Gmail Attachments to Desktop – Benefits & Features
Bulk download Gmail attachments – The software of Gmail email attachments saving tool gives you facility to batch download Gmail attachments to desktop in a single processing. This helps to save user's time and efforts as the tool enables to save multiple email attachments of Gmail account.
Separate filter options to save Gmail attachments – You can bulk download all Gmail email attachments such as *.doc, *.xls, etc with the help of Gmail email attachments extractor.
Bulk Save Multiple Gmail account attachments – If you are having more than one Gmail account and you are thinking to extract all Gmail accounts attachments at once to PC then take the help of a special feature of our software. The 'Use Batch mode' option enables to save attachments from multiple Gmail email accounts to desktop.
Download all Gmail attachments from selected emails – The users can also specify some selective email folders whose attachments they want to save into the computer. For this enable the 'Use advance mode for selective backup' option which facilitates to bulk save selective Gmail attachments of a particular date range, subject, from, to, etc.
Robust and Rich featured application – It is a completely safe application for downloading bulk of Gmail email attachments to desktop. The software never saves the credentials of email accounts or upload it anywhere.
Gmail Email Won't Download! – Common FAQs

Ques1- How do I download all my email attachments from my "entire" Gmail inbox all at once?

Reply- Use the Gmail email attachment extractor to download all attachments from Gmail account at once.

Ques2- How do I mass-download attachments sent from a particular person on Gmail?

Reply- Launch the Gmail email attachment saving tool on any Windows machine. And, use the "Use advance mode for selective backup" option from the filter options list. Also enable the "Selective Export settings for extracting attachments" for doing the process.

Ques3- Can I download all attachments from Gmail account to my Samsung phone?

Reply- Yes, quickly save multiple Gmail email attachments from Gmail account to computer's hard drive using Gmail attachment saving utility. Thereafter, with the help of a pen drive, save it to your phone.

Ques 4- I need to save attachments from around 200 selective Gmail emails. Is it possible to do Gmail email extraction of selective data with this software?

Reply- Yes, the tool has a strong functioning for selective downloading of Gmail email attachments.
Over to You
In this blog, we have explained how to download all attachments from Gmail account to desktop at once. The tool easily can bulk save Gmail attachments without any data loss issues. Also, it supports to extract multiple attachment types from Gmail. The users can setup the software on any Windows machine such as Windows 10, 8.1, 8, 7, XP, Vista, Windows Server, etc.