How to Migrate Emails from Domino Server to Office 365 Account ?
This guide explains a simple and effective solution for implementing Domino Server to Office 365 migration.
Email communication systems have become mainstream nowadays whether the user is a professional one, a technician, or a beginner. If you have reached this page then probably you are an HCL Domino user which was formerly known as IBM Domino client and Lotus Domino Server. A few years back when there was no rivalry among the collaborative client-server software platforms then IBM used to rule the market with its prominent email system called Lotus Notes.
This single email application has dozens of features that its rivals could not reach up to. But, with the passage of time, technology evolved and now Domino Server has been left behind by cloud-based productivity suites such as Microsoft Office 365.
Thus, this article is dedicated to those whose users wish to complete a secure and fast Domino Server to Office 365 migration.
Benefits of HCL Domino to Office 365 Migration
If you guarantee that you are happy with Domino Server and request a justification behind us proposing you migrate domino to Office 365, we can provide you various reasons. There are many motivations behind why you may need to transfer lotus Domino emails to Office 365:-
Office 365 is less expensive, much easy to use, and more adaptable than Domino Server.
HCL Domino Server is not is as simple to understand and process as Microsoft Office 365.
Migrating from Domino Server to Microsoft 365 additionally helps you cost-wise also, it is much cheaper than Domino Server.
How to Approach Domino Server to Office 365 Migration Process ?
Disclaimer- While there is a manual method using which one can migrate emails from Domino Server to Microsoft 365 however, we don't recommend that. To apply the manual method, you need to take backup of lotus notes NSF files and then create new user mailboxes in Microsoft 365. Later, configure IMAP TCP/ IP ports for users and then sync your messages to Office 365. Why we don't suggest this method is because if you are uninformed about the technicalities of the method then this can get messy and can ultimately push you into problems like data loss issues. Also, if the person doing the Domino Server to Office 365 migration is inexperienced then the chances of mishap are highest.
Thus, you can avoid this complex technique and can still migrate all Domino Server mailboxes to Office 365 accounts. The BitRecover Lotus Notes Converter is the professional solution that paves the way to execute Domino Server to Office 365 migration in a sophisticated way.
With this software, you can easily bulk Domino Server emails to Office 365 along with attachments.
Let see in the next section how to apply this solution to transfer Domino Server to Office 365.
How to Migrate Emails from HCL Domino Server to Microsoft Office 365 ?
Go through these steps to implement the Domino Server to Office 365 migration:
Primarily, download and install the toolkit on your Windows PC.
Now, select the Domino Server files with the help of the 'Add files' and 'Add folder' options.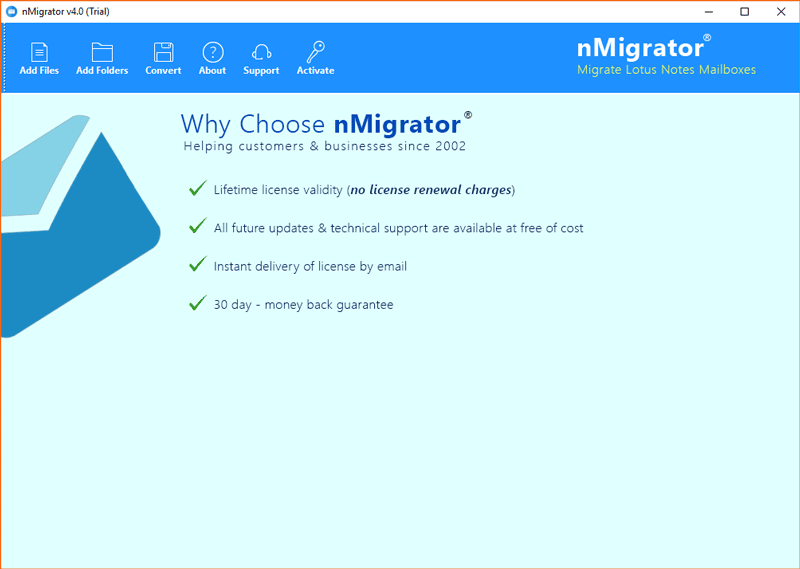 Then, choose a folder that contains the source emails for the migration process.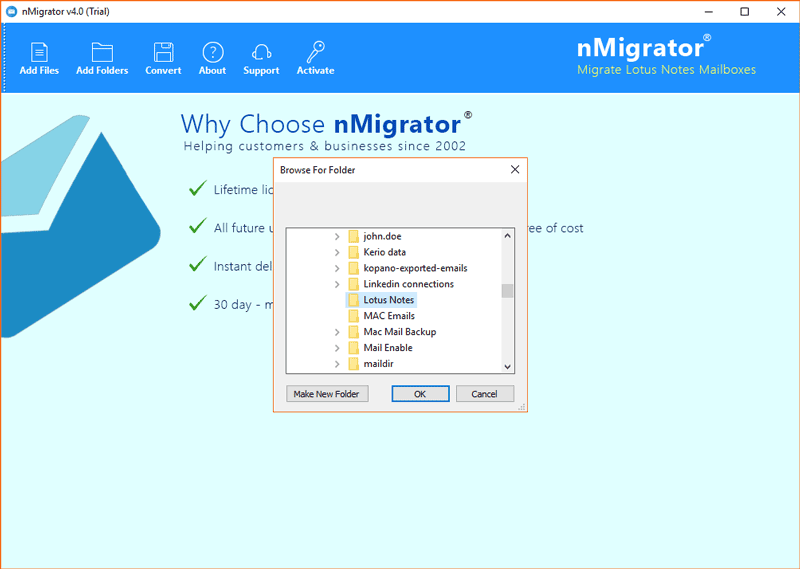 After this, enable the required data and take a preview of all email messages with attachments in the interface.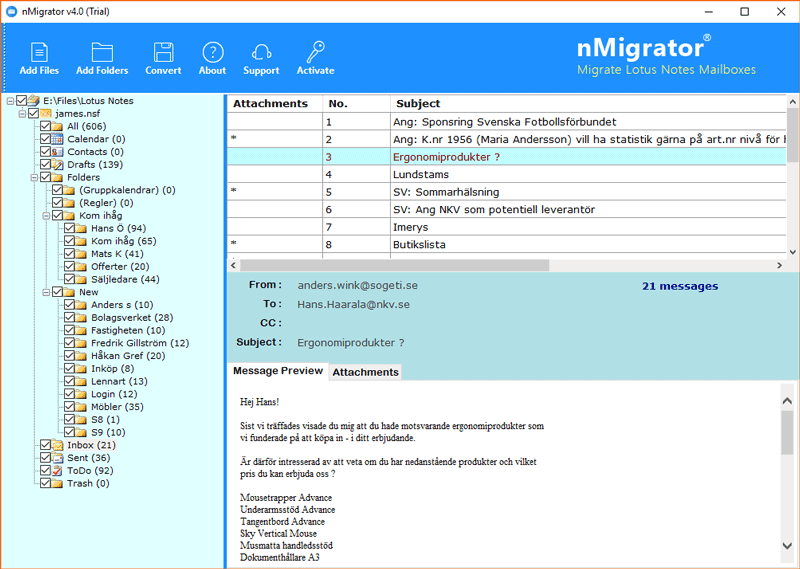 Next, click on the Convert button and choose Office 365 as the storage option.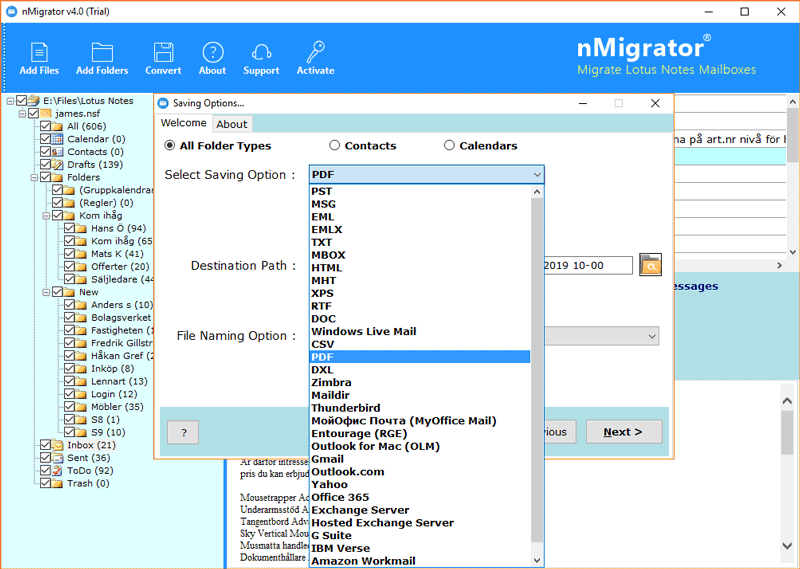 Now, specify the login credentials of your Office 365 account in the respective fields.
Tap on the Next button to begin to migrate Domino Server mailboxes to Microsoft 365.
Top Benefits of Software
No downtimes during the processing
Your emails won't be at risk when the Domino Server to Office 365 migration is in process. Whatsoever, there will be no downtimes during the entire task.
Safety and Trustworthiness
Our software comes with power-packed secured features and we assure you a 100% error-free migration of data from domino to Office 365.
Thousands of Successful Conversions at Once
One can easily execute the Lotus Domino to Office 365 migration without experiencing any file limitation issues. Whether you are just one mailbox of hundreds/ thousands of mailbox domino user, you get the entire conversion of emails from Domino Server to Office 365 with precision.
Free Preview before Migration
Previewing option is a plus-point for the individuals who are initiating the task to transfer Domino Server emails to Office 365. They can instantly see all details like From, To, CC, Subject, Attachments, Email Count, etc.
Preserves Data Integrity
During the process of Domino Server to Office 365 migration, you will feel hassle-free because the tool has the potential to secure the integrity of data. It maintains the internal folder hierarchy as well as the metadata structure, text formatting, images, embedded links, etc.
Windows OS Supported
No matter which version of the Operating System you are currently having on your PC, it will be easy for your to work with this application. The reason is it is compatible with all latest and old editions of Microsoft Windows OS such as Win 11, 10, 8.1, 8, 7, XP, etc.
Over to you
In the above article, we have explained the in-depth solution of Domino Server to Office 365 migration process. This solution will help a user to migrate emails from bulk domino to Microsoft 365. Moreover, we offer free technical assistance if you are facing any queries.