What is the Best Solution for – Can't Print Email from Windows 10 Mail ?
Introduction:  If you can't find any solution to print emails from Windows 10 Mail, read this guide from BitRecover. It explains the easiest method to fix the "Can't print email from Windows 10 Mail" matter.
Windows 10 Mail is an email client like any other desktop-based. It provides the service to manage emails, contacts, calendars and other important information. When the Windows 10 operating system was released in 2015, thousands of users switched from their current operating system to Windows 10. It has many advanced features along with an email client called the Mail App. It works in a simplified way and provides all the basic functions of an email client.
Please Note:- As you may know, Windows 10 Mail allows you to print your emails in PDF format. But what users are facing is the limitation of bulk email printing. Due to this, the whole process of printing emails in Windows 10 Mail becomes tiring. It is one of the main reasons why users look for queries like "Can't print email from Windows 10 Mail.
Introducing the Right Solution for "Can't Print Email from Windows 10 Mail" Query
In the note, we mentioned the limitation of Windows 10 Mail to print emails. Now, let's talk about an expert recommended solution. Use Windows 10 Mail App Backup Tool. It supports bulk email printing from Windows 10 Mail. The program is 100% secure and comes with many useful features. Users can print Windows 10 Mail email files without any configuration on the machine. It has a great conversion speed and works correctly.
You Can Get the Printed Windows 10 Mail Emails with:-
1 – Body Content
2 – Images embedded to email text
3 – Hyperlinks
4 – Mail headers (From, To, Subject, To, Cc, Bcc, Sender)
5 – Signature
How Can You Print Bulk Emails From Windows 10 In A Few Minutes? Step-wise Guide
In the following step-by-step instructions, we will tell you the complete process to resolve can't print from Windows 10 Mail with any loss. So, here we go:-
First of all, download and start the mentioned application on your Windows system.
Then, read some of the important guidelines of the software.
Now, you have two modes to upload Windows 10 Mail emails to the software panel. If you have Windows 10 Mail open in the machine, enable the configure Windows 10 Mail mailbox option. You will automatically see the folders in the software window.
Choose Select Files and Select Folder option if you don't have Windows 10 Mail email client but want to print its emails. Then, click on the Next button.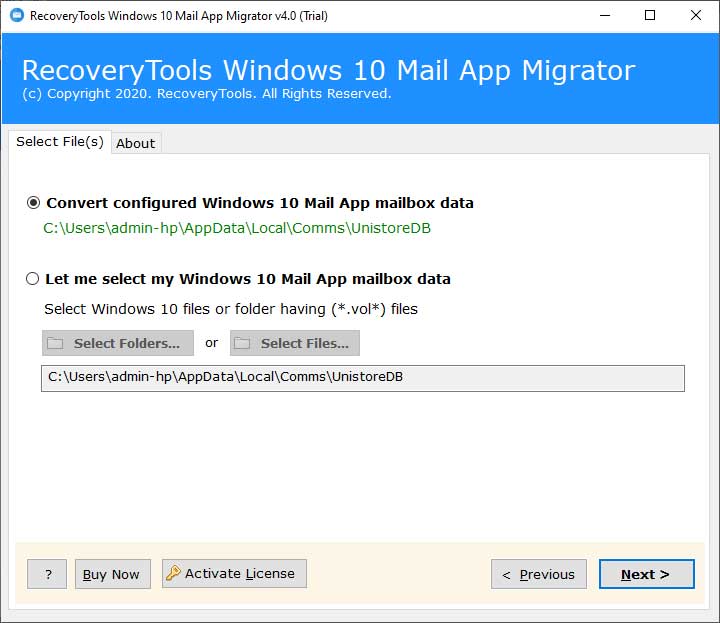 Here, the software analyses the Windows 10 Mail mailboxes and list the data in the software left side. Now, enable the required checkbox and click on Next.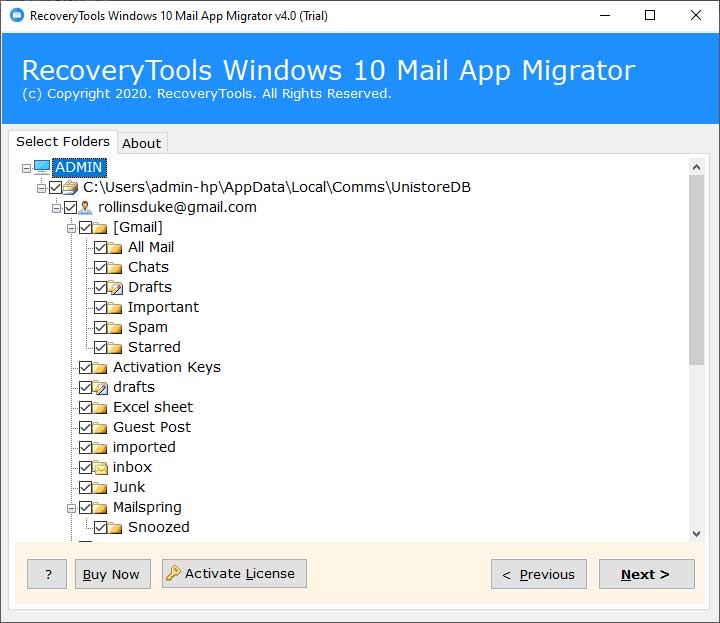 Now, select as PDF as the saving option to print emails from Windows 10 Mail.
Click on a Folder like an icon in the destination path field. Specify a location to get the printed Windows 10 Mail emails.
Check the multiple File Naming options and choose as per the requirements.
Now, click on the Convert button. Your emails getting printed from Windows 10 Mail.
Here Are Your 100% Complete Results
After the conversion process ends, the software gives a complete conversion message. Click on its Ok button. You will receive a saving log text document. Later, the program automatically takes you to the location of the results. That's it.
What Are the Best Advantages of the Mentioned Program?
Batch Print Windows 10 Mail emails:- The software is capable enough to print from Windows 10 Mail in batch mode. In this way, the user can save time and get rid of the lengthy manual method.
High performance:-  The software is well known for its accuracy. It gives 100% complete results without any changes.
Simplified User Interface:- The working process of the third-application is simple and user-friendly. Anyone can use it without any technical assistance.
Automatically detect Windows 10 Mail data location: – The software comes with advanced functionality. It detects where your Windows 10 mail stores email data from the location automatically.
No Need of Any Supportive Application: – The software is an independent tool. The user can use it to resolve "can't print emails from Windows 10 Mail" without any external application.
Read What More User Want to Know 

How can I print thousands of my Windows 10 Mail old emails?

Ans. The easy steps for printing Windows 10 Mail emails are the following:

Launch the BitRecover Windows 10 Mail Backup Tool.
Select a Mode to upload Windows 10 Mail mailbox from saving location.
Choose the required Windows 10 Mail folder for the process.
Pick the saving option as PDF and enter a location to get results.

I want to print some specific emails from Windows 10 email client. How is that possible?

Ans. First of all, run the application. Then, choose Select Files and open the required Windows 10 Mail emails easily.
The Concluding Thoughts
The above guide provides a complete solution to resolve user queries like "Can't print emails from Windows 10 Mail." It lists all the steps required for the printing of Windows 10 Mail emails with figures. In case of any questions, you can contact our support team. They are available 24*7 in your service.