How to Backup Vivaldi Email Account with Attachments, Tasks, Notes?
An individual can access all emails from any web browser on https://webmail.Vivaldi.net/. However, it is also possible to set the mail account in a desktop email client. This blog post is meant for those users who wish to backup Vivaldi email account with all information.
Vivaldi Technologies is a software development organization, which is popularly recognized for its launch of the Vivaldi browser. It was launched in 2014 by Jon von Tetzchner (CEO and Co-Founder) and Tatsuki Tomita. The Vivaldi tech. does have an online email service known as Vivaldi Mail at mail.Vivaldi.net. It offers you the choice to communicate online in a highly systematic manner while having the freedom of knowing that you are in absolute control of your database.
It's a free mail service with zero ads or strings attached. The service facilitates calendar and contacts functions & features like search, managing folders, WEB/IMAP/POP access. Also, it offers a storage capacity of 5GB and 20 MB of maximum attachment size.
Regardless of the impressive features of Vivaldi mail, it's significantly important to take a backup of Vivaldi mail at a safe location on your computer. Why? Read this:
A user writes: My Vivaldi Webmail has suffered a complete crash and it's not opening in any form.  Now, I don't want to take any risk. Before I could lose everything from my account, I want to backup Vivaldi webmail account without opening it. Please advise a solution to me for the same.
Losing your crucial data is something that everybody avoids at all costs. Therefore, if you are facing any problem with the Vivaldi mail, then don't keep sitting. Quickly backup Vivaldi email account to any webmail, desktop mail client, or even to your HDD (Hard Disk Drive).
A Simplified and Professional Approach for Backup of Vivaldi Email Account
One can't deny the fact that taking the backup of emails in batches can't be done manually. It's a long process and can lead to loss of mail headers or information misfortune. In such circumstances, professional software can solve all your worries in seconds. Our BitRecover Email Backup Software is also the one and only application that gives the facility to backup Vivaldi email account (whether single or multiple). Apart from this, users can choose any saving format for the end results i.e. webmail, desktop email client, and computer file format.
How to Backup Vivaldi Webmail Emails (Single and Multiple Accounts) ?
First, download and install the software setup on any Windows or Mac machine. Once it's done, now proceed towards these steps:
Choose IMAP Server from the list of email sources given in the software panel.
In the IMAP Server box, enter these email settings:
Email Address: [email protected]

Password: Enter Password of Vivaldi Email Account

IMAP Host Name: imap.vivaldi.net

IMAP Port No. : 993
The 'Use Batch Mode' option helps users to backup multiple Vivaldi email accounts in one go. For enabling this feature, enter login details of all Vivaldi email accounts and upload in a CSV file to the toolkit.
Now, tap on the login button to start the process.
Then, specify the required mailboxes from which you want to backup Vivaldi data.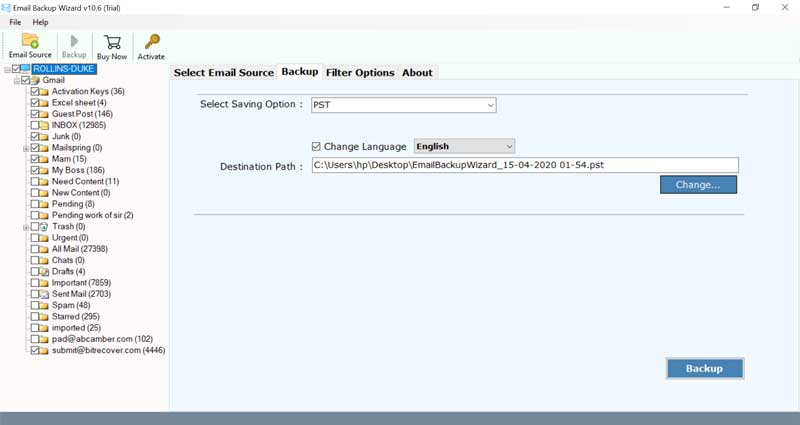 Now, you will see a list of saving options. Choose the one in which you intend to take backup of Vivaldi webmail emails.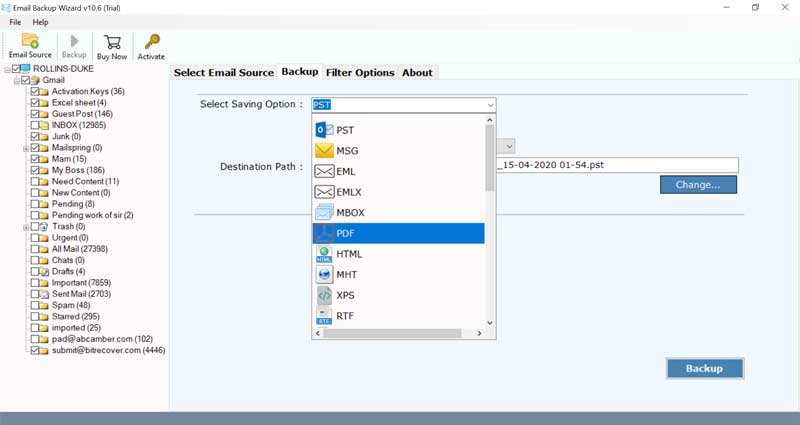 After this, enter a desired file naming option as well as a required destination path for saving the output.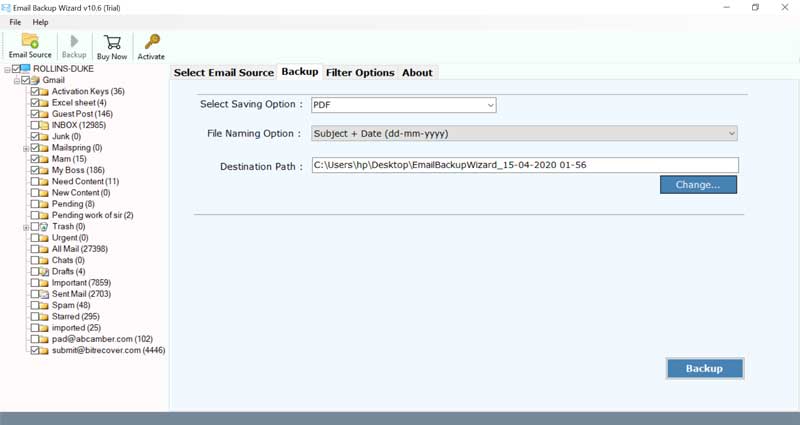 Thereafter, enable the 'Advance Settings for Selective Backup' if you want to backup Vivaldi email account in a categorized manner (by date range, subject, email address, etc).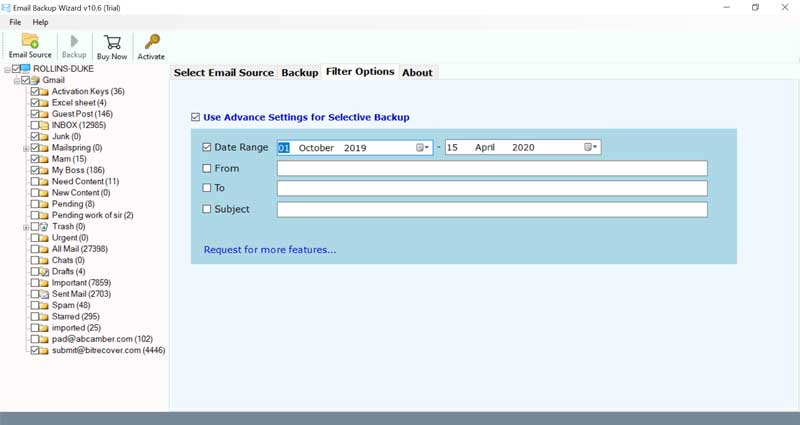 Finally, click on the Backup button. The software immediately begins to take backup of Vivaldi webmail emails into the chosen file format.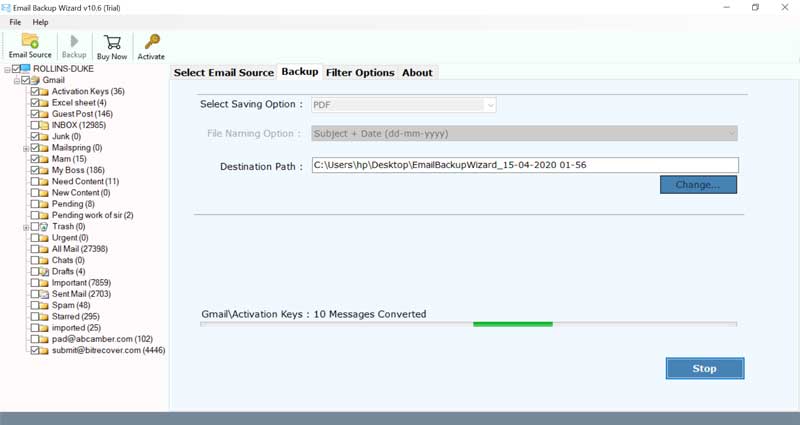 Thus, this ends the process to backup emails from Vivaldi email account. Now let's see some of the interesting features of this utility.
Prime Features of Vivaldi Backup Tool
You can backup single or multiple Vivaldi email accounts with this software.
The user can analyze the whole process of backup Vivaldi data with the help of a log report.
The software shows the live backup of Vivaldi emails showing the name of each message in the UI.
Users can exclude unwanted email folders while taking backup of Vivaldi webmail emails.
There is no need for the installation of any external app to implement this process.
It offers data filters using which you can categorically backup Vivaldi email account.
The software can be installed on any version of Microsoft Windows OS.
It provides numerous file naming options which are helpful for managing output in a proficient manner.
The application gives the freedom to save the backup of Vivaldi mails at any user-defined storage location.
It's a bug-free tool and never saves the user's information in the database of the software.
Frequently Asked Queries

How to backup Vivaldi email account?

Follow these steps to take backup of Vivaldi emails:

Download and launch the Vivaldi mail backup tool.
Choose IMAP Server and setup email login details of the Vivaldi account.
Enable specific Vivaldi mails and choose any saving option.
Enter a destination path for saving resultant data.
Start the backup of Vivaldi email account.

Can I take backup of multiple Vivaldi emails in one go?

Yes, the tool provides the option to take a batch backup of Vivaldi emails.

Does the software compatible with Windows 10 OS to backup Vivaldi data?

Yes, it supports all versions of Windows including Windows 10.
Let's Conclude
In the above blog, we have explained how to backup Vivaldi email account in a single round of processing. With the software recommended in this blog post, you can backup unlimited emails from Vivaldi Webmail in a few seconds. If you are facing any problem while using the tool, then, please contact our technical support team.
Also Read: Backup Kolab Now Email Accounts