How to Backup Emails from Porkbun Hosted Accounts ?
With the enhancement in digital communication, making a custom email address that is hosted email has never been simpler. One can handle their emails and their domain all in a single place to make life uncomplicated. There are dozens of options available on the internet today for this. One of them is Porkbun hosted email accounts. In this write-up, we will be talking about how to backup Porkbun hosted email accounts so keep reading!
Users can undoubtedly erase significant messages, by mistake or maliciously. A sad part is a large number of people delete email messages while saving. At times the whole inbox gets deleted while leaving the organization, which implies your business is in danger of losing significant information.
A proper backup solution can put an end to these problems by automatically downloading emails from the hosted account. Learn to backup Porkbun hosted email accounts through this blog post.
Proficiently Solution to Backup Emails from Porkbun Hosted Accounts
How can I backup emails from Porkbun hosted email accounts? Does this question also come to your mind? If yes, then you will happy to know that you can solve this problem by using a professional and cost-effective method. The BitRecover Email Backup Wizard is an automated solution that gives the facility to download emails from a Porkbun hosted account. Within a couple of mouse clicks, one can take a bulk backup of Porkbun hosted email accounts.
Download the Porkbun hosted email backup software from this link:
Steps to the Software
Open tool to backup Porkbun hosted email accounts.
Select IMAP Server & Enter Porkbun login details.
Enter IMAP Host & Port No. to be used for Porkbun.
Choose desired mailboxes and a saving option.
Begin to backup emails from the Porkbun hosted account.
Stepwise Tutorial to Download Multiple Porkbun Hosted Email Accounts
To start with, download and install the setup of the software on your Windows machine. Now, follow these guidelines to backup email accounts.
First of all, navigate to the email sources list on the left side of the software screen. Scroll down and select IMAP Server from it.
Now, enter the email address and password of your Porkbun hosted email account. Also, enter the IMAP Host as imap.porkbun.com and IMAP Port No.
Then, tap on the login button and the tool starts to fetch mailboxes from your email account.
In the next step, select those email folders from where you want to backup Porkbun hosted emails.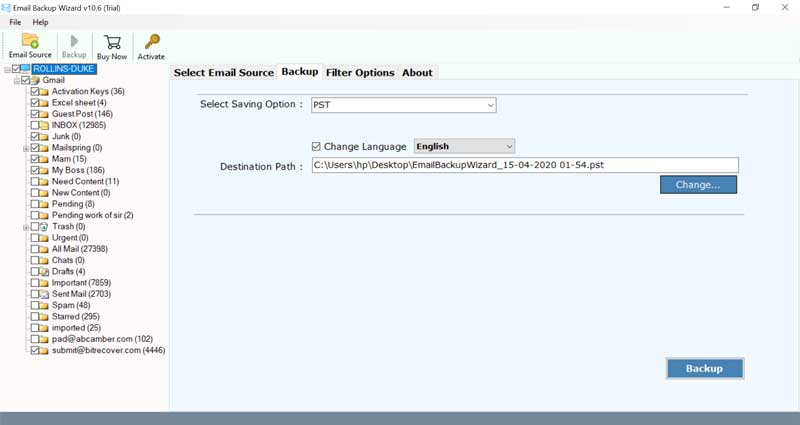 Now, go to the saving options list and choose any file saving type. You can opt for any computer file format, document format, webmail, or desktop email client. If you are selecting webmail as the destination then please ensure to fill up the login credentials of the same.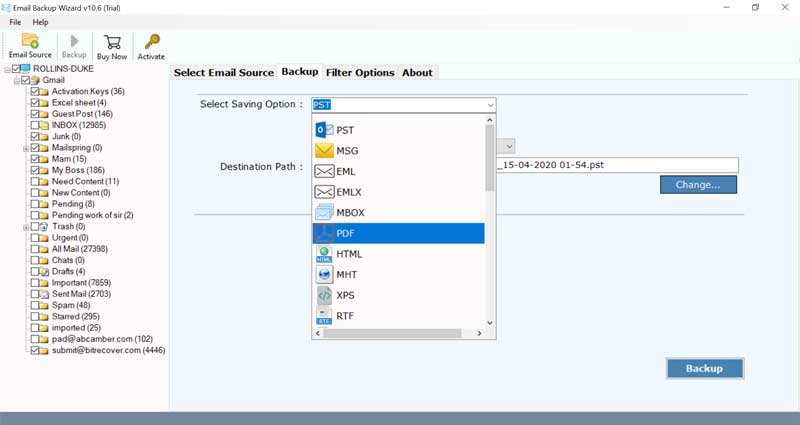 Next, pick the desired data filter if you wish to backup emails from Porkbun hosted account in a selective manner. If not, then skip this step.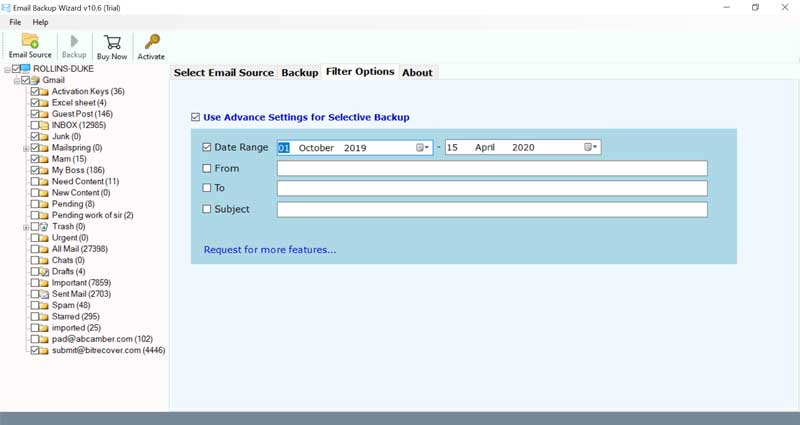 Lastly, browse any destination folder for saving the resultant backup files from Porkbun account to your local storage.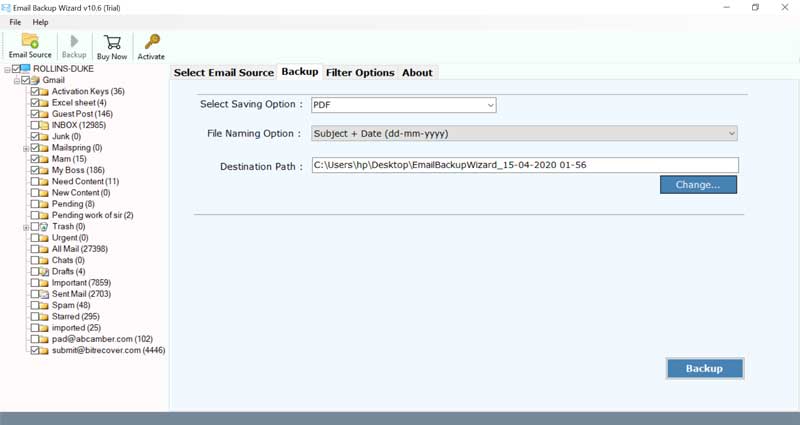 Click on the Backup tab. The process to backup Porkbun hosted email accounts is running. It will take some time so keep patience.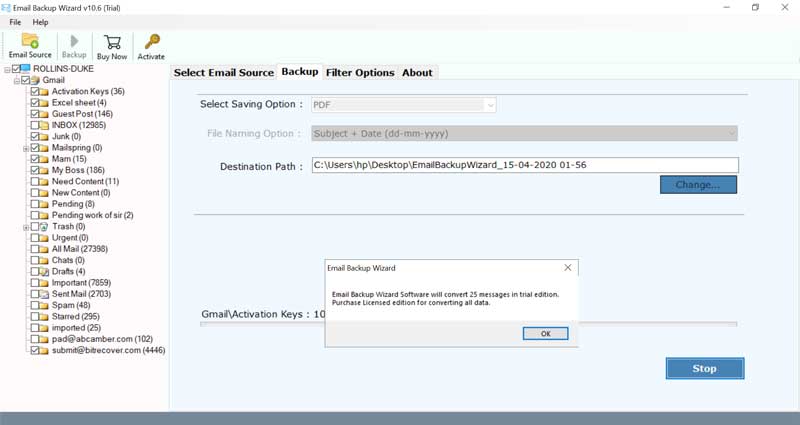 You may locate the resultant folder where your backup data is stored.
Benefits & Advantages of Porkbun Hosted Email Downloader
Bulk Backup: With this software, one can take bulk backup of emails from Porkbun hosted account at once. For this, select multiple emails from the respective folders in order to implement the backup.
Windows and macOS Compatibility: One can install this software on any Windows and macOS such as-
Windows OS: Windows 10, 8.1, 8, 7, Vista, XP, Windows Server 2019, 2016, 2012, 2008, 2003, etc.
MacOS: 10.15 Catalina, 10.14 Mojave, 10.13 High Sierra, 10.12 Sierra, OS X 10.11 El Capitan, 10.10 Yosemite, 10.9 Mavericks, 10.8 Mountain Lion, etc.
Download Emails from Multiple Accounts: The bulk mode option of this software permits the users to backup multiple Porkbun hosted email accounts at once. To do so, put all email credentials of Porkbun accounts and upload them in a CSV file in the toolkit.
Advanced Settings: One can also apply the category-wise data filter provided by this utility. In this way, one can sort emails as per date range, subject, email address and much more. Thus, in small amount of data selective data can be backup up from Porkbun Hosted email accounts.
Any Saving Location: The resultant data that is backup of Porkbun hosted email accounts can be saved at any location on your computer.
Summing up together
We are sure that now you have got a clear idea regarding how to backup Porkbun Hosted email accounts. This process is plain and straightforward and will require few minutes of users for the end results. There are no errors associated with the recommended software. Take the free trial first before purchasing the license keys of the product. It will help you to test the features of the software. Later, you can perform an unlimited backup of Porkbun Hosted email accounts without any hassle.