How to Backup Atmail Email Account to Computer ? – The Complete User Guide
Ready to backup Atmail email account to your local storage, some webmail or to your favorite email client, but don't know where to start from? Read this blog to get a clear-cut idea for how to backup multiple emails from the Atmail service.
Before we take you through the steps involved in taking backup of data from Atmail email service, let first see what is Atmail all about.
Read about Atmail: With 15 years of involvement with email programming, Atmail gives a great many service providers and venture everywhere in the world with incredible email software solutions. In view of open-source innovation, the Atmail email service fits each business size from the independent venture to the ISP with a large number of users.Atmail webmail is completely featured: webmail, contacts, schedule, tasks, storage. It has everything to satisfy the user's needs.
Since now you know about this wonderful email service, let's see how you can backup Atmail email account to your computer.
Hassle-free Solution to Backup Atmail Email Account
If you are trying to take backup of emails from Atmail webmail, try using the BitRecover Email Backup Wizard. It's an all-in-one solution that gives the facility to take bulk backup of Atmail email account. Also, this tool provides the feature to backup multiple Atmail email accounts at once. Along with this, user can selectively save Atmail emails to local storage.
Take a free trial of the Atmail webmail backup solution to evaluate the tool's features. It facilitates to backup top 25 email items to the desired saving option. After getting complete satisfaction regarding the software, you can upgrade the license keys of the product.
Please Note: This Atmail webmail backup software is compatible with all versions of Windows OS and macOS.
Windows OS: Windows 10, 8.1, 8, 7, Vista, XP, Windows Server 2019, 2016, 2012, 2008, 2003, etc.
MacOS: 0.15 Catalina, 10.14 Mojave, 10.13 High Sierra, 10.12 Sierra, OS X 10.11 El Capitan, 10.10 Yosemite, 10.9 Mavericks, 10.8 Mountain Lion, etc.
Step to take Backup of Emails from Atmail Webmail
Follow these guidelines to backup Atmail email accounts to the desired saving option:
First of all, download and install the setup of Atmail webmail IMAP backup software on your system.
Now, choose IMAP Server from the email source list and enter the source email address and password of your Atmail email account. Also, enter the IMAP Host and Port No. as mentioned below:
EU Servers
imap-eu.atmailcloud.com

Port: 993 for IMAP

US-EAST Servers
imap.us-east.atmailcloud.com

Port: 993 for IMAP

EU-WEST Servers
imap.eu-west.atmailcloud.com

Port: 993 for IMAP
Then, enable those email folders from where you wish to backup Atmail webmail.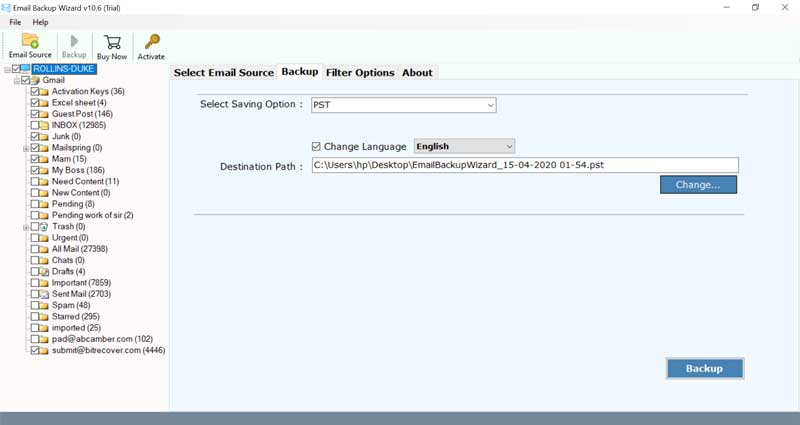 Next, choose a desired file saving option along with a file naming option.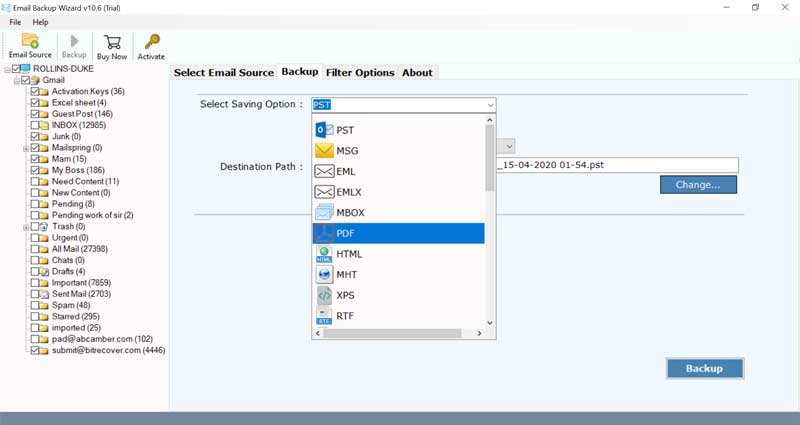 Browse a destination folder for saving the resultant files on your computer.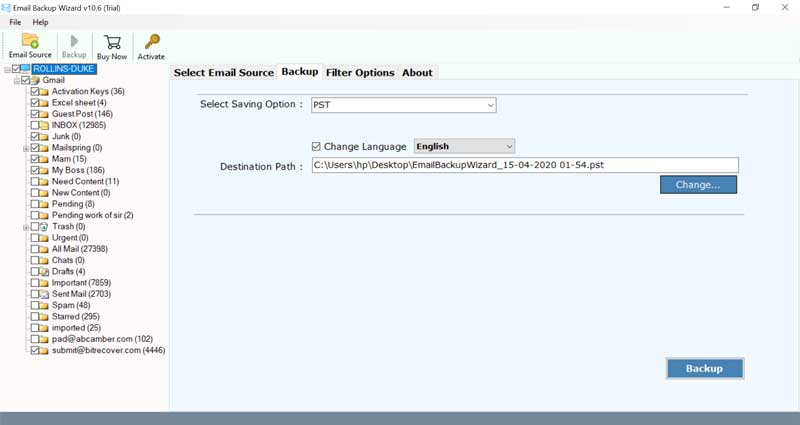 Please note that for taking backup of emails from Atmail webmail in a selective manner, please enable the 'Use Advanced settings for selective backup'.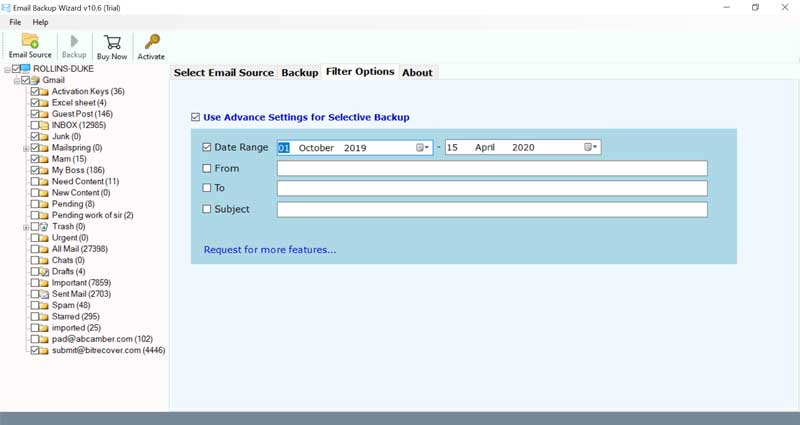 Tap on the backup button for backup of multiple Atmail emails to a required saving option.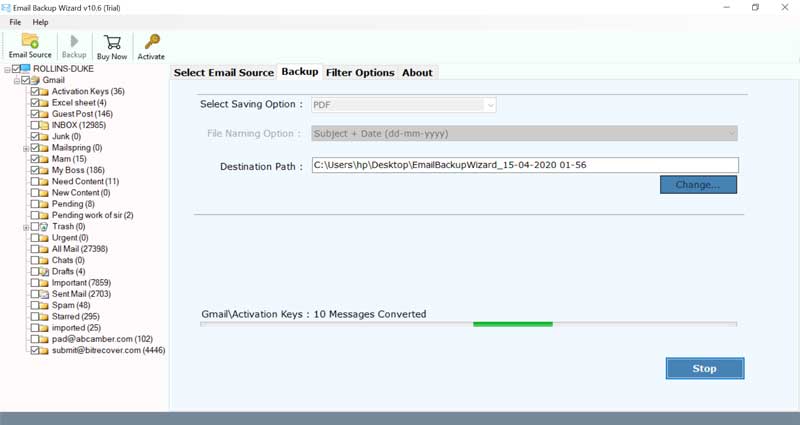 Download Atmail Emails- Top-notch Features of Software
Plenty of saving options: With this software, users can take backup of Atmail email service into various saving options such as PST, MSG, EML, EMLX, MBOX, PDF, HTML, MHT, XPS, RTF, DOC, Windows Live Mail, CSV, Lotus Notes, Zimbra, Thunderbird, Zip, Gmail, Outlook.com, Yahoo, Rediffmail, Office 365, Exchange Server, Hosted Exchange Server, G Suite, IBM Verse, Amazon WorkMail, IceWarp, IMAP, etc.
Keeps intact email attributes: While you backup Atmail email accounts, this utility will make sure to preserve the integrity of data. It maintains the text formatting, inline images, hyperlinks, attachments, etc.
Batch Mode: This software provides a batch mode option which is useful to backup multiple Atmail accounts. For this, the user needs to upload a CSV file containing the credentials of Atmail email accounts into the software panel.
Data Filters: There are various data filter options offered by this software which are helpful to migrate Atmail email account data in a selective manner. A user can sort all emails as per date range, subject, email address, etc.
Vast Compatibility with Windows OS: This software can be operated on any Windows and macOS without any hassle.
File Naming Options: After converting Atmail email to another saving option, you can save the output with a desired file name. These file naming conventions may be a combination of Subject + Date (dd-mm-yyyy), From + Subject + Date (yyyy-mm-dd), From + Subject + Date (dd-mm-yyyy), Date (dd-mm-yyyy) + From + Subject, Date (yyyy-mm-dd hh:mm:ss) + From + Subject, Date (yyyy-mm-dd hhmm), etc.
Frequently Asked User Queries
How to backup Atmail email accounts?
Launch tool to backup email from Atmail webmail.
Select IMAP Server & enter its login credentials.
Choose any file saving option & destination path.
Begin to backup Atmail email accounts now.
Can I download Atmail email account data on my Windows 10 machine?
Yes, since this software supports every Windows machine thus, you can save Atmail emails on Windows 10 too.
Does this software permits to export Atmail email messages to document formats?
Yes, there are plenty of document saving options which are offered by this utility.
Is it possible to convert emails from Atmail webmail service to PDF but only those messages which fall under a specific date range?
Yes, the selective data filter option will allows you to backup Atmail email accounts as per date range too.
Closing words
This blog explains the complete method to backup Atmail email accounts to different saving options like document formats, email formats, webmail, desktop email clients. You can select any of this saving options as per your need. This software has the ability to download unlimited emails from Atmail service. So, what are you waiting for? Try the free version of this product and thereafter start to backup email messages from Atmail webmail without any limitations.