How to Backup Zentyal Server Emails?
User Query: I am looking for a Zentyal Mail Backup Tool from past few month because I need to take backup of over thousands of emails from Zentyal Server. But I am unable to find any reliable solution over internet. But now I don't want to have enough time to invest here. Therefore, looking for a perfect solution which can save my time and effort as well. Can anyone help me out from this situation?
Are you also searching for a solution like above user? Looking for Zentyal email backup and not getting any perfect solution. No need to worry now. We will guide you through this blog by providing information about an automated solution. By using BitRecover Zentyal Server Backup Solution, users can easily complete this procedure without facing any hassle.
Zentyal Mail Backup Tool – One Software with Multiple Benefits
The tool offers various smart features to its users such as save multiple Zentyal emails to reusable file extensions i.e. *.pst, *.msg, *.eml, *.emlx, *. mbox, *.olm, *.pdf, *. xps, etc. It has a batch mode option through which users can create a backup of multiple Zentyal Server email accounts. Users can add several accounts to access all the accounts at the same time. Besides all these, the tool provides a free demo version to the users through which users can take backup of 25 data items from each folder. For downloading unlimited Zentyal emails and having more features users can purchase the licensed version of the application as well.
Read Also – How to Migrate Emails from Zentyal to New Server?
Instant solution to download Zentyal server emails
Launch Zentyal Mail Backup Tool and choose IMAP Server from email sources.
Enter Zentyal Server IMAP credentials in specific fields and press Login button.
Choose all or specific Zentyal email folders from software Windows.
Now select the required file saving option from the list i.e. PST, MSG, EML, etc.
Click on Backup button to start downloading Zentyal Server emails into pc.
How to Backup Zentyal Emails – Detailed stepwise process
First of all, download Email Backup Software and install it on your computer and follow some simple steps to complete the backup process of Zentyal emails without any hassle:
1 – Firstly, download Zentyal Email Backup Software on your computer.
2 – After that, select IMAP Server from the given options and then enter Zentyal IMAP details login credentials.
3 – Press Login button to view email folders in the software panel and select the required folders for creating backup.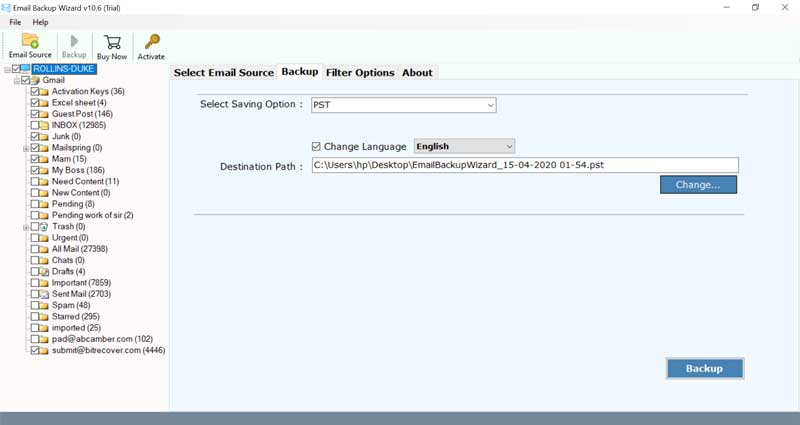 4 – Thereafter, choose a saving format from PST, MSG, EML, EMLX, MBOX, PDF, XPS, DOC, etc.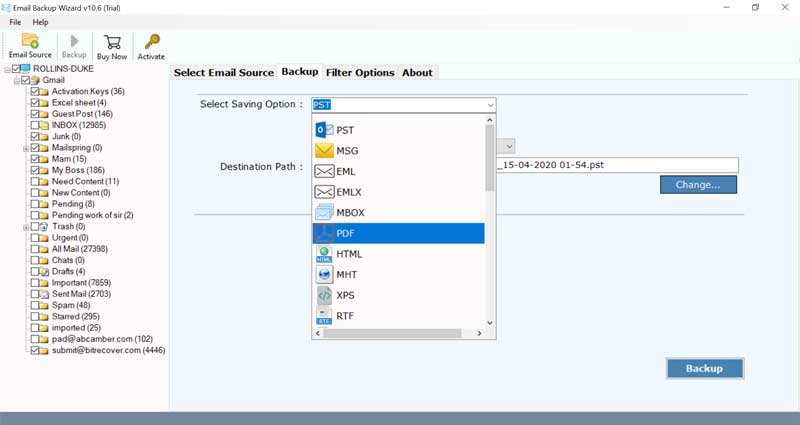 5 – It also offers various file naming options to manage resultant emails & documents professionally.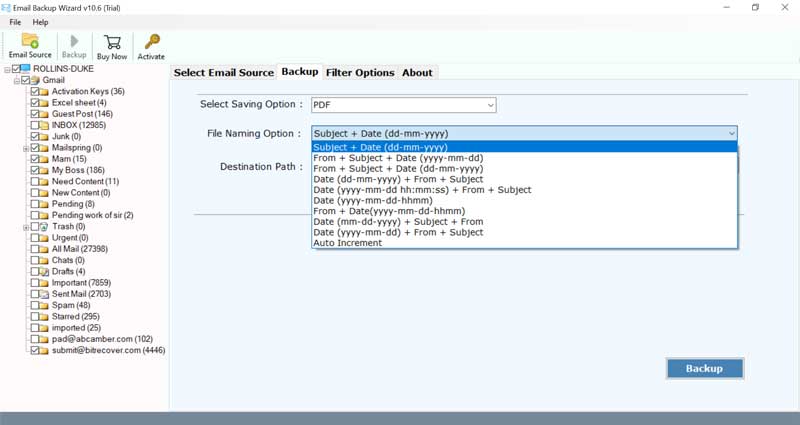 6 – Advance filter options are another important feature of this tool. Users can filter emails By Date range, by from & to address, and by subject.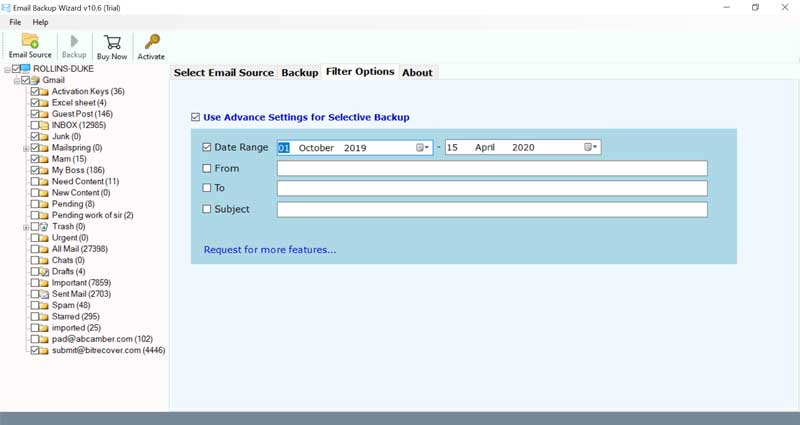 7 – Choose a destination folder to store resultant data and hit on the Backup button.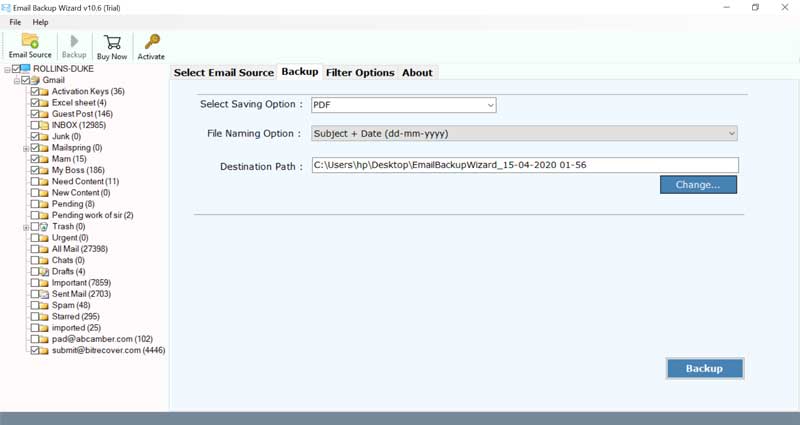 8 – Downloading Zentyal Server emails to a local computer, please wait for a while.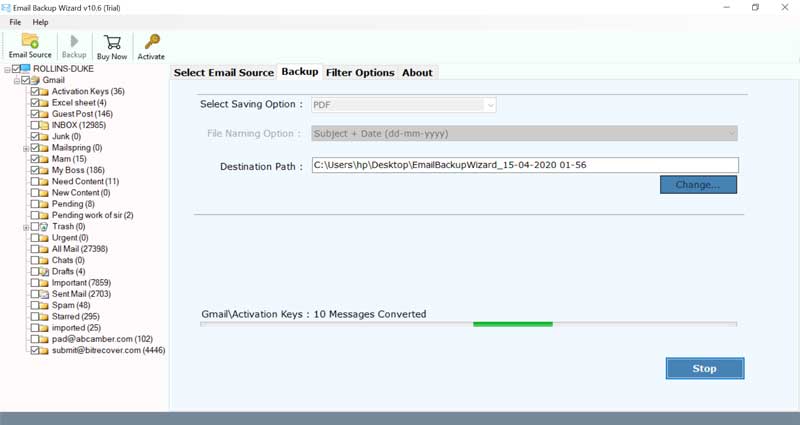 9 – After completion of the process a pop-up box will appear. Click on OK.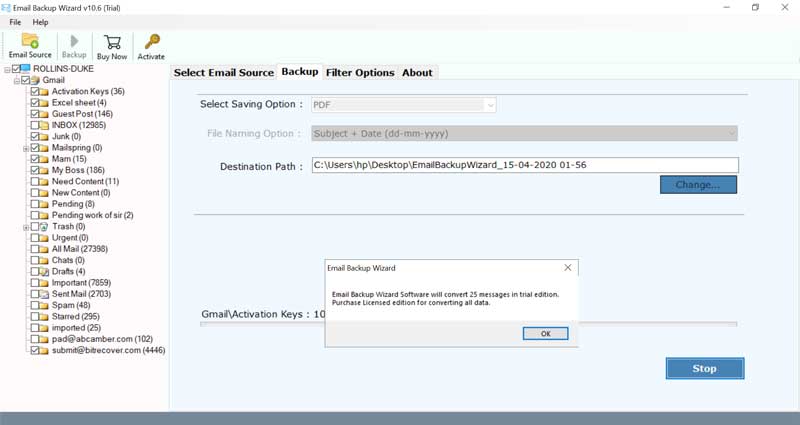 10 – Finally, the user can access the resultant data from the destination folder.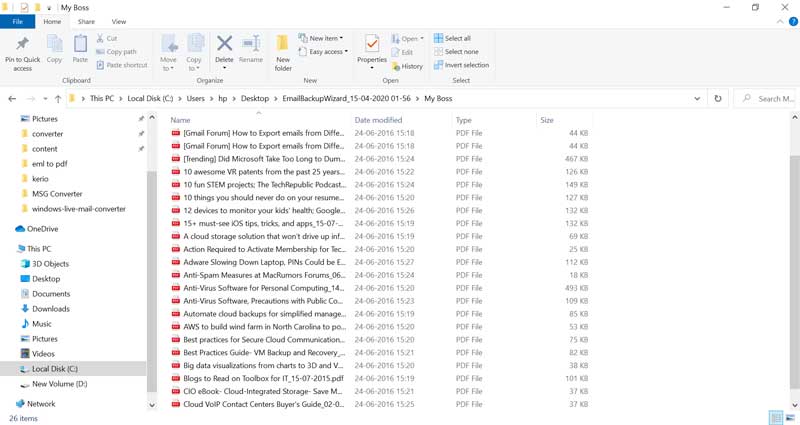 Zentyal Server Mail Backup Software Benefits and Features
Create Zentyal Email backup into several formats
Best Zentyal Mail Backup Software provides multiple file-formats to create the backup. It supports multiple formats such as PDF, PST, EML, MBOX, HTML, RTF, etc. With this application, users can easily create a backup of their Zentyal Server emails to any file format.
Backup of multiple cloud email services
Zentyal Email backup application is an all-in-one tool. It allows users to create backup of almost every common email application or email service. The tool supports the backup of different email services. Like Gmail, iCloud Mail.com, Libero Mail, KPN Mail, Rogers, Shaw Mail, Mail.ru, MDaemon Cloud, NAVER, Office 365, AOL, Windows Live Mail, Webmail servers, business email hosting services, etc.
A quick and selective download of emails using filters
The software allows users to backup their selective emails with the help of the filters option. Users can also download an only specific amount of email messages with the date filter options. This feature will help users quickly backup their required messages from complete mailbox store.
Maintain email folder structure
Tool always maintains the original folder structure of emails from any Email account during the Zentyal Server backup process.  This utility provides the best facilities to users so that they can easily download and transfer emails with all components and elements. The utility moves email contacts, attachments, Trash, Spam, Inbox, Outbox, Draft, important, Sent Mail, Starred, etc.
Import emails with advance filters
This utility provides various advance filters to manage and move only necessary Emails. The advance filters transfer email evolution techniques like by Subject, by Email Address, by Date Range, etc. with Subject option users can migrate emails with the same subject, export the same email address mails and specific date range from any Zentyal Server account using IMAP without any problem.
Some frequently asked questions by users and their solutions

Que 1 – Can I backup multiple Zentyal Server email accounts by using this application?

Ans – Yes, you can backup multiple email accounts using Zentyal Mail Backup software. By using Batch Mode option and providing details of all email accounts you can backup multiple email accounts.

Que 2 – Does it save and download all Zentyal email attachments along with emails?

Ans – Yes, this application downloads Zentyal Server emails together with all email attachments.
Final Words
Here in this blog, we have discussed about how to take backup of Zentyal emails. By using an automated solution users can complete this process without facing any hassle. For user's benefit demo version of the application is also available. In which user can backup first 25 emails from each folder. By using this user can know the working process of the application very well. After satisfaction user can purchase the application as well. By following the above steps user can easily overcome the issue of Zentyal email backup.